Sensational Sundays with Chef Peter!
Welcome to the first installment of Sundays with Chef Peter.
Monica, the curator of the fabulous Yum List and a great friend, simply amazes me on how she keeps that "stunning" figure of hers whilst writing this fabulous food blog (I don't like to use the word hate but dahlings I do, I'm so envious of her!).
Anyway Monica said I should start by telling you a bit about me and what this segment is going to be all about? Me is easy if you keep reading and then, anything really to do with food and drink, both of course which I adore and a bit about life, why not, let's get it all out in the open and see where we go! And of course, importantly I hope you'll all feel like joining in with your thoughts too as it's great to have those but dahlings, please don't overdo it OK as remember the heading, SUNDAYS with Chef Peter. (Hopefully here you have a little smile as I and know I am not being too serious!)
I'll also be giving inserts from my book, "The Pastry Queen" far from finished and far from the printing press (if ever) but it will include recipes collected from my travels during my career so far and have become indispensible to me and with each recipe comes a little anecdote of how or where I was when I got the recipe, some you may find amusing, hopefully all!
But firstly, more about me…
Born and bred in Devon, England, I am similar to Monica, brought up in the countryside having all the benefits of living off the land. I grew up on my father's farm on the edge of Dartmoor in Okehampton, a wild place with its granite, tors and peat bogs, wondrous but intimidating, not the sort of place one would like to get lost, though my father, a true native and well into his seventies, still returns nearly every weekend walking sometimes up to 50 miles across the moors, we're convinced one day he'll disappear there!
Of late, even Dartmoor has gained its place in the culinary world with Michelin star Gidleigh Park and Chef Michael Caines. There, this summer with Alison my ex and now one of my dearest friends (it is possible!), she shares my passion for food and drink so every time I visit the UK we explore restaurants around the area. When I was young, you had to go to London to get good food. The South West now boasts many wonderful establishments to choose from. So to Gidleigh Park for afternoon tea……a review a little later!
As well as the moors Devon is very much famed for its clotted cream which probably heavily contributed to me being a "FATTY" as a child but what does one do to resist this slightly golden rich thick, melt in your mouth substance which goes so fabulously on practically everything from of course scones to ice cream to Christmas pudding, oh its "FAB". Mother always had a pot in the house and I was always there to lick it out.
Even though I grew up in this dahling part of the world, it was not dahling enough for me so I always dreamed of travelling and luckily I loved to cook also (here I have to thank my mother as she made me and my two brothers cook and bake with her at the weekends as she said then at least if we never had a wife we would never starve, of course this was long before the days of fast food and fast marriages!)
So on finishing my Chef's Diploma at Exeter College, my lecturers rightfully thought I had a flare for pastry and gave me my first job in Weston Super Mare at the Royal Pier Hotel where I spent a year before moving to London and working in the pastries of the Four Seasons Inn on the Park and eventually the Savoy Hotel where I gained my first Pastry Chefs position at a ripe old age of 23!
The Savoy is famed throughout England and really most of the world so we considered ourselves lucky to have the chance to work there but boy did we work for those references. Besides being one of the hardest jobs I have had it was also one of the most special and I even got to meet a few celebs and royals there, my ticket to the world!
My first stint abroad was at the Hyatt Regency in Dubai where at the time I had no idea where it was other than an interesting description dear Chef Edlemannn from the Savoy gave it, unfortunately dahlings I cannot share it with you here though it did compare with some of my favourite parts of the anatomy! Dubai was a fun place in the 80's, very different to today and I enjoyed my two years there. I always thought it was a good stepping stone to Asia.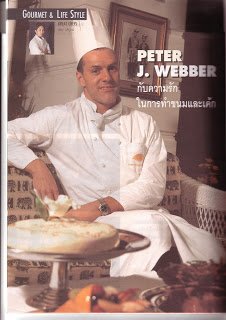 I then landed the Executive Pastry Chef position at the famed Oriental Hotel in Bangkok, Thailand, then and still now maybe the best hotel in the world. As well as spending a wonderful 13 years at the Oriental, where I did and saw amazing things, created and produced wedding cakes and showpieces I had only dreamt of before. From a team of 18 on arrival to a team of nearly 60 on departure it really was my golden era so far but more of that later, Thailand also liberated me and I have come to love this country as much as England.
Of course all good things must come to an end and after a good run at the Oriental I felt I needed a new challenge and a bit of a rest so I took a year off and travelled around the world.
Returning, I also got to do another of my bucket wish list and went into partnership to have my own business, Les Anges in Phuket Thailand.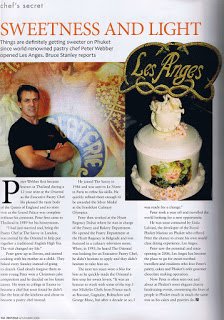 After working in such opulence as the Oriental, Les Anges was one of my biggest challenges and steepest learning curves, it was not easy to begin with and even though the relationship was not always easy I have to thank my partner Mr Gulu Lalvani for keeping me and Les Anges going at the beginning. There is nothing more satisfying than having your own business and I hope one day I will have the pleasure again as all you give and produce for our customers represents you and it is amazingly gratifying.
I was then lured away from my own business to help another growing business in Phuket where I spent a year before doing a consultancy in Kuala Lumpur with the YTL group. Very interesting to see and work in another culture after being in Thailand for so long!
At present I am in Thailand doing some consultancy work looking out for the next thing which will grab my interest and take me somewhere new which really brings me up to date.
One of my principles in life is to share, whether it be a review or a recipe and especially thoughts, I don't believe in keeping it all to yourself so I hope this is what I bring to you and I hope you'll enjoy it and in return you'll share some of yours with me but as I said……not too much, Sundays with Chef Peter! J
Have a "fabulous" Sunday dahlings, see you next week where I'll be looking into the vegetarian festival in Phuket and also telling you about my afternoon tea at Gidleigh Park.