Sundays
with Chef Peter….
Dahlings,
what a busy week it's been and here we are at Sundays again. Hope your week has
been fabulous and hope your weekend even more! Last night was one of those impromptu
Saturday nights where you end up having a few too many and promising things
that never seem such a great idea the morning after!
I
was kindly invited to a BBQ today with about 20 others which I know will be
great fun and with the perfect weather in Phuket at the moment, an ideal way to
spend a Sunday afternoon. To make life easier for our kind host we all agreed
we would bring along a dish or something and of course me nicely lubricated by
this time and being the big dessert chef promised to wow everyone with some of
my sweet treats.
Now
sitting here this morning with a slight banging in my head, knocking out some
desserts is way down the list on what I'd like to be doing!
Rather
than making a special trip to the supermarket I've had a good look what I have
here in the fridges and freezers, it's good to do this some time as it's a
little like doing one of those cookery competitions where you receive a mystery
basket of ingredients and you produce wonders!
Eggs, fruits, berries, cream, ice cream (of
which I eat far too much of anyway) and a couple of frozen sponges that were
left over's from some birthday cakes.
Immediately
meringues start to come to mind and all the wonderful things you can do with
it, yes that's the way to go and perfect for a lovely summers day BBQ.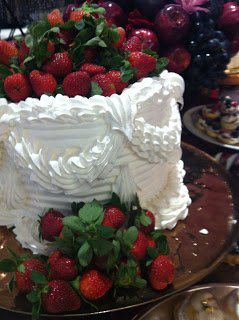 There
are different ways you can make meringue but all mostly consist of eggs and
sugar, Swiss meringue where the eggs and sugar are whisked over heat and then
whisked till cold. French meringue which is the simplest and the way I always
use by whisking the sugar and egg whites and Italian meringue made with boiled sugar
which makes it more stable used more for pastries, mousses and my favourite
Baked Alaska! There is also Pavlova which
is another story dahlings, not today.
I
am going to whip up some meringue baskets with a fresh berry compote and crème Chantilly
and a Baked Alaska.
First
get the French meringue piped and into the oven so it has time to dry out nicely,
and here is the way to make it perfectly. Old egg whites are normally best used
for meringue but I am going to separate some eggs and use the yolks to make a
quick vanilla sauce to serve on the side so nothing is wasted. Weigh your
whites and then way double the weight in sugar, (castor sugar is best as you
don't get a grainy meringue). Luckily I have a Kitchen Aid but if not and you
have a whisk it's great exercise anyway! Start whisking the whites on a medium
speed until the egg whites start to form a snow, put on to high speed and start
to slowly add the sugar a little at a time (never put all the sugar and whites
in the bowl at once and whisk as your meringue will not hold up). When you have added about half your sugar let
the meringue have a good whisk (3-4 mins) and then slowly add the rest of the
sugar. Let it have a good whisk again and there you have perfect meringue. Have
your baking sheets ready with silicone paper so you can start piping your nest
with a bag and nozzle of your choice, just rounds of meringue with sides added,
you can make simple or fancy depending on your mood or skill! If not good with
a bag just use a spoon and get creative! Pop them into an oven around 90 C and
keep an eye on them while preparing the Alaska turning your tray around every
so often.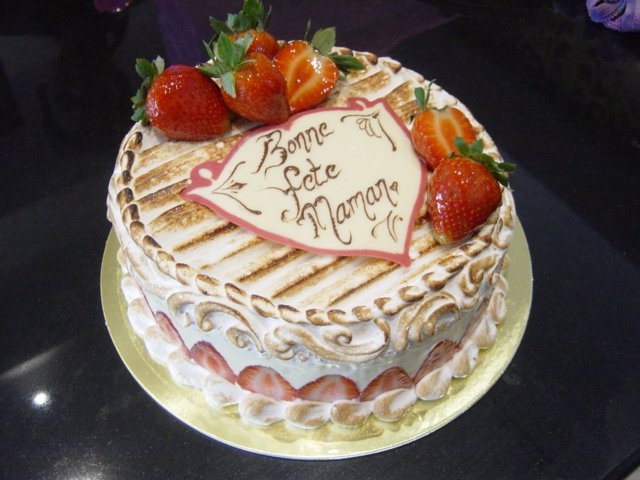 A Fraisier cake decorated with meringue piping
For
the Alaska, take your sponge and hollow or cut out the center leaving the base
and sides, keep the center piece for later, peel and chop your fruit, sprinkle
with a little sugar and give it a good splash of your favourite drink (one for
the chef too…hair of the dog!). Give it a good stir so the sugar starts to form
a syrup and then place in the sponge shell. Spoon your ice cream on top of the
fruit quickly and smooth it into a dome and then slice the left over sponge
thinly and cover the ice cream with it. Here you can moisten the sponge again
with booze if wished and place into the freezer. For your Italian meringue use
about 125 grams of egg white and 250 grams of sugar (200+50). Take the 200
grams of sugar and place in a small sauce pan and mix a little water with it to
make a paste like consistency. Put this on a high heat and then place your
whites in the mixer and start to whisk adding the 50 grams slowly when it is
again a snowy consistency. Keep an eye on your sugar and when it starts to boil
you can either use a sugar thermometer and boil till 120C or if when it is
boiling let it boil for a good minute and it should be about right. Remove from
the heat and turn your egg whites on to a slow speed and slowly add the boiling
sugar. When all the sugar is added turn the mixer to high speed and whisk till
cold, there dahlings you have Italian Meringue!
Take
your Alaska out the freezer and either pipe or spread the meringue covering the
sponge and making a fancy design. Place back in the freezer to store.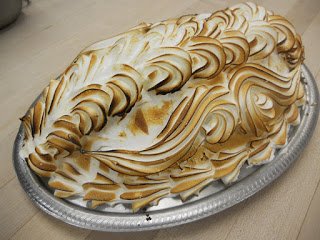 A simply piped baked Alaska
If
you don't feel confident in making the Italian Meringue then just make another
batch of French meringue and use.
Your
meringues in the oven should now be well on the way to being nice and crispy
and when they lift off the paper easily they are ready. Whip your cream with a
little sugar and I like to add a little Grand Marnier or Kirsch (delicious)
till soft peaks and your Chantilly is done and then mix your berries together
with a little orange and lemon juice and touch of sugar and by the time you are
ready to serve those will have marinated onto a lovely compote. The combination
of the crispy meringue, cream and berries is simply delicious and will not disappoint
your guest.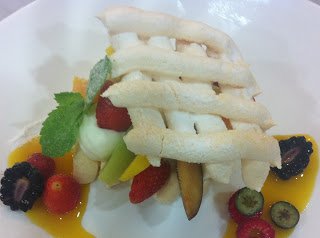 To
finish off your Alaska, transport as quickly to the BBQ (should hold for a 15-20
minutes car journey in a box with some ice), keep in the freezer once again.
Just before serving put in a hot oven for a few minutes to let the meringue
crisp and colour to a lovely golden brown. If your daring enough you can also
flame it!
Two
desserts which with not too much skill you can make look amazing and as for the
taste, simply delicious, I am sure I and you will be the star of the BBQ!
I
had better get on and make them then dahlings………happy baking, BBQ, Sunday or
hangover!
By the way the pictures above are all of desserts I have made before using meringue….
A
quick note on the vegetarian festival in Phuket which I covered last week, listening
to local radio and reading local press there has been much discussion on the
amount of injuries at this year's festival which has doubled on than previous
year at 80 plus. Many foreigners who live in Phuket are voicing concerns whether
it is safe and wise to let these festivities take place so freely when so many
people are injured (most injuries by the way are firecracker related, I have
not heard of any really serious or fatalities).
Dahlings
this festival has being going on long before we got here, don't interfere in it
and if anyone feels they may be in danger by going to such an event then DO NOT
GO, stay at home safely. I am positive if ever things really get out of hand
then the local authorities will deal with it accordingly as they have with
other events as Songkran. These parades and what happens at them are not simply
fooling around, there is much belief in them and their rituals and foreigners
should respect this. Do we really want to it to become boring and westernized?
I
would not though dahlings recommend taking very young ones and putting them in harm's
way, which reminds me of the incident in a UK cinema recently. Families and
kids at the cinema were expecting to see Madagascar 3 but got Paranormal Activity
4 by mistake! Can you imagine dahlings, now there's something to SCREAM about! I'm
not laughing by the way… how dare you!