Essa Spa at Grand Hyatt Kuala Lumpur
Treatment Room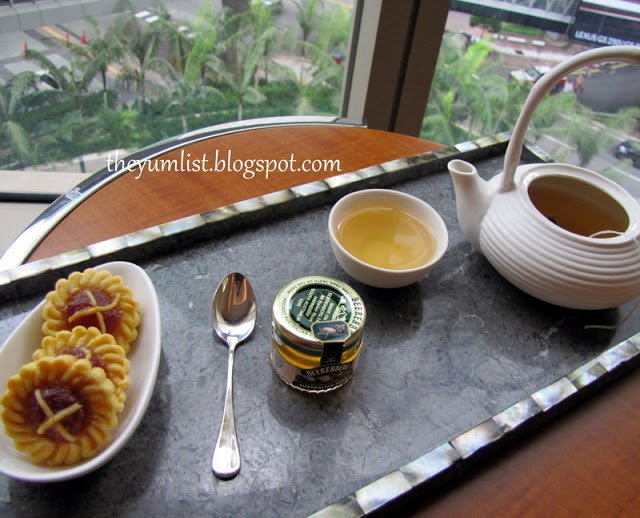 Post Treatment Goodies – the pineapple tarts were particularly good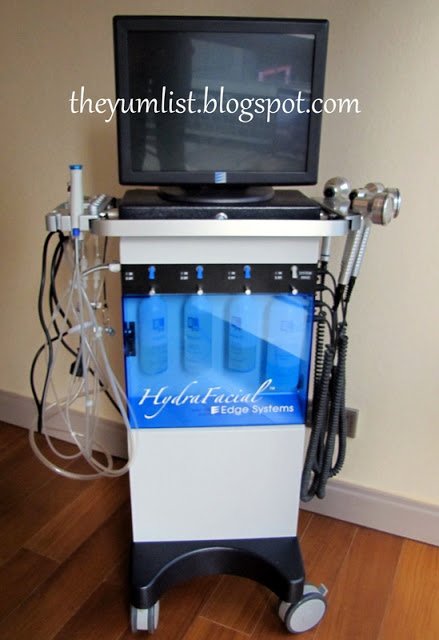 Machine used for HydraFacial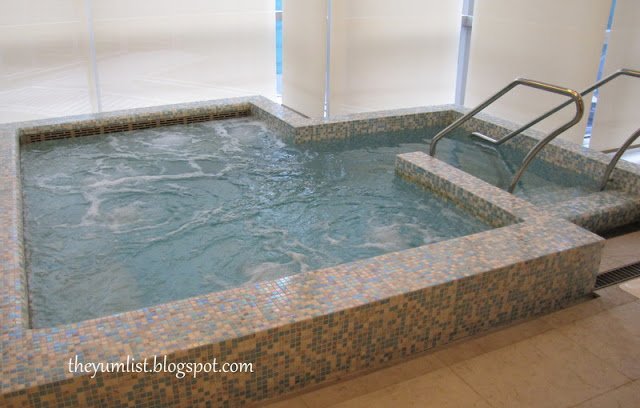 Jacuzzi
Essa Spa @ Grand
Hyatt Kuala Lumpur, Malaysia
"A sanctuary to de-stress, uplift and purify"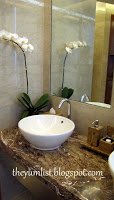 Bathroom
Fast and efficient or relaxing and unhurried, a treatment at
Essa Spa can be tailored to your needs and schedule. A convenient location in the heart of the
city enables a quick treatment after work or a more leisurely afternoon taking
time to bask in the sauna and whirlpool.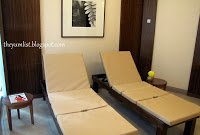 Relaxation Room
'Escape' and 'Sanctuary' are combined to
create the concept of ESSA. Eleven treatment rooms, nine single and two couple
suites, are all equipped with adjustable massage bed, shower and bathroom. A
blend of June Jacobs products and natural Malay ingredients originating from
the rainforest are employed to achieve calm and relaxation.
Hubby and I trialed two treatments. I luxuriated in the ESSA
Dream State and Hydrafacial, while he explored the June Jacobs Body Treatment
and Facial.
Beginning with a foot bath, my tootsies received a short
scrub and splashing with rose water. It was followed with the ESSA Dream State
massage, which used a meld of jasmine, ylang ylang and bergamot to initiate and
maintain a sense of tranquility throughout the treatment. The idea is to create
a hypnotic dreamlike state by focusing on key pressure points, especially those
on the ears, face and palms. The last part of the treatment entailed an almost
cosmetic procedure involving some technical equipment. The Hydratherapy, which
used a machine to cleanse, exfoliate, extract, hydrate and nourish my face,
left my skin feeling decontaminated from city life and glossy smooth.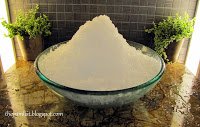 Ice Fountain
Hubby's treatment began with a Signature June Jacobs Spa
Collection Facial. Highly concentrated peptides, botanical extracts, skin
hydrators and potent anti-oxidants serve to illuminate and revive stressed
skin. Extremely fussy about his skin (hubby suffers from dermatitis so his skin
is often either red and irritated or dry and peeling) I was surprised to hear
him sing praises of the treatment. For the Body Treatment too he had just as
much song. This three part procedure utilized Papaya Enzyme for exfoliation, a
Lemon Sugar Body Polish for refinement and an age-defying emulsion, leaving his
skin feely soft and silky.
Informative, unpresuming staff, clean compact facilities and
a comprehensive menu of therapies earn ESSA Spa a spot on The Yum List
Reason to visit:
convenient location, efficient service, Hydratherapy facial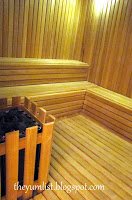 Sauna
Essa Spa
Grand Hyatt Kuala
Lumpur
12 Jalan Pinang

50450 Kuala
Lumpur
Malaysia

Tel: +60 3
2182 1234
Fax: +60 3
2182 1288