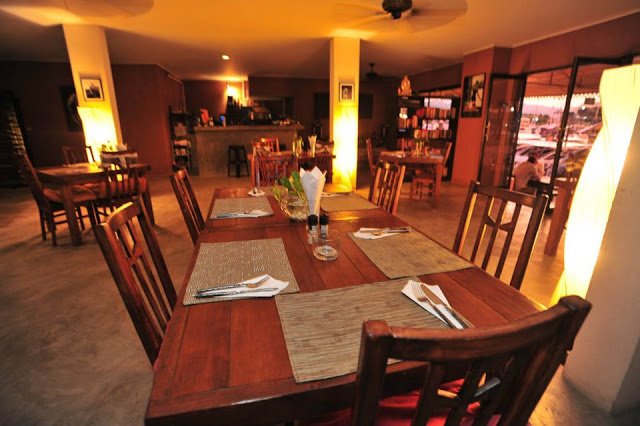 Interior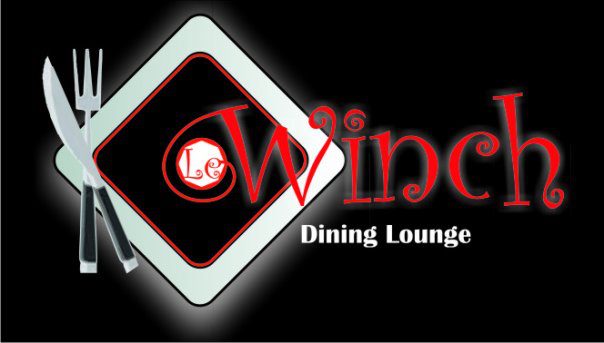 Le Winch Dining Lounge
Le Winch Dining Lounge, Boat Lagoon Marina, Phuket, Thailand
by Chef Peter Webber
Nestled away on a seemingly unlikely route Le Winch is actually located in an idyllic marina setting.
Drive into the Boat Lagoon Marina in Koh Kaew, go through the security and follow the road until it is about to separate into two lanes at the hotel sign. Immediately prior to the hotel sign take a right turn onto the hardstand and follow the markers between the boats. Just bear left at the end and you will see the restaurant sign to your left.
Le Winch is, in my opinion, without doubt the best restaurant in Boat Lagoon. It took a while for me to try Le Winch as I had my own restaurant in the adjacent Royal Phuket Marina. I never seemed to have the time but always heard good things about it….. you know how it is!
The restaurant is owned by Vincent Meuwly who is very hands on as both proprietor and chef. This of course is always a plus because you know you are already half way there to something decent, and at Le Winch I don't think you will be disappointed.
Le Winch's decoration is Spartan and hybrid Thai with polished concrete surfaces and wooden furniture. It has a nice ambience and personality about it and even though it is simple. It's the sort of place you can go for almost any occasion be it a casual lunch or celebration dinner.
Vincent has an appealing character, and if time permits, when he's not working in the kitchen, will welcome customers personally and enthusiastically talk them through his menu. No problem when he is busy, his staff is cheery, attentive and makes you feel comfortable and indulged.
For drinks we started with Vincent's recommendation of Lychee Martinis which were a pretty 'stiff pour' at the same time refreshing; they went down such a treat we ordered another before we moved on to wine. The wines are well picked with a good choice and price range. Bread was a plate full of crusty French bread spread with olive tapenade. There were four of us this evening and we chose different dishes from the menu which is not too large and Mediterranean styled. They were all excellent and deserve a mention but I have chosen our favourites here.
For appetizers Le Winch Caesar Salad with Chicken was just divine and great for sharing, with succulent seared chicken, crisp pancetta strips and grated parmesan, the dressing spot on and not too heavy.
Bacon Crust Asparagus was a personal favourite – three bundles of perfectly cooked asparagus wrapped in bacon and sautéed, heaped with sundried tomatoes and shaved parmesan with a balsamic reduction. The combination of flavours and textures are heavenly and even though the portion is not small nothing went to waste.
For main courses we chose one of Vincent's specials from the board, Lamb Cutlets with Fig Sauce. Cooked to perfection just the way I like my lamb, four generous cutlets were served with seasonal vegetables, ratatouille and sautéed potatoes. The candied fig in the reduced red wine sauce was an interesting match and I liked it.
The fish dish chosen was from the regular menu, Snapper Fillet Sautéed with Cherry Tomatoes and Olives (there was no shortage of them either). This was a delicious light combination with a perfectly cooked piece of fish again served with sautéed potatoes or you could also choose mashed potato or pasta.
Everyone was pretty full by this time but you cannot leave Le Winch without having the Orgasmic Chocolate Mousse, rich, dark and full of chocolate it just melts in your mouth. Vincent tells us the anecdote of how the dessert got its name with a lady declaring rather loudly as eating it that it was just "Orgasmic!" I did wonder to myself if the husband decided to buy large quantities to take home to save him some trouble…..!
We finished off the evening with espressos and more amusing stories from Vincent who has had a very interesting career and, as many other good chefs, did not set out aspiring to be one!
An excellent evening and one of many I have had at Le Winch, which reminds me also of one memorable night we arrived at the restaurant and there was a sudden power cut (which happens in Phuket) Vincent was a true restaurateur and managed to produce magic by candlelight and gas! What more can I say!
Reason to visit: Excellent food and good service.
Downside: Cash only restaurant though there is an ATM in the marina.
Food Prices: Medium Range
Appetizers from 250 Baht ++
I should add that Vincent has a strong following of expats who regularly fill the restaurant for his lunchtime special which is changed daily and priced very competitively!
Le Winch Dining Lounge, Boat Lagoon Marina, Phuket, Thailand
20/31/32 Boat Lagoon Marina Moo 4,
Thepkassattri Road, Koh Kaew,
Telephone: +66 (0) 848 428 228