Sundays With Chef Peter….
The Baan Rim Pa Restaurant Group, Phuket, Thailand
Happy Sunday to you all Daahlings…. Hope your week was fabulous
and finished on a high!
It's been a fantastic week here in Phuket, sunny and hot baby! Fabulous, especially
if you're escaping cold winters elsewhere!
This week a restaurant review as I finally after many cancellations on both sides got a chance to
catch up with an old friend of mine Sue,
who also happens to be the marketing guru for one of the most successful and in
my opinion one of the best located restaurant groups on the island, Baan Rim
Paa.
There is also a personal reason for my wanting to review the Baan Rim Pa group,
not only because the three restaurants Baan Rim Pa, Joes Downstairs and Da Maurizio
which make up group are good, but also because of Tom McManara, the man behind
Baan Rim Pa and one of the first good friends I met on my arrival in Phuket. Tom
sadly passed away from cancer a few years ago but he was a wonderful man with
one of those rich personalities you don't find often these days, always pleased
to see you with plenty of good stories and more than anything a great lover of
the good things in life especially food and drink which was both his passion
and business. Thank you to Tom and his family for their friendship over the
years.
Back to the day in hand, as Sue was treating me for lunch I thought it a great
opportunity to speak to her about the restaurants, have some good food and snap
a few shots on this perfect summer's day and here I am sharing it with you.
The
group's three restaurants, Baan Rim Pa which is Royal Thai Cuisine, Joe's
Downstairs, New World Cuisine and Da Maurizio, Contemporary Italian are perched
together just above the rocks of the Kalim Beach shoreline just a little way
from Patong with spectacular, panoramic views from Patong Beach to Kalim Bay.
Connected by a seaside scenic wooden staircase each
is unique in its own style, cuisine and ambience.
Easy to find and if you do have a problem most people will know. It's not the
easiest place to find a parking space especially if the restaurants are busy
but worth the trouble and anyway, if you're making a night of it, take a taxi
dahlings!
As I sort of dropped it on Sue that I would like to review Joe's last minute I
let her order, no problem for Sue who knows these three restaurants inside out
after her decade or more here and has entertained far more esteemed reviewers
than little ole me! Also with award winning Chef Aaron Hooper in the kitchen, another
good friend of mine and master chef (but not like one of those off the telly),
we knew that the food was going to be good!
We decided on such a lovely day, wine would compliment perfectly, the group's
wine cellar is pretty impressive with wines from around the globe and a few
good awards too! We chose an Australian Sauvignon Blanc which was perfectly
chilled, fruity and light, such a great start! The food followed shortly and Sue had chosen a selection of light dishes which
we would share.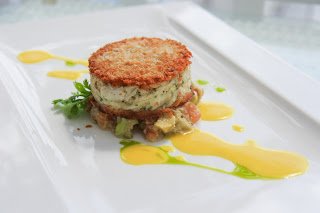 Premium Jumbo Crab Cakes, which were excellent with large moist flaky pieces of blue
crab atop a salad of Haas avocado salad with sharp lemon vinaigrette, I could
have happily eaten two!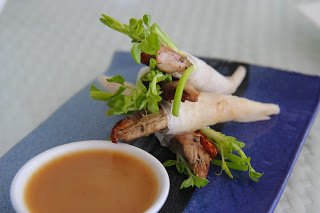 Peking duck rolls with Tamarind/Dijon Mustard Dipping Sauce, not
bad and the sauce was great but would have been even better with a little more
duck.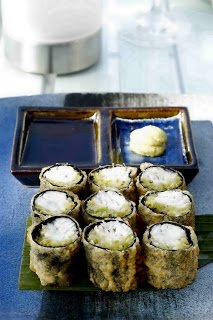 White snapper and leek tempura with citrus soy syrup which was
really delicious, I loved the combination of the crisp texture of the leek with
the succulent snapper dipped in the sauce, it just melted in my mouth. Also a nice large bowl of simple fresh crisp salad to go with
everything was plenty for a lunch.
Joe's also has a special board where Chef Aaron creates unique dishes
and Joe's always has an excellent selection of local and imported fish and even
the burger is worth a mention.
We finished with a couple of espressos as we both had work to return
to but to be honest I could have happily enjoyed the rest of the day enjoying the
view with a few more glasses of wine! Alas daahlings not to be… but if you're on
holiday and it's too hot for the beach then this is well recommended
Just need to add that when I returned 'home' my expat resident
friends, who I always stay with, in Phuket told me that their fave place on the
island by far is Da Maurizio. They have lived here for 10 years plus and are
blown away by the food and settings of all the Baan Rim Pa group sites. They save these restaurants for their special
occasions due to mid to high price range and agree with me that any of Baan Rim
Pa group is worth a visit.
So till the next time as they say at the Baan Rim Pa restaurants… Sawadee
Krup, See ya and Ciao! Have a great Sunday and upcoming week!
Reason
to visit: Wonderful location, great food and service. A must visit while in
Phuket!
Downside:
Pricey and at times difficult to find somewhere to park.
Food
Prices: Med-High Range
Appetizers
from 295 Baht ++
Main
Courses from 595 ++

The Restaurants Address
223 Prabaramee Road,
Patong Beach,
Phuket 83150,
Thailand
83150
PHONE and FAX
Head Office
P: 076-618235-8
F: 076-618239
Baan Rim Pa
Restaurant
P: 076-340789
F: 076-618239
Da Maurizio Bar
Ristorante
P: 076-344079
F: 076-290147
Joe's
Downstairs
P: 076-618245
F: 076-618239