Sundays
with Chef Peter….
Hello
there daahlings, how are you this fine Sunday, I do hope that you are fabulous
as usual.
Firstly
a big congratulations to Monica the BOSS of the blog for being nominated as
contender for "Top Expat Blog of the Year", congratulations Monica, I know how
much passion you have put into the Yum List and thank you for letting me be part
of it, fingers crossed you will win!
I have been travelling a little by air this
week around Asia and have come to the conclusion that it is no longer really
any fun, crowded airports, endless immigration queues with not very welcoming
officers manning them, even if you fly business class the lounges seem
overcrowded and not what they were, what happened to all the delicious
selection of free drinks on offer, replaced by a can of beer or a glass of
cheap plonk and a packet of crisp! Once upon a time travelling was elegant and
fun where people used to dress up for a journey, now it's all "comfortable
clothing" what you'd wear for watching TV…..!
Anyway enough of my moaning, on to the food,
and as were nearly at the end of November and Christmas is just around the
corner, I thought today I would share one of my Christmas recipes with you for Mince
pies.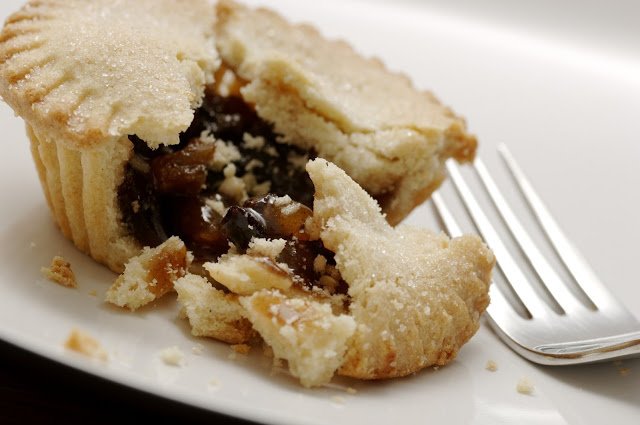 A mince pie, also known as minced pie, is a small British sweet Pie
traditionally served during the Christmas Season. Its ingredients are traceable to the 13th century, when
returning European crusaders brought
with them Middle Eastern recipes containing meats, fruits and spices. Early
mince pie was known by several names, including mutton pie, shrid pie and Christmas pie. Typically its
ingredients were a mixture of minced meat, suet,
a range of fruits, and spices such as cinnamon, cloves and nutmeg. Served around
Christmas, the savoury Christmas pie (as it became known) was associated with
supposed Catholic "idolatry" and during the English Civil War was frowned on by the Puritan authorities. Nevertheless, the
tradition of eating Christmas pie in December continued through to the Victorian era, although by then its recipe
had become sweeter and its size reduced markedly from the large oblong shape
once observed. Today the mince pie remains a popular seasonal treat enjoyed by
many across the United Kingdom and indeed across the world.
Ideally the mixture is best prepared
prepared a while ago so it can be left to mature, my mother would have normally
made her mixture around July/August time along with the Christmas cake and
puddings and then store it in an airtight container in a cool place. I make it
around one or two months before when I have a spare moment before the Christmas
rush. When at the Savoy in London we used to make buckets of the stuff as every
banquet around the Christmas period had mini mince pies served as petit fours.
I used to love the first the mince pie of the season, fresh from the oven. You just
knew Christmas was here!
It is very simple to make, all you need is:
1,135
grams Granny Smith Apples (cut small dice ½ cm)
560
grams Suet (fresh cut small dice ½ cm)
460
grams Dark Raisin
460
grams Yellow Raisin
210
grams Orange Peel
50
grams Lemon Peel
1,135
grams Currants
340
grams Brown Sugar
8
grams Salt
6
grams Clove
6
grams Nutmeg
10
grams Cinnamon
150
grams Rum
6
pieces lemon juice & zest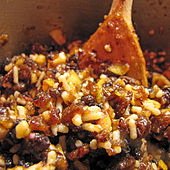 Once you have prepared the ingredients,
simply put them in a bowl and it all a really good stir.
I just put it all in the mixer and let it
mix well for 5 minutes on a slow speed.
Place it in an airtight container and keep
in a cool place till ready to use.
I like to make my mince pies with sweet
paste but some people prefer short or even puff pastry, it depends how rich you
like your pies. I like the sweet paste as it gives the pies a nice crumbly
texture.
My sweet paste recipe is:
250
grams Butter
125
grams Icing Sugar
2
pieces Eggs
375
grams Cake Flour
Vanilla
pod or essence
1. Cream
together butter, icing sugar and vanilla essence (if using pod cut lengthways, scrap
out seeds and add) until the mixture is smooth and pale.
2. Add
the eggs a little at a time and beat well between each addition.
3. Add
the flour and carefully blend into the soft dough.
4. Wrap
in plastic film and flatten out. Chill until firm before use, overnight is
best.
If you
don't like to have so much pastry then make a large tart topped with a nice lattice.
Mince pies also freeze well so can be made
in advance, wrapped well and frozen, taking out as required.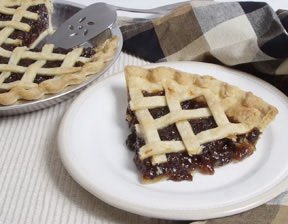 Of course, mince pies are best served with brandy
butter which is easily made by putting equal quantities of butter and icing in
a kitchen aid and creaming together and then adding brandy to your desired
strength! I always add a little cream to finish it off.
The Brandy butter can also be made well in
advance and stored in the fridge. When ready to use simply remove and bring to
room temperature.
Homemade mince pies also make, placed in a
nice basket or box, make an excellent gift for Christmas with a jar of your
brandy butter!
That'll get your office party going!
If you have any questions on the above, don't
hesitate to send me a comment daahlings.
Till Next Week…….Happy Baking!