Sundays
with Chef Peter….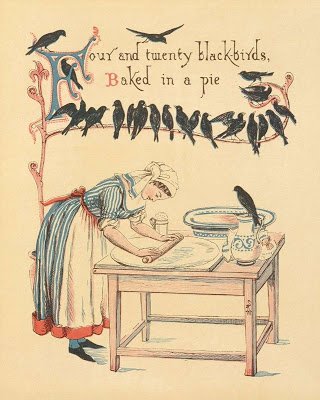 How
are you this week, fabulous as always I trust, hope your having a great weekend!
Well
here we are well into 2013, the party is over but I do believe the year
has gotten off to an excellent start, I do wish it is the same for you.
I
have been watching with "amazment" the debate about guns in the US and really
cannot fathom, especially coming from a civilized country, why a normal
household would want to keep a machine gun handy in the cupboard! I mean if you
buy one like milk or sugar, I presume that you intend to use it at some point!
My
American friends argue that guns are to the them what a kettle is for the
Brits, it's a way of life, which is fair enough but daahlings is it really
necessary to keep such a weapon that you can wipe out half your street in one
round, I mean, a cup of tea is just much more neighbourly is it not!
The debate continues!
Have
you ever bought the readymade rolled puff pastry in the supermarkets? Fabulous, all rolled and ready to go and when cooked, not bad either. Of
course nothing beats homemade but this week I had to knock up a quick supper for
friends arriving from freezing England and I wanted them to have something
warm and familiar before we launched into the delights of Thai cuisine.
I
was walking around the supermarket wondering what to make and saw this ready
rolled puff pastry, how easy they have made it for
us these days. I thought I must test this out and a good old chicken pie
sprung to mind, full of goodness and delicious after a long flight and that dreadful
reheated food and as they were arriving late at night, great for having a good night's
sleep on before hitting the beaches and local eateries of sunny Phuket!
I
use chicken fillets but any cut of chicken is good and vegetables as then it's a meal in one.
My
chicken pie is easy to make, just follow the basics and what you add or don't
add is up to you!
Clean
and cut your chicken into 2cm cubes and your vegetables too.
For
this pie I used some mushrooms, carrots, peas and sweet corn which all
compliment the chicken.
Put
a good knob of butter and a little oil in a sauce pan and put on a medium heat
till melted.
Add
a chopped onion and cook for a couple of minutes.
Add
the chicken and cook until lightly coloured, add the vegetables and cook it all
off for a few minutes.
At this point you can put a tablespoon of flour if you like to bind the cream
when added but I now buy the ready reduced cooking cream which is fabulous and you
have no fear of your sauce splitting so no need for the flour.
Add
cream and bring the mixture to the boil and then let simmer for a few minutes
and then season to taste. The amount of cream is up to you, I don't like my
pies too soupy so I add enough to give a nice coating to all the ingredients.
Put
into your pie dish and leave to cool.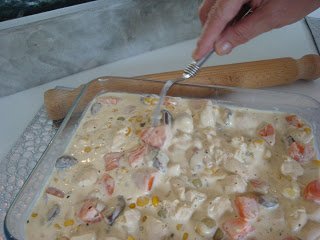 Never
put the puff pastry onto a hot mixture, it will end in tears!
When
cooled, bush the edge of the dish with egg so it will stick the pastry.
Place
the ready rolled puff pastry over the top and decorate with the trimmings if
you like and then brush with egg.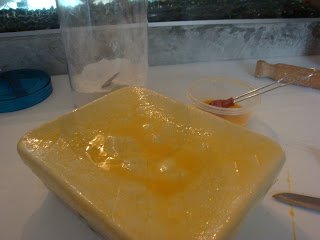 Leave it to rest for half an hour or so as it just gives
the pastry time to relax, I don't think it is really necessary with the ready
rolled stuff but with homemade a must.
At
this point it is perfect to store the pie for cooking at a later stage, just
pop it into the fridge till needed and take out again about an hour before
baking.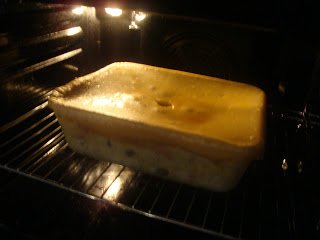 For
puff pastry I always start cooking at 220 ̊c to give the puff pastry its puff
and when as the pastry is a nice golden brown, turn the oven down to 180 ̊c and
cook for 45 minutes or so covering the pastry with a piece of foil if the
pastry is too golden!
Remove
from the oven and leave for 10 minutes or so to have a glass of wine or a cup
of tea with your weary travelers and then let them tuck in.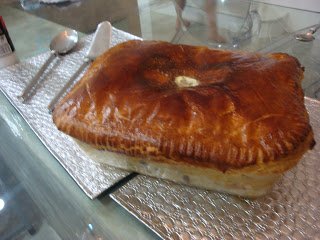 And
they were expecting papaya salad, grilled chicken and sticky rice on arrival, I
don't think so but you won't have to wait too long for that daahlings. By the
time you leave, you'll be begging for another pie!!