Sundays
with Chef Peter….
Well
once again Happy New Year Daahlings, I do hope that 2013 has got off to a fabulous
start, mine has!
I
have decided to start 2013 with a completely new outlook. I'm having a bash at another new business in
Phuket. Self Employed status is what I believe to be like child birth… sort of
never again… until next time!!!!! But then you do. This is what my ladies tell
me.
I
am embarking on my nouveau petit bakery which will be called "Les Diables" (last
business was "Les Anges"!) where I will be producing all my goodies and things
I specialize in, wedding cakes, celebration cakes and all things sweet for
people to enjoy. I do hope that if you are passing through or staying in Phuket,
that you'll pop by and say hello. It is located in the Boat Lagoon in Koh Kaew
and will "hopefully" be open for wholesale business by the end of the month,
retail a little later…. Updates in Phuket time!
I
was at home in Devon, England in December and it was COLD, cold but beautiful,
you know those days, frosty mornings, clear and sunny with your breath steaming.
Days are short and it gets dark early and….. even colder! This is the time when
you start to think of all those comfort foods you love to eat, pies, stews with dumplings,
roast dinners and suet puddings warming the cockles of your heart.
It's
a good steak and kidney pudding that came to my mind and mums kitchen and that's
what I want to share with you today. Took me back to when I was a boy watching mum cook and just getting so excited for tea time!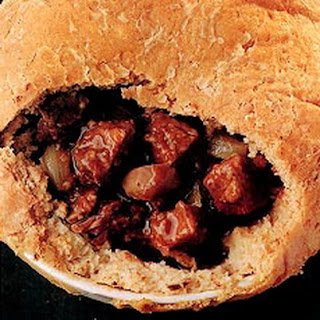 To
be honest though, you don't need to be in cold weather to enjoy one of these,
they are delicious anytime and easy to make and something everyone should try
once… you know like sex daahlings……!
I
made mine with steak, kidney and mushroom but you can change, add more vegetables
if you like, leave out the kidneys if you don't like and customize it to your
own taste, easy to make as you'll see with just a little patience for the
cooking!
All you will need is a well-buttered, 1.5 litre
pint capacity pudding bowl and a steamer or a saucepan of boiling water with a
trivet in the bottom to keep the bowl off the bottom of the pan to avoid your
pudding burning.
Ingredients
For the suet crust pastry:
·
350
grams All purpose flour
·
Salt and ground black
pepper
·
175
grams shredded beef suet
·
Cold
water
·
Chopped
herbs (parsley, chives, celery leaves, mustard seed) if you fancy. I added as I
wanted to see how it turned out this time, not a big difference but it did add
a little something to the pastry.
For the filling: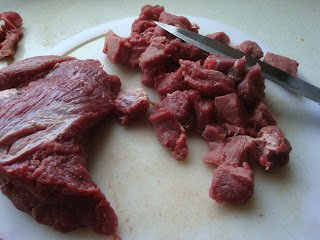 ·
500
grams chuck steak
·
200
grams Ox, pigs or lambs kidney (I used lambs this time)
·
200
grams Mushrooms (quartered)
·
50
grams seasoned flour
·
1
medium onion,
chopped
·
Cold
water
·
1
teaspoon Worcestershire or oyster sauce
·
Salt
and freshly ground black pepper
·
500
ml beef stock/gravy or plain water (this time I used an instant gravy just to
see and it worked really well)
Method
2.
Add
the ground black pepper and herbs (if you're using them), then add the suet and
mix together. When it's evenly blended, add a few drops of cold water and start
to mix with your hands. Bring it together as a dough and keep adding drops of
water until it begins to get sticky. Bring it all together until you have a
nice smooth elastic dough, which leaves the bowl clean. Suet pastry always
needs more water than other types, so if it is still a bit dry just go on
adding a few drops of water at a time.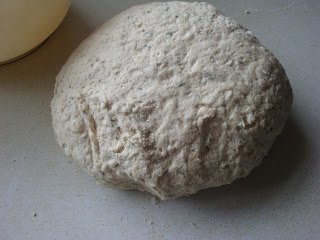 3.
Take
a quarter of the dough and put aside for the lid and roll the rest out fairly
thickly. What you need is a circle, about 33cm/13in in diameter. Now line the
bowl with the pastry, pressing it well all around.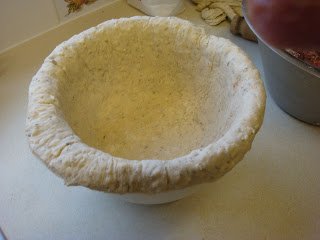 Line the pudding bowl with the suet pastry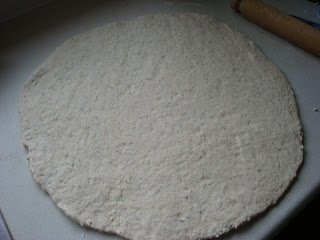 Pastry for the lid….
4.
Cut
the steak into 2.5cm/1" cubes and kidney into fairly small cubes, toss them in
the seasoned flour, add them to the pastry-lined basin with the mushrooms and onion.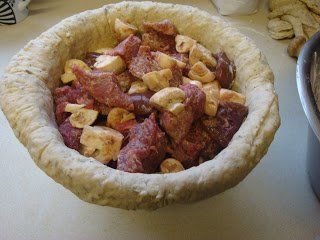 5.
Add
enough beef stock, gravy or plain water to reach almost the top of the meat and
sprinkle in a few drops of Worcestershire sauce or oyster sauce and another seasoning
of salt and pepper.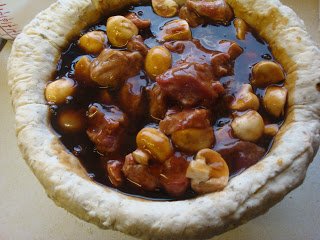 6.
Roll
out the pastry lid, dampen its edges and put it in position on the pudding.
Seal well and cover with a double sheet of foil, pleated in the centre to allow
room for expansion while cooking.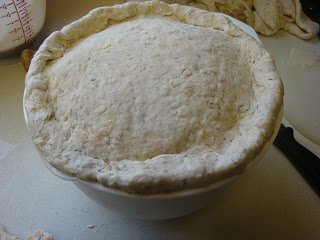 7. Secure
it with string, making a little handle so that you can lift it out of the hot water.
Then place it in a steamer over boiling water. Steam for a good five hours,
topping up the boiling water every hour or so or as needed.
8.
For
serving, either serve the pudding by spooning portions straight out of the
bowl, or slide a knife round the edge and turn the whole thing out on to a serving
plate.
9.
Serve
on its own or with your favourite vegetables (I served garden peas and runner
beans with mine which I love)!
Voila
darlings, a treat for all your family to enjoy come rain or shine, snow or ice!
Till
next week…