Sundays
with Chef Peter….
I'm
having just a ducky Sunday!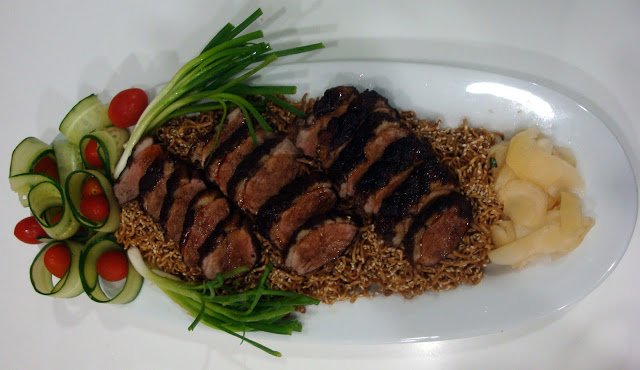 Did
you see the Golden Globes, I just love to watch them and can't wait for the
Oscars, full of pomp and ceremony making me wish I had tried harder at drama at
school than home economics daahlings…. Oh to be so famous, fame…or was it because of the money!!
And
the Boeing Dreamliners are not such a dream it would seem, do hope you didn't
get stranded anywhere because of the groundings but at least the good people
are keeping us all safe.
And
of course Lance Armstrong……………….
Anyways,
I arranged to settle down and enjoy the Golden Globes this week with some
friends for the repeat in the evening, a couple of drinks and a bite to eat. I
wanted a dish that would be easy to put together, tasty as we toasted our
favourites to wins but not the usual fried snacks, crisp peanuts etc.
I
happened to be having this conversation last week about easy dishes to put
together with my friend Tracey and it was her who suggested this one that I
thought would be great to try, Crispy Duck in Five Spices with Noodles, perfect
for the occasion.
For four persons you need the following:
3-4
large duck breast (If you don't fancy duck, chicken is as good)
1
packet of Chinese 5 spices
4
packets of duck flavoured instant noodles
Cucumber
(Sliced thinly, I used a potato peeler and make lovely long thin slices)
Spring
onions (Cleaned and trimmed and put into iced water)
Preheat
your oven to 180 ̊c.
Give
the duck breast and clean and dry them on kitchen paper.
Score
the fat on the duck breast with a crisscross and toss in a bag with the 5
spices till well coated (this can be done in advance and stored in an airtight
container till needed)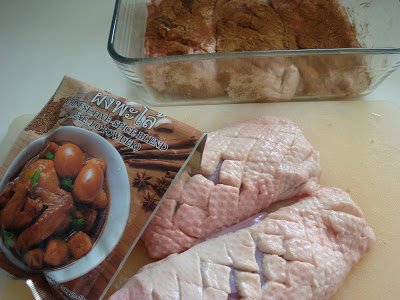 Put
equal quantities of soy sauce and honey (you don't need too much) into a sauce
pan and bring to the boil. Boil for 1 minute and put aside for later.
Put
a frying pan on a high heat and let it become nice and hot and then place the
breast fat side down. The fat will then come from the duck and cook them until
they are a nice golden colour and then turn them over and repeat on the other
side.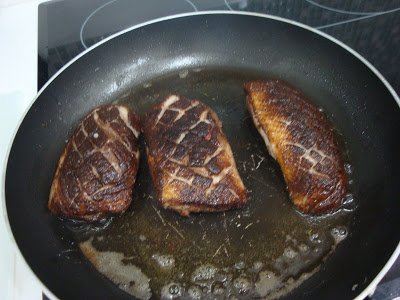 Place
the breast into a roasting dish and put in the oven for 10 minutes till the
duck is medium or as you like it.
While
the duck is in the oven prepare the noodles in the hot water but don't add the
flavouring or Chili.
When
the noodles are cooked, drain off the water and mix in the noodle flavouring (I
leave out the chili) and add a dessert spoon of sesame oil. Mix well.
Remove
the duck from the oven and slice the breast on a chopping board.
Arrange
the noodles on a serving plate and sprinkle with the toasted sesame seeds.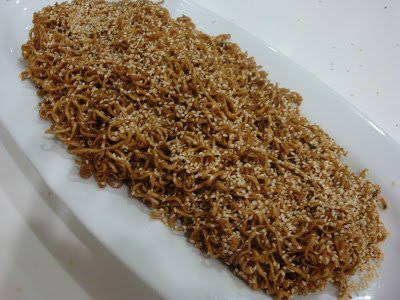 Arrange
the duck slices on top of the noodles and garnish with your cucumber, spring
onions, tomatoes and pickled ginger.
Bring
the soy and honey sauce to the boil again and glaze the duck all over with it.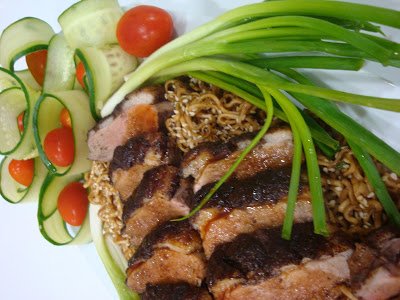 Then
give your guest a bowl and a pair of chop sticks (as it just tastes better
eating with chop sticks) and let them enjoy!
Oh no daahlings, I didn't want him to win the Gloden Globe but never mind my
noodles are a winner, where's my trophy?!
Happy
Sunday… happy cooking!