Sundays
with Chef Peter….
What
a great week it's been daahlings, Les Diables is coming along nicely and the
arrival of my new oven was a thrill followed of course with the hour or so of a
very smoky shop as it gets seasoned and ready for use. A visit to my friends at
Phuket's Radio FM 91.5 for an interview about Diables was lots of fun and laughs
with DJ Doris!
Exciting
news this week…. President Obama's inauguration for his second term,
congratulations to him and good luck, not the easiest time to be a president
for any one I'm guessing! And all those inauguration balls…. Fabulous and who
says America is broke!
Having
a roast this Sunday I wonder and if so are you making Yorkshire puddings to go
with it?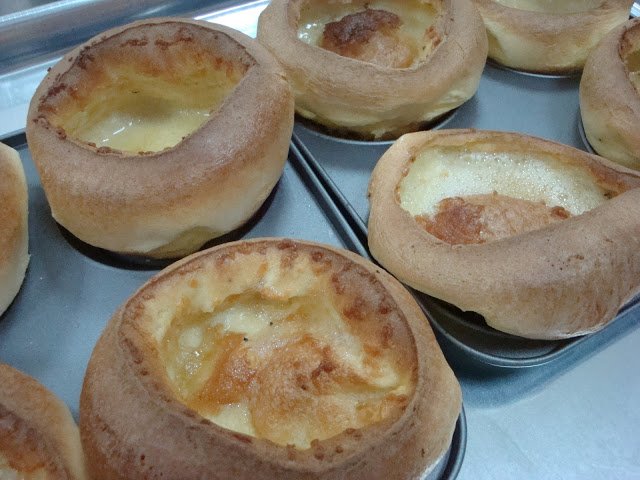 Yorkshire Pudding, also known as batter pudding, is a
dish named after Yorkshire, England, though there is no evidence it originated
there. It is made from batter and usually served with roast meat and gravy.
Tracey my dear friend from Barnsley in South Yorkshire
and an accent to match swears her recipe for Yorkshires is the best. Easy to
make, delicious and fool proof she says and after testing it many times I now
also swear by her recipe, so I ask the good lady if I may share her secret and
she gave me her blessing. Thanks LUV….
This was to be the first item to be cooked in my new oven
so it has been all very exciting as I was keen to see how the temperature and
distribution of heat is in the ovens as a good oven is a pastry chef or bakers
very best friend if it works well!
All you need is your oven preheated to 200 ̊c, a cup or
small mug, some plain or bread flour (Tracey says it has to be plain but I
think either works and have even got away with using all purpose flour before),
eggs, milk, seasoning, shortening or cooking oil and some pudding tins or
moulds.
Crack your eggs in the cup till full and put them into a
bowl, wash and dry the cup and fill it with flour and gradually whisk it into
the eggs avoiding getting lumps and then fill your cup with milk and gradually
whisk that in to egg and flour mixture making your Yorkshire batter. Lastly
season with salt and pepper and your batter is ready to go. If you do think you
may have got a lump or 2 of flour just pass the mixture through a sieve to be
sure.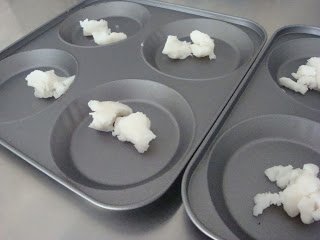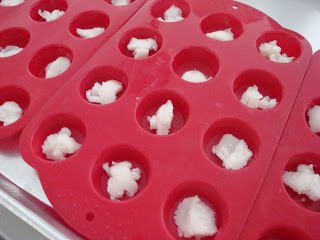 Put a teaspoon of white fat/shortening in the pudding
tins and as you can see in the pictures you can use many different styles and
sizes depending what you have in your kitchen. If you are using oil, place
about a half cm in the pans.
Place the pans on a baking tray and place in the oven for
5 minutes till the fat/oil is nice and hot.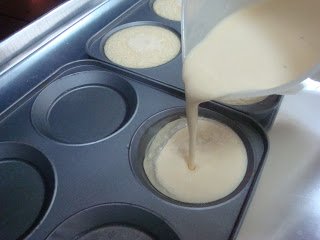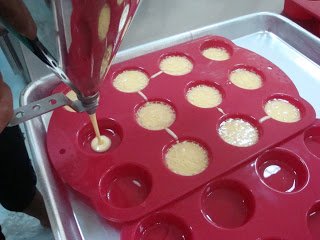 Remove the pans from the oven and pour the batter in the moulds
till half full and put straight back into the ovens and watch them rise!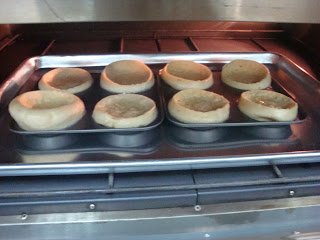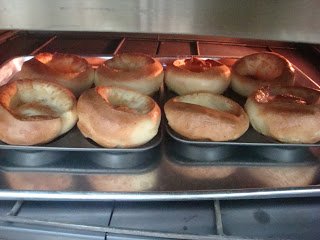 It is said you should not open the door when you're
cooking Yorkshires and I agree as they can lose their rise if not set enough
but if you don't have a window on your oven door a quick peak should be OK!
The puddings will take anything from 30 minutes to and
hour to cook depending on the size but you want to leave them in the oven till
they are a lovely golden brown and nice and crispy.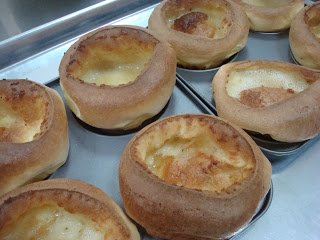 Nothing worse than heavy rubbery Yorkshire which doesn't
soak up your gravy daahlings!
Yorkshires are best cooked fresh I think but they do freeze
well and to reheat, just pop into a hot oven and heat up.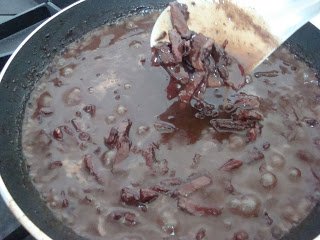 Yorkshires don't only go well with roast either, they
make a great meal on their own served with savoury minced beef or a ragout of
beef in red wine as I have done here with mine and mini Yorkshires topped with
the ragout are great served as Canapés and even better with a little
horseradish on top and a sprig of parsley!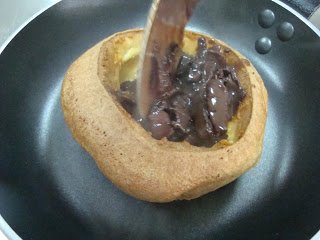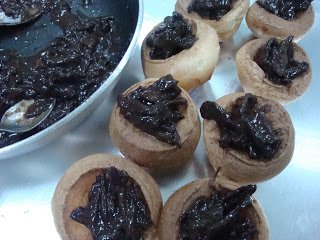 And of course if you add some sausages before cooking you
have "Toad in the hole" a great British favourite served with onion gravy,
deliciously simple and hearty to eat!
Gosh been years since I have had Toad in the hole, I may
whip one up for me supper!
Happy Sunday and Happy Cooking Daahlings…
Chef Peter