Sundays
with Chef Peter….
Sunday's
just seem to come around far too quickly daahlings and go unfortunately even
quicker!
I
have finally set up my facebook page for "Les Diables" (or rather my good
friend Jordan did, thanks darling) so I do hope you will have a quick visit
(there's not a great deal to see at the moment but coming soon!) and LIKE ME!
Well
the Oscars are tonight so I have reserved tomorrow morning for me and the TV
and a pot of tea and crumpets to watch and cheer and boo. I went to see
Les Misérables this week and I must say I love
Hugh Jackman and think Anne Hathaway is gorgeous but darlings it was as painful
as it must have been for Ms. Hathaway to cut off all her hair! Mind you this
show, I saw in London and it had the same effect so maybe it is just me!
What
else happened this week in the news… a lot I am guessing but I have been just
too busy with my own affairs!
So
busy in fact that I forgot completely I had invited friends around for supper
the other evening and had to rustle through the shop to see what I could knock
up in a hurry.
I
thought as it was such a lovely day I would do a quiche, bacon, onion, mushroom
and cheese, classic and delicious and also easy to make!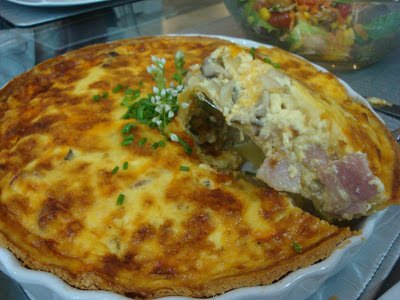 I
have a great recipe for the shortcrust which a good friend gave to me and is perfect for quiches. All you need is:
To
make, crumb the butter and flour and then add the sour cream and work till a
paste, not working it too much.
Flatten it out on a piece of film, wrap and keep in the fridge for half an hour
or so to relax.
Once
rested, knead it a little and roll out nice and thin (3mm) and line your quiche
dish or ring. Make sure you get the paste right into the corners so it does not
fall down the sides when baking.
Pop
it in the freezer for another half and hour to rest and then press some foil or
baking paper into the ring or dish on top the paste and fill with baking beans
and bake blind. When it is nicely cooked (25-30 minutes on 180̊
I always remove the
paper and beans and brush the paste with egg and pop back in the oven for a
couple of minutes. This makes sure any small holes will be not leak out the quiche
royale.
While
the paste is resting in the fridge though, you can prepare your filling, anything
you fancy but I am having bacon, onion and cheese as mentioned. So get some
onions and chop and sauté without colouring in a pan and then add some chopped
bacon and sauté again for a couple of minutes, add the chopped mushrooms and
give a quick cook. Leave to cool.
To
prepare the royale I use:
3
eggs
3
egg yolks
250
ml cream
200
ml milk
Salt
and black pepper
Nutmeg
Easy
to make, just whisk the eggs, yolks, milk and cream together and season with
salt and pepper and add a good pinch of nutmeg which I like in quiches but you
can add any herbs or spices you like to go with the filling you have chosen.
Tarragon and parsley too, go well with this quiche.
Place
the bacon and onion mixture in your pastry case (still in the mould or flan
ring of course, don't want any accidents) and top with grated cheese (again of
your choice but for this time I am using a mature Devonshire cheddar from my
local farm shop at home "Quicks" so really full of flavour)
Place
the quiche on a baking tray and take it to the oven (pre heated at 160̊c) and rest
on the oven door and pour in the royale till the case is full.
Pop
in the oven and bake for around 45 minutes or until the quiche is set and firm
to the touch, remove and if you have time leave to set for 30 minutes or if in
a hurry like me serve it piping hot.
Both ways are delicious and served cold is good too so great for picnics which what
why I think quiches were invented for!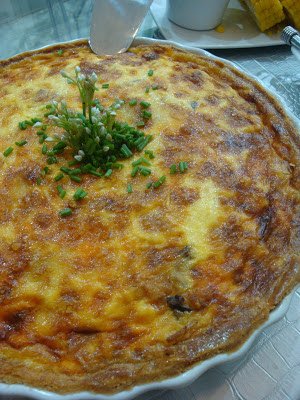 Served
with a big bowl of fresh salad and good glass of sauvignon blanc, you'll think
you're sitting in a Devonshire field on a glorious summer's day daahlings (mind
that cow dung though!).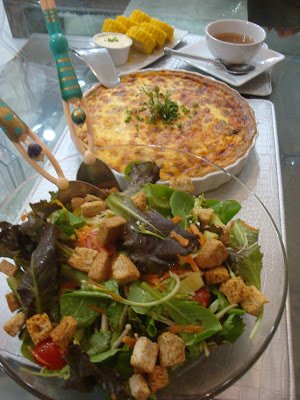 Happy
cooking sweeties and don't forget to LIKE my "Les Diables" Facebook page…..