Harrods KLCC
Harrods Afternoon Tea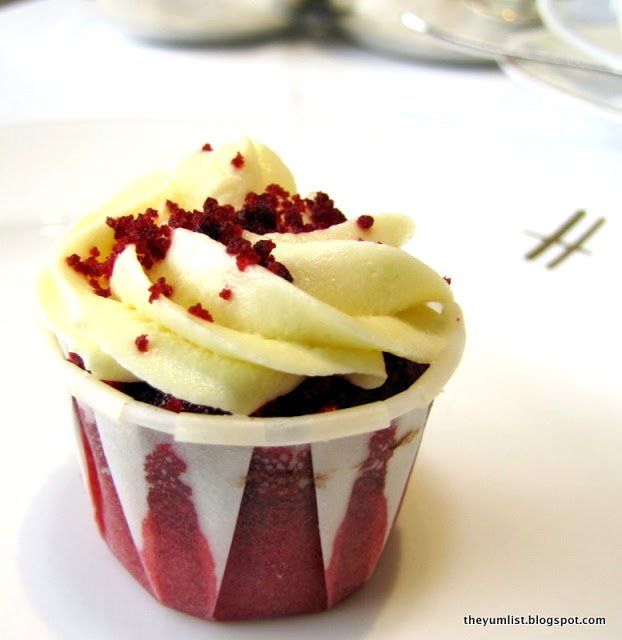 Mini Red Velvet Cupcake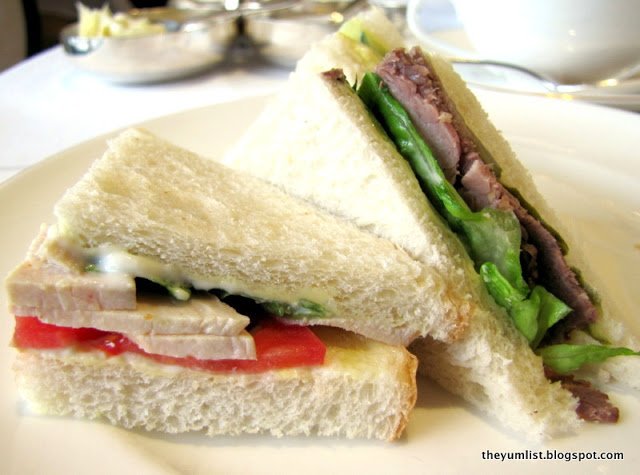 Medley of Sandwiches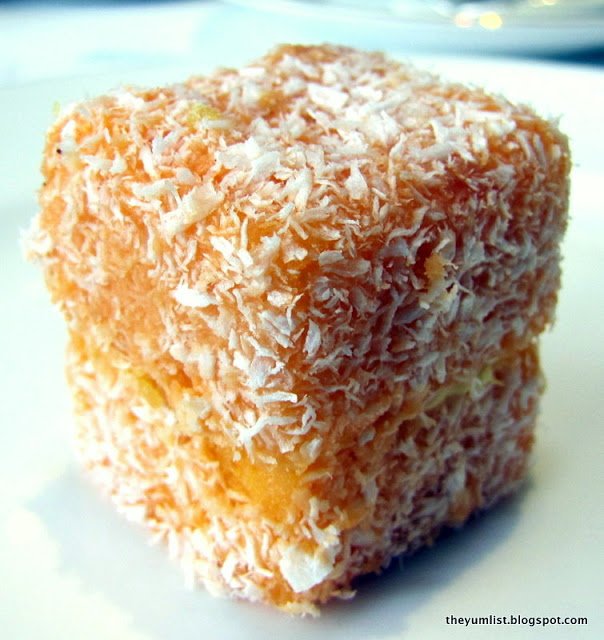 Lamington
Tiramisu Chocolate Cup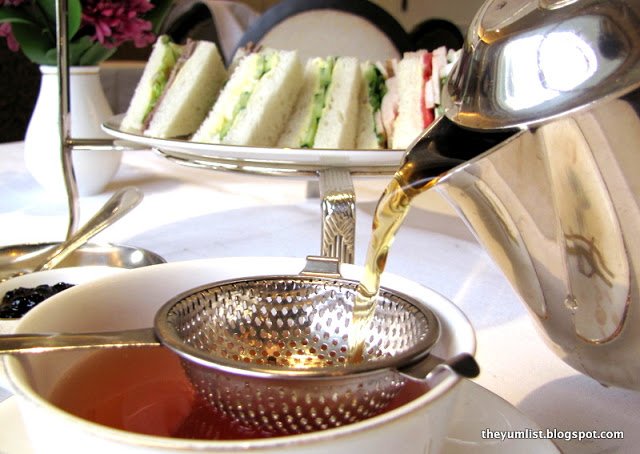 Georgian Blend Tea served with milk or fresh lemon slices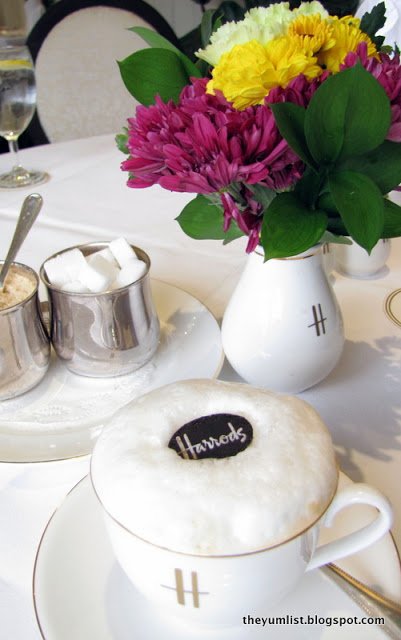 Not a tea fan? They have coffee too.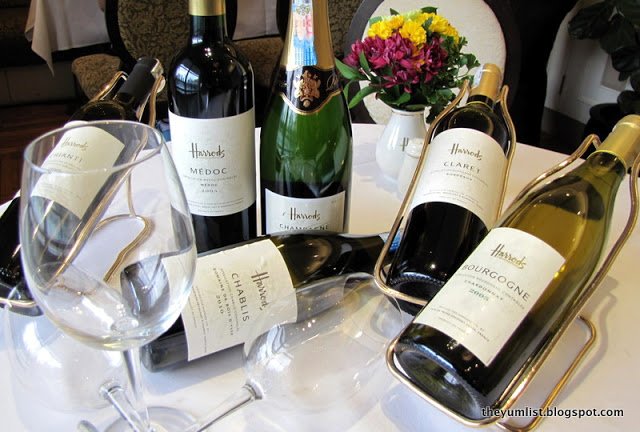 Harrods own wine range – the Medoc goes nicely with their famous Roast Beef and Yorkshire Pudding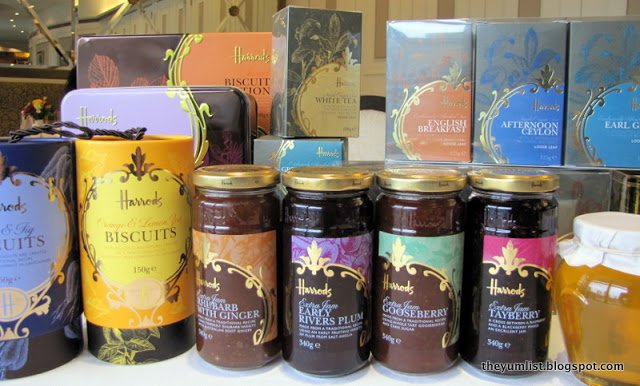 Harrods' Food Hall Products – a little retail therapy on the way out – the Fig and Date Biscuits are delicious with a nice hot cuppa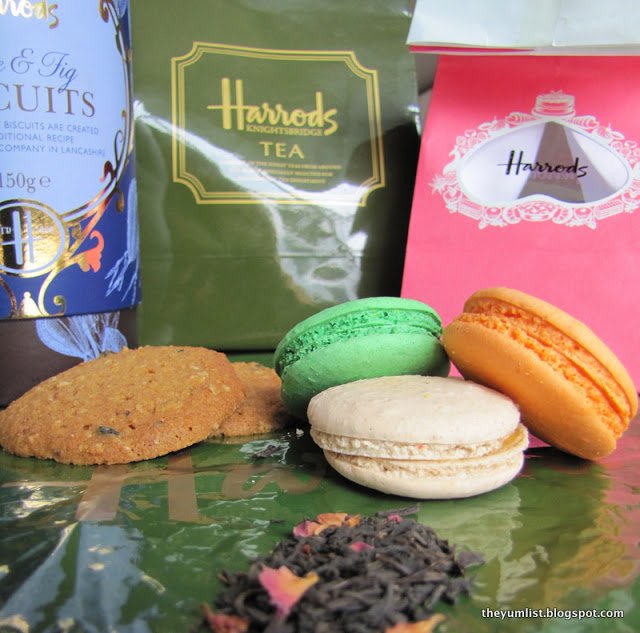 More goodies from the retail section – Date and Fig Biscuits, Macarons, Rose Tea
Afternoon Tea and Retail Therapy at Harrods KLCC
Slip through the retail section of Harrods in KLCC, past the bar and, out back to The Tea Salon and, you'll have trouble believing you were only moments prior in the bustling mall.
White clothed tables, fine China and framed period posters adorn the interior. A fine English dining experience is infused with Colonial charm in the form of white shutter windows and friendly yet proper local service. London is brought to KL with subtle ceiling motifs and elegant neutral tones, yet a glance out the first floor window will bring back your bearings with sparkling views of the KLCC fountain and park. This graceful and cozy chamber is a consummate setting for a traditional afternoon tea.
In my opinion, scones (please remember, "skŏns" not "skoans") are at the core of the cuisine portion of a traditional afternoon tea. The rest of the tiers are just tasty decoration as far as I'm concerned. The protagonist of any satisfactory representation should be a well risen, but not cake like, round. There should be enough texture to bite into so that the
pastry lasts more than a few seconds on the roof of your mouth, but a rock cake consistency should be altogether avoided. A plain scone should not be sweet. It should have a subtle flavour but neither be sugary nor savoury. A perfect scone can be enjoyed with a smearing of butter or equally well with a smudge of jam and a daub of cream. The chef at Harrods is a paragon of refined scone making technique and, deservedly gains the outlet the award for 'best scone in KL,' (as awarded by The Yum List J).
As recently mentioned, once the scone foundation of a traditional afternoon tea is established, the remaining plates on a three tiered display are just bonuses. Harrods however, seem to do everything well so the finger sandwiches are extremely fresh and, the dessert layer more than polish-off-able. The triangle white bread has crusts removed and the fillings are uncomplicated. A mini red velvet cake and orange coloured lamington are both light and spongy, while the tiramisu chocolate cup is creamy and decadently rich.
Of course, you'll require a hot beverage to wash down the goodies. You're welcome to choose a tea of your liking, however the Georgian Blend Tea is highly recommended. It was especially developed for the Georgian Tea Room in London and, there and here, are the only two places in the world that serve it. Following your session you might like to peruse the tea tins on display. A compilation of green cans, reaching the ceiling, supply a glorious few minutes of exploration as you peak inside each finding disparate loose leaves and unique aromas.
The retail section is a tempting browse in advance of your departure. Three distinctive ranges help focus your shopping. All include the classic Harrods' products such as tea, biscuits and jam, but each offer different packaging and diversification of ingredients.  The green themed packaging identifies the high end Heritage collection. The fun London Icon mix features classic images such as red telephone booths and British guards. The money tins filled with biscuits are attractive treats for children (and adults alike – hubby kept returning to check out the various sorts) and the containers of most items are keepsakes in themselves. The Food Hall line is slightly lower priced and caught our eye with mouthwatering combinations such as Date and Fig, Rhubarb and Ginger and, Orange and Lemon Zest. Freshly baked bread and sweets too are for sale at the front counter. If there's anything remaining after 8pm, you might be lucky enough to pick up the last pieces at half price.
Harrods is open seven days a week from 10am to 10pm. The Harrods Afternoon Tea is available daily from 3-6pm and is priced at RM140++ for two persons. Reservations, particularly on the weekends, are strongly advised.
Reason to visit:  elegant afternoon tea, the best scones in the city, delicious range of retail goodies that make fabulous gifts (for someone else or for yourself)
Harrods KLCC
1st Level, Suria KLCC
Jalan Ampang
50088 Kuala Lumpur
Malaysia
+6 03 2166 6000