Sundays
with Chef Peter….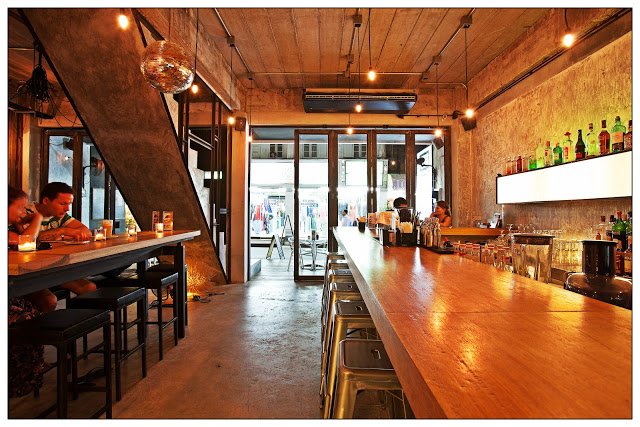 Daahlings,
how are you all today, fabulous I hope and as always having a great weekend…
I
just could not wait to get to my computer today after a very busy week and an
even busier one looming with Easter eggs and hot cross buns filling my dreams,
let me tell you the reason why….
Now
normally it is known that the French and English don't really get on, you know
because were neighbours and we like to bitch about each other but if you
actually put the two together you have quite a good mix! As a student I have many
fond memories of my summer holidays in France and Paris daahlings, J'aime!
Anyway
Nico and I worked together at the Oriental (well, actually he was a trainee at
this time so he was my bitch!) and we sort of stayed in touch and catch up
whenever we can and always have a great time together. Nico was returning to
Bangkok but he said before he left he wanted to take me for dinner at this new
restaurant in Patong. Now Phuket has
many good restaurants but for Patong's size, you can count on one hand (9th
Floor, Baan Rim Paa, Joes and Du Maurizio spring to mind), so I was very
interested to see what Nico had discovered!
The
Ella is located right in the center of vibrant Patong, located in a quiet side
street (Soi 'Post Office') off the beach road and they label themselves not as
a hotel but Bar-Bistro-Bed and for whichever one you would like to go for I really
don't think you will be disappointed!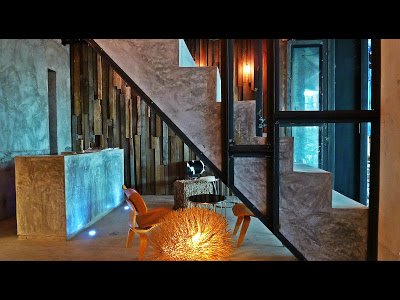 The Lobby
The
style of the Ella is urban chic and suits the surroundings with the busy Patong
beach just a stone's throw away, unfortunately there are no ocean views but
prices reflect this and I think the rooms are excellent value starting at $80 US.
Of
course I was there for the food and this is what I am so excited about, even
today I am still wanting to return as soon as I have a minute for MORE!
Peter
and Dalinee, two of the three partners were there to welcome us and both very lovely
personalities, Dalinee Thai and Peter from Down Under. They love their Ella and
it is newly opened so they are very proud of their new arrival. They have
obviously put a lot of thought in to the way they want Ella to be and are
creative and passionate in what they do.
First
thing which got me hooked to Ella was the Cocktail Lover… "Unlimited Orders on
Selected Cocktails" all for only 479 Baht per person with a great selection and
a couple of my favourites including Lychee Martini which were delicious and
just the way I like them with two juicy lychees in place of olives, a great
start.
Peter
explained the menu to us and it all sounded good but I was still not bought as
here all too often it ends in disappointment and you're forced to smile and say
it was "Very nice"!
To
start we ordered the New Zealand Baked Mussels Florentine to share, four pieces
which were so perfect I had to order another portion. The spinach was fresh and
topped with not too much sauce but lots of good cheddar cheese and gratinated
to perfection!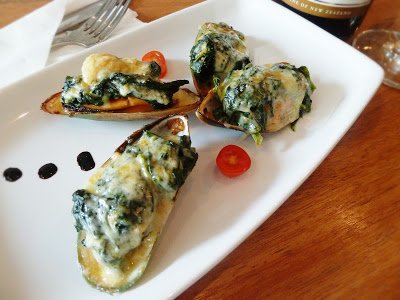 With
now, a couple of great Lychee Martinis going down nicely, I was really starting
to enjoy my evening.
Then
our main courses arrived, mine, slow roasted pork belly served with sage,
pancetta, parmesan and homemade gnocchi, looked good and the only way I can sum
up the dish was simply sublime! The pork belly melted in my mouth and was
bursting with flavour and the gnocchi, light and cooked to perfection and with
the sage, such a good combination, just wonderful. I am normally not a great
fan of gnocchi but I am now of Chef Max's at Ella!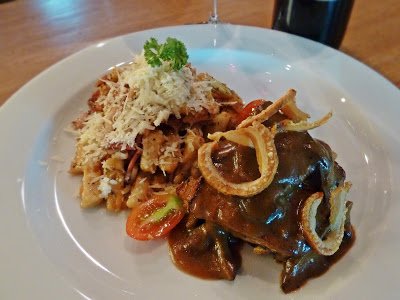 Nico
went for the BBQ pork spare ribs served with BBQ sauce and mashed potato,
excellent and the mash was on par to any Michelin star restaurant I have had
mash at! The ribs were tender and the meat fell off the bone and the sauce with
the meat and mash… heavenly… luckily Nico was being nice and let me sample as
much as I wanted which was a lot!!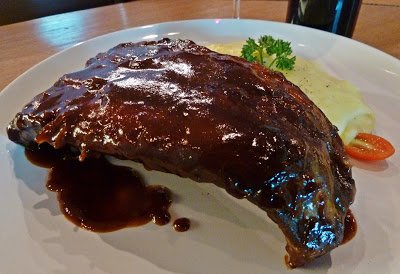 Too
stuffed to eat any more I just could not fit in a dessert but Peter promises I
will like so another reason to return ASAP, he also says the breakfast are really
good so I will have to check in when out for a party in Patong!
The
great thing about all this was the prices are fair and really good value for
money. Nico
and I said our farewells and I returned home and dreamed of the meal, thank you
Chef Max, Peter and Dalinee!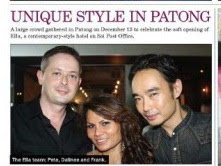 The Partners
If
you are in Patong or visiting soon, Ella is a place you should make time for!
ELLA
100/19-20 Soi Permpongpattana
(Soi Post Office), Thaweewong,
Patong, Phuket 83150
PHONE +66(0)815 401 267 +66(0)807 850 996