Sundays
with Chef Peter….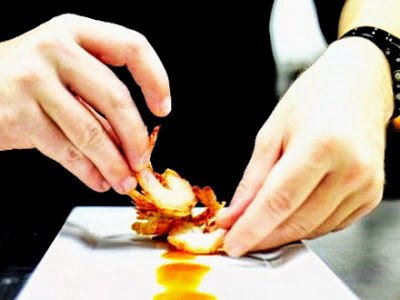 Aaron Hooper at Work
I thought we would have something
different this week other than me talking about my favourite subject of food……
moi!,
Monsoon season has arrived so I figured my local
supporters might have lots of time to stay home, linger in bed on Sunday
mornings and read my ramblings or do so down at Les Diables over a Latte and
Cronut, the
half-croissant and half-donut hybrid, which is taking New York
and the pastry world by storm!
So here is something new, I want to share with you
periodically my experience of the GREAT CHEFS OF THAILAND!
Welcome to my first instalment of these masters. I
will share them occasionally in future my dears.
Last week I had the pleasure of meeting with an old
friend, the Award winning Chef Aaron Hooper at his Restaurant Joes Downstairs,
Patong Beach here in Phuket (reviewed in November last year).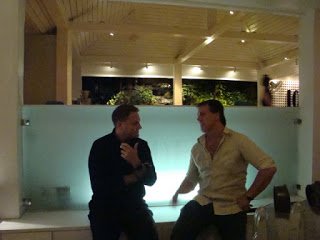 Aaron and moi at Joes having a chat!
He was honoured at the 2008 HAPA (Hospitality Asia
Platinum Awards) as Chef of the Year Thailand. He again won the coveted HAPA
King of Kitchens award for South East Asia 2008-2010. Most recently he was
nominated both as Executive Chef and for his restaurant Joe's Downstairs at the
2012 Miele Guide Best Restaurants in the Asia Awards.

Born and raised in Oregon on the west coast of
America, apparently an area well known worldwide as a hotbed of talented Chefs (So
he says Daahlings!…..Uhm, leave that to your own judgement eh?) and some of
the finest restaurants today.
Early in his culinary career, he worked in Switzerland
under renowned French Chef Fabrice Stephany.
In 2000, Aaron attended the esteemed New England
Culinary Institute, earning an Associate's Degree in Culinary Arts and
graduating at the top of his class. This positioned him for a job back on the
West Coast in one of the top 5 restaurants in San Francisco, the Wolfgang
Puck-partnered restaurant Hawthorne Lane where Aaron worked hand in hand with
rising star Chef, Bridgette Batson.
Well versed in classic French, Italian, Asian, and
Californian cuisines, Aaron focuses on using only the very freshest ingredients
to prepare stunning, honest, culinary works of art!
Coming off rave reviews from the San Francisco Chronicle,
San Francisco Weekly and other California press, he was offered an opportunity
to open the very well reviewed Tiramisu in Bangkok for friend and Master
Italian Chef /Restaurateur Pino Spinoso. Here Aaron wowed local press with his
modern light approach to Italian cuisine unlike what had been before seen in
Bangkok. He garnered impressive reviews from magazines such as Vogue Australia,
Gourmet, Thailand Tattler, Prestige Magazine, The Bangkok Post, Elle, Sawasdee
magazine, Big Chili, and BK magazine.
He also did TV spots for The Nation Channel.
Following his success at Tiramisu, he arrived on
Phuket working at the Watermark Restaurant, where again his menu received great
reviews.
As well as garnering accolades in the kitchen he is a regular contributor to
Think Design Magazine as a writer for their monthly food column as well as
writing for the Thailand Tattler Restaurant guide.
After a brief consulting stint in Shanghai, China,
Aaron returned to Phuket to join the Baan Rim Pa Group as executive chef at Da
Maurizio Bar Ristorante and, soon thereafter opened Joe's Downstairs as
Partner/Executive Chef with Tom McNamara.
His light, fresh cuisine has been well received by
press and critics worldwide.
In
my usual style I entered into military style interrogation with a mass of
questions to Aaron over one (or a few) of Joes excellent New York Martinis (a
must try) and a plate of to die for Slow Cooked Beef which Aaron simply conjured
up and just melted in my mouth along with a few other dishes for you to enjoy:-
Aaron, Tell me at what age and what
inspired you to become a chef?
I
sort of grew into the Chef profession……my first job at the age of 15 was in
a kitchen in my hometown and worked in restaurants through my finishing
University. This paired with my grandmother's fresh cherry pies and my mom's
incredible Chicken Cacciatore cooking is what got me started.
What
started as a job for extra spending money developed into a passion for food and
creating new dishes. The act of creating something new and being able to see it
through to fruition so quickly and being to get a response from it all within a
matter of hours is what really drew me to the Chef profession. It's a very
hands-on tangible thing to create food and be able to taste your creation and
share it with other people. This is my inspiration……..each dish is a little
project that can be seen through from start to finish with all its layers in a
relatively short period of time. Once you become adept at working with flavours
and textures it's very fulfilling to put together little works of art for other
to devour and enjoy. Although the joy is also fleeting until you do it
again……this is what keeps me going as a Chef.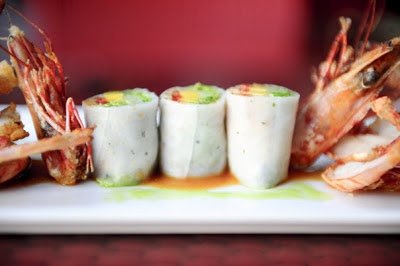 Salt and Pepper Szechewan Prawns with Mango, Bell Pepper and Citrus/Shellfish Reduction
Where did you start your career and how
was it?
I
would say my first 'REAL' cooking was done when I moved to Switzerland at the
age of 22/23 I was now working in a European style kitchen with French Chef's a
far cry from little town American restaurants that I had sort of skipped
through as a means to support my skiing expenses to be honest……It was rough
at first. This was not just a job for these people it was their life, cooking
was everything to them and that rubbed off on me.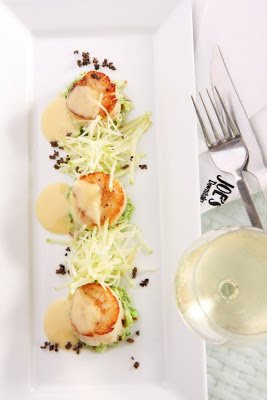 Pan Seared Hokkaido Scallops with Truffle Aioli and Nappa Cabbage, Green Apple Salad
What made you decide to pursue your
career in Thailand?
I
had come to Thailand on holiday and loved the culture and everything about the
country and the people I had met so when I was asked shortly thereafter to come
to help open a big restaurant project in Bangkok I jumped at the chance. I was
working in my very first Executive Chef position in San Francisco and was
getting big reviews and getting noticed in the food circles there at a young
age…..it all happened very quickly for me out of Culinary School. I was then
contacted by a group of resterautneurs that wanted to bring me to Bangkok to
open a very large Italian restaurant………Little did I know that at the
tender age of 27, I was to make a move that has kept me here in Thailand to
this day.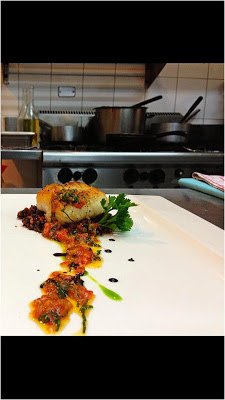 Pan Seared Chilean Seabass with Braised Lentils de Puy and Light Provencal Pan Sauce
How long have you been with the Baan Rim
Paa
group and how did this era all begin?
My
career with the Baan Rim Pa group can all be attributed to one man…….Tom
McNamara. The legend an absolute visionary restaurateur amongst 100's of other
hats her wore. He tasted my food at another small restaurant I was working at
on the island and loved it so much he offered me a job. I took it and have been
here ever since……we opened Joe's Downstairs together as well as 2 other
projects and I would say most everything I know about starting a business I
learned from the best. He was an fantastically larger than life person and one
I will never forget.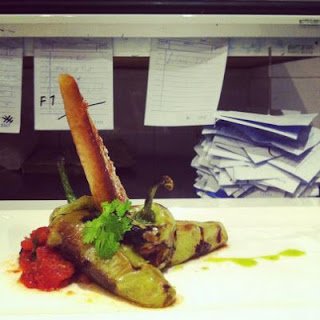 Sausage and Green Apple Stuffed Yellow Chillies with Plum Tomato and Grilled Garlic Crostini
What is your favourite style of cooking?
I
prefer to use as few ingredients as possible and to make sure they are of the
absolute highest quality at my disposal. I like uncomplicated cooking.
Straightforward bold flavours and letting the ingredients stand on their own. I
have never bought into the 'molecular cuisine' trend myself although it is
interesting to me it isn't something I think people want to eat on a regular
basis……..I think it's too much science and not enough soul.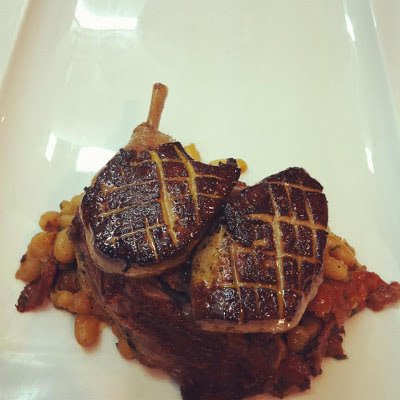 24 Hour Duck Confit with Chorizo and Pancetta "Cassoulet" and Pan Seared Foie Gras
Your personal favourite dish?
This
is one of those questions you should know better than to ask Peter (you better
put that in your blog too) 😉
I've
always dreaded this question as much as "What's your specialty" or
"What type of cuisine do you cook"
They
are far too broad a question for me to answer. My favourite everything is
always changing as is what type of cuisine I might be cooking any particular
day. Joe's Downstairs has given me the freedom to indulge this. If I want to
make a traditional Chicken Taco one day (mexican) I can and I will make it as
authentic as possible……if I am craving a traditional Spaghetti Carbonara
one day I will do the same once again making it with guancialle (pig jowl) and
keep it absolutely Italian……if the next day I want I'm craving a Super
Spicy Krapao Gai, well then…………….I have one of my cooks make it for
me 😉 Haven't quite mastered Thai cuisine and all its complexities yet- And
actually that may just be my favourite dish- I LOVE KRAPAO GAI!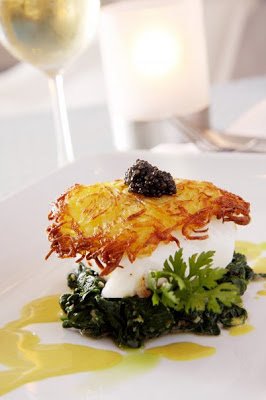 Potato Crusted Snow Fish with Baby Spinach, Saffron/Shellfish Reduction and Ossetra Caviar
If
you could do it all again, would you do the same?
Another
difficult question…….would I know what I know now then?
If
I did……to be honest probably not, I would choose a different path. I love
where I'm at and what I've accomplished, but I often dream of what else I could
have been great at. Doesn't everyone?
Your
future ambitions?
Eventually
I want a very small (talking 4-5 tables) restaurant of my own.
Answering
only to exactly what I want to put on the plate. Striving for absolute
perfection, not profit driven in anyway. Best of the best, yet still
unpretentious and cozy.
And
to share that with someone-
Lofty
aspirations I know- 😉
As
a Chef what do you enjoy eating when you are not working?
I
enjoy a perfect pizza, a perfect krapao gai, a perfect burger, a perfect plate
of fried rice, a perfectly cooked fresh caught fish, a perfectly grilled plate
of vegetables in season. Anything fresh and properly prepared is what I like
eating when not cooking myself.
I'm
VERY picky and always have been when it comes to food. I'm a difficult dinner
date, but I wouldn't have it any other way 😉
(Aaron
is right here, I have been out to dinner with him and he scrutinizes
everything! Interesting experience though and all comments backed up)
So
there we have our first great chef of Thailand (and with accolades to match),
thank you so much to Aaron, it really was a pleasure and when you open that restaurant
of your dreams book me in for the first seating as I know it will be something
special for sure!
It's
also Aarons Birthday this week so…..
"Happy
Birthday Daahling!" J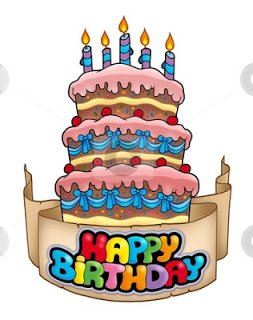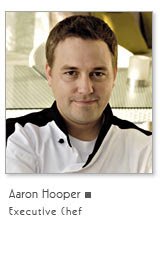 And CONGRATULATIONS to Monica on reaching over a million reads of the Yum List….
Isn't that something!
See
You Next Week!
Chef
Peter
Joe's Downstairs
223 Prabaramee Road,
Patong Beach,
Phuket
83150,
Thailand
83150
P:
076-618245
F: 076-618239