Sundays
with Chef Peter….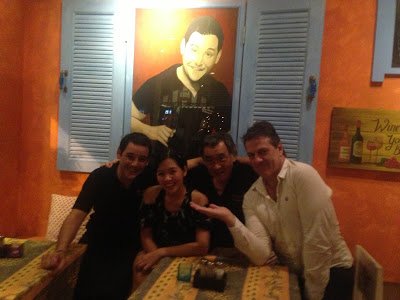 Me with Chef Marco, his lovely wife Nyymph and Father Tsuneo
Daahlings,
Here we are again and I do hope that you are well this fine Sunday and have all had a fabulous week!
Today I would like to continue with another in my series of GREAT CHEFS OF THAILAND!
While I was in Chiang Mai I got introduced to many new eateries and enjoyed many of them but one stood out for its excellent food and when I met the chef/owner I knew I had to write about him.
Marco who is the owner of Chez Marco is a real character and I just fell in love with him the moment I met him. He loves life, works hard and produces great food, what more does one want!
Born in Antibes, France in April 1980 and spending his childhood in Valbonne, Marco as a young man worked in a local restaurant where the family encouraged him to go into the industry. All was going well, until like all good things there was a change in the family and Marco had to leave.
He changed direction and decided he would have a go at construction where he worked his way up to team leader. He was doing very well but Marco got bored of work and also bored of living in France so decided he would like travel and see the world a little.
Marco chose South America but was persuaded by his brother that Thailand would be a better choice as he had some connections there, so Asia it was.
While in Thailand Marco met and fell in love with Nyymph, his lovely wife, and decided that this is where he would like to settle down. Not sure as to what to do to stay here, Marco thought that opening a restaurant would be a good way to solve that problem and, on the 27th of October 2007, Chez Marco opened its doors.
Marco was soon producing great food and gaining accolades for the restaurant as it went from strength to strength. Last year though Marco suffered a bad motorbike accident and was out of action for quite a while so his father Tsuneo, who is from Japan originally, and also a chef by profession, came to help out. He has stayed on ever since, which is a great plus for Chez Marco! They now work side by side. Father uses a more classic style of cooking, which mixes well with Marcos' modern approach. The results are amazing – both delicious and consistent.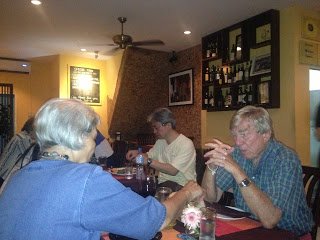 Customers enjoying the fare
I caught up with Marco one night and after enjoying some great food, and of course wine, and put a few questions to him:
Marco, tell me what inspired you to become a chef?
At school I worked part time in a local restaurant where I was close to the family who encouraged me to go into the industry. I changed course for a while and went into the construction business. After working my way up for seven years or so, I made a trip to Thailand, which is where I really became a chef at the age of 25.
Where did you start your career and how was it?
I wanted to stay in Thailand so I thought that opening a restaurant would be a good way of being able to settle down here.
What made you decide to pursue your career in Thailand?
This sort of stems from the last question. It was because I met my wife.
What is your favourite style of cooking?
My favourite style of cooking is Mediterranean which is strongly influenced by my childhood.
Your personal favourite dish?
I don't really have a favourite dish but I do miss a good Kebab, lamb with Tzatziki and Harissa chillies. I also enjoy good ingredients from France such as, tomatoes, garlic and fish with their intense flavours – the way they are meant taste.
What part of being a chef thrills you?
The freedom to do what I like!
If you could do it all again, would you do the same?
Most definitely!
Your future ambitions?
I would like to open a good wine or tapas bar next. My ultimate dream is to open a "real" discotheque here in Chiang Mai!
As a Chef what do you enjoy eating when you are not working?
I love to eat cheeses, but light cheeses like a good feta. I am not so keen on the smelly ones and for breakfast I enjoy lightly fried eggs with tomato ketchup too.
Some of the specialities at Chez Marco are: Smoked Duck Breast with Fig and Roasted Vegetables; Scallops with Pan-Fried Foie Gras and Raspberry Jus; Tenderloin Rossini a la Marco and; Lamb Cutlets Stuffed with Mushroom Duxelle.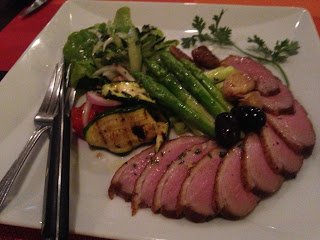 Smoked Duck Breast with Fig and Roasted Vegetables
So if you happen to be in Chiang Mai give Chez Marco a try, you won't be disappointed, the menu is great with plenty of choices at reasonable prices. Wine list is good and also well priced and he even has a kids menu! It is a stone's throw from the Night Bazaar and has parking nearby.
Only one disappointment, the Martinis were not so great but I can live with that!


Chez Marco Restaurant
15/7 Loi Kroh Road,
T. Chang Klan,
A. Muang Chiang Mai,
Thailand,
50100
Tel: 053 207 032
Mobile: 0843647294 (English)
0816969508 (Thai)
Facebook: Chez Marco Restaurant and Bar
See You Next Week!
Chef Peter