Sundays with Chef Peter….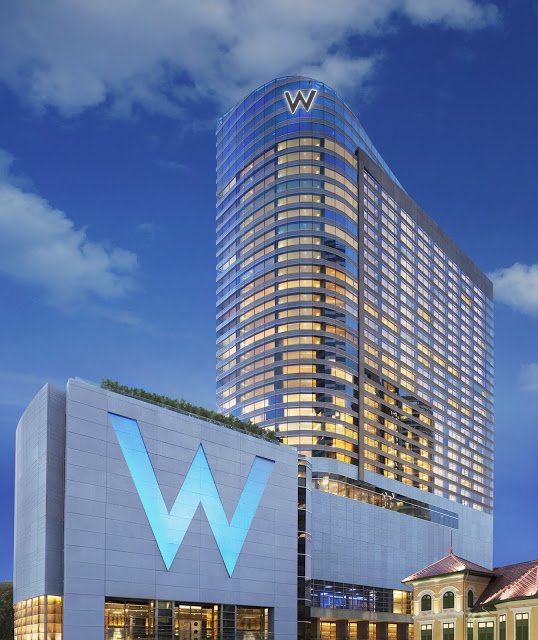 The W Bangkok
And 
how are all my daahlings this weekend, do hope you have had a fabulous week, I 
have and the sun is even shining here in Phuket so come on over!
Now I have just heard on the BBC something very in interesting daahlings, someone has come forward to say that there was military involvement in the death of our dear P' Diana!! Conspiracy theory sweeties, wait and see, this is just the beginning!
Also on my morning high from an amazing Saturday night, thank you K&S for a sublime Saturday night at Surin Heights!
And so to the business of the day…..
The W Bangkok is this week's effort and because it was so wonderful it makes my effort effortless!
I sort of got confused when I got in the taxi at Suwannaphum airport as to where the W was as I thought it was at the top of South Sathorn Road and after calling the hotel so the driver could get directions was put right, silly ole me!
Of course arriving mid afternoon with the Bangkok rush hour rapidly approaching, the W being where it is and not where I thought it to be, made it much easier to reach and, besides I had Bib waiting for me for cocktails. After a packed "tourist" flight from Phuket, I was really looking forward to my drinkypoos!
When you arrive at the W Bangkok, if you didn't know better, you may think that you are arriving at an old embassy or private house from Bangkok times gone by, as right in front of you sits such a building in its original glory. Having lived in Bangkok for many years, I watched in dismay as these wonderful old buildings were destroyed to make way for office blocks and condominiums! The W, as they own this fabulous heritage building, are required to keep the exterior of the building in its original glory (lovely colours!) but are soon to open a bar and restaurant inside, what type or style they are being quite secretive about which means for sure it will be something special and new for Bangkok to enjoy.
The base of the new, modern hotel tower has been designed as a theatrical backdrop to this historic building, including vibrant illuminations that change from day to night.

The Welcome!
When you walk through the doors of the W you enter a jet set hotel experience, everyone is looking pretty hip but all smiling and waiting to give you the Whatever/Whenever experience. The décor of the lobby is modern and chic but if you take time and look closely, it is all designed very cleverly to represent Thai traditions and history. Stand at the reception and look into the glass wall that runs the full length of the reception with a crystal mural incorporated, depicting an historical Thai scene. Stunning and also you can see the historical building in the reflection making the whole effect even more poignant!
I spotted Bib and left the necessities to the handsome young receptionist to deal with and joined her in the WOOBAR for that much needed drink. The bar was not too busy at this time of day but was looking ready for a busy evening with bottles of premium vodkas and Champers placed in large glass designer ice buckets ready to go. The golden ropes on the VIP lounges representing a Thai just make you want to take them to your room for later!
The drinks menu has just about everything you need with great traditional and artesian cocktails to choose from. I went for the long island iced tea as I was thirsty, it was good, just the way a good long island should be, sour, sweet and strong, just perfect for a wake me up to start my, "Two Nights in Bangkok!" The WOOBAR also offers great light snacks such as shucked oysters and caviar and I was tempted but decided to save myself for the dinner I was joining with Bib to celebrate her father's birthday.
Time was getting on so we decided to head to our rooms to glam ourselves up for the evening ahead and just in case you're not looking cool enough to be at the W, they have kindly put a great selection of trendy sunglasses discreetly for sale in the lobby to help you out. They may also come in handy as you turn the corner for the lifts as you come face to face with "Bangkok Nights" a wall of 800 or so colourful lights typically found on Tuk Tuks! The installation takes a bit of Thailand's legendary traffic congestion and infuses it with dazzling street lights to create a captivating LED light show! Really cool! The 
lifts are dark, great if you're on your honeymoon I guess but not if you're 
looking for some change for the bell boy if you know what I mean!
The corridors to the rooms are also decorated in dark blues and blacks which suits the Manhattan feel they are conjuring up and then you open your door and step into one of the Wonderful, Spectacular, Marvellous or Fantastic rooms the W has on offer for you!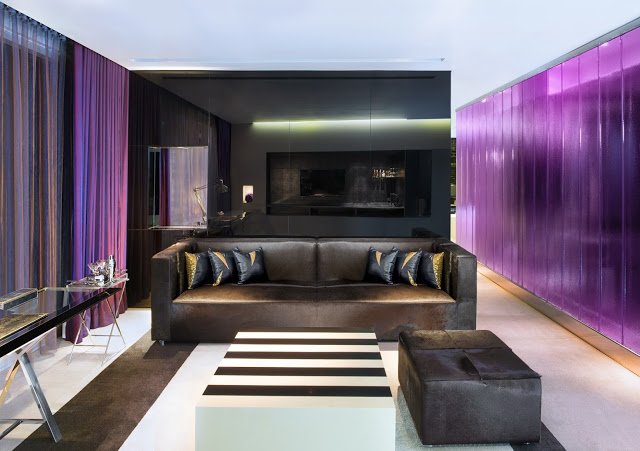 My Marvellous Suite Lounge
I had been kindly given an upgrade to a Marvellous Suite for my stay and it was Marvellous I must say, spacious, modern and well equipped! I thought the use of the space was so well used and loved the thick glass partition wall giving privacy between you and the bathroom but at the same time some excitement as to what's going on behind there!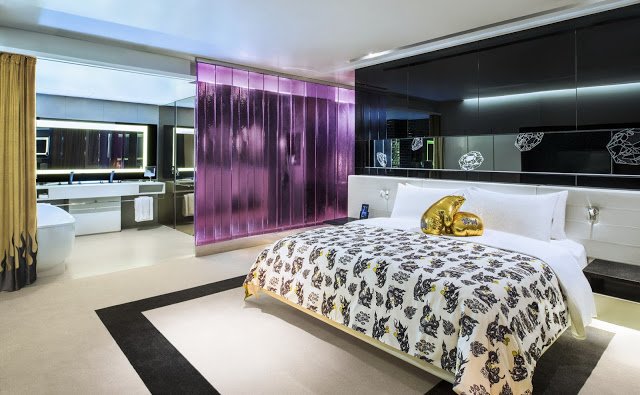 My Bedroom
I found the tablet control panel very user friendly but my guest was not so thrilled and thought they would find it challenging if they wanted to go to the bathroom in the middle of the night, not sure how the elder would cope with all this technology. I am guessing this is not the target for the W anyway and if I'm guessing correctly, if they are going to the W, then they're going to switched on anyway! Loved the bathrooms and large sinks and plenty of amenities to choose from and good quality too, not that cheap "stuff"! You also have a separate rainforest shower from your bathtub which has its own TV even though I found the position of it strange and not sure what the designer thought you would be doing in the bathtub while watching TV at that angle!!
The signature W beds are large and soft as you snuggle into them which my guest loved but I may be prefer something a little harder (me back you know), never mind it did not stop me from having a good night and the pillows were delicious.
I am not sure about you but I like to have lots of choice in the mini bar and the W rooms are well stocked. The munchies tray provides an array of snacks to enjoy and even an over sized lolly pop which I haven't seen since I was a kid! There is lots of bottled water everywhere which is a plus also. I had a guest over for drinks later and the bar was well stocked and did not break your bank as many mini bars do in 5 Star hotels. At the touch of a button ice arrived with a smile and you were even asked if you wanted a large or small bucket, of course you know what I went for! Which brings me to the next morning when I had a small headache and no aspirin and called the butler to be told they were very sorry but they are not allowed to supply medication which I had actually forgotten about, fair enough but five minutes later the darling called me back to tell me where the nearest drug store was and also to ask if I was OK and if there was anything else she could get for me. That's what I call good service!
Round 1!
In all the W rooms, to give that Thai feel, they have over sized sequined Muay Thai boxing gloves. They're fabulous and you can even put them on, which is great as an ice breaker for any party and really good for daft pictures for great holiday memories.
An iPod dock is available for having your own music. If you're on an iPhone 5 though, it's a problem and other sources of music were lacking, though in fairness I did not ask and I am sure the staff would have come up with something.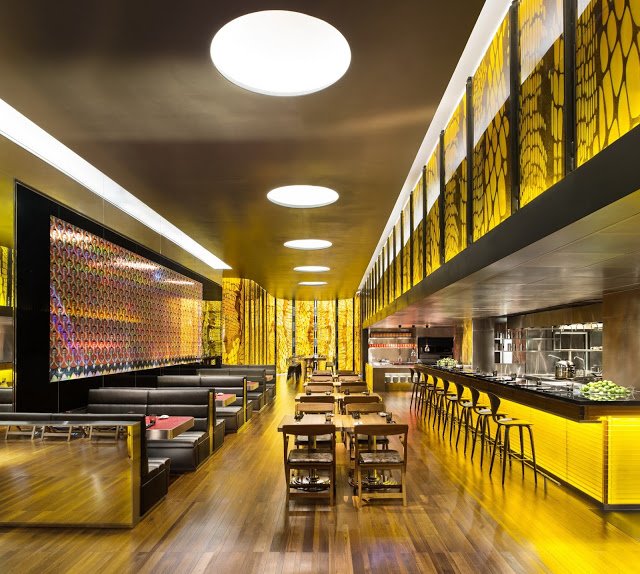 The Kitchen Table
Breakfast is a pleasure and there is alfresco dining for those who fancy. The selection is more than enough to please all nationalities. Eggs are ordered a la carte which was a nice touch and I loved all the little individual serving jars of baked beans and jams etc. There was also many Farangs (Europeans) all over the hotel and in particular the restaurants and bars which again gives it that very cosmopolitan feel and they were also most charming, most on training vacations from overseas hotel schools. All seemed to be enjoying being part of the W and the Bangkok buzz (oh to be young and virile again)!
We also had dinner at The Kitchen Table which was OK but not enthralling this time, we thought the pizza sweet and I ordered Indian butter chicken from the room service menu which they said was no problem (of course) but when it arrived it was very spicy which in my opinion it should not be, so much so that I actually had to politely send it back, of course the staff did their best to make amends which was appreciated, desserts were great though and I liked the modern twist on the Peach Melba. The wine list was really good though and we had a rather nice Sauvignon Blanc from NZ which went down a treat and made the evening very okay.

The W"onderful" Pool
The pool is a real feature and almost a piece of art in itself. I just loved the tiled whale and cats perching on each side. It was also cool and refreshing with cool music below and plenty of sundecks and cabanas, a real oasis in the city! I also had a good work out in the gym which to follow the rest of the hotel is well equipped and hi tech!
On leaving the hotel I had a quick meeting to attend in Silom, not too far away and did not have time to return to the hotel to collect bags so asked the hotel organize a pick up at the meeting point with luggage, I must say after being in Thailand a while, I was apprehensive of doing so, as I didn't want to miss my flight. I have to say it was orchestrated perfectly by the reception and the driver was just a gem who spoke perfect English (they should promote him!).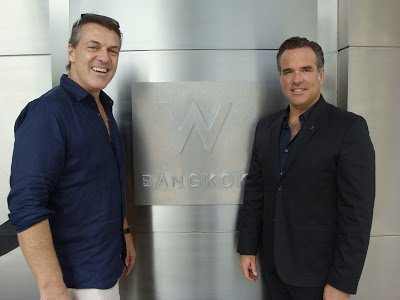 The Very Charming Nick Heath
To finish off this near perfect visit to the W, I had the pleasure of meeting the very charming GM Nick Heath who actually recognized me first when I was entering breakfast and later when we met again. He gave me great insight into the hotel and what he is trying to achieve here. To be honest, I think he is well on the way, congratulations Nick and thanks to all the staff at W for making my "TWO NIGHTS IN BANGKOK" very special!
Till next week….
Chef Peter
W Bangkok
106 North Sathorn Road,
Silom, Bangrak, Bangkok,
10500, Thailand.
T +6623444000
F +6623444310
WHOTELS.COM/BANGKOK