Grand Hyatt Hong Kong
Nearing a quarter of a century in Hong Kong, the Grand Hyatt has proven its value in being a long-term brand that can be relied upon for excellent service, convenient facilities and top-notch food and beverage options.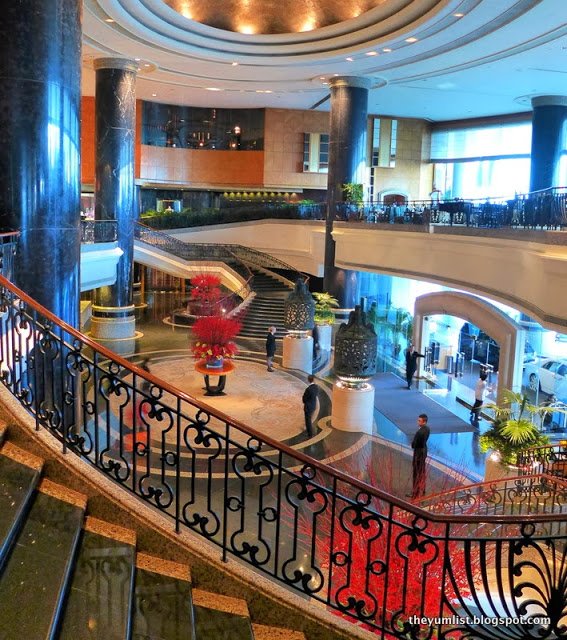 Lobby
Location
Connected to the Hong Kong Convention and Exhibition Centre with stunning views of Victoria Harbour, Grand Hyatt Hong Kong is the obvious choice if attending a conference or exhibition. Central, Pacific Place, Wanchai and Causeway Bay are mere minutes away, while the Star Ferry is literally on the doorstep. With Hong Kong's excellent public transport system, getting just about anywhere on the island is quick and convenient.

Daytime View from Grand Hyatt Hong Kong
Rooms
Newly renovated rooms feel more like a cozy modern apartment than characterless hotel accommodation. Tastefully designed, lines are clean and contemporary. Black and white artworks adorn and, even the toilet cubicle has its own tasteful decorations.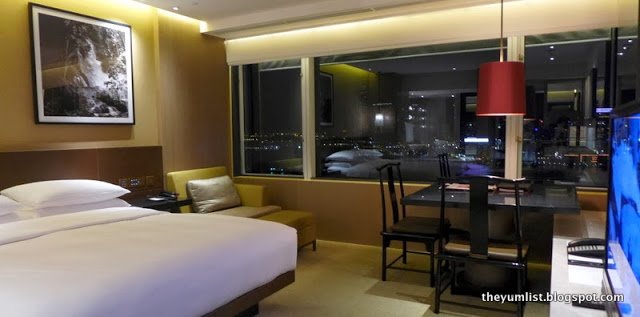 Newly Renovated Room
Mirrors plaster the walls and, pale tiles, beige carpet, white bedding and a postcard perfect window looking out onto Victoria Harbour, create the illusion of a space much larger than reality. Automated roller blinds and sliding doors either enclose the bathroom for privacy or open up the room for greater enormity.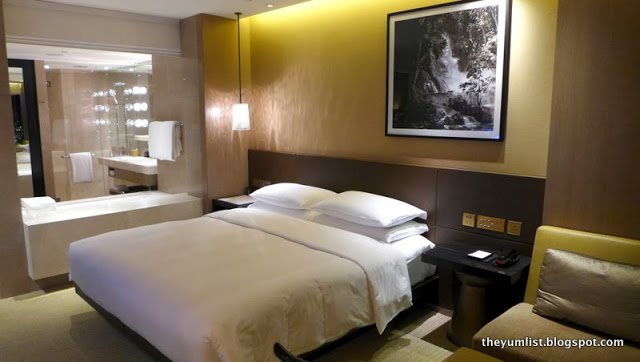 Newly Renovated Room
A large worktable faces the window where views of watercraft, both modern and ancient, crossing the harbour, could provide hours of entertainment. Lush bedding ensures a good night sleep, while marble bathrooms feature separate bathtub, shower and private toilet and, are fashionably dressed up with a Hollywood-dressing-room style vanity.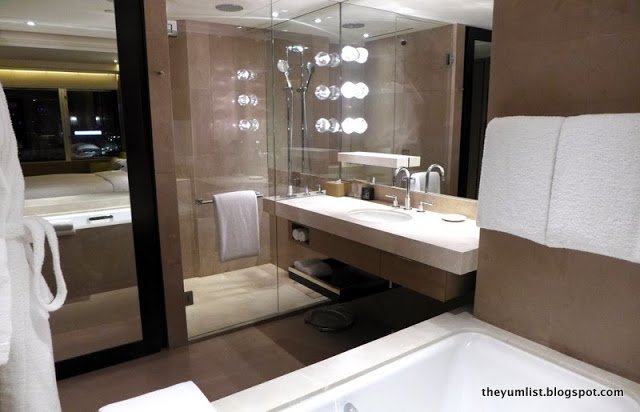 Bathroom
Labeled light panels and thermostat make environment control easy – there's no flicking four different light switches in the middle of the night to find the toilet, all are clearly named, and the essentials, such as the night and master controls, even glow in the dark. Comfy robes, slippers, espresso machine, gourmet mini-bar items and, bath products by June Jacobs, show the extra customer care that the Grand Hyatt is renowned for.
With well over 500 rooms, the hotel is a whopper. Just because the hotel is enormous though, doesn't mean the service isn't. Stays can be customized to suit your personal preferences from choosing the type of pillow you sleep on, extra hangers in the closet or, even requesting a coffeepot in your room to await your arrival. A "missing MUST-HAVES" menu makes you truly feel a personally welcomed guest. Items such as makeup remover wipes, women's razors, deodorant and baby shampoo can be delivered for the keeping. Guests can also borrow or buy anything from a curling iron, to a humidifier to a yoga mat. Services at Grand Hyatt Hong Kong make you feel at home. Our room even had power plugs thoughtfully pre-fitted with Malaysian adaptors!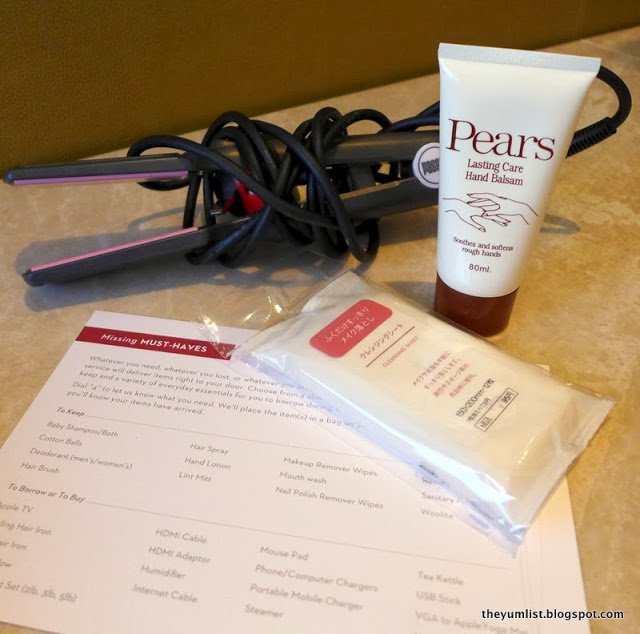 Don't Pack a Thing
Executive Club
The Executive Club on the 30th floor sports spectacular views of Victoria Harbour and the Kowloon Skyline. Regular readers know by now that we are usually willing to pay the few extra dollars for an upgrade to access the convenience of club-room facilities and, those offered at the Grand Hyatt Hong Kong merit the pocket dimple.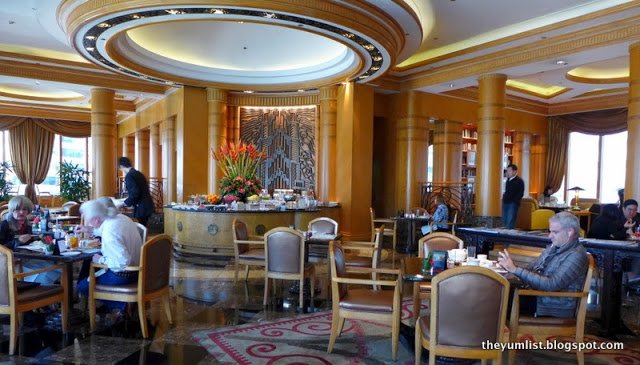 Executive Club
High-speed Wi-Fi, power outlets, all day beverages and light snacks, breakfast and evening cocktails could see many a visitor whiling hours away in the comforts provided.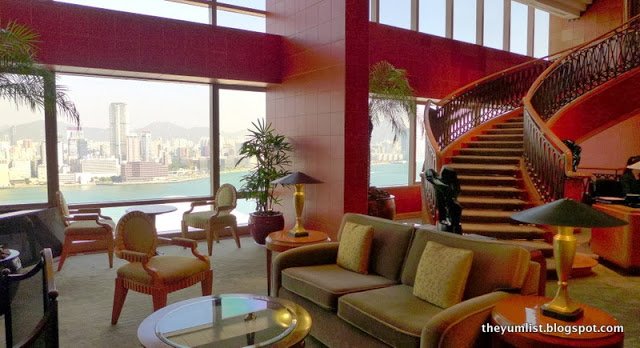 Executive Lounge Reception
We do like to compare packages though so spent our first morning eating a wonderfully complete breakfast spread in the
Grand Café
on the ground floor (often included in bed and breakfast deals), and the second day on the 30th club floor.
Thinking that we would be compromising the never-ending smorgasbord at Grand Café for more of a limited breakfast selection that comes with peace, refinement and stunning vistas, Executive Club staff quickly proved us wrong.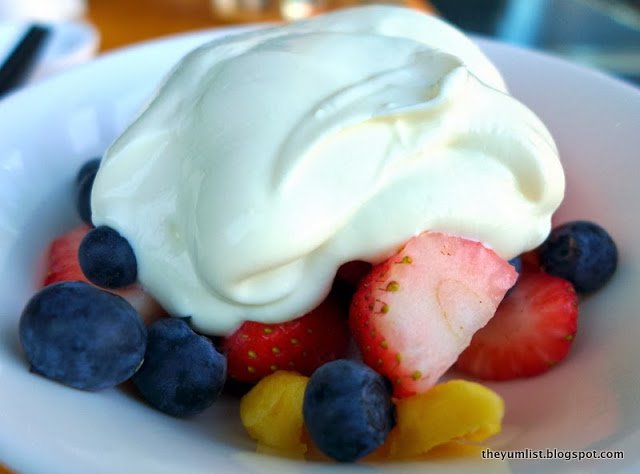 Berries and Greek Yoghurt
Remembering my favourites from the first day's experience I scanned the Executive Club offerings and noticed a couple of desirables missing. Asking after the lusciously thick and creamy Greek yoghurt from downstairs, believing my enquiry more of a suggestion for follow up rather than a request for immediate delivery, the host Danny (who has been with the hotel since it opened 24 years ago!), replied, "No worries. I'm here. Anything is possible. I just need a little time." Minutes later, two large bowls of the dreamy yoghurt, so decadently rich and thick that no additions are needed, appeared on our table. Hubby noted the a la carte menu only listed Chinese breakfasts. A mere mumble that he'd like an omelette and, it too miraculously materialized moments after.
"Just ask and every effort will be made to assist," seems to be the motto in the Executive Club.
Food and Beverage
Hyatt has an excellent reputation for food. Carefully sourced, carefully served – mostly everything is made in house. Nine restaurants and bars ensure you won't go hungry or thirsty at any time of day.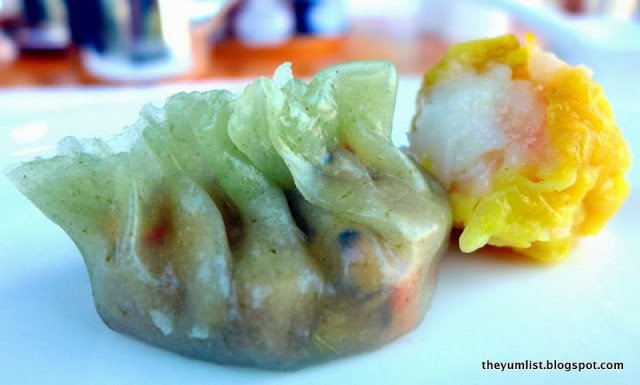 Must Eat Dim Sum in Hong Kong
Afternoon Tea at Tiffin
is a must-do for any visitor to the island whether staying at the hotel or not. Refreshing views of a lush garden terrace, Victoria Harbour and city skyline make a gorgeous backdrop. Diners gently rock in motion to the smooth sounds of a trio gracefully sounding the air with soft classic tunes and soothing jazz hits. The ambience is elegant and the food is classy too. A sophisticated five tiered set of sweets, savouries and scones holds delights best appreciated with a fine cup of Ronnefeldt Tea or Illy Coffee. Unlimited servings of homemade ice cream, ice cream cakes, profiteroles, waffles and other treats too make it excellent value for the sweet tooth.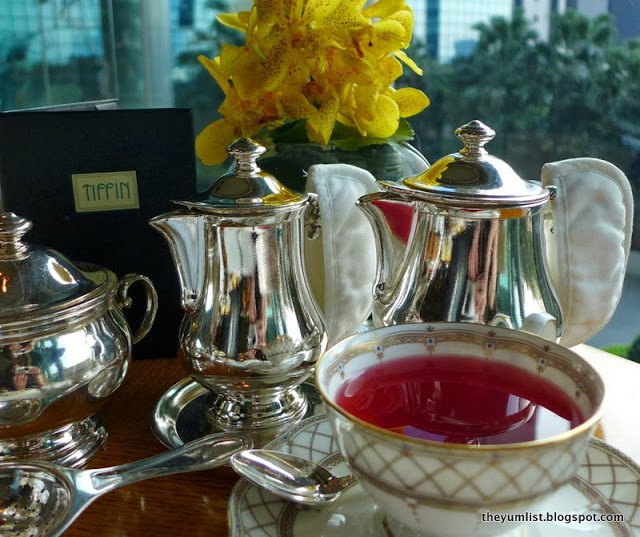 Afternoon Tea at Tiffin is an Elegant Affair
Breakfast is served at the Grand Hyatt Hong Kong's all-daydining restaurant, Grand Café
. An American style buffet breakfast provides more options than any human being could possibly try in one sitting. An art-deco interior competes with street scenes for attention viewed through gargantuan floor to ceiling windows. A fantastic bakery section sports European style breads with grains, seeds and nuts that you can really bite your teeth into. Sausages are made in house and so too is the salmon. The dim sum selection is small but of high quality and is an essential item to start the day in Hong Kong. There seem to be no 'fillers' in the spread. Each dish is of high caliber.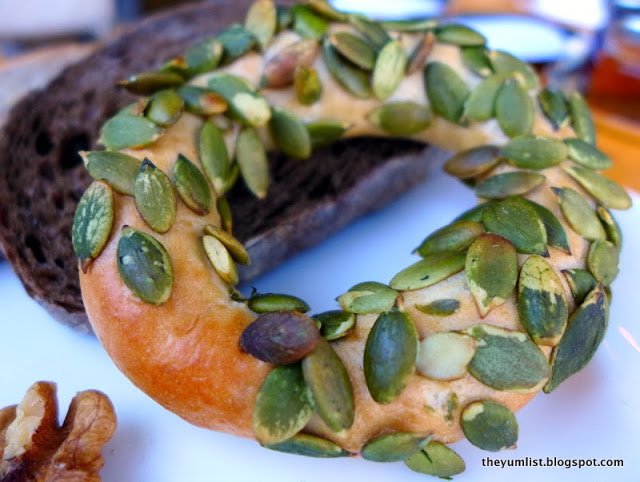 Freshly Baked Items
Facilities
Even though I rave about the Food and Beverage options at the Grand Hyatt Hong Kong, there are NO excuses to carry any extra calories home with you on your culinary escapades. The Fitness Centre is so well equipped it actually makes you want to work out.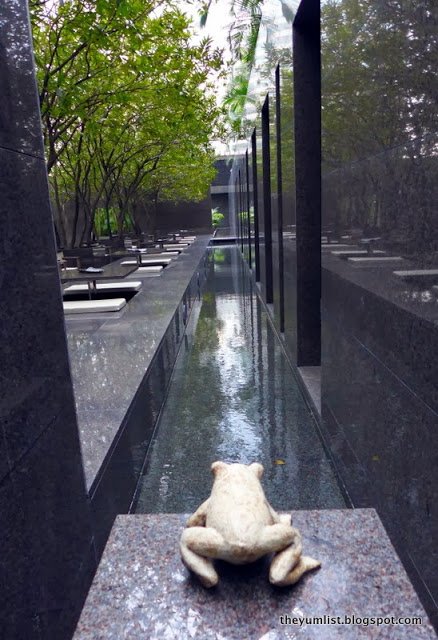 Natural Spaces
Open 24 hours, the gym is in exemplary condition. Every monitor, headphone and piece of equipment I used ran smoothly. A large space is made intimate with divider walls forming smaller nooks, while mirrors and windows looking out to green, keep the mood uncrowded.
Two tennis courts, two squash courts, a golf driving range and 400 metre jogging track bestow a multitude of healthy choices. A 50 metre swimming pool is heated so a paddle or a splash is enabled year round.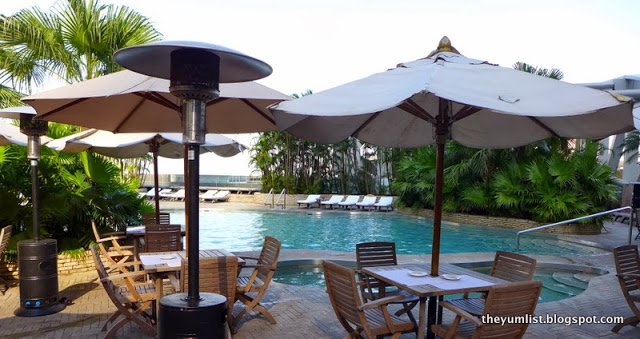 Poolside
The kiddos can burn off some excess energy too on the large children's playground. Kids are well taken care of at the Grand Hyatt. They even have a guide dedicated just to the little ones titled, "Getting Around for Kids."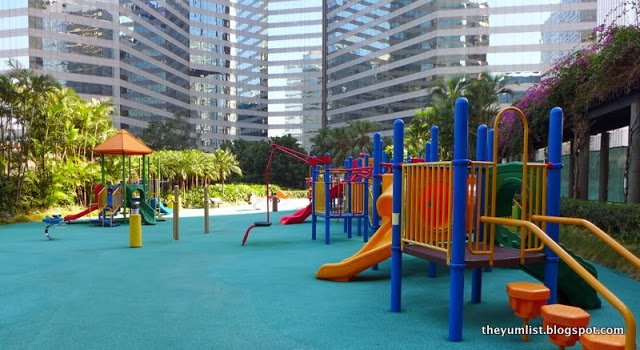 Children's Playground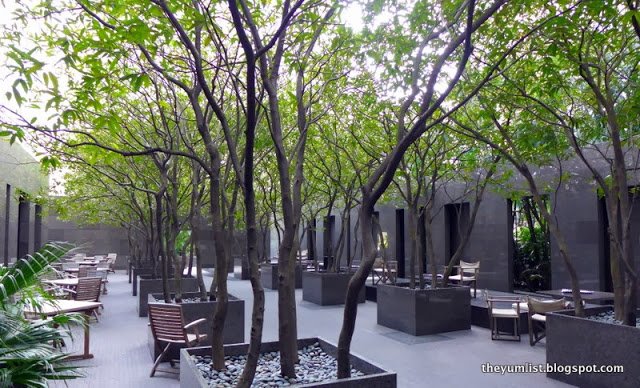 Green Spaces
Plateau Spa
is located on the same level as the recreational facilities and benefits from both the verdant level 11 views and glittering harbour vistas. An extensive menu of treatments is offered by well-trained therapists. I tried their signature massage and was impressed with the skill and professionalism of the service.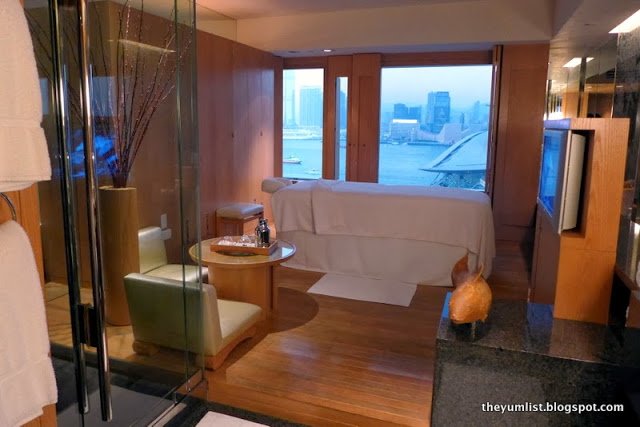 Plateau Spa
The only downside of the Grand Hyatt Hong Kong is that the food and beverage options, facilities and views, are so delightful that you might be tempted not to leave and miss exploring the city altogether. Plan to stay as long as you can to take advantage of all the hotel has to offer.

Reason to visit: ideal location if attending a conference at the adjacent Hong Kong Convention and Exhibition Centre; stunning views from Harbour View rooms; good food and beverage options (don't miss an afternoon of sweet indulgence by reserving a table for the superb afternoon tea at Tiffin); professional spa treatments; superb fitness facilities

Grand Hyatt Hong Kong
1 Harbour Road
Hong Kong, China
Tel: +852 2588 1234