We've dined in some stunning locations in Bali but Tsavo Lion Restaurant is truly a unique experience. A lofty thatched roof tops full-length glass paneled walls, forming an observation deck onto the landscaped playground of the king of the African savannah, the lion. But who's really doing the ogling – the lions in their open-aired enclosure or the humans in their glass cage?
African and international cuisine paints the menu with a healthy number of choices. Although the food here is only secondary to the up close and personal encounter shared with the glorious big cats, it's surprisingly good! Admittedly we didn't have high expectations for a culinary experience here. Thinking it would be average tourist fare at best, we were pleasantly taken aback with a number of the dishes.
Lunch
For lunch our waiter is quick to share with us the most popular meals and drinks. Salmon, tuna and crispy duck all get positive reviews, as do their signature cocktails and mocktails.
Young African Lion (Rp. 130 000) blends gin, grand marnier, orange and lemon juice to make a sweet refreshing beverage. Served in a martini glass, rimmed with sugar and garnished with a slice of orange and maraschino cherry, it's a lovely midday tipple.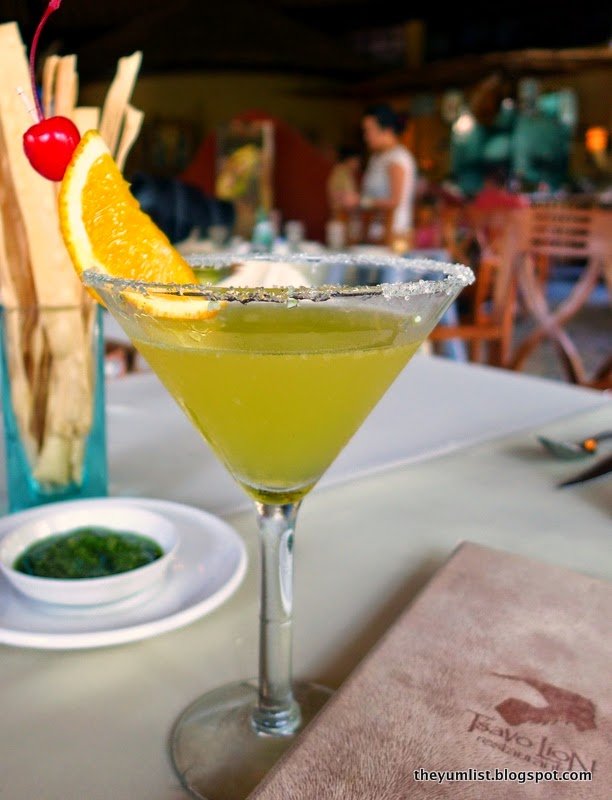 Young African Lion
Gin, apricot brandy, Cointreau, Galliano and lime juice combine to make the Tsavo Special. Adorned with a huge slice of lemon and cherry, this is a slightly stronger concoction and we're off to a fab beginning.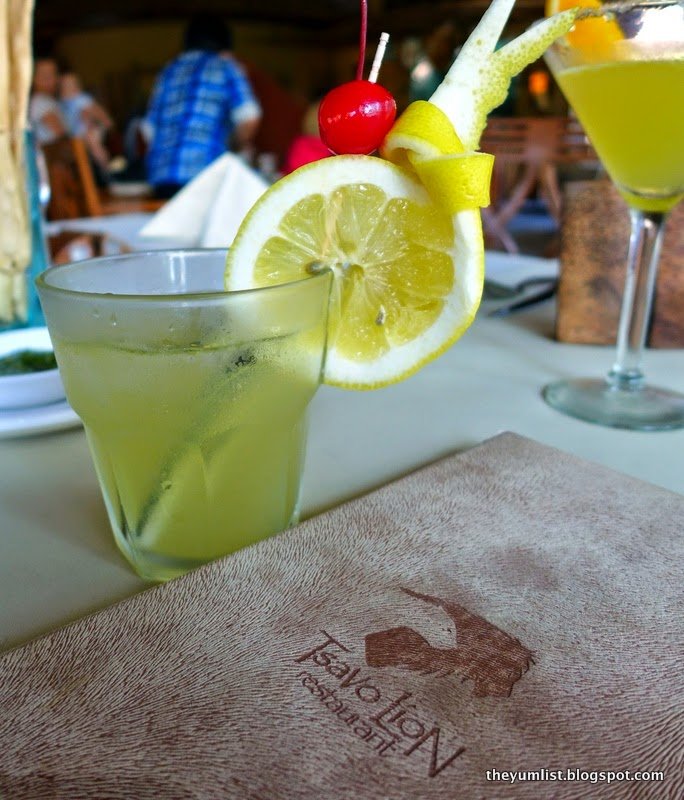 Tsavo Special
Crispy flat bread sticks are the standard pre-meal snack served on all tables. The basil pesto for dipping is particularly good. Rich, smooth and a nice thick consistency, our dish is empty before the meals arrive.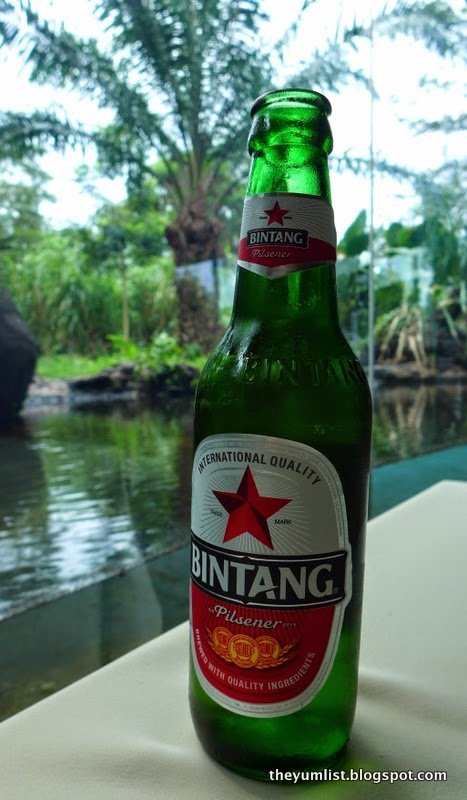 There's beer too and a small selection of wine
We've been enjoying very much Bali's many culinary delights so have opted for something relatively healthy. Hubby chooses the Tuna Steak (Rp. 120 000) cooked medium rare and sided with sweet potato, vegetables and a honey soy sauce. It's a generous portion and the veggies underneath make a kaleidoscope of colours.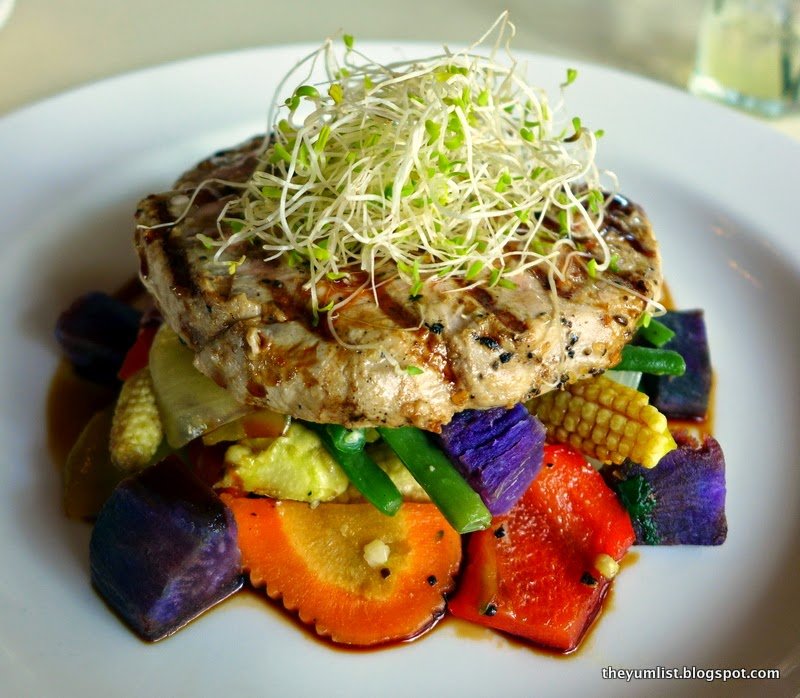 Tuna Steak
A grilled steak of Tasmanian Salmon (Rp. 150 000) with a homemade Japanese teriyaki sauce is my selection. Spinach and baby chat potatoes make wholesome accompaniments. We're both pleased and surprised. As my dad would say, "It's pretty good tucker."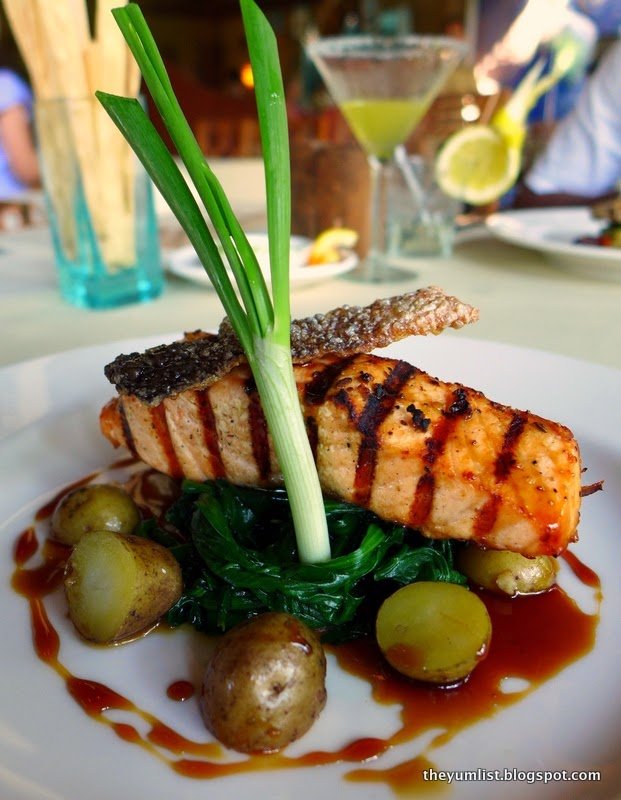 Tasmanian Salmon
We're distracted however as the lion makes a move. Getting up from his stone cave perch he strides directly to our window and takes huge lion-size slurps of water from the moat surrounding the restaurant. In wordless awe, diners rush to the scene, gazing at the majestic cat and capturing his image on handphones, iPads, point and shoots, and DSLRs.
Lion on the Move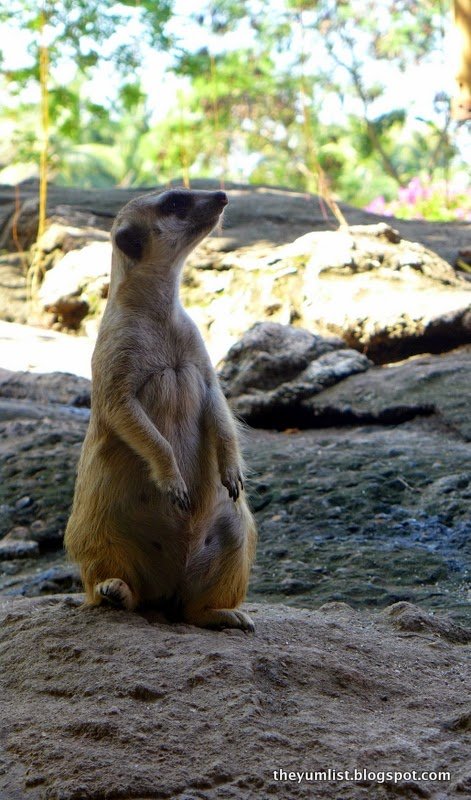 Meerkats too can be seen from the window – many come write up to the glass and seem to be spying what you're having for lunch
Our waiter is back and has some recommendations for dessert. He insists on the Balinese Sampler (Rp. 45 000) featuring layer cake, klepon (made from coconut) and black sticky rice. It's a colourful display of saccharine treats, way too sweet for my personal preference, but well prepared all the same.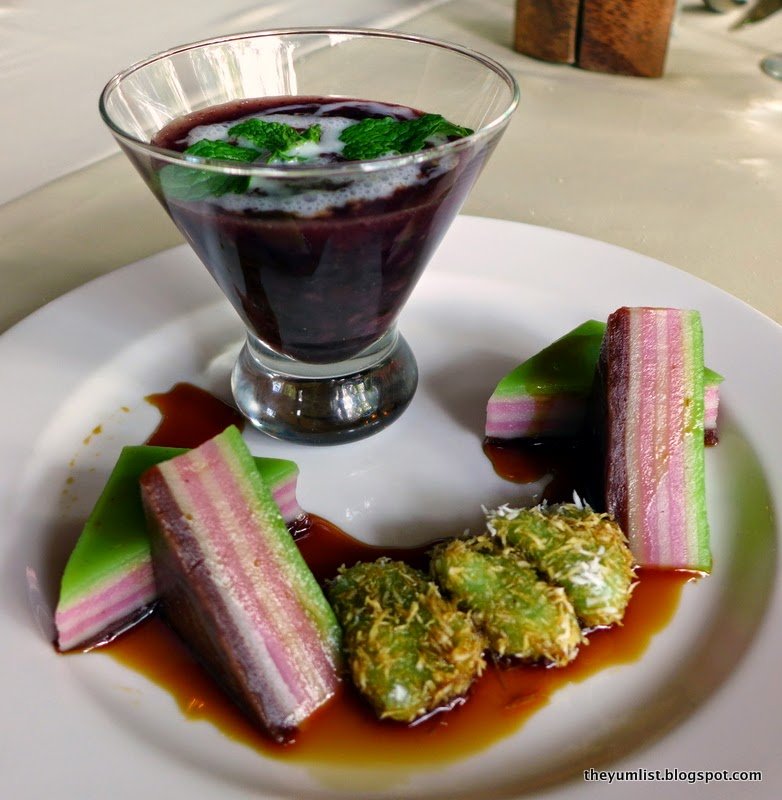 Balinese Sampler
Hubby is mmmming over his order of Banana Fritters (Rp. 50 000), which come together with vanilla ice cream. They're obviously to his liking as he's already thinking of our next meal and his next chance to consume them.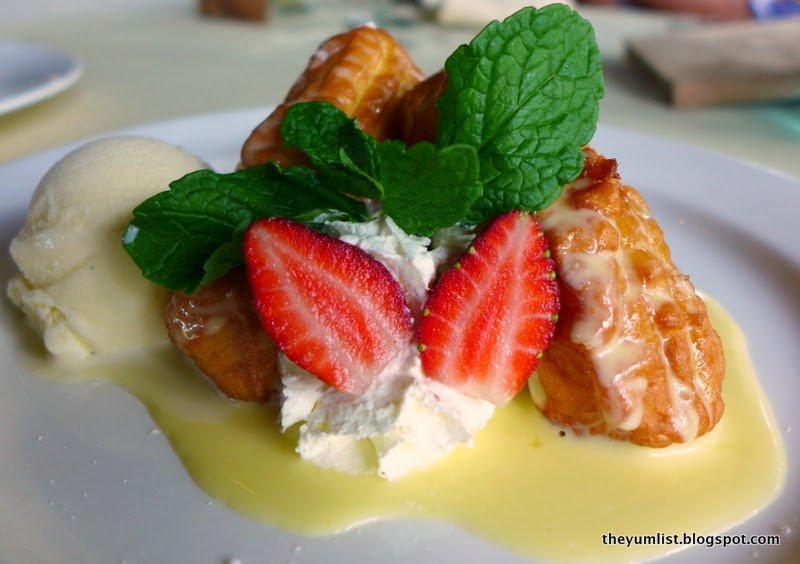 Banana Fritters
Dinner
While the daytime experience is a casual episode, dinner is more of an elegant affair. Candles gently light each table, but also reflect off the curved floor-to-ceiling windows. It's a small change, but accompanied with a refined dinner selection, it's a slightly elevated episode.
We're feeling pretty confident with our waiter's suggestions so we continue following his lead again for dinner, beginning with the Wild Mushroom Cappuccino (Rp. 60 000). A foamy cream of wild button mushrooms is dusted with toasted mushrooms and sided with crunchy cheese grissini. Thick and full flavoured, the fungal broth is topped with an aerated cream froth. Our waiter has set us on a great path, once again.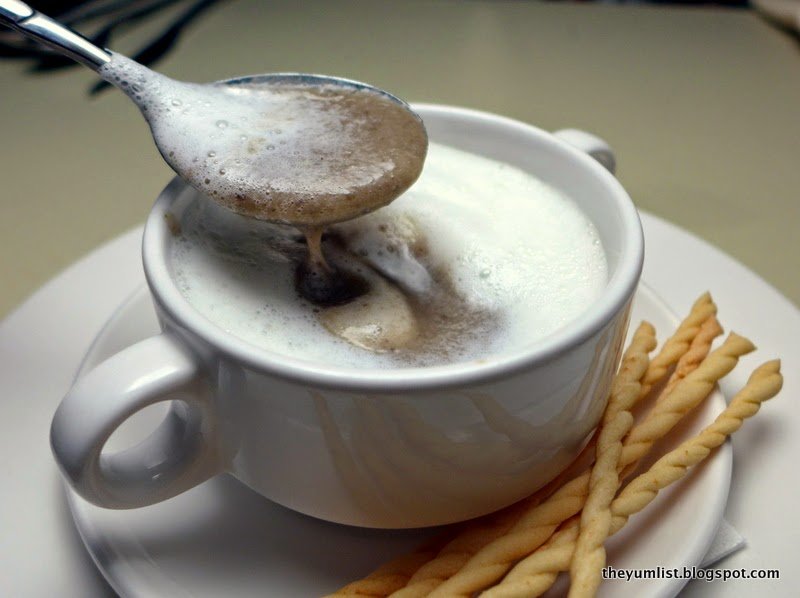 Wild Mushroom Cappuccino
Pan Seared Scallops (Rp. 145 000) are befriended with red cabbage jam, bell pepper puree and caramelized balsamic reduction. The plating is Picasso-ish in style with strong geometric shapes and bright colours. Three sprigs of tender asparagus form a raft for four succulent scallops. The sauces are painted around the sides of the rectangular plate, not only forming essential contributors to taste, but also presentation.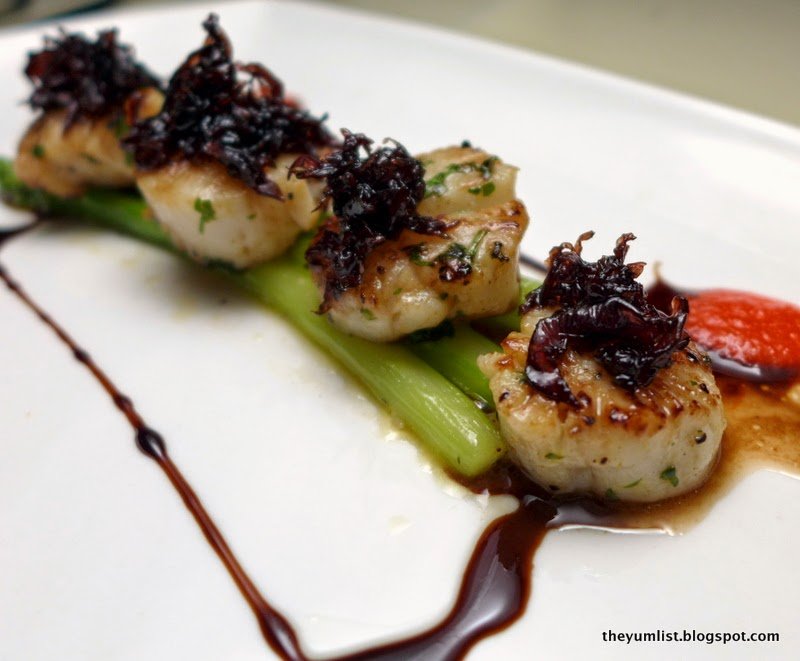 Pan Seared Scallops
The mains see us trying the fruits of both the land and the sea.
  US Black Angus Tenderloin (Rp. 280 000) is cooked medium rare and encased is a savoury white granola. A cranberry gastrique sauce makes a colourful contrast, as do a velvety pumpkin mash and a vibrant array of vegetables. Great dish!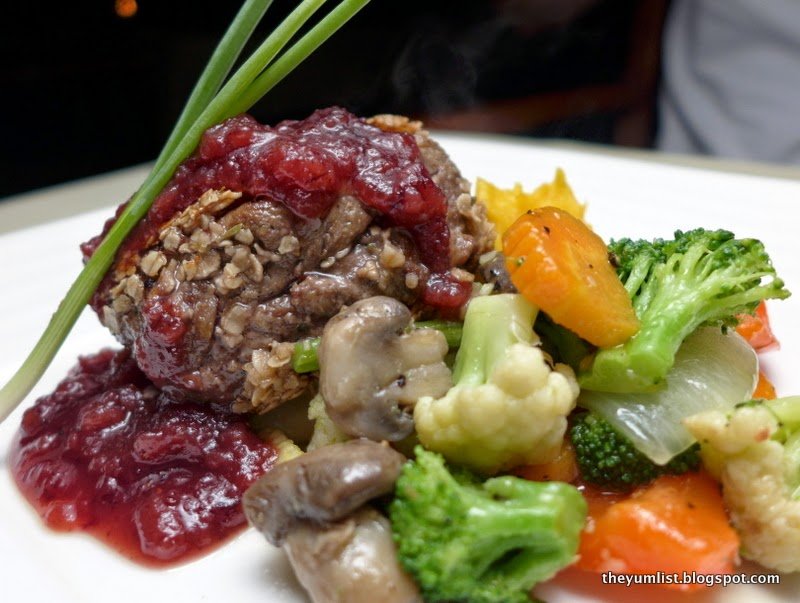 US Black Angus Tenderloin
Tasmanian Salmon (Rp. 150 000) is soft and fleshy, also cooked medium. A sticky sesame and teriyaki sauce is just enough of a drizzle to add a gentle sweetness to the flesh. Potato croquettes are wonderful – deliciously mushy inside with a crispy thin layer all around the outside. A mandarin salsa mixed with red capsicum mirrors the honeyed dressing, and a tangle of salad greens and alfalfa sprouts help clean the palate.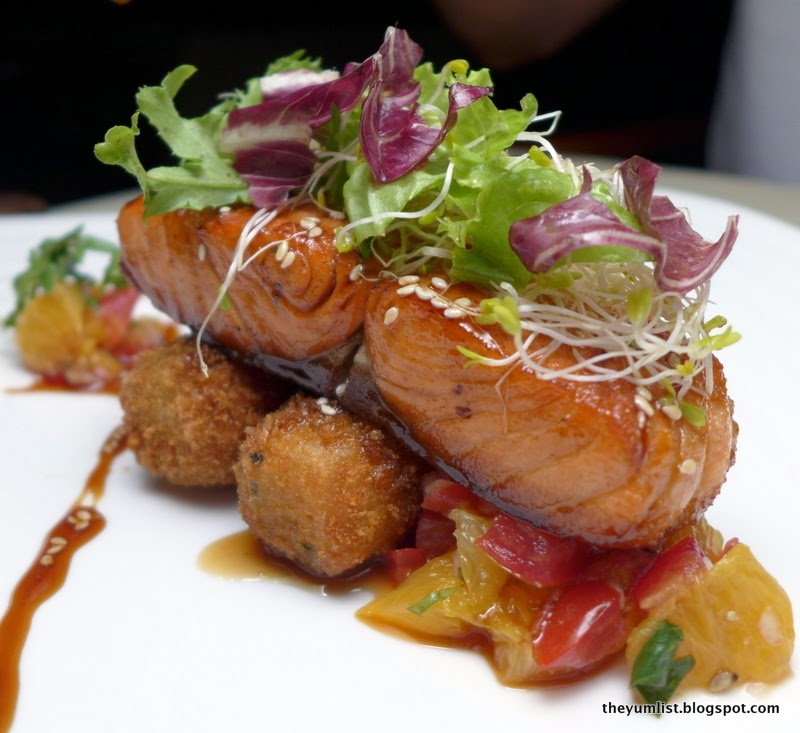 Tasmanian Salmon
Balinese Crispy Dirty Duck (Rp. 180 000) is a must order! Resembling a Balinese version of French duck confit, the skin is marvelously brittle, but the flesh is juicy and full flavoured. A salad of urap featuring steamed green veggies is seasoned with spicy grated coconut, and four different sambals are for the choosing on the side: crispy fried garlic; yellow sauce; a fresh mix of onions, chilis and vinegar; and a spicy sambal. For a taste of Bali, don't miss it.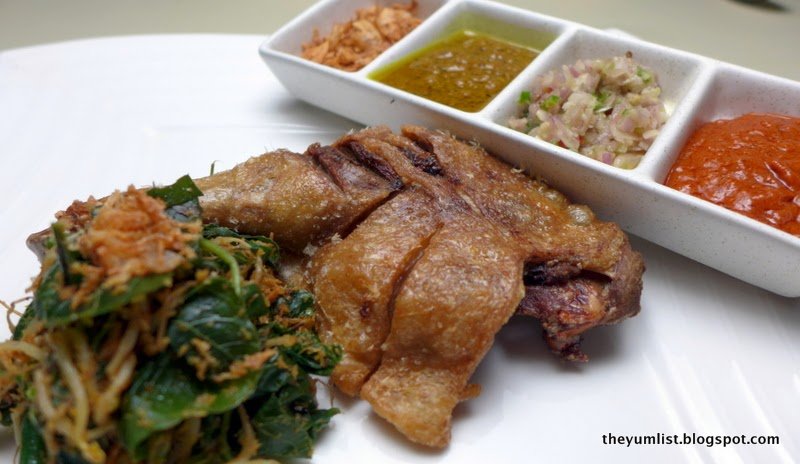 Balinese Crispy Dirty Duck
Table service sees Banana Flambé cooked live at our table. Triple sec, sugar, lime and bananas are the key ingredients, besides a little humour from the chef. Set alight, the sauce caramelizes before being scooped onto our plates – three bananas each, finished with whipped cream, vanilla ice cream, a sprig of mint and a maraschino cherry. We both find this dish very comforting, and hubby is reflecting on his previous affections for the Banana Fritters in considering this his new love.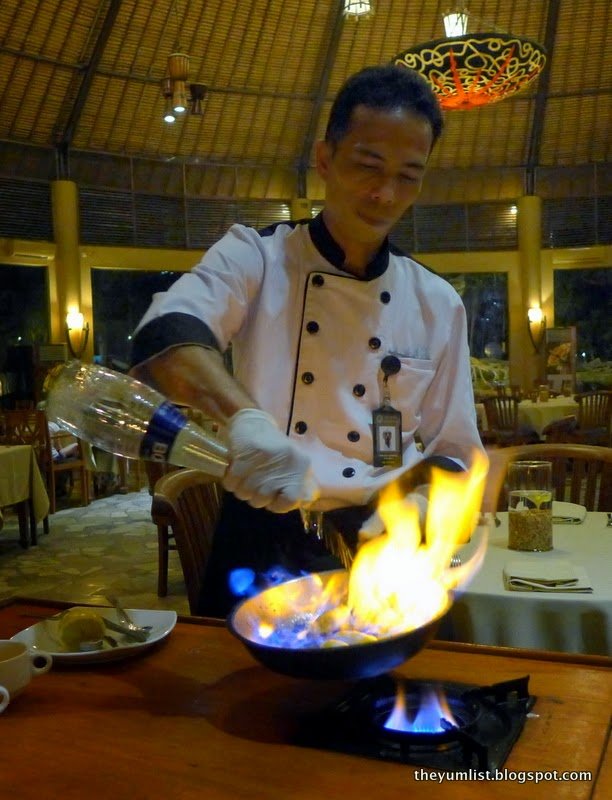 Table Service Banana Flambé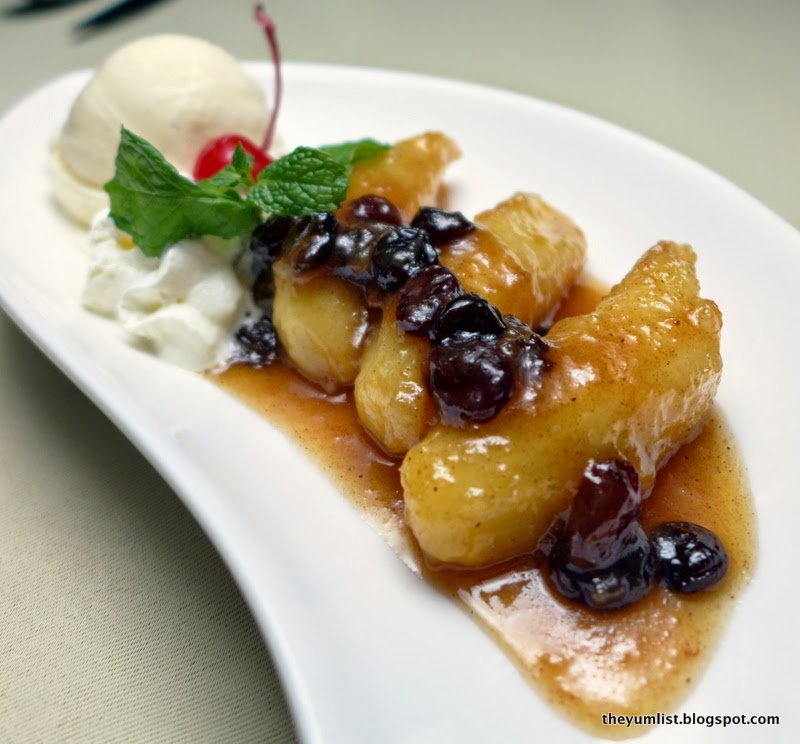 Banana Flambé
Our grand finale however comes when both male lions make their way directly to our window. We're the only ones left in the restaurant, and with both strapping creatures surveying us and less than a metre away, we're awestruck. Mouths agape we're speechless, but the lions soon fill that silence with a chorus of mighty roars. Impossible to imagine a more remarkable end to our evening, we leave enamored with Tsavo and feeling blessed for the opportunity to witness in person the magnificence of nature.
Reasons to visit: lions up close and personal; meerkats and hippos too!; Tasmanian Salmon; Tuna Steak; US Black Angus Tenderloin; Balinese Crispy Dirty Duck; Banana Flambé.
Tsavo Lion Restaurant Mara River Safari Lodge Bali Safari and Marine Park
Jalan Bypass Prof. Dr. Ida Bagus Mantra, Km 19.8
Golden Line of Bali
Gianyar 80551
Bali, Indonesia
+62 361 751 300