Words:  Bob Busk         Photos:  Monica Tindall
The country of Peru offers a rich buffet of exquisite scenery and diverse landscapes.  It is home to one of the world's greatest biodiversity due to its climate and geography.  From the picturesque beaches on the west to the steamy tropical jungles in the east, separated by the towering Andes Mountains, Peru is home to 28 of the world's existing 32 climates.  The variation in climate, geography and altitude allow for distinct growing regions providing a wide variety of fresh vegetables and fruits.  Add to that harvest from the land and sea, throw in immigrant cooking influences from Europe, Asia, West Africa and the indigenous populations and you have the makings for heavenly gastronomy.
To showcase Peruvian cuisine, La Bodega, together with the Embassy of Peru, will be hosting "A Peruvian Adventure" at all the La Bodega restaurants in Kuala Lumpur and Malacca throughout the month of August.  A fine selection of Peruvian tapas created by Chef Basilio and refreshing Pisco cocktails concocted by mixologist Denise Olsen will be available all month.
Pulpo al Olivo –
The flavors of the thinly sliced octopus imported directly from Spain are highlighted by the rich flavors of Peruvian chimichurri, black olives, finely sliced red onions and peppers and just the right amount of sea salt. Dollops of olive emulsion sauce are placed in each corner for your dipping pleasure.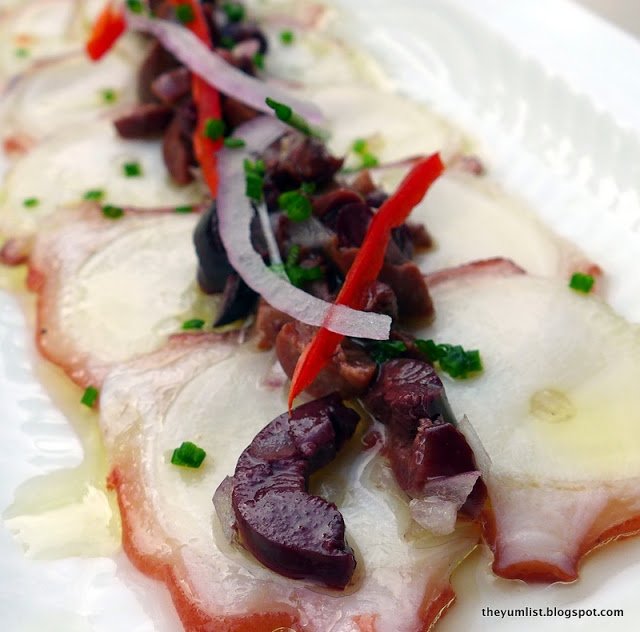 Pulpo al Olivo
Ceviche – A feast for your eyes as well as your taste buds, this ceviche is fresh and flavorful. Copious amounts of tender sole are complimented with diced avocado and tomatoes and Leche de Tigre.  Cassava chips (tapioca chips) adorn the dish and add crunchy texture to this citrus flavored delicacy.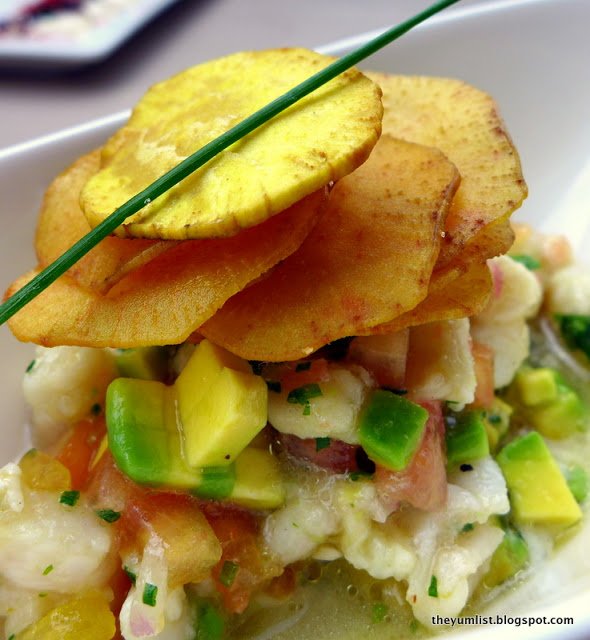 Ceviche
Papas a la Huancaína
– You may add a pound or two to your waist as you bite into these sumptuous potato slices topped with cream cheese and aji amarillo. Crab meat is sprinkled along the top. With such rich and delicious flavors, who cares about gaining weight!!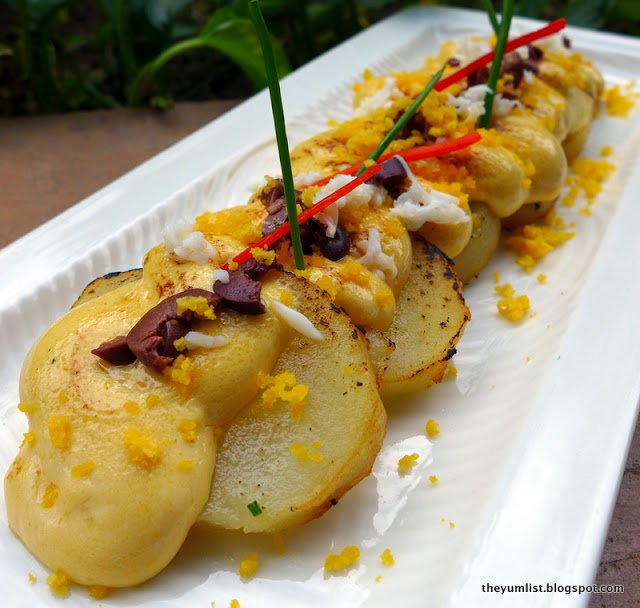 Papas a la Huancaína
Beef Tiradito – Tiradito is derived from the word "tirar," which means "to throw." Tiradito is the Peruvian cousin to sashimi and ceviche. Razor thin Carpaccio slices are marinated in soya sauce, aji rocoto and lime juice.  This dish is meant to be "thrown" into your mouth and savored!!!!!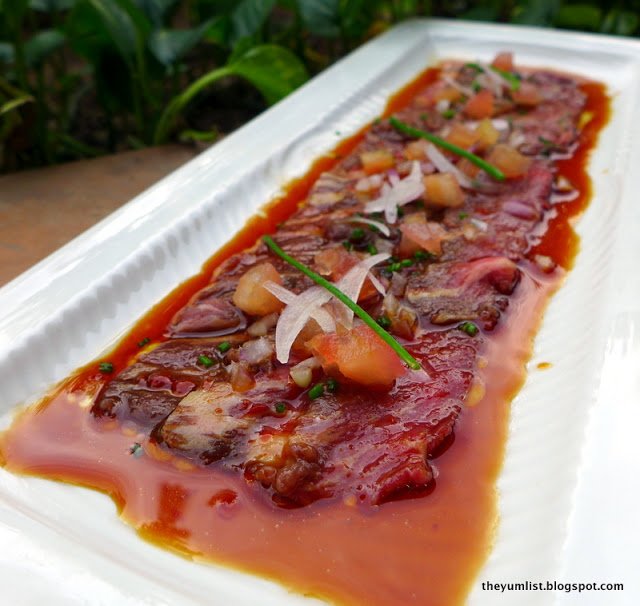 Beef Tiradito
Mixologist Denise Olson cut her teeth in the food and beverage industry in New York City and now brings her many talents to La Bodega Telawi 2.  Throughout the month, Denise will be mixing up traditional Peruvian cocktails as well as a few inventions guaranteed to bring a smile to your face.
Pisco Sour – This traditional Peruvian cocktail contains Peruvian Pisco as the base liquor, freshly squeezed lemon juice, bitters, sugar syrup and frothy egg whites.  This is a refreshing drink that is both sweet and sour at the same time. Try pairing this with the Pulpo al Olivo.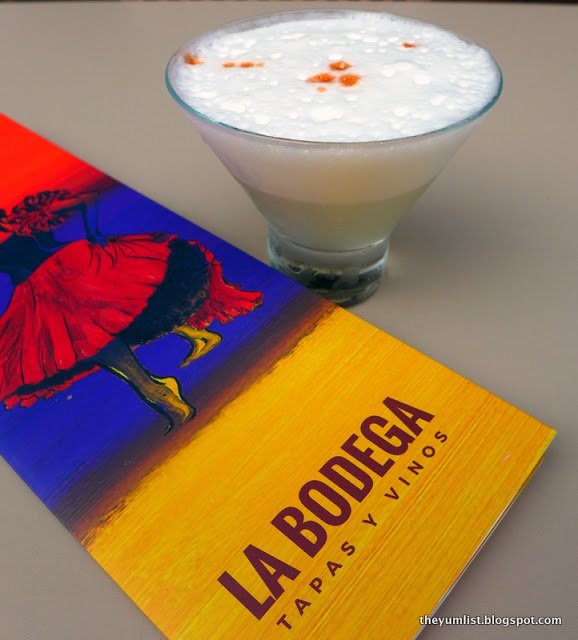 Pisco Sour
Pisco Passion – Similar to the Pisco Sour but the addition of passion fruit puree adds just enough fruity flavor to make this drink stand on its own. It's smooth and flavorful.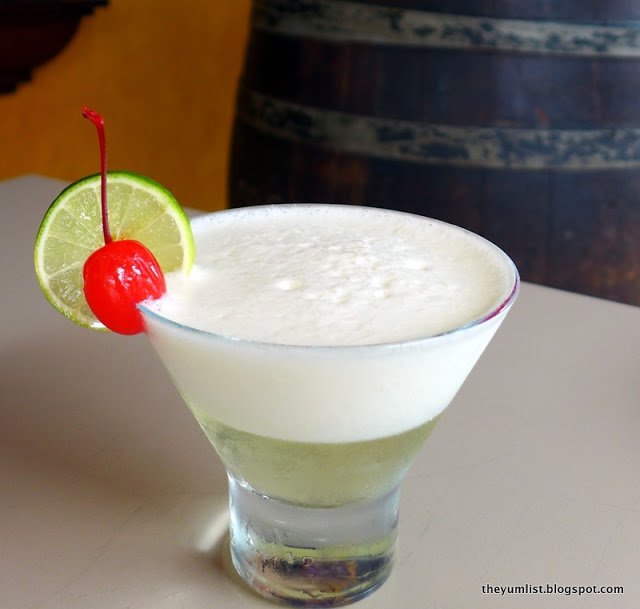 Pisco Passion
Pisco Tang – Exhilarating and fresh sans the foam, a perfect partner to all the tapas.  This drink feels like a beautiful summer day.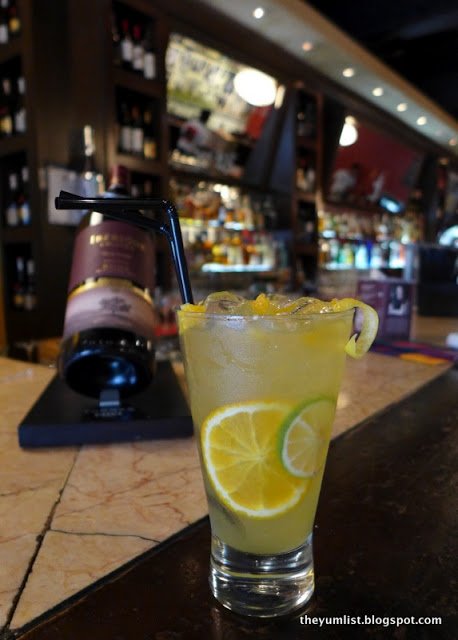 Pisco Tang
Pisco Strawberry – Reminiscent of a smooth strawberry milkshake, it compliments the Beef Tiradito: sweet and fruity with a little punch from the Pisco.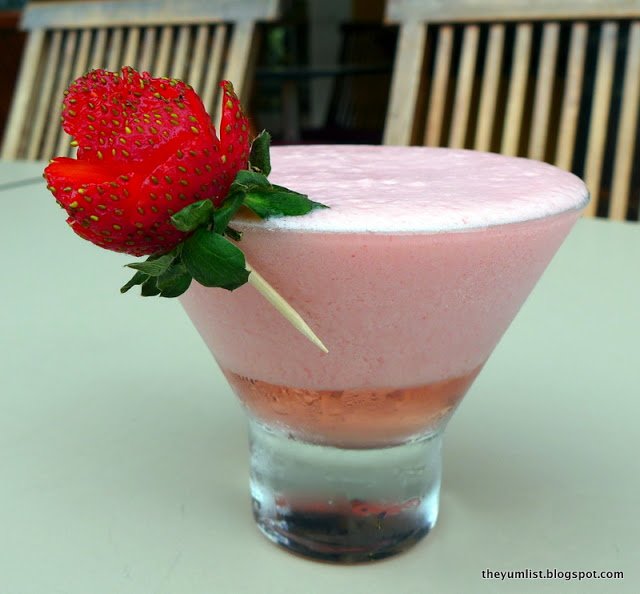 Pisco Fresa
Pisco Yerba Buena – Yerba Buena, or "spearmint," is a Pisco drink without the fizz.  It is a true pleasure to look at this "work of art."  Slices of oranges and limes show through the glass and a fine lemon twist adorns the top. The sprig of yerba buena adds a touch of mint to the flavor of this drink.  Perfect with the ceviche.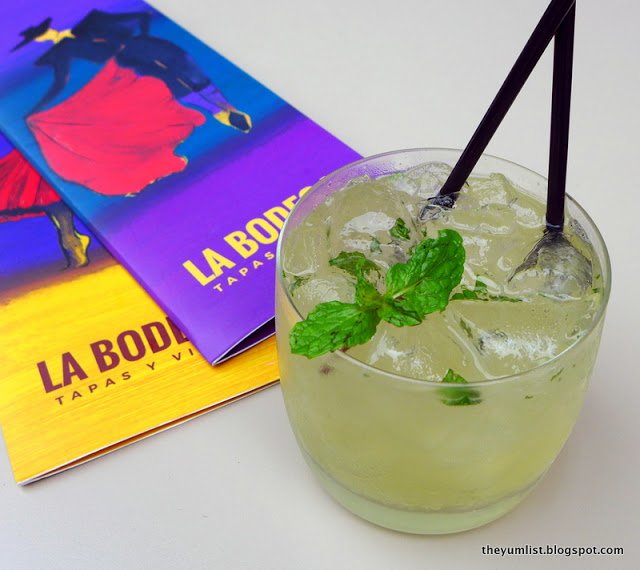 Pisco Yerba Buena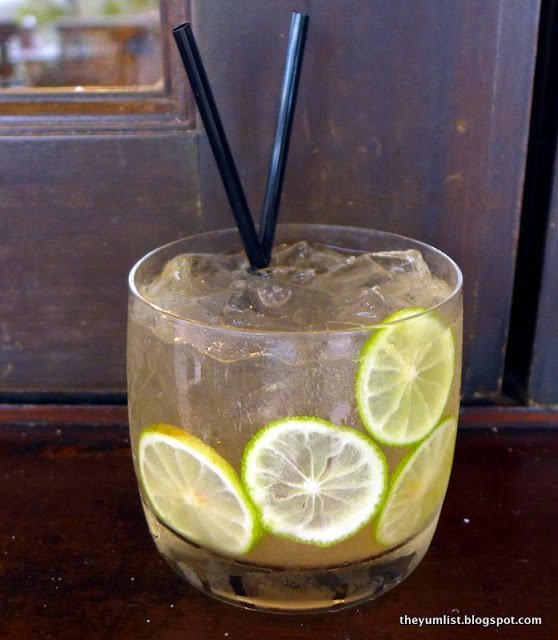 Pisco Chiclano – our favourite with a little gingery tang
You many not be able to fly to Peru for a holiday, but you can certainly enjoy the food and beverages of this diverse country. Take advantage of the one month "Peruvian Adventure" at La Bodega.
Participating outlets:
La Bodega, Bangsar Telawi 2
La Bodega, Bangsar Shopping Center
La Bodega, Pavilion KL
La Bodega, Empire Shopping Gallery, Subang
La Bodega,The Shore Shopping Gallery, Malacca