Huong Tran and Monica Tindall
My friends often joke, "It's so kampong," and that's exactly the feeling I have at Green Tomato Café. This is not your standard café. From the moment of entry, I feel I am being welcomed to dine in the backyard of a friend's home. There's lush grass, frangipani trees, a giant rambutan tree that lends its shade and a wooden hut with a straw roof. Cozy. Al fresco. Easy.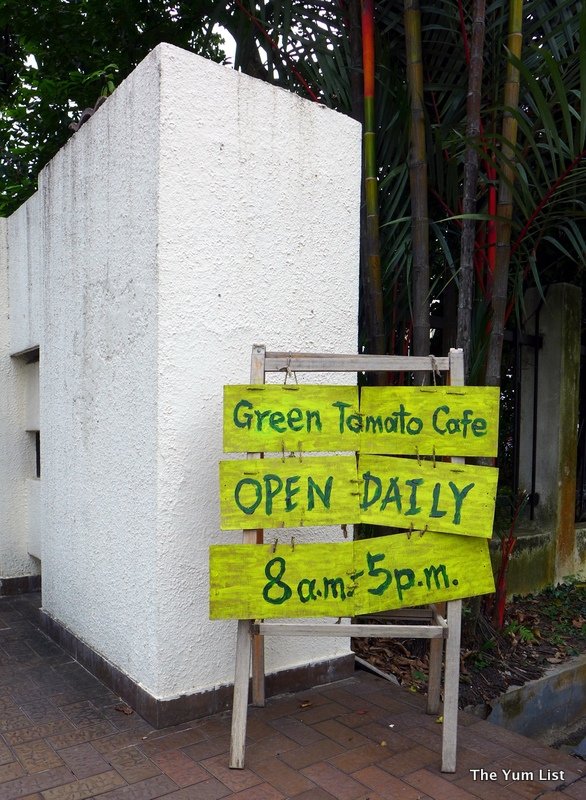 After a hectic tiring working week this haven provides the ideal backdrop to unwind. I forget about parking, shopping malls and human traffic. Green Tomato Café reminds me to consider the slow paced lifestyle found outside of the city without having to clock the distance.
The bungalow is already home to a cultural batik centre, and the brave and busy owner, Emilia Tan, took over the corner garden space in 2014 (formerly That Latte Place) turning it into the Green Tomato Café. The philosophy is to offer a homey café concept where all feel welcome. As a mum to a young toddler, I especially appreciate the distance removed from the road and its spacious setting for kids to run around and burn energy.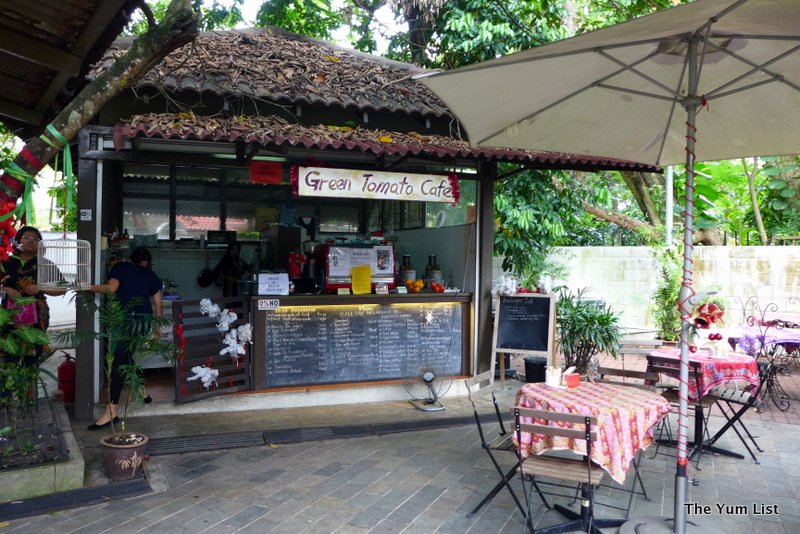 Coffee is first on our agenda and Green Tomato Café custom sources their beans for a darker roast. Emilia shares with us that the older regulars especially think highly of the stronger flavours. Of course our coffees come with latte art and we learn that the production of such is even taught in workshops to interested guests. Bradly's Teas [RM 10 per pot] are offered in a few varieties and we try the Moroccan Mint, which we find light and refreshing.
The garden setting is ideal for icy cold drinks too, and the Healthy Green Detox (RM 12), a mix of apple, celery and cucumber is hydrating and wholesome. Emilia is particularly proud of her own recipe for iced lemon tea which is full flavoured with no need to add any sugar – another worthwhile order.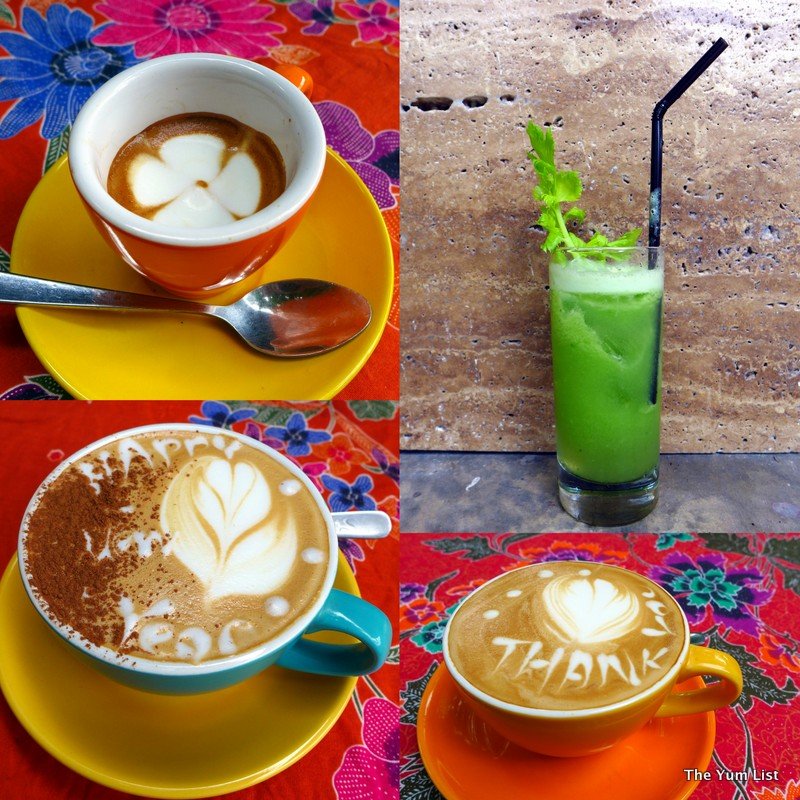 Any café that serves all day breakfast earns my respect and why not, the flexibility should be there right? Breakfast is for champions: even those who sleep in. The Pancakes (RM 14) are served with kiwi and strawberries and some maple syrup and yoghurt on the side. It's soft and fluffy with hints of sourness, which I guess are the magic of either buttermilk or yoghurt.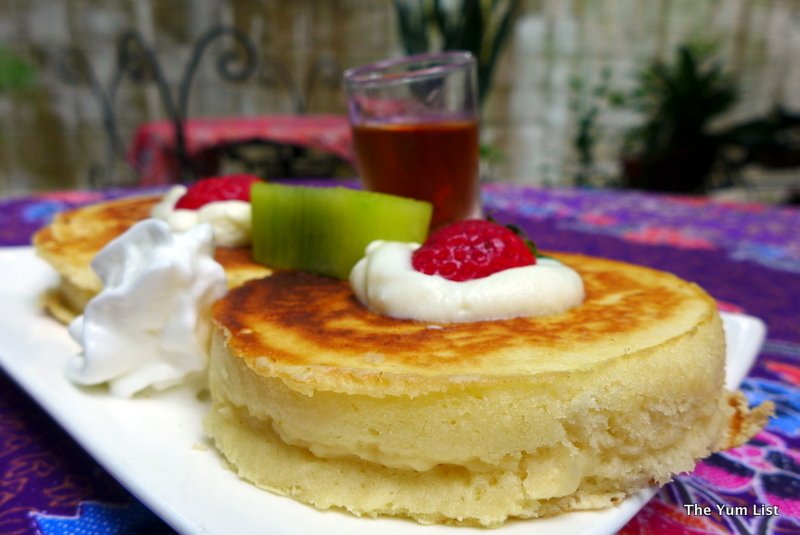 The Yoghurt Parfait (RM10) is made with homemade yoghurt and served with granola and seasonal fruit salad. There's no doubt the yoghurt is homemade because it's not so creamy and is very natural in taste, even a tad sour, but sweetness is given in the toasted grains and fruits.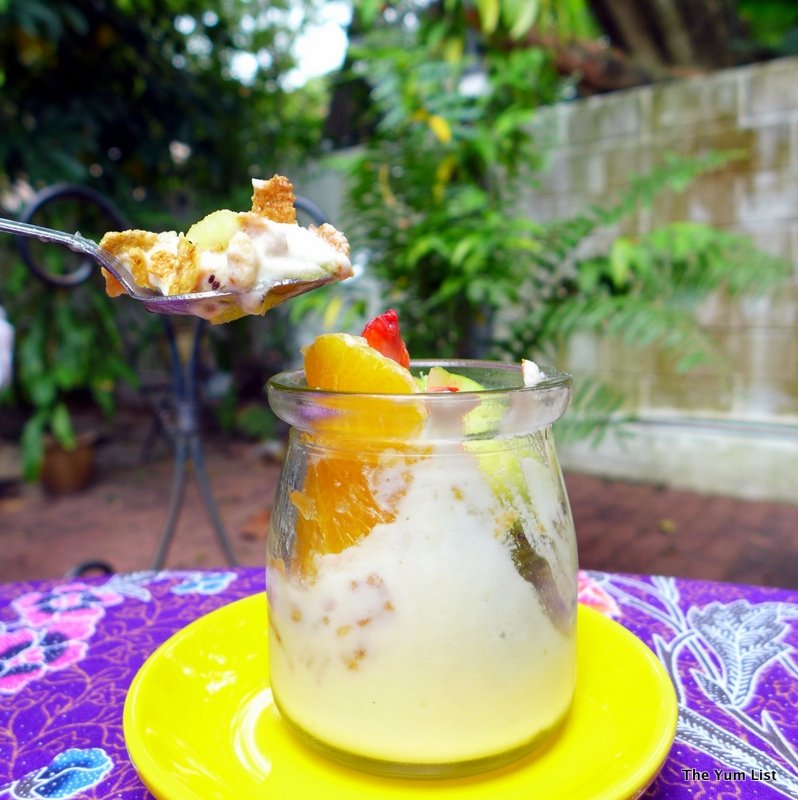 While enjoying the beautiful sunny day, I look behind me and see the BBQ station busy at work. Nothing can replicate the smell of the sizzle. The flame grilled Chicken Leg (RM22) with roast rosemary potatoes and a side garden salad arrives after much anticipation. In my opinion the leg is the juiciest part of the chicken and Green Tomato Café has kept the marinade simple – just some herbs and lemon. The salad is also basic. As Jamie Oliver would say, "keeping it honest."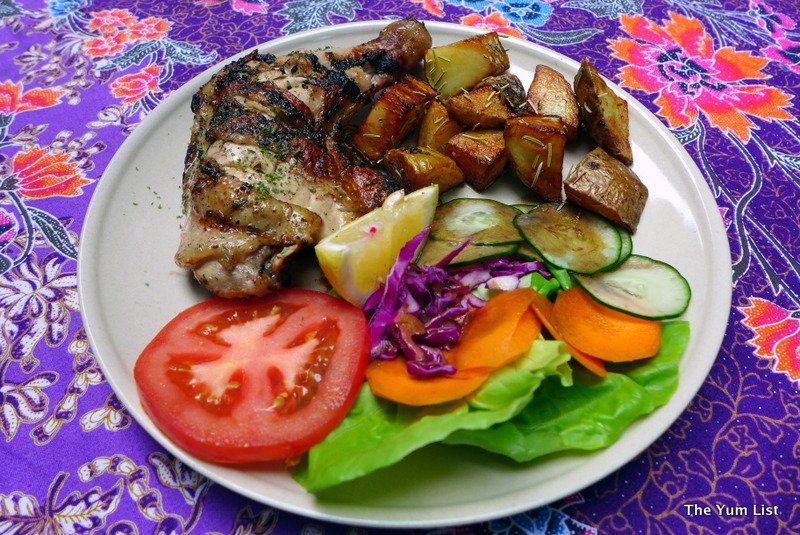 For the protein loving burger fan the Australian Beef Burger (RM18) is of good quality made from topside meat pounded and minced with care and moulded into a manageable patty. The burger is a decent size and doesn't deviate too far from the classic of onion, cheese, lettuce and mayonnaise. I love that I can eat it without getting my hands greasy, or pieces falling sideways. The plate isn't drenched with dripped oils either, so I'm convinced this is a somewhat healthier burger – which is why it's acceptable to munch on the crinkle cut fries.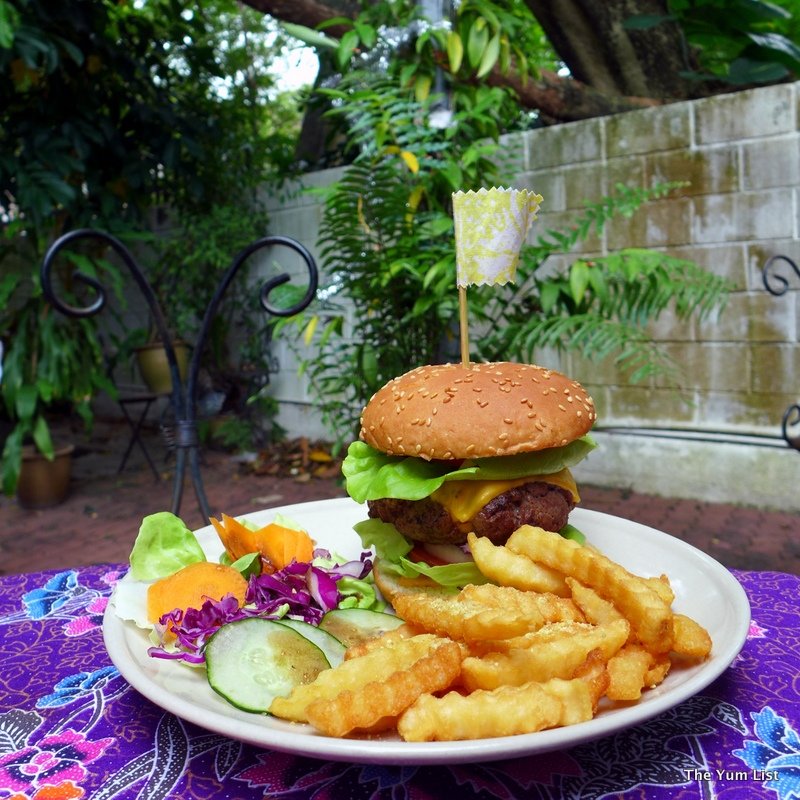 Muffins go well with coffee or tea as an after meal sweet (or mid morning pick-me-up), and the Blueberry Muffin (RM5) is stuffed with a generous spoonful of jam. I am expecting the normal boring snoring blueberry muffin but the jam gives it character and lots of taste. It's moist and yum and really old-fashioned in style. The Pineapple Danish, also baked in house, is flaky and hot out of the oven. It is baked to order so do allow a few minutes for its delivery. I adore the pineapple filling and feel simple tropical satisfaction.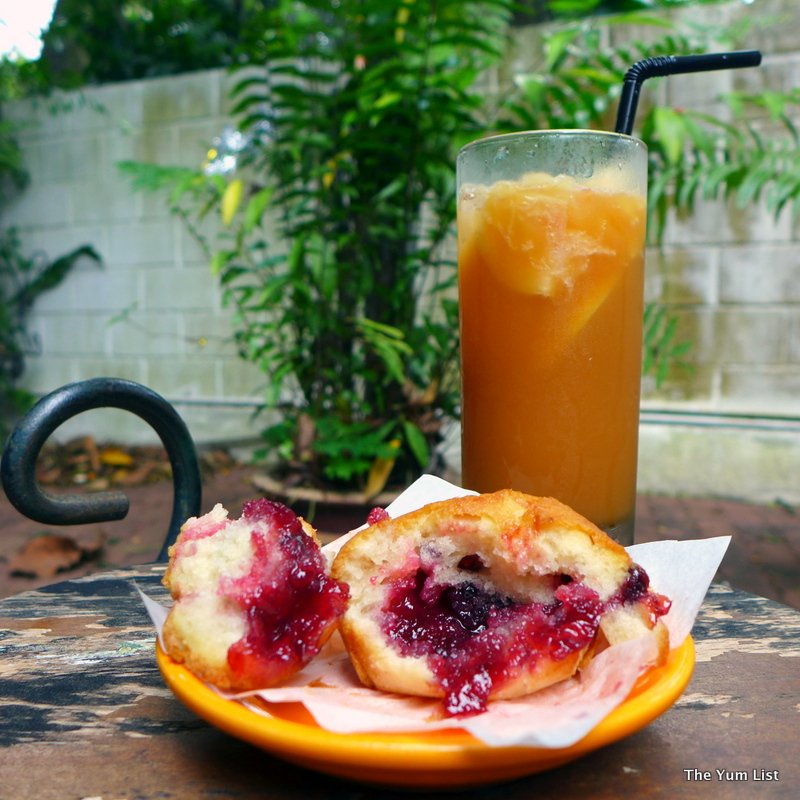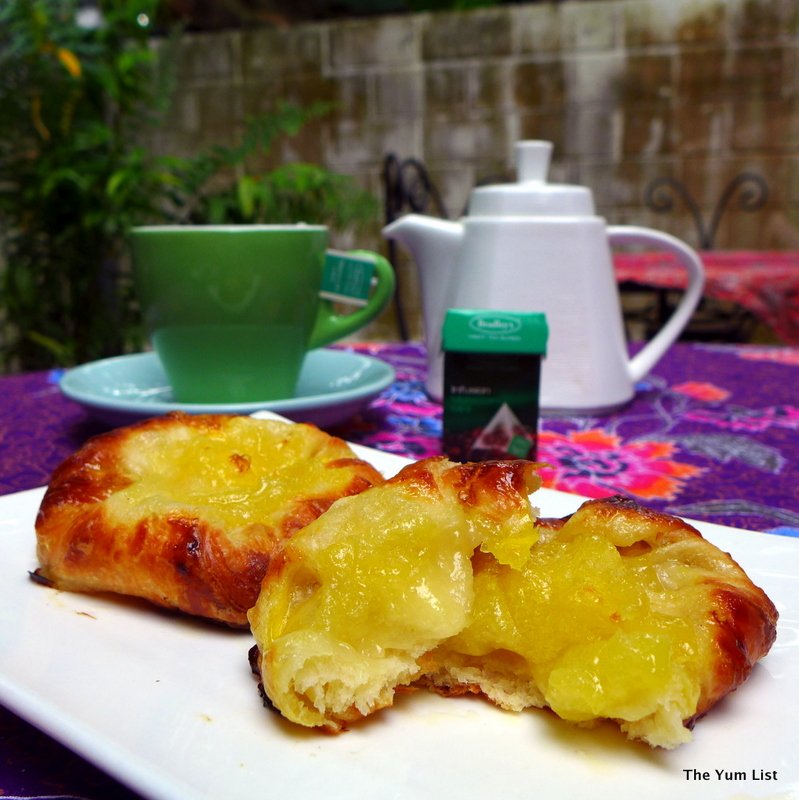 The Red Velvet Cake (RM10) audience is quite discerning in KL and with so many fantastic varieties on the market I am glad that Green Tomato Café is offering something a little bit different. I bake myself sometimes and find the dense moistness of this cake similar to that of a French Clafoutis – flourless, with lots of eggs. I am told this is the restaurant's bestseller, and rightfully so if you like flavoursome, dense, non-crumbly cakes.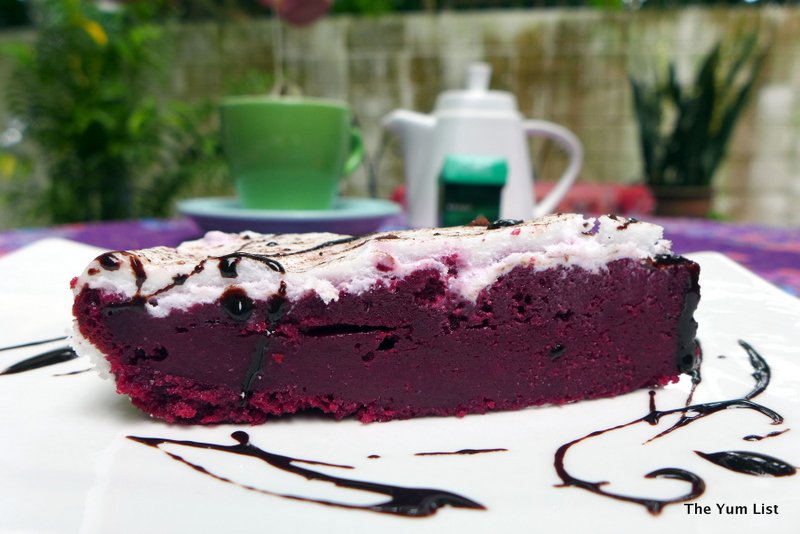 Another crowd pleaser is the Strawberry Cheesecake (RM 10). I appreciate the imperfect shape of the slice, the crumbly base, and the uneven spread of the strawberry on top because it shows a human element. Clearly homemade with love, this dessert mirrors the slightly denser side of the standard chilled recipe, but remains lighter than a baked style.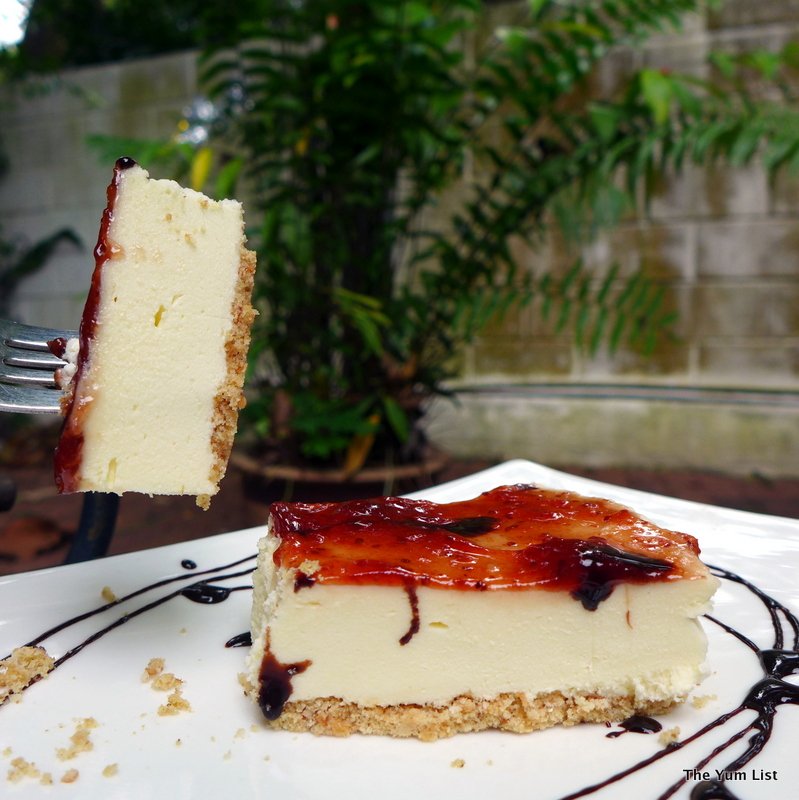 Adult meal over, I wonder how I'd coerce my little one to leave the playground and return to the car? An Ice Cream Patong stick (RM 3) from the self-serve freezer solves the problem, and a pleasant afternoon is complete.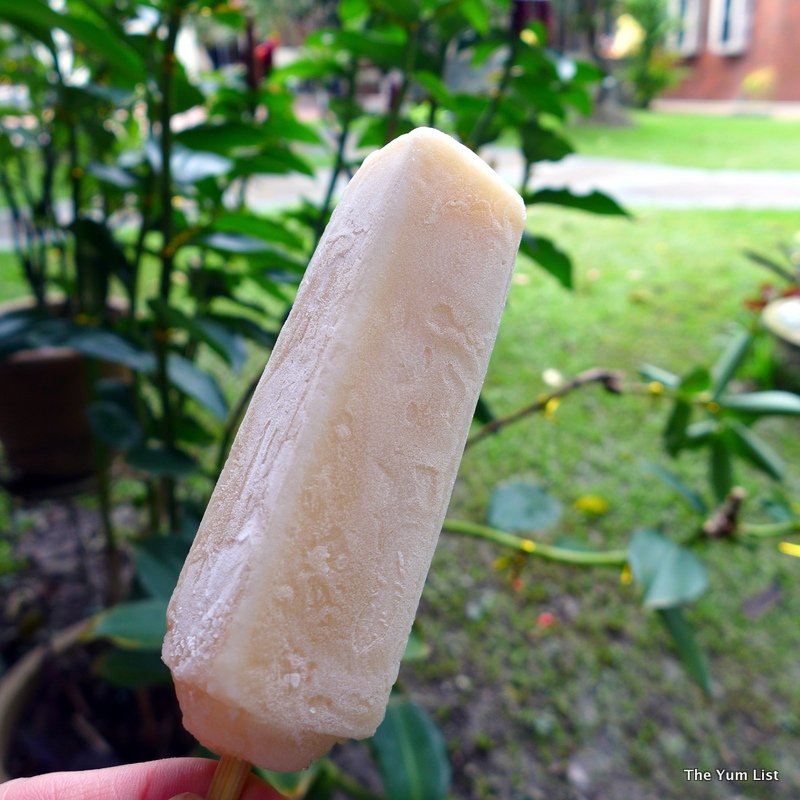 Reasons to visit: lovely garden setting; a place for young ones to run and play; a little green escape only a few minutes from the city centre.
Green Tomato Café
Yayasan Seni, 333, Persiaran Ritchie
Off Jalan Ritchie, 55000 Kuala Lumpur
www.greentomatocafe.com.my
Open: 8 am to 8pm daily
+6 03 425 15154