A harpist caresses our arrival to Li Yen Chinese restaurant with traditional Chinese melodies. On the second floor of The Ritz-Carlton Hotel, Kuala Lumpur, potted plants mark the ingress, and a carved ornamental wooden panel divides the reception from the main dining area. Male staff are uniformed in white Chinese suit jackets, and females in elegant floral cheongsams. All the details marry in happy harmony creating an intimate and pleasant setting.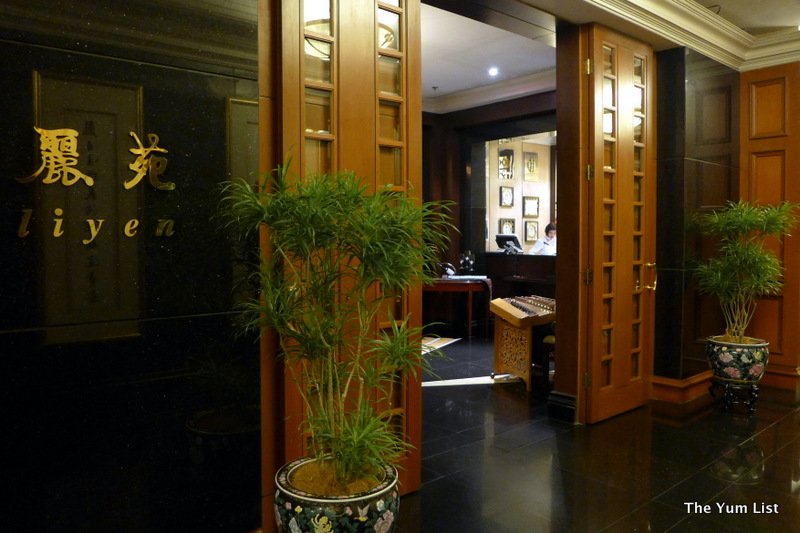 The menu, focusing on Cantonese specialties, is well over ten pages long – too many to choose from! The very first page however summarizes Li Yen's signature dishes making selecting much easier, and so we don't wander much further beyond.
Hubby starts with a soup, the Double-boiled Soup with Sliced Pork, Mushrooms and Vegetables (RM30). The broth is near clear, but boy is it bursting with flavour. Generous slices of meat, greens and root veggies fill the bowl.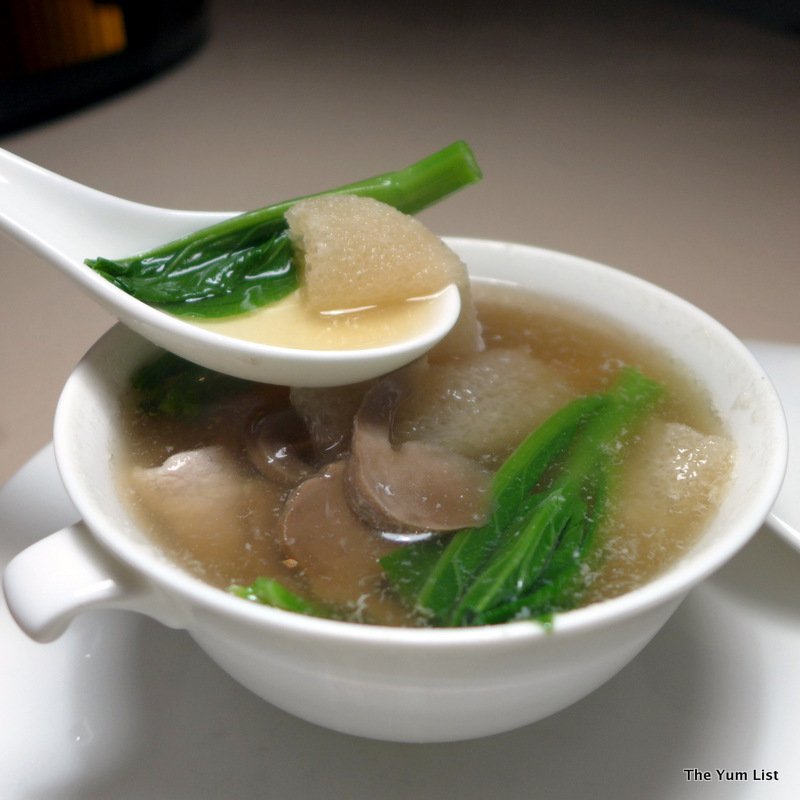 The meat of the Roast Duck (RM67) is particularly succulent and the skin paper-thin and crisp. A garnish of fresh parsley contrasts the deep amber skin, and a light but oily sauce pools the bottom – which we can't resist mopping up with the final remains of the poultry.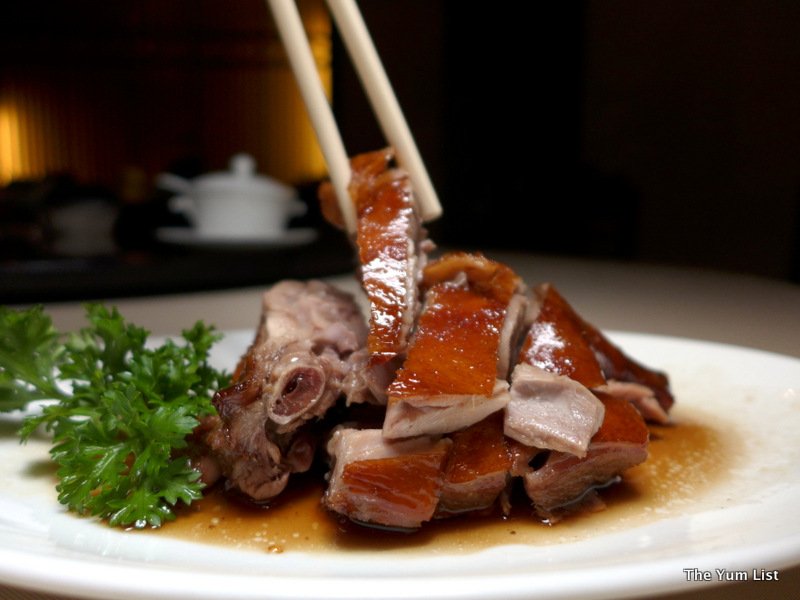 Li Yen Golden Prawns (RM27) are definitely not for the calorie conscious. Fried, coated in a thick blanket of mayonnaise, and topped off with crunchy wafers, they're juicy, moist and mouth filling.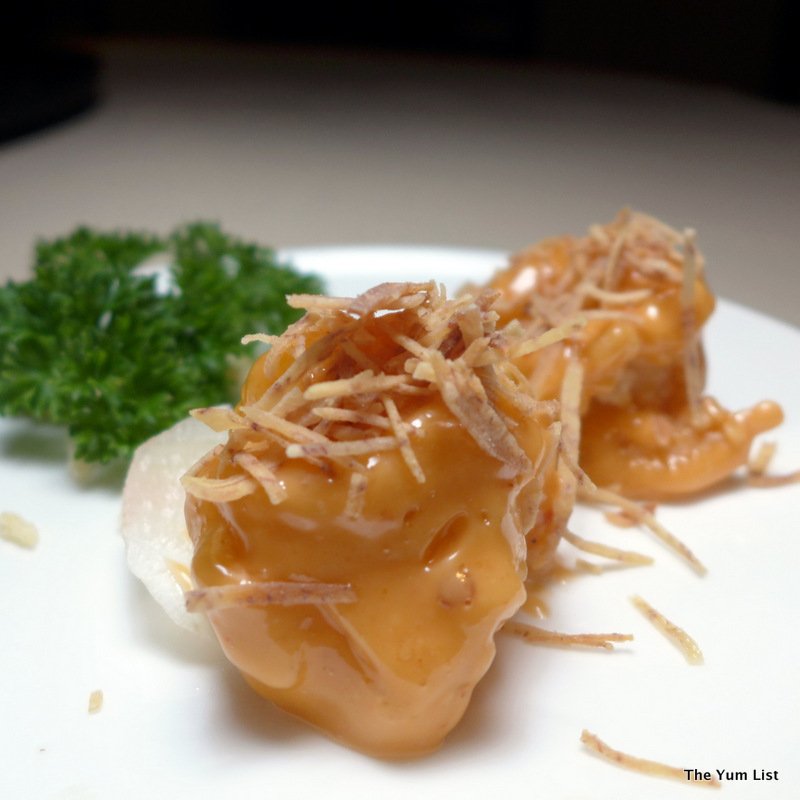 Two white fan shells hold Pan-fried Scallops with Salted Egg Yolk (RM27). The mollusc are lightly seared around the edges and softly textured in the middle. It's hard to see them though as they are coated in a lavish serving of the savoury yellow egg topping.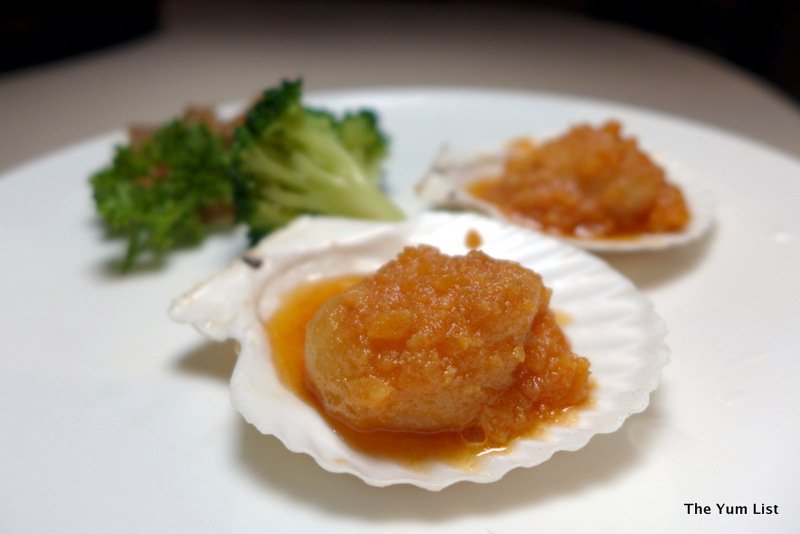 Li Yen Signature Beancurd with Honshimeji Mushrooms and Spinach (RM20) is a must order in my opinion. Resembling a layered cheesecake in appearance (only garnished with veggies and drizzled with a savoury sauce), white curd provides a pillowy base to a topping of curd mashed with spinach. Mushrooms and greens strengthen the dish, and this turns out to be my favourite of the night.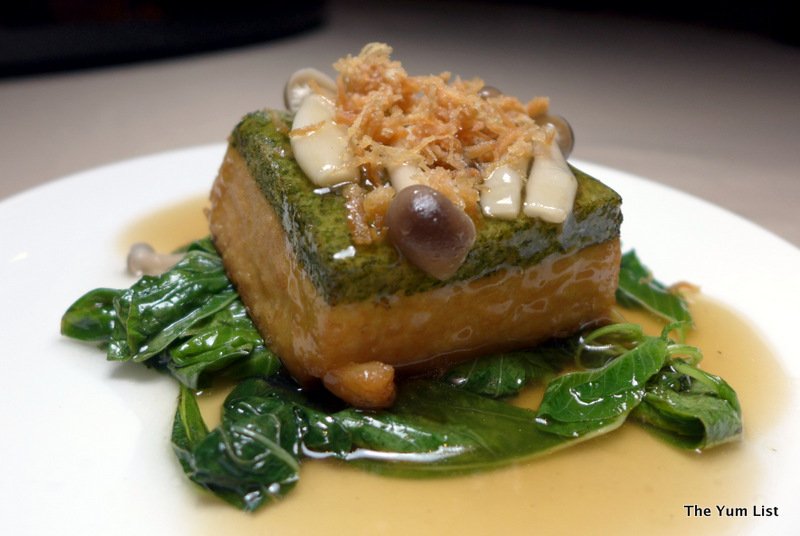 The last plate to arrive is the Li Yen Signature Fried Noodles (RM61). These came highly recommended by our sweet waiter when we ordered, and now that he is delivering them he reaffirms them as a good choice. The plating is certainly impressive. An oversized bowl is filled with springy noodles, topped with plentiful seafood, chicken and vegetables, and glistening with a smooth veneer of sauce over it all. I don't know what the trick is, but this chef sure does know how to achieve the perfect mouthfeel and texture in the shrimp. They're bouncy and firm, yet yielding once bitten – it's similar to what perfectly cooked al dente pasta feels like. The veggies are crisp and the chicken tender. There are strings and strings of noodles – so many that we don't even get through half of them.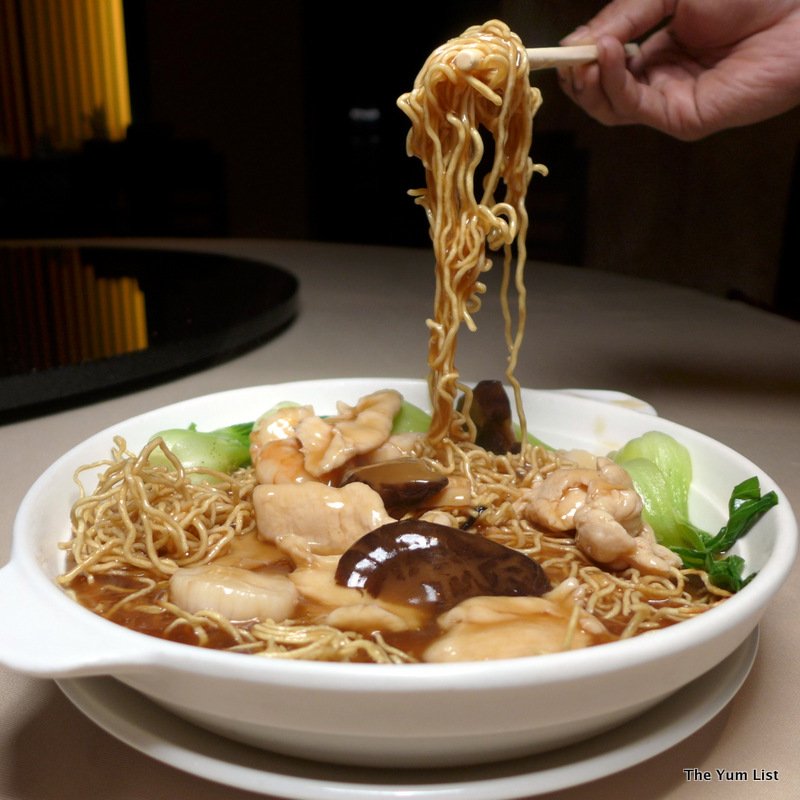 Service has been fab. Not only did a kind waiter provide me with a shawl for my goose-bumped flesh, but also plugged in a little fan heater beside my chair! The Chinese harp played at a gentle volume all evening, supplying a subtle and delightful background hum, and wait staff have been present when needed but not intrusive. Li Yen Chinese restaurant has been a tasty and pleasant evening out.
Reasons to visit: Li Yen Signature Fried Noodles; Hubby's top pick is the Roast Duck; my most loved is Li Yen's Signature Beancurd with Honshimeji Mushrooms and Spinach.
Li Yen
The Ritz-Carlton, Kuala Lumpur
168 Jalan Imbi
55100 Kuala Lumpur
Malaysia

www.facebook.com/RitzCarltonKL
+6 03 2142 8000
www.ritzcarlton.com/en/hotels/malaysia/kuala-lumpur
*non-halal