Words: Heather Onderick    Photos: Monica Tindall
From the spectacularly grand entrance, to a glass walkway housing a five meter long rug inspired by flat pieces of uniquely stained copper, to the stools designed to blend the food stall culture of Malaysia with art deco inspired design at the top of the city, it is clear that every nook and cranny of Coppersmith has a story. As Monica and I sat down with a few other journalists and the proprietors of the entire 23rd floor, Chris and Eddie, we couldn't help feel like we had entered a creative world of Willy Wonka like musings. Even Coppersmith's beautiful bar built into the wall looks like a vintage laboratory with friendly and casual bartenders that are ready to interact with you. This is a place for cocktail lovers who crave liquid artistry and yearn to understand the history and craft of their libation of choice.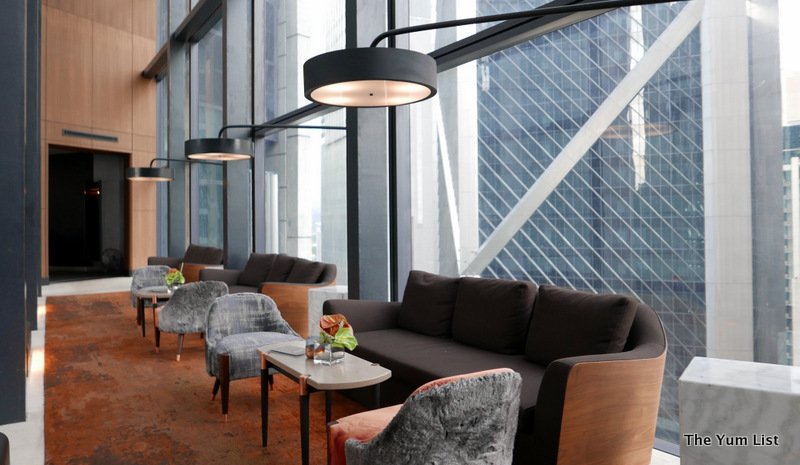 In keeping with the times, Coppersmith offers its own range of six uniquely crafted cocktails as well as other interpretations of timeless favorites. We started off the evening with a herbal tonic, From the Smith's Garden (RM 42).  To quote the bartender, "This is a drink that you might have on Sunday morning as a starter to lighten up your day and cleanse the sins of the previous night."  Served with celery juice, green apple juice, fresh basil, lime and Belvedere vodka, each sip is designed to help cure mid-week afternoon tiredness or a Sunday hangover. The fresh herbs of jasmine, Chinese Kwai-feh and a spicy Szechuan foam create a subtle tingle in your body to counter the refreshing flavors of the fresh fruits and vegetables. Balance is a theme at Coppersmith that we continued to notice throughout our tasting session.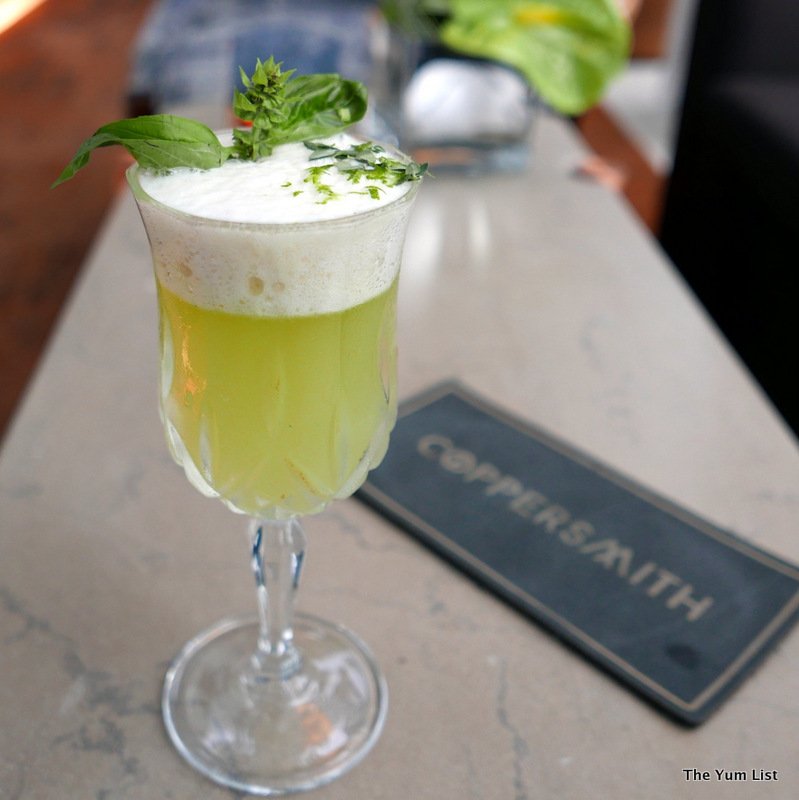 Next up, we traveled back in time to 1916.  Served with love from from this pre Prohibition period, we sampled Aviation (RM 44), a dreamy looking purple cocktail made with homemade creme de violette, clitoria flowers, lavender and gin. Coppersmith takes advantage of the talent on the 23rd floor of the Troika building and works collaboratively with the pastry chefs to design unique syrups and edible adornments.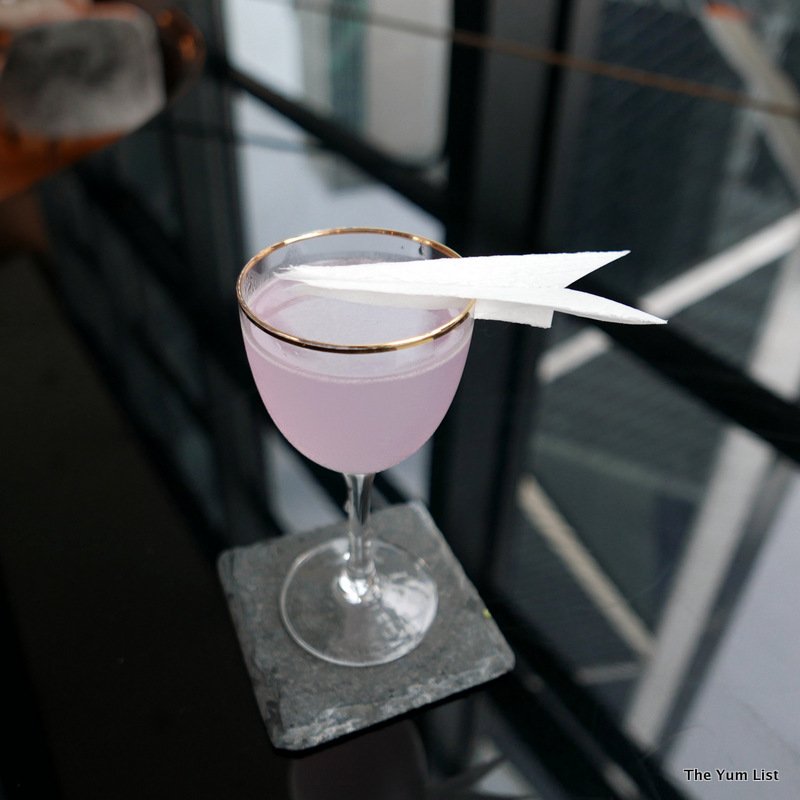 Sprinkled in between these sweet and intergalactic cocktails, we were served some inspiring bites. Chris and Eddie diligently collaborated with chefs to find "just right" food pairings for the small menu. To start off we tried a creation right out of a Roald Dahl story: Beef Macaroni and Cheese (RM 19). But, don't be mislead by the simplicity of the name, this was a real modern twist on what you might know as mac n' cheese.  It was recommended that we eat the rigatoni pasta tubes with our hands. We savored the red wine braised oxtail and gruyere crisp that it was decorated with and delighted in the ground mushroom soil. Sometimes chefs push the limits of imagination with food and this was a risk that ended in pure success.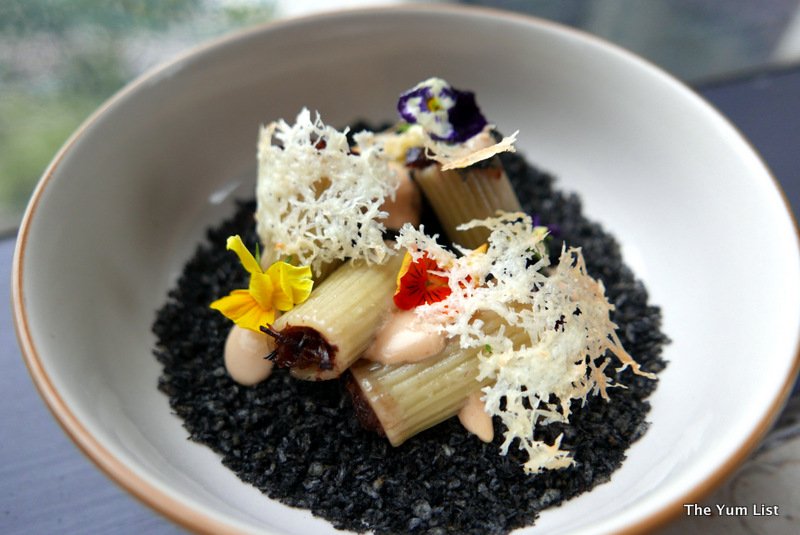 The time had come for something a little more classic, which arrived in the form of the Lucien Gaudin (RM 42), a barrel aged cocktail made with gin, dry vermouth, Campari and Cointreau served with orange peel essence. This time-honored favorite, was rich, with hints of sweet brown sugar playfully tangoing with smoky bourbonish flavors on the tongue.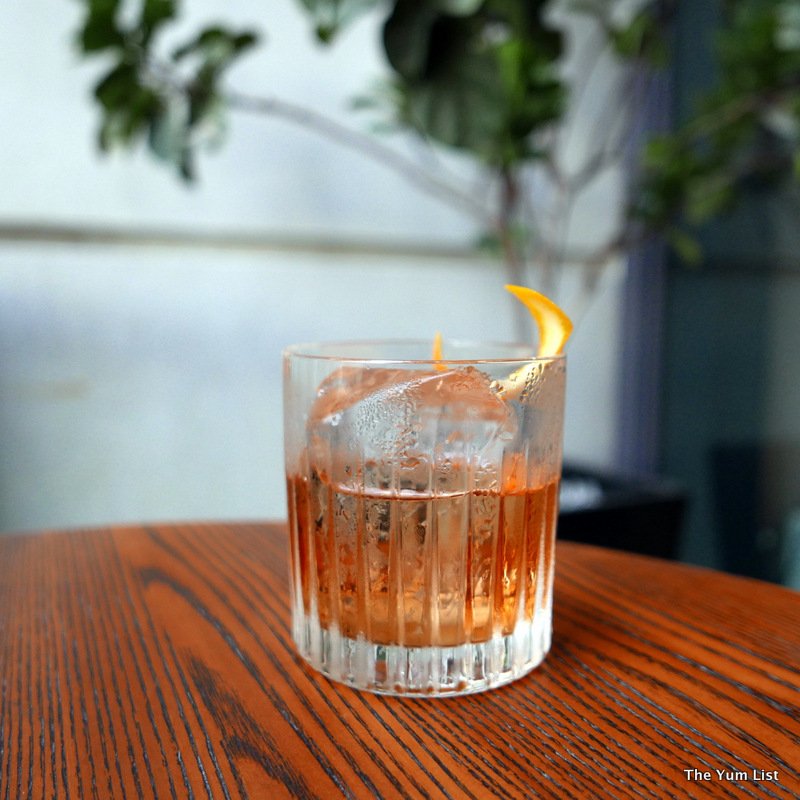 Still Coppersmith, dear Coppersmith, had more in store for us. When something goes classic, the other end of the see-saw must balance that out with extreme innovation, so the next round of whimsical tasty bites drifted in: Foie Gras Curry Puffs (RM 16). Once more, great adventures await those who turn corners and combining the spicy and savory flavors of curry puffs, the juiciness of wagyu beef and the smooth, creaminess of foie gras, left us dreaming of what other wonderful possibility lay in culinary Malaysian hybrids.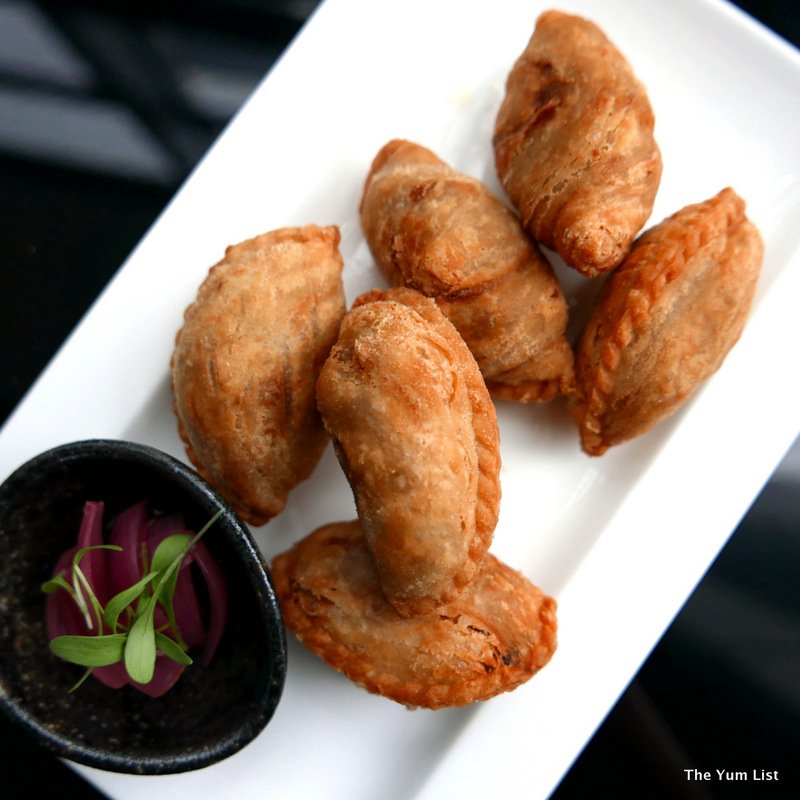 Although, I hadn't had dinner, I was craving something a little sweeter by this point when the bartender gracefully placed in front of us the final cocktail of the evening: Cup of Cognac (RM 42).  I must admit I was excited that this was the final act, when viewing the menu before it had peaked my interest. The Cup of Cognac is a one of a kind, sculpted cocktail. The glass is brushed with sage butter. On top of that, lays a dust of beautiful ground forest berries and touch of sprinkled cinnamon. The liquid contents inside, a simple combination of Pierre Ferrand XO cognac, apricot liqueur, rhubarb syrup with the artistry on the outside of the glass to produce each sublime sip.  This drink redefines the cocktail movement, its layers both literally and metaphorically repeat the balance we saw earlier with the macaroni and cheese, covering all the elements of earth, wind, air and fire.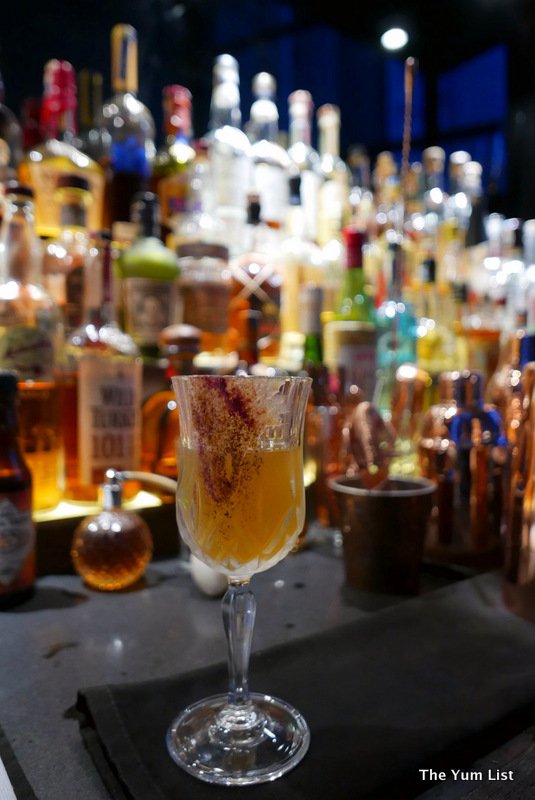 And last but not least, a dessert like bite: Croque Monsieur a Ma Facon (RM 14). Once upon a time this dish started as an actual croque monsieur but now has dwindled down to mini-muffin like homemade brioches complimented by crispy and salty duck chorizo and fondue like gruyere.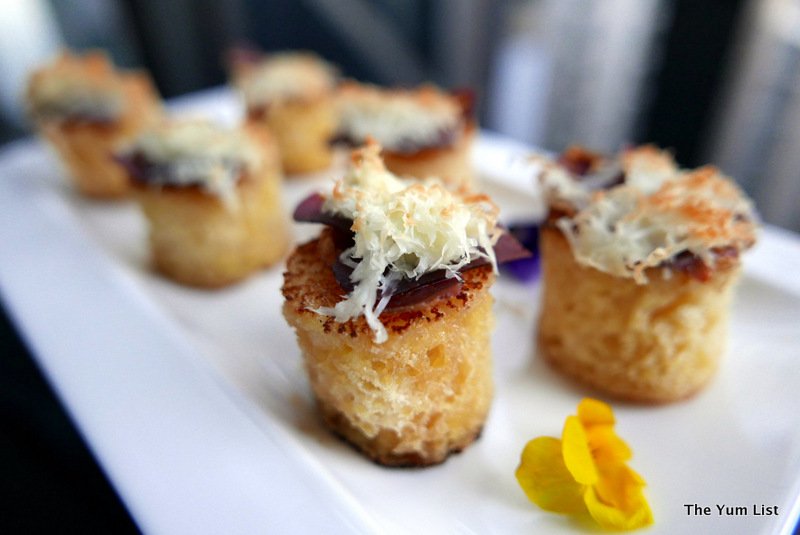 If you are feeling like you need a little inspiration in the KL drinking scene, Coppersmith is an experience that will resurrect the way you feel about cocktails. Made with fresh ingredients and alcoholic concoctions crafted by the pastry team from Cantaloupe, the bartenders are eager to please a spectrum of palates. The stylistic design blends old art-deco lamps and finishes with the chic backdrop of the Kuala Lumpur skyline to create a comfortable but "this is worth the splurge" kind of vibe.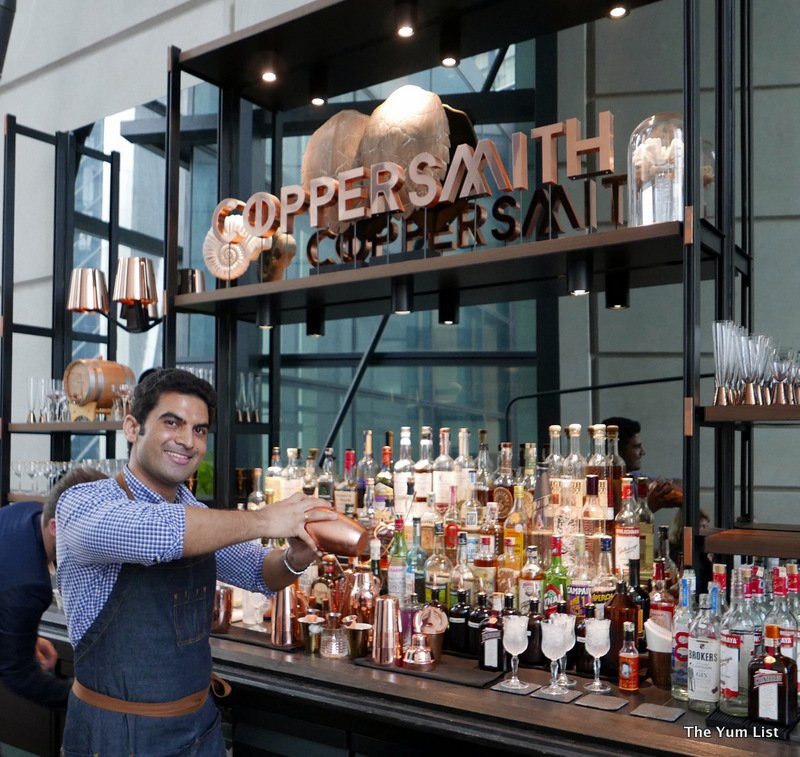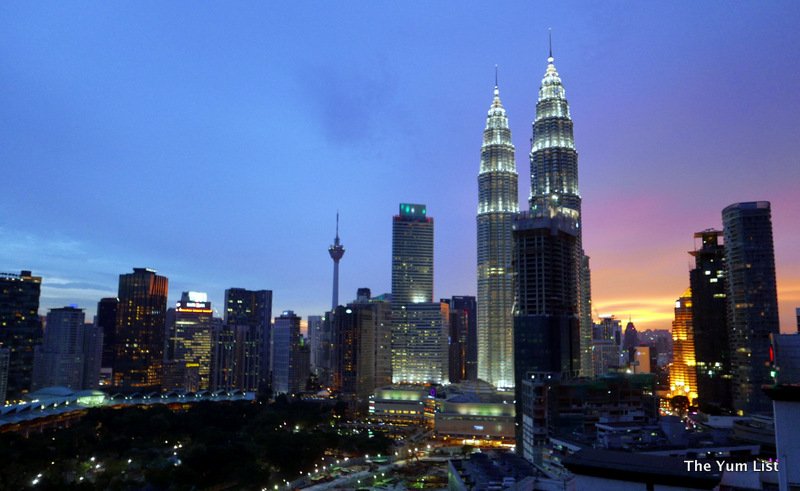 Reasons to visit: The eloquently balanced Copper Fairies which could serve as a sweet aperitif or satisfying dessert cocktail. The unique and playful interpretation of Beef Macaroni and Cheese, which highlights the creativity of Coppersmith's food and beverage team. The view.
Coppersmith
Level 23A, Tower B, the Troika
19 Persiaran KLCC
Kuala Lumpur, 50450
Malaysia
+6 03-2162 0886
www.facebook.com/coppersmithattroikaskydining/
Open 5pm – 1am.