Monica Tindall
It's surprising the variety of cuisine that can actually be found on the tiny resort islands of the Maldives. The Anantara team, for example, ensures that guests are not wanting for variety in their offerings. Thai, Italian, contemporary, European, Maldivian… the list of cuisine types could rival any city. We try Origami, Teppanyaki Restaurant at Anantara Veli Maldives Resort and find the quality of produce of premium standard and the chef's talent highly entertaining.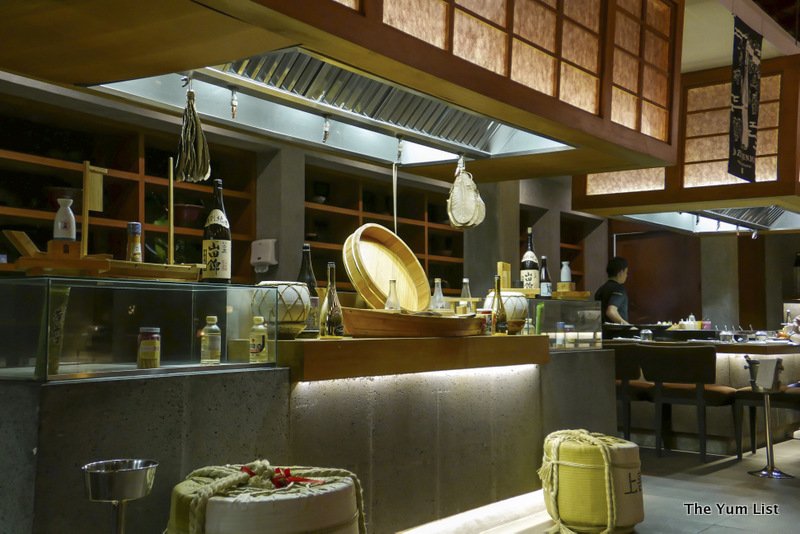 Chef Gharib is our chef and CEO (Chief Entertainment Officer) for the evening. Right from the start he has a twinkle of fun in his eyes and a youthful grin on his face: we can tell immediately that this is going to be no ordinary dinner.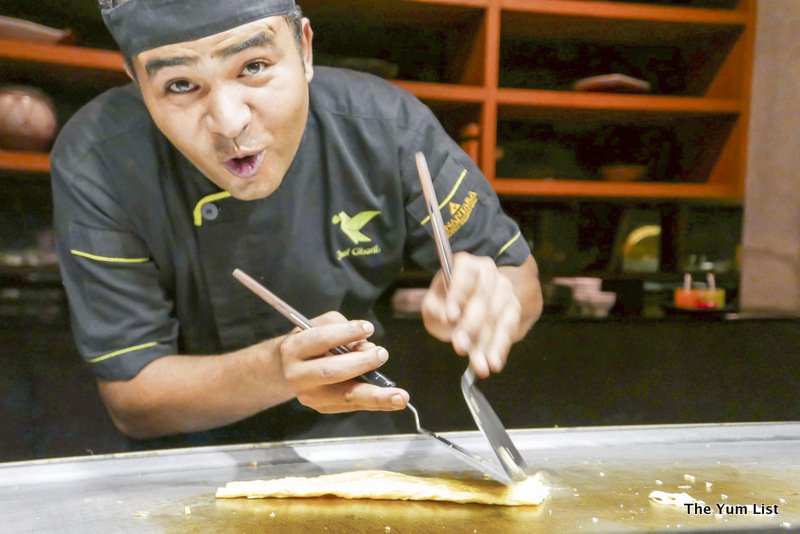 As chef warms up the grill and performs a utensil-tossing act he assures us no one has (yet) died from the production. Just to be sure that we're in no danger, he wittily affirms that he's switched from knives to spatulas and scrapers rating this as a PG screening.
Origami Delight, a liquid shot of yuzu, Japanese tea, cucumber, jasmine and apple, opens our palates and we're ready to discuss menu options. There's a whole book full of teppanyaki menus ranging from vegetarian, seafood to meat with a combination of all in between. Chef's Choice ($95USD) comes highly recommended and really, who's going to argue with a knife-wielding chef?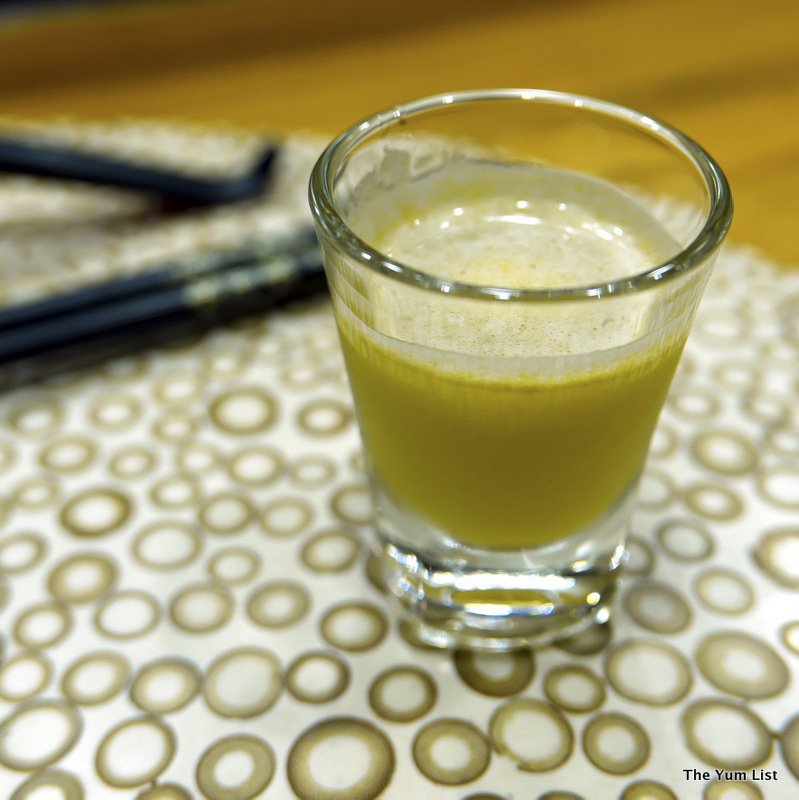 Menu decided, our waiter suggests a sake pairing of Kiku-Masamune Kimoto Daiginjyo (5cl –USD$12, 72cl – USD$160) for its versatility. Achieving a harmonious balance of crisp and clean with strong aromatics it goes well with both with grilled meat and fish.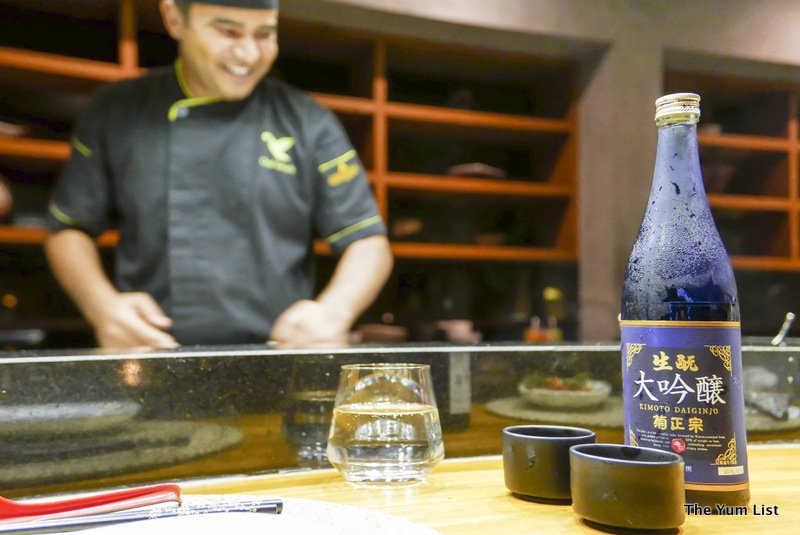 Salad
Origami's baby spinach salad kicks off our degustation. A classic sesame dressing livens the course. It feels great to eat greens to begin.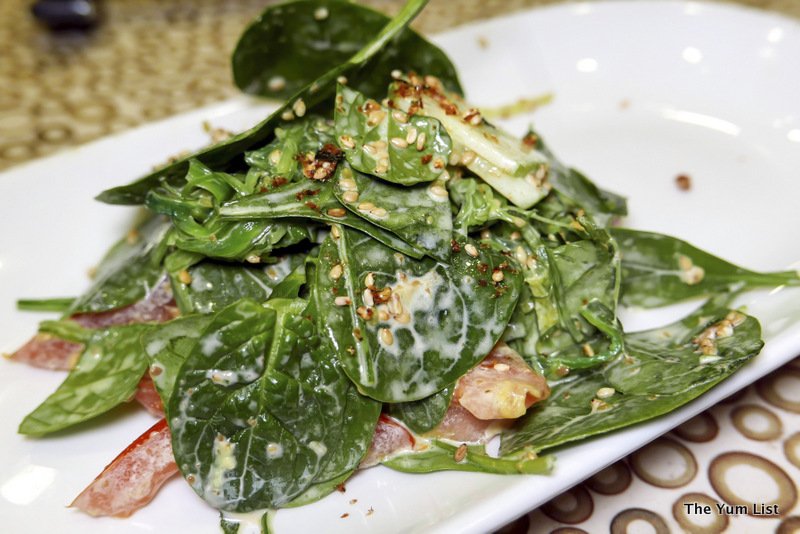 Soup
Enoki Miso soup with seaweed acts almost as a palate cleanser and aperitif in one. The clear broth washes away the tasty sesame dressing from the salad, while its light saltiness has our mouths watering for more.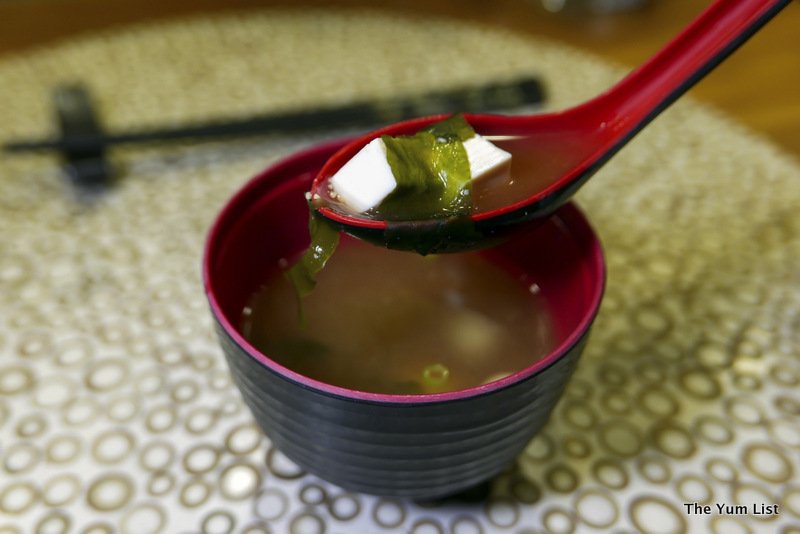 Appetizers at Origami Teppanyaki Restaurant
Chef brushes a stripe of beetroot and lemongrass paste from corner to corner of a white plate. He carefully places a plump juicy Hokkaido scallop in the centre and crowns it with a slice of squash and snow peas. Tiger prawns are next and these jewels from the sea have been aptly cared for by chef Gharib, who has polished their natural beauty maintaining flavour and texture.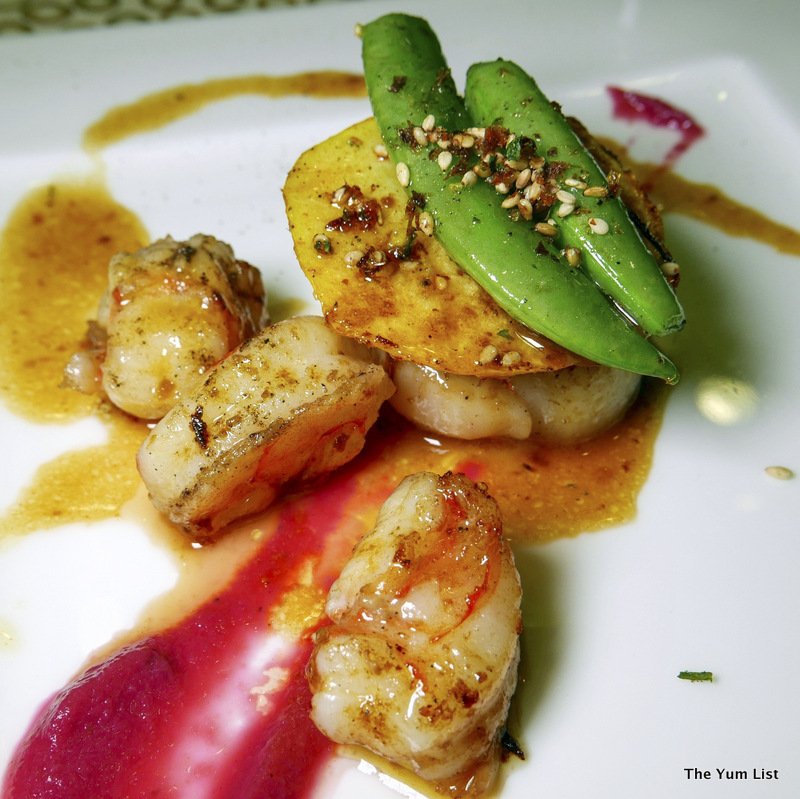 Seafood Main
Spiny lobster couldn't be fresher taken just hours before from Maldives Anantara's very own lobster tank. This fresh I'm sure it would be tasty all on its own, but with yuzu, garlic butter, sweet chilli, soy sauce, dashi, sesame paste and lemon juice, it's absolutely divine. A beautiful fillet of snow fish is partnered with the lobster and is fantastically moist and soft while maintaining its texture. A pinch of salt, sprinkling of pepper, squeeze of lemon juice, and dash of kimchi annexe just enough interest to keep the palate attentive, but not too much to overpower the natural allurement of this fish.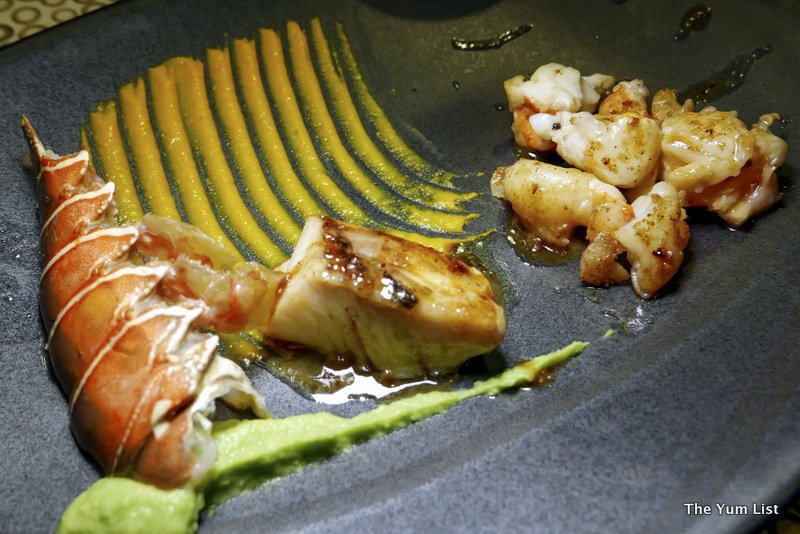 A moment of pause to appreciate the setting: The hot grills are smoking and flames are shooting. The sounds of cooking utensils cling cling all the while the cool sea breeze refreshes. The sound of the waves rolling onto the shore is gentle background music. As I finish the last bite of fish, I can't help but express admiration and gratitude for my surrounds.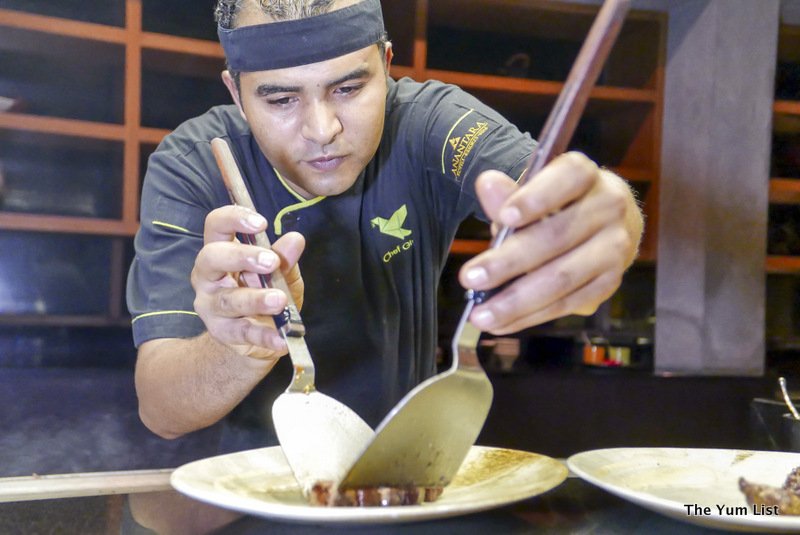 Meaty Main and Fried Rice
Wagyu Blackmore marble 7 from Australia is marinated with sour plum and sake. The marination, chef says, "makes the meat like butter. You can feel the tenderness but not the fat." Black Angus tenderloin is cooked alongside the wagyu and when they both come off the grill they are escorted with a mouth-watering aroma. Mixed chunky vegetables including squash, broccoli and mushrooms alternate with the pieces of meat. Three lip-smacking sauces are spread the length of the plate making delicious dipping to change things up a bit.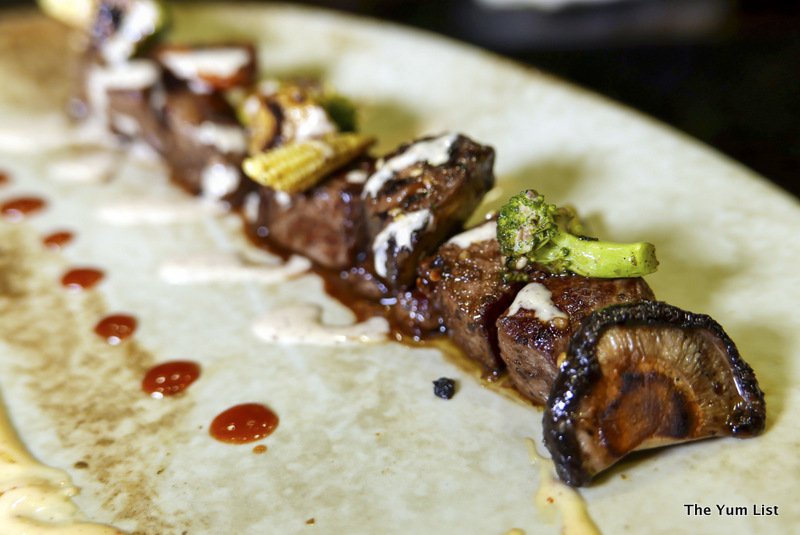 Garlic, egg, sesame seeds, mixed vegetables, sesame oil, garlic, butter, Kikkoman soy and sake water combine to make one very toothsome bowl of fried rice ensuring that every last pocket of tummy space is joyfully filled. That is, of course, all but for the supplementary dessert pocket that always seems to have an opening.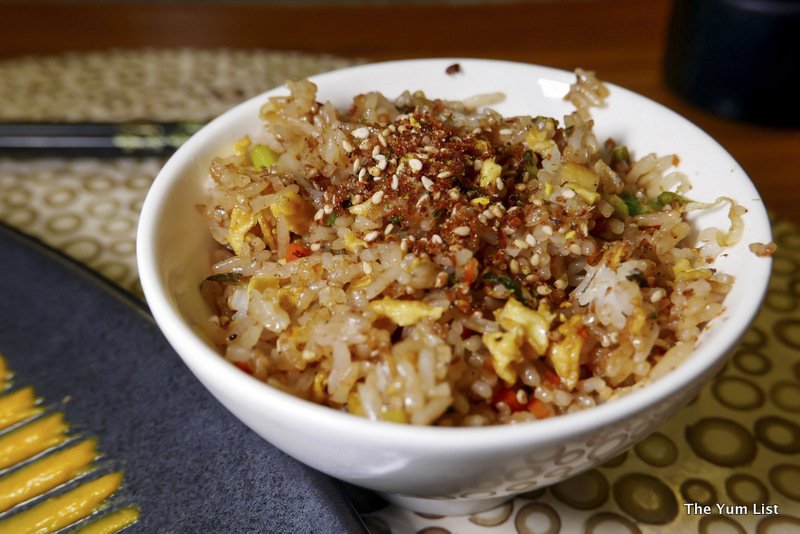 Dessert
Black Sesame ice cream is made in house. Creamy and smooth it's topped with a tart berry sauce. I'm not usually particularly fussed with the green tea or black sesame ice cream often served to conclude a Japanese meal. This gelato, however, is absolutely delicious. I plan to look for it again poolside tomorrow.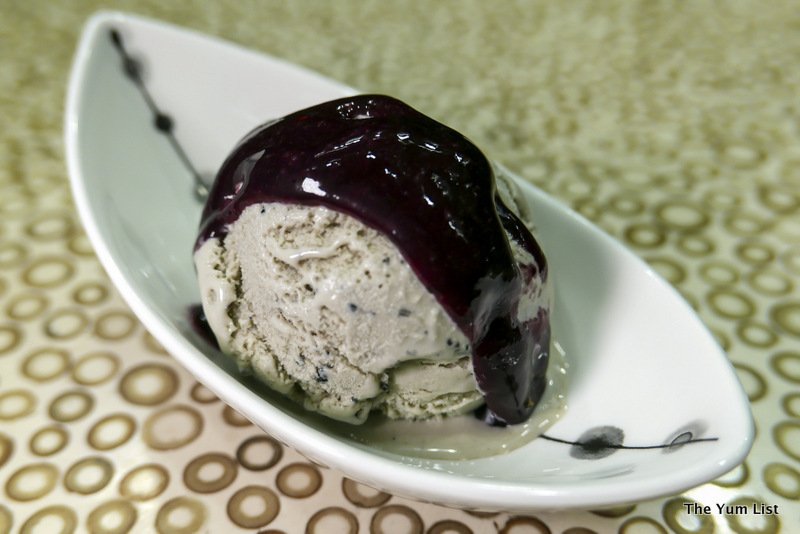 Digestive at Origami Teppanyaki Restaurant
I do love a liquor trolley and the team at Origami don't disappoint. Out rolls a cart of aged whiskies, rums and Cognacs. Hubby chooses the Zacapa Rum XO and I'm enticed by the beautiful Louis XIII Remy Martin Grande Champagne Cognac.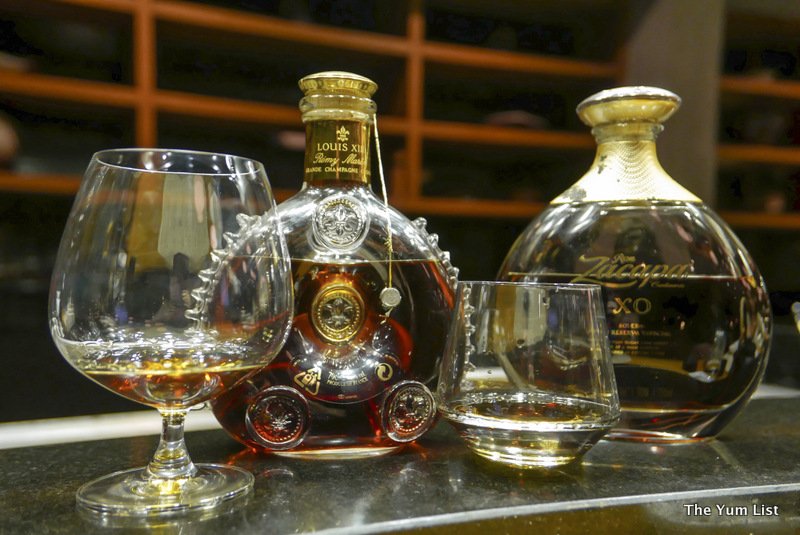 Cheers to the digestive trolley, and kanpai to a delicious Japanese meal!
Origami Teppanyaki Restaurant
Anantara Veli Maldives Resort
Veligandu, South Male Atoll 20109
http://veli-maldives.anantara.com/