Words: Claire Matheson  Photos: Monica Tindall
The Ultimate Bespoke Cocktails from P&C Cocktail Bar
The problem with going to great restaurants and cocktail bars is being faced with too many choices. I like to think of myself as a naturally adventurous person, willing to try anything new.  But when I am confronted with an overly complicated menu full of delicious and amazing alternatives, my fear of missing out kicks in and I'm reduced to an anxious mess. I become incapable of making a decision.
Enter the talents of a truly great bartender! Preferably with a flourish, a witty one-liner, and some wicked stories to tell.
Great Bartenders at P&C Cocktail Bar
The best bartenders are a combination of mind-reader, a fortune-teller and Mr Miyagi. Or perhaps Mr Olivander for those young'uns out there. Their particular set of skills lies in being able to provide you with your perfect drink. They welcome you, chat for a bit. They may subtly ask a few disguised questions about your tastes and/or personality, and voila! You didn't even know that was what you wanted, but you taste it and it is exactly what you needed, at that exact moment in time.
P&C Cocktail Bar in Taman Sri Hartamas has plenty such bartenders on offer. And no menu to speak of. Every drink is bespoke, made to order exactly to the preferences of each individual customer. Their tagline 'Drinks to separate the gentlemen from the boys' is highly apt, considering their name does not stand for 'Politically Correct'. It's adorned with a logo of a cat and a rooster if you need a hint, and yes, there is more than one variation.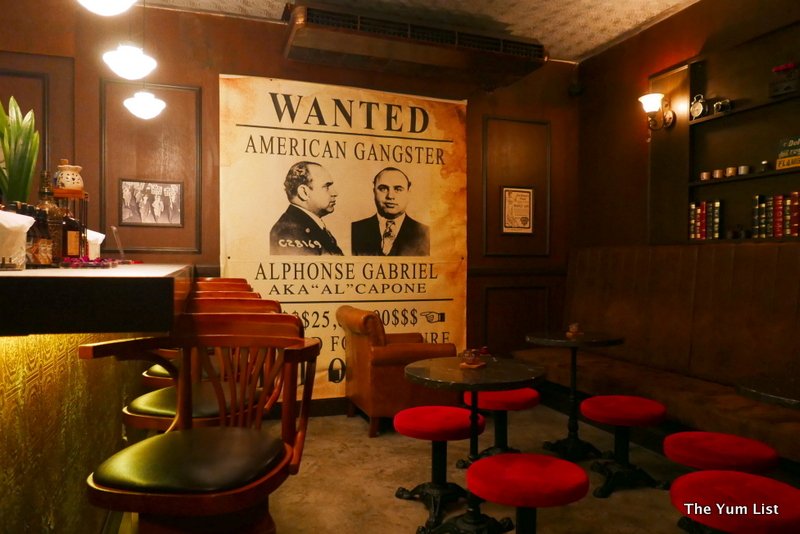 Head Bartender
Partner and Head Bartender Mark Robert is an industry stalwart, and while his resume reads like your greatest bar-hopping adventure, it is his deep throaty laugh, tattooed forearms, bald head and the crazy cool scar snaking across his forehead that make him the real deal. This is a man who has lived his life well, a bartender well-equipped to drop some monumental pearls of wisdom on his customers. Get him talking and sit back and enjoy the stories as they come thick and fast.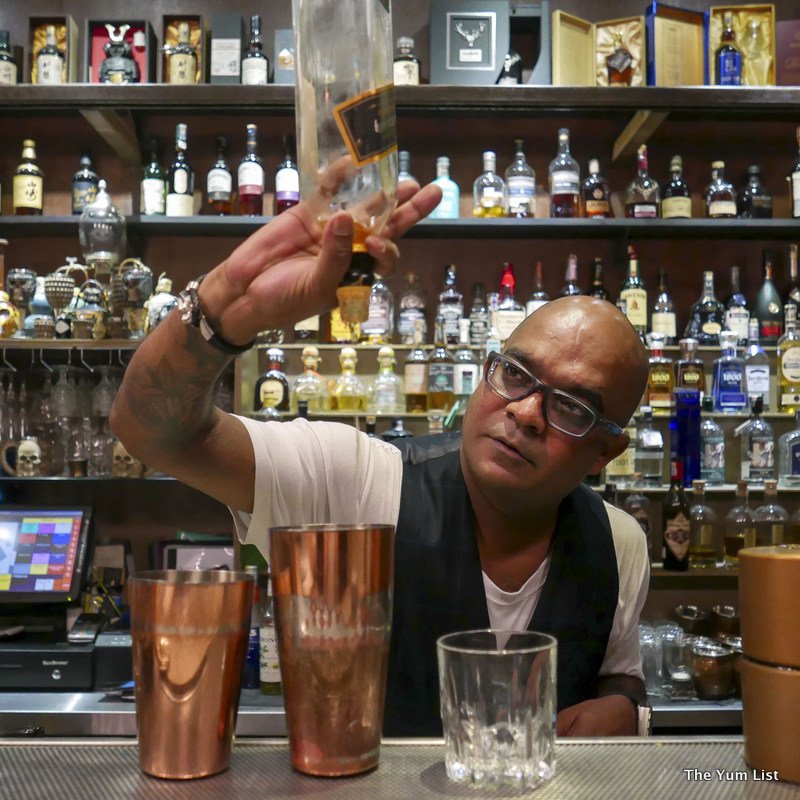 Mark is joined tonight by fellow bartenders Chan, Henry and Ade, who, like rotating DJs, are going to take it in turns to wow us. None of their cocktails have names… yet. So tonight we will be performing a number of baptisms for these originals with the possibility of a few naming rights up for grabs. Spirits, liquors and liqueurs used in P&C Cocktail Bar's beverages are all top shelf bottles, with high quality and small batch release brands used where possible for a unique flavour.
Whisky, Spice and All Things Nice
Mark has first turn behind the bar and makes us a spiced peach whisky sour style cocktail. Made from Redemption's classic high quality 84 proof Bourbon Whisky, Naked Grouse Blended Scotch Whisky, peach syrup, an egg white and lemon juice foam, a smattering of cinnamon, cardamom, star anise, black pepper and a bright sprinkle of edible flowers, all poured over a large hi-ball ice sphere. Smooth and slightly thick on the tongue, the blend of spices is balanced to sit underneath the stone fruit flavour, with a cool, foamy finish. Mark is known for making the best Whisky Sours in town and tells us he lives by the mantra Eat, Sleep, Whisky Sour, Repeat. You could drink here every day of the year and have a different Whisky Sour each time, depending on the bartender, your preferences and a range of other factors. Mark proclaims that even variations in the weather can influence the mood, ingredients and method.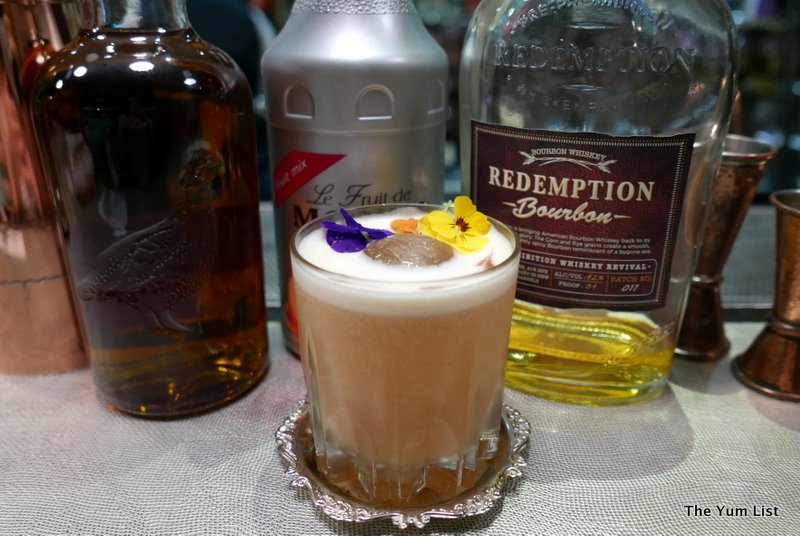 The Goblet of Fire
Chan is up next and he starts with Canadian Fireball Cinnamon Whisky, dubbed 'Red Hot', as a base, which he combines with Pre-Prohibition Redemption Bourbon and one of Italy's finest Vermouths – Carpano Antica Formula, which smells a little like an expensive fortified wine. Adding seared kaffir lime leaves, star anise, cloves, cardamom, Himalayan pink salt, and freshly grated cinnamon, he infuses the drink with Thai Basil smoke. Get ready for more Harry Potter references, because the whole concoction is served in a goblet and emerges from its smoke bath like Snape from his dungeon. It isn't until we taste it and almost fall off our chairs in wonder that Chan reveals his secret ingredient – pumpkin spice! Eat your heart out Starbucks – none of your holiday coffees can achieve this flavour profile! If Hogwarts had a cocktail, this would be it. Thick, earthy and smokey, with lemon, lime, egg white, the cinnamon and pumpkin are a dessert-like medley of warmth and spice. We name this The Goblet of Fire, and crown it one of the best cocktails of 2017!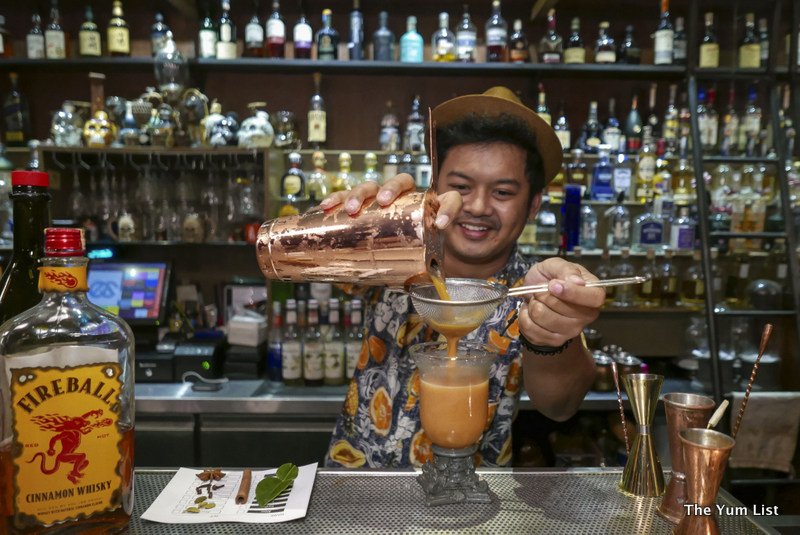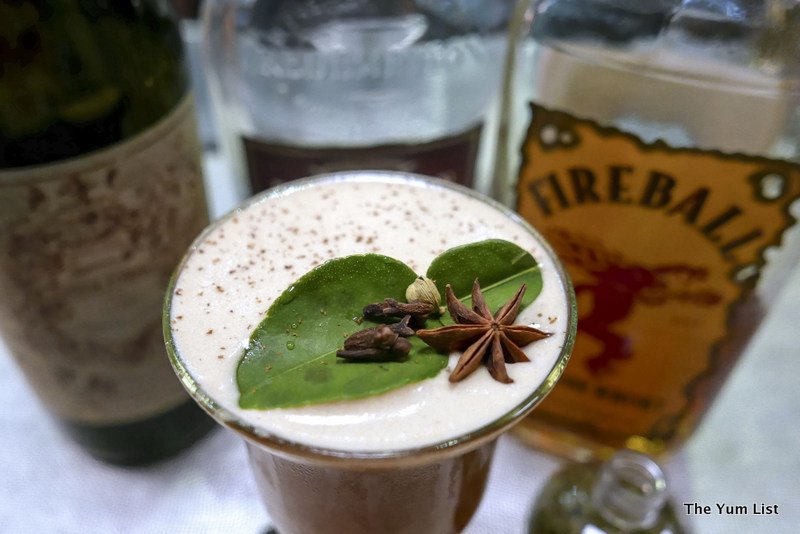 The Spiced Cherry Ripe
It's Henry's turn and he also opts for a hint of pumpkin spice amid a heavenly mix of Frangelico Liqueur, Bailey's Irish Cream, Stolichnaya Chocolat Razberi Vodka with chilli, cinnamon, dried papaya and a garnish of edible flowers. This is just divine and reminds Monica and I of one of the world's greatest chocolate bars, so we name it 'The Spiced Cherry Ripe'. The smooth creaminess of the Baileys sits in harmony with the nuttiness of the hazelnut Frangelico, However, the darkness of the chocolate and raspberry vodka comes through as the strongest of all the flavours, with a hit of chilli (tailored to your tastes of course) to enrich the chocolate and a subtle teasing of sweet papaya.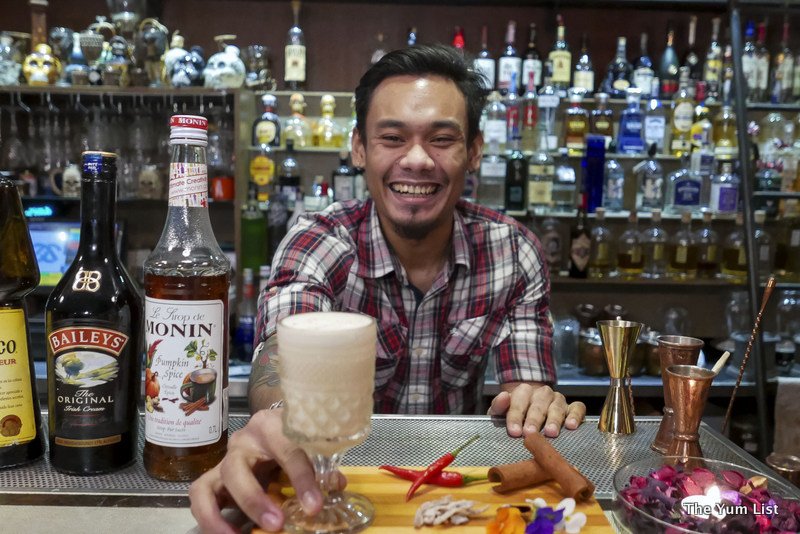 The Bubbly Claire
Not to be outdone, Ade approaches the bar holding a miniature bottle of Moët Champagne. He starts by combining six times distilled Snow Leopard Vodka with The Bitter Truth Elderflower Liqueur from Germany. More floral notes are added in the form of Monin Osmanthus syrup and Sabine's Secret Globe Amaranth herbal tea, complemented with a splash of Midori melon liqueur. The bright little purple Globe Amaranth flower heads playfully bob around in the chilled coconut shell bowl, and Ade adds more edible flowers, a large sprig of thyme, and a rose-cut lemon before filling the remainder of the bowl with Champagne. Floral, flirty and effervescent, like your favourite head-turning daytime perfume, it is the ultimate brunch or afternoon cocktail. This one is also good for the soul with funding contributions from the sale of Snow Leopard Vodka going towards The Snow Leopard Trust, an organisation who works to protect the endangered species throughout Central Asia. Monica suggests this cocktail is, in fact, my namesake – 'The Bubbly Claire' and who am I to disagree? Flattery will get you everywhere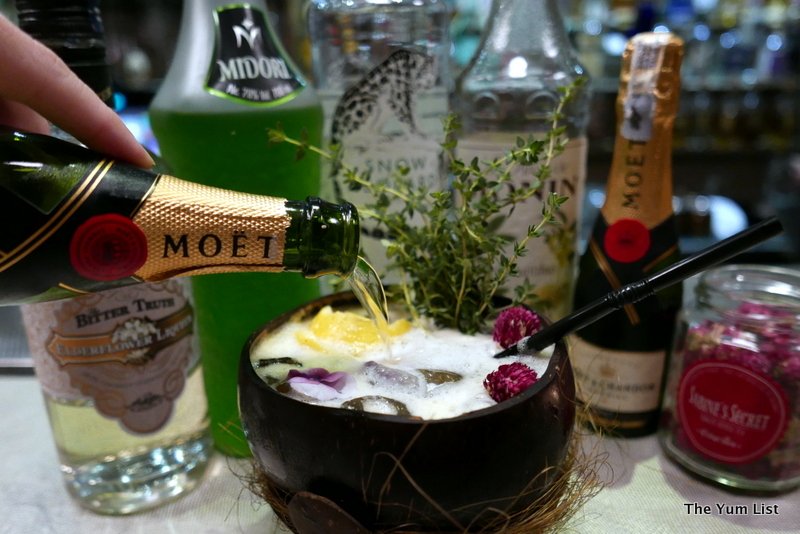 The Happy Pirate
Mark is hankering for round two and gets out a tiki mug with a red ribbon covering one eye. Beginning with The Kraken Black Spiced Rum hailing from the Caribbean, he adds the wonderfully fine herbal and saffron digestive: Giuseppe Alberti Liquore Strega made in Benevento in Italy. He throws some Sipsmith Independent Spirit's London Cup – a tea and botanical-infused London Dry Gin Punch – into the mix, accompanied by a fistful of hand crushed ice, a thyme garnish and a freshly charred cinnamon stick. Then, in a passionfruit half shell, he pours Absinthe Angèlique Verte Suisse over a brown sugar cube and sets it on fire. We watch on, mesmerised, as the fire slowly extinguishes after first burning through most of the thyme sprig and Mark instructs us to pour the caramelised, sticky, and highly alcoholic sugar into the tiki. Sweet and strong, the refreshing herbal tea hits the nose, joining the aromatherapy of the singed thyme. There is a smoothness to the liquorice aftertaste, coming from the slow burn of the absinthe. Our little one-eyed tiki cup looks very happy with himself, and so we award him the name 'The Happy Pirate'.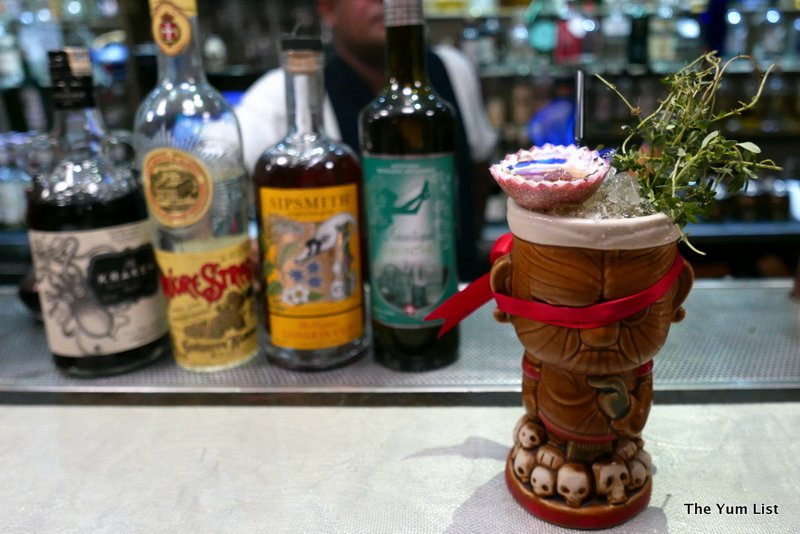 The Yum List @ P&C Cocktail Bar
Our final cocktail of the evening was preceded with a few questions for Monica and a request to "Make it pretty!". After a thoughtful pause, Ade lined up his ingredients on the bar. Italian cafe culture digestif, Amaro Montenegro Liquore Italiano, with its smooth spice and herb-laden bittersweet palate, and fruity, rich and thick Diplomatico Marituano Rum from Venezuela, were blended with Monin gingerbread syrup and egg white and finished with bubbly and dry Moèt Champagne. For the garnish, Ade grated some assam boi, and flame grilled a pineapple slice, adding kaffir lime leaf, edible flowers and thyme. The result has everything! Sweet, fruity, spicy, foamy, smooth and incredibly easy to drink, with a complex flavour profile where the ingredients fit together harmoniously, no individual component competes for your attention. Between sips, we take turns munching on the caramelised, sugary pineapple. In honour of the muse, Ade names this one 'The Yum List'. It is another strong contender for cocktail of the year.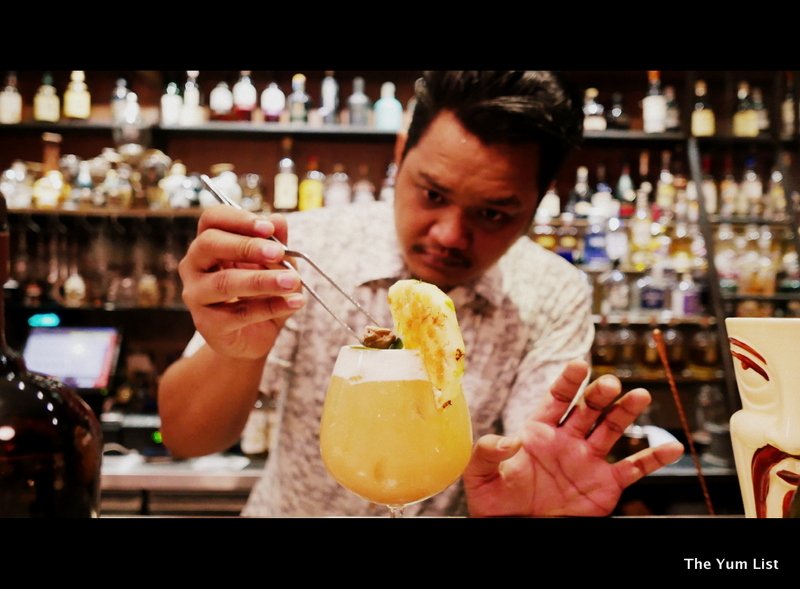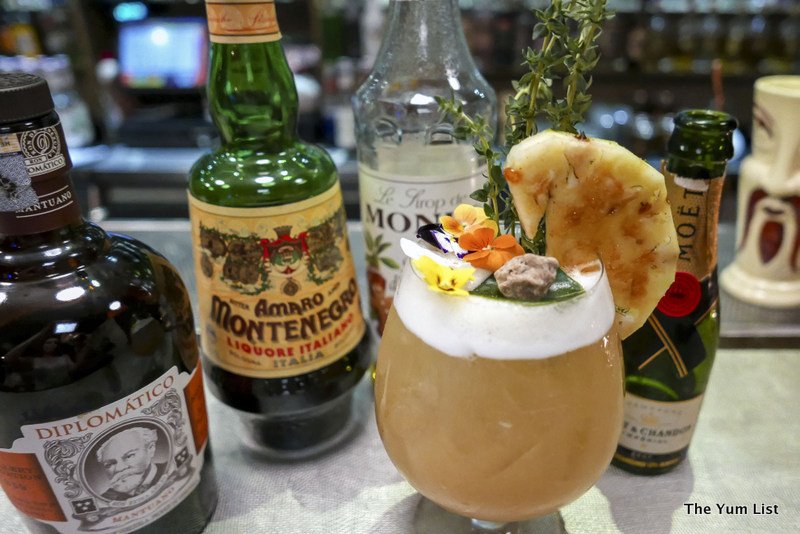 Agwa de Bolivia
Before leaving Mark pours us a final shot of absinthe, elderflower syrup and Agwa de Bolivia, distilled from Bolivian coca leaf, the same plant that produces cocaine. Smooth, silky and liquorice from the absinthe, it is surprisingly sweet and easy to drink.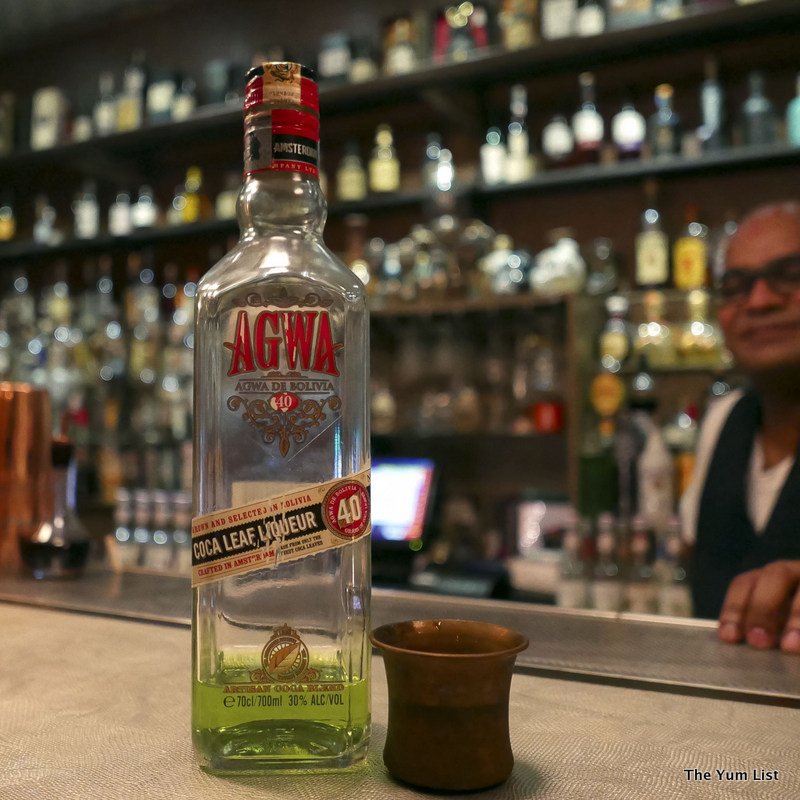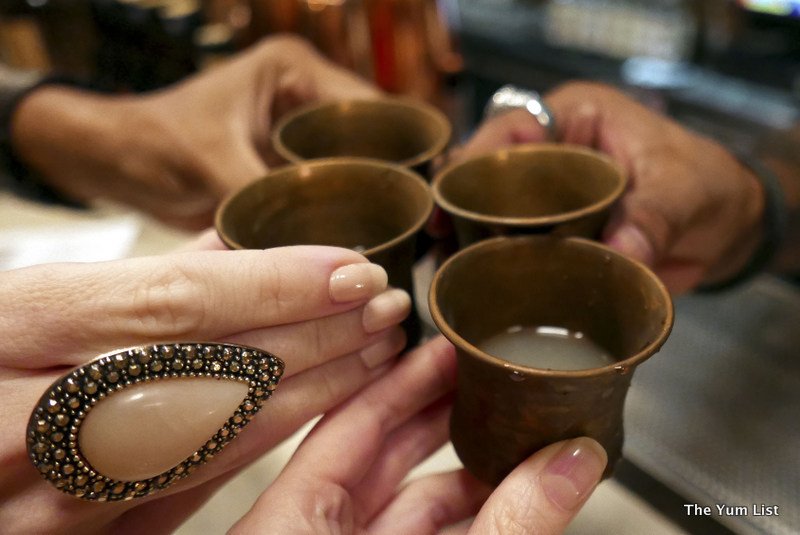 Cocktail prices at P&C Cocktail Bar vary depending on the ingredients. Because each drink is custom made, prices given may change to suit alterations for the individual drinker. They start at RM45++ for a standard double shot, RM60++ for a triple shot mix, and Champagne mixes begin at RM70++. Don't be fooled, the prices are worth it and the top shelf drinks are far better than you'll have at a five-star establishment.
The small room and its outdoor garden are available for group bookings and corporate functions of up to 25pax, with a RM3000 minimum spend. If you're after exclusivity and quality, an event here will not be easily forgotten. Master classes and tasting events are also held on occasion, so be sure to inquire with the staff for details.
Reasons to visit P&C Cocktail Bar: Every drink you have at P&C Cocktail Bar will be the best cocktail you've had this year, and coming here will mean you are served your very own individual drink. Our favourites are the Goblet of Fire, The Bubbly Claire and The Yum List, however, your favourite will be determined by your individual preferences. If you want something completely original, simply put your faith in these highly skilled bartenders and sit back and enjoy!
P&C Cocktail Bar
(hidden in a side door behind Naughty Nuri's)
2, Jalan Sri Hartamas 24/70A
Taman Sri Hartamas
50480 Kuala Lumpur
Federal Territory of Kuala Lumpur
Malaysia
+6 016 556 4611