Words: Patricia Podorsek   Photos: Monica Tindall
Sexy cocktail hideaways seem to be lurking around every corner in KL these days. On a given Saturday evening, you might find small groups of friends tromping through back alleys, slipping past innocuous noodle stalls, and looking for clues like blue lights to indicate the direction of a hidden door. The best of these puzzles hide right in plain sight. You think you're looking at just another wall off the elevator, and you walk right past.
That was my experience with Saro, the new VIP lounge at the illustrious Pavilion Elite. As the lift doors opened on the eighth floor, I noticed a lovely wooden wall, then promptly turned the corner and found myself wandering through a food court, thinking to myself, Did I get off on the wrong floor? Backtracking, I found that the wood disguised a sliding door that took me into a handsome and well-endowed lounge.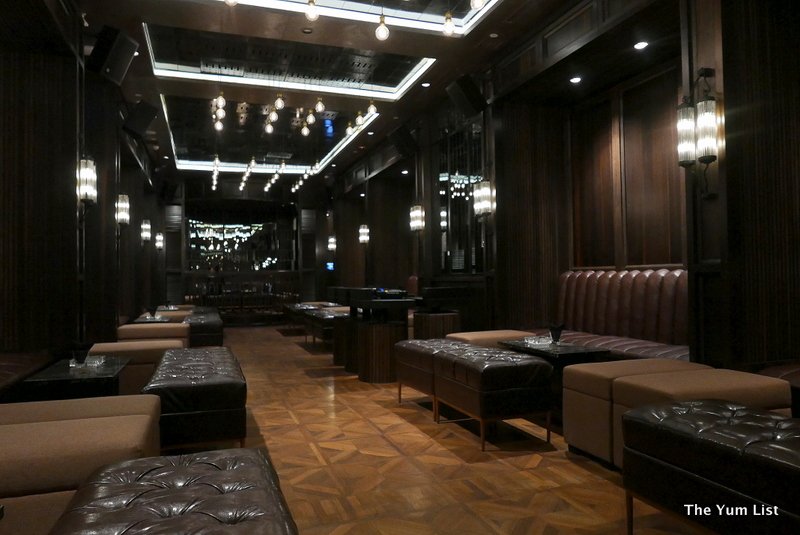 Saro builds upon the earthy elements of brick, marble and wood. They layer it with leather and brass, using a specialized lighting system to bring additional warmth to the already enveloping space. Some low-key house music rounds out the ambience.
Saro takes their mixology seriously. Coming off a work day and looking for something refreshing, our hosts recommended a gin cocktail, Opihr with Fever Tree Lemon Tonic (RM46). Saro upscales this bubbly afternoon classic and charges it with a burst of fresh grapefruit and some heat from crushed black pepper. A little bitter, a little sweet, a little spicy, but mostly just smooth and satisfying.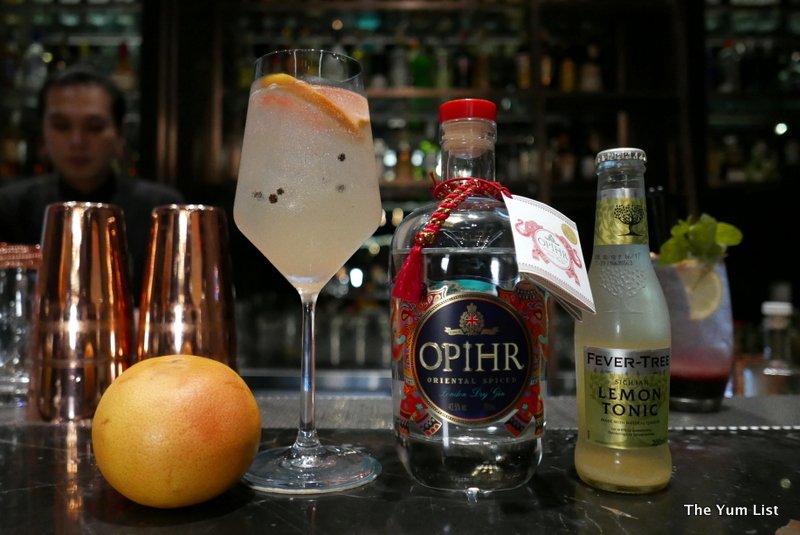 Another variation on the classic pours the sweeter Signature Monkey 47 Sloe Gin with a mix of Fever Tree's Mediterranean and Elderflower Tonics (RM44). A fresh rosemary garnish lends earthy overtones to the subtlety of the florals in this cocktail. Very refreshing.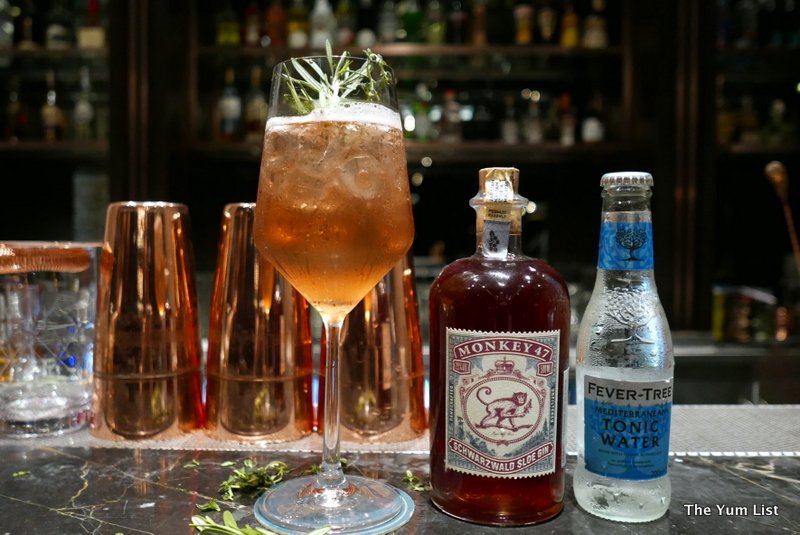 From an enticing collection of specialty cocktails that includes items like an Elderflower Gimlet and the Thaitanium Pisco, we opted next for the Saro Sour (RM45). Egg white adds froth to this old-school staple while smoked herbs and spices offer a bouquet of rosemary, star anise, and cinnamon with each sip. This complex cocktail is not the highball your grandmother used to drink while playing bridge!
Alcohol purists will find an impressive set of premium whiskeys, rums and gins on the menu, available by the glass or bottle. Top-shelf bubbles are ready to pop for festive celebrations, including special prices on Dom Perignon and Moet and Chandon Imperial. Cigars retain a featured place on the menu as well. Clearly, this is a spot for people with premium tastes!
Drinking fine cocktails can be hungry work, and Saro delivers on the food front as well. The Signature Shells (RM32) offer an eclectic array of fillings in little phyllo cups, perfect for sharing. My favorites were those filled with tomato and avocado, but the salmon, chicken and mushroom cups were delicious as well. An all-veg assortment can be ordered upon request.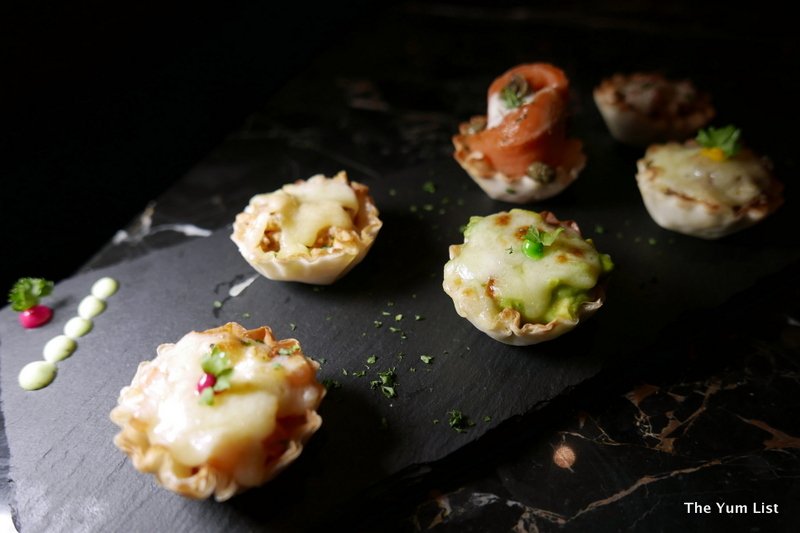 More substantial are dishes like the Fusion Beef Skewers (RM46), marinated Australian beef grilled with olives and peppers, and served with Japanese-style garlic fried rice. The Thai chef blends Asian flavors with Western favorites throughout the menu, exemplified in the dipping sauce for the beef, a Thai-inspired sweet and sour sauce with a chile kick at the end. The skewers are available in lamb as well.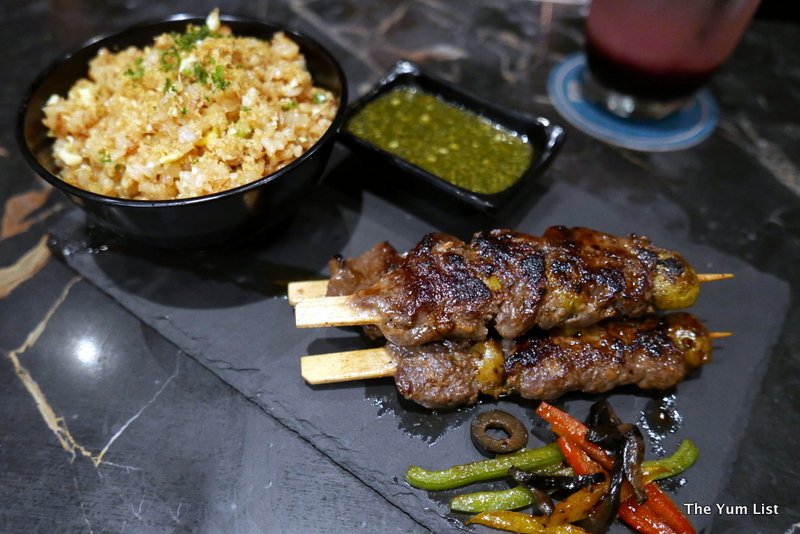 In similar fusion fashion, the Grilled Prawns (RM38) skewer sizeable tiger prawns and paint them with a thick sauce that is both sea-kissed and spicy. You might ask, "Where's the fusion in that?" Why, with the side dish of that American favorite, curly fries!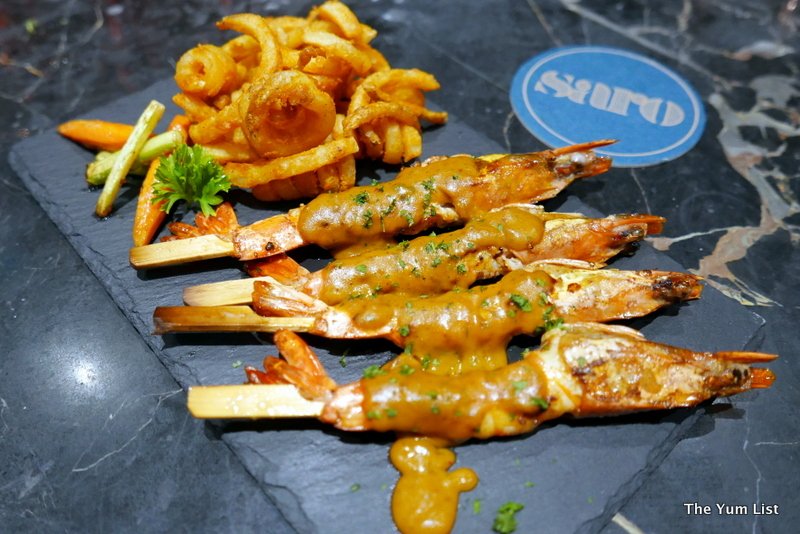 A few pasta dishes grace the menu. We opted for the Aglio Olio (RM32), which may have been my favorite dish of the night. Neatly displayed in nests of noodles, the sauce was a light bathing of olive oil, toasty garlic, chili flakes and mushrooms. Simple and simply fab.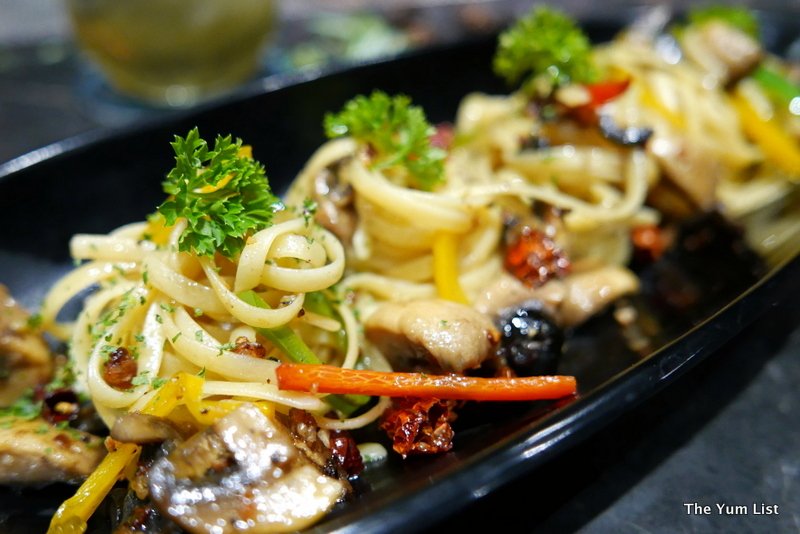 Saro's kitchen stays open until 12:30 a.m. every day, and offers several snack options for hungry partiers. The crispy Village Wings (RM27) are marinated first in fish jus for extra flavor and served with the same Thai chili sauce as the skewers. Better still were the Pizza Quesadillas (RM32). Eight triangles of cheesy goodness are filled with peppers, tomatoes, and onions and drizzled with guacamole mayo. These tasty treats can also be topped with beef or chicken.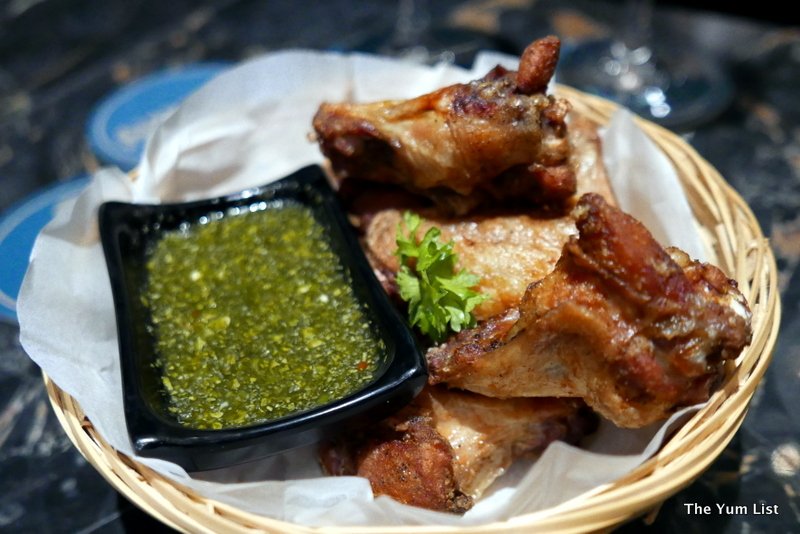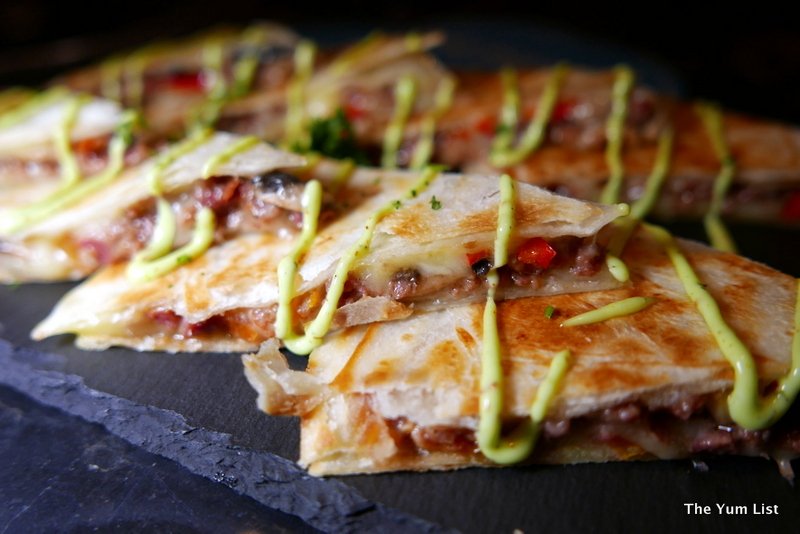 Saro is a place for both the early and the late crowd. Happy Hour specials include 1:1 beer, wine and house pours from 4:00 – 8:00 p.m. and an all-you-can-drink Sake Buffet (65RM++) on Thursdays. Eclectic House music sets the tone of the room with a DJ until midnight, then picks up with Hip Hop until 3:00. Ladies Night is Wednesday, 9:00 p.m. – 3:00 a.m., offering free flow of vodka- and gin-based cocktails. A private room will soon be available for groups interested in karaoke and PS games.
Whether you are a VIP or just want to feel like one, Saro's name (which means "I will" in Italian) gives you full permission. Stop by their hideaway in Pavilion Elite for a taste of their premium offerings.
Saro is open Tuesday – Saturday from 4:00 pm – 3:00 am, and on Sunday and Monday from 4:00 pm – 1:00 a.m
Reasons to visit: Enticing mixology, premium drinks and some tasty snacks in stylish and exclusive surroundings.
Saro Lounge
Pavillion Elite, 8th floor
Jalan Bukit Bintang, Bukit Bintang
55100 Kuala Lumpur
+603 2110 4080
019 997 5091
sarolounge.com/