Monica Tindall
Mandarin Translation
Fu – prosperity
Luck – happiness
Cantonese Translation when the Words are Pronounced in English
Fu Luck – pants drop
I've always thought that the naming of a bar would be a diverting task, and I bet the owners of Fu Luck Bar used liquid inspiration and had some cheeky fun in the naming of the first TREC KL-driven project in the entertainment district of the same name. Promising to persuade sentimentality for the past alongside a bit of laughter in remembering it, Fu Luck Bar is TREC KL's first vintage bar, themed around pop culture of the 80's.
Fu Luck Bar, New Retro Bar in TREC KL
Aussie, Graeme "Jay" Hammond, and Singaporean, Idris Johor, the duo famous for designing Haji Lane in Singapore, are responsible for the eye-catching interior. Murals and mixed media bring icons from the 80s to life and I smile in amusement wondering if youngsters will comprehend the significance of many of the pieces.
To the left is a giant makeup case, just as many will remember their grandmothers using, and to the right, a giant White Rabbit sweet. The middle two booths hold a Rubik's Cube (I never did master that) and a feature wall of ceramic oriental style bowls – there's even a bedpan (again, I ponder how many will recognize it). Further in, there's a screen of "noise," which used to be displayed when an antenna TV was out of transmission, and, peering up we see that the roof is painted with green army figurines, wooden aeroplanes and beheaded dolls. Abaci strung together around warmly lit bulbs highlight another representation of the times.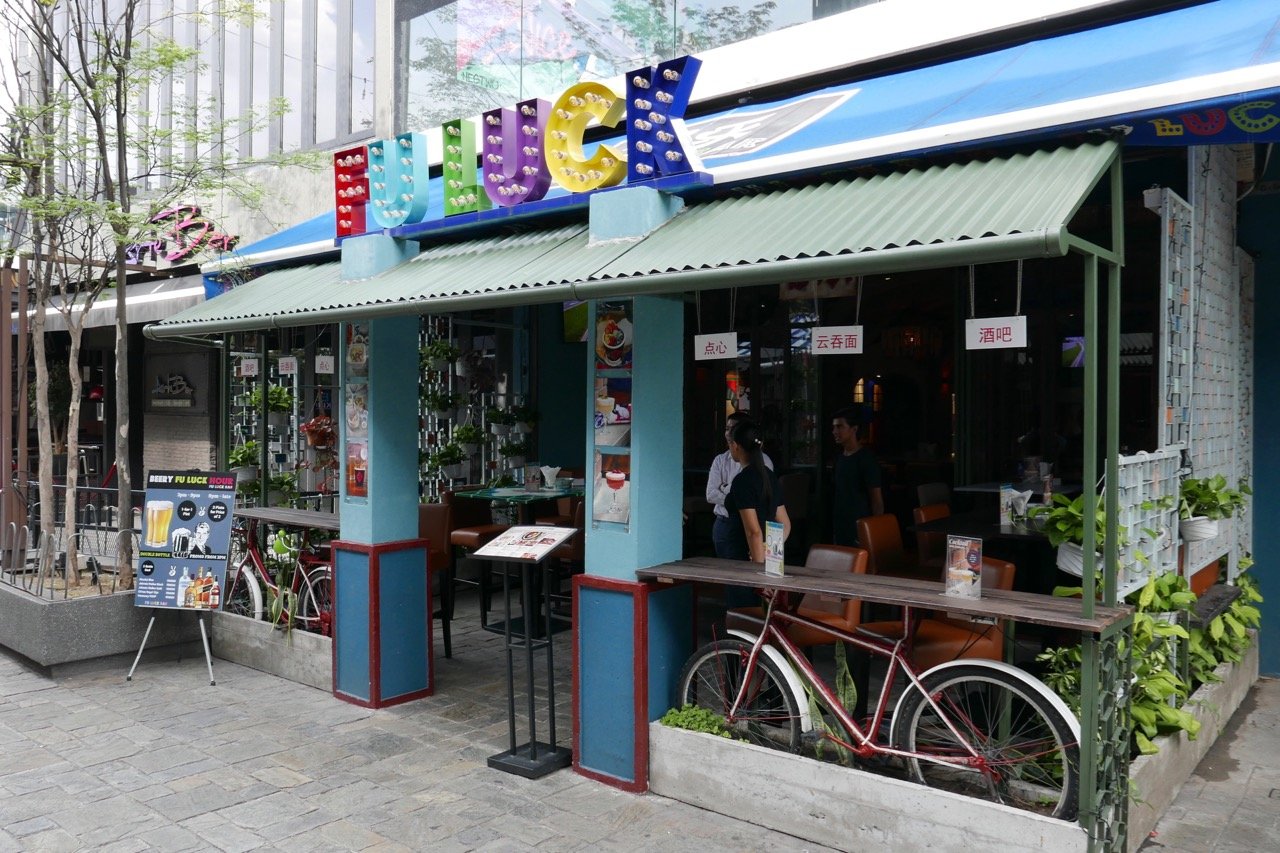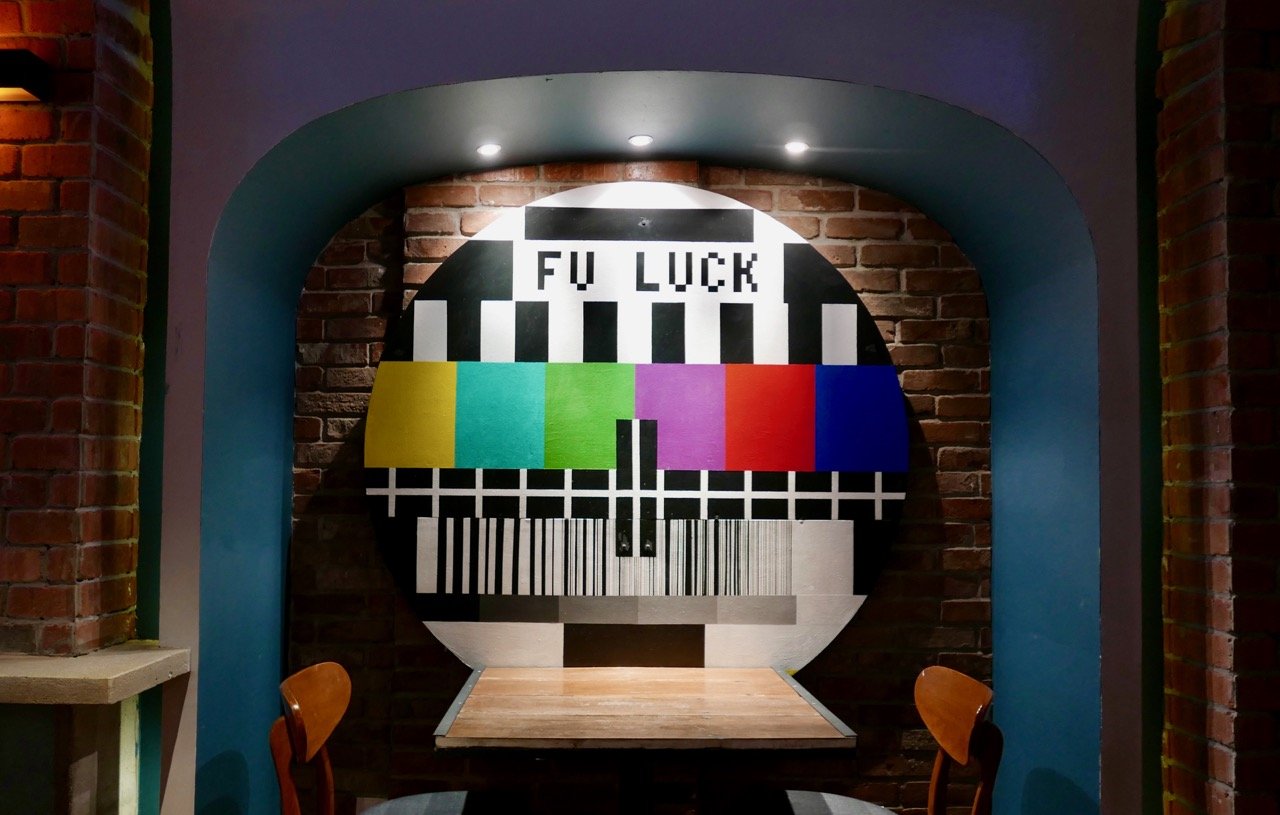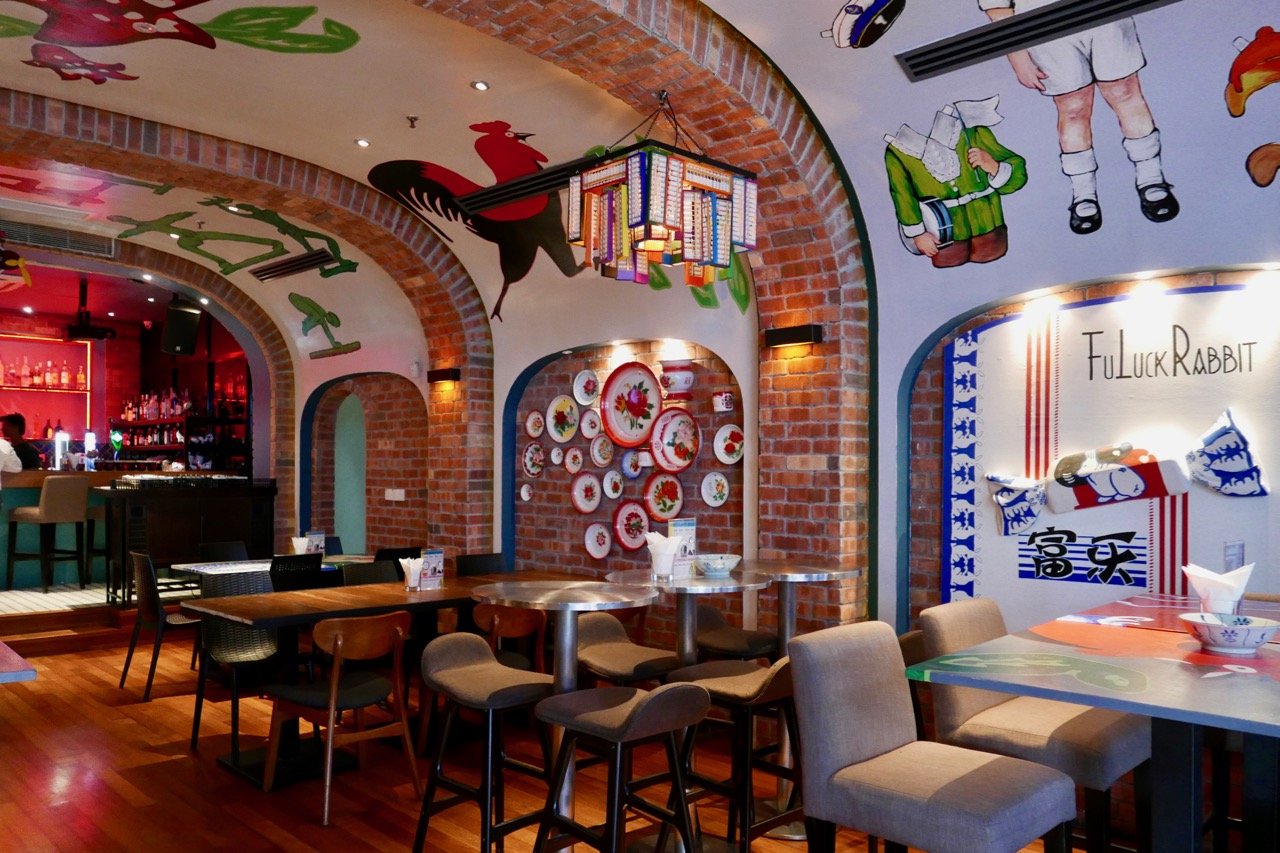 Food Menu Fu Luck Bar
The food menu at Fu Luck Bar offers uncomplicated Malaysian favourites designed to evoke affectionate sentiments of more simple intervals in life. It kicks off with a local classic with a history over 60 years, the famous Pudu Chan Fat Noodles.
Famous Pudu Chan Fatt Dishes – Wanton Mee
The owner of the celebrated Pudu Chan Fatt Wanton Mee, serving recipes passed down through the generations, has kindly allowed the kitchen team at Fu Luck to recreate her dishes – under strict supervision, of course. The staff have been trained in the exactitude in which the noodles are to be prepared and sharpen their skills with regular check-ins from the owner herself.
The noodles can come alongside Char Siew and Wanton Mee or Lion Head Meatballs (made from pork). We order all three and find the noodles to be springy, the char siew to be delectably succulent and the meatballs a great addition to fill the tummy.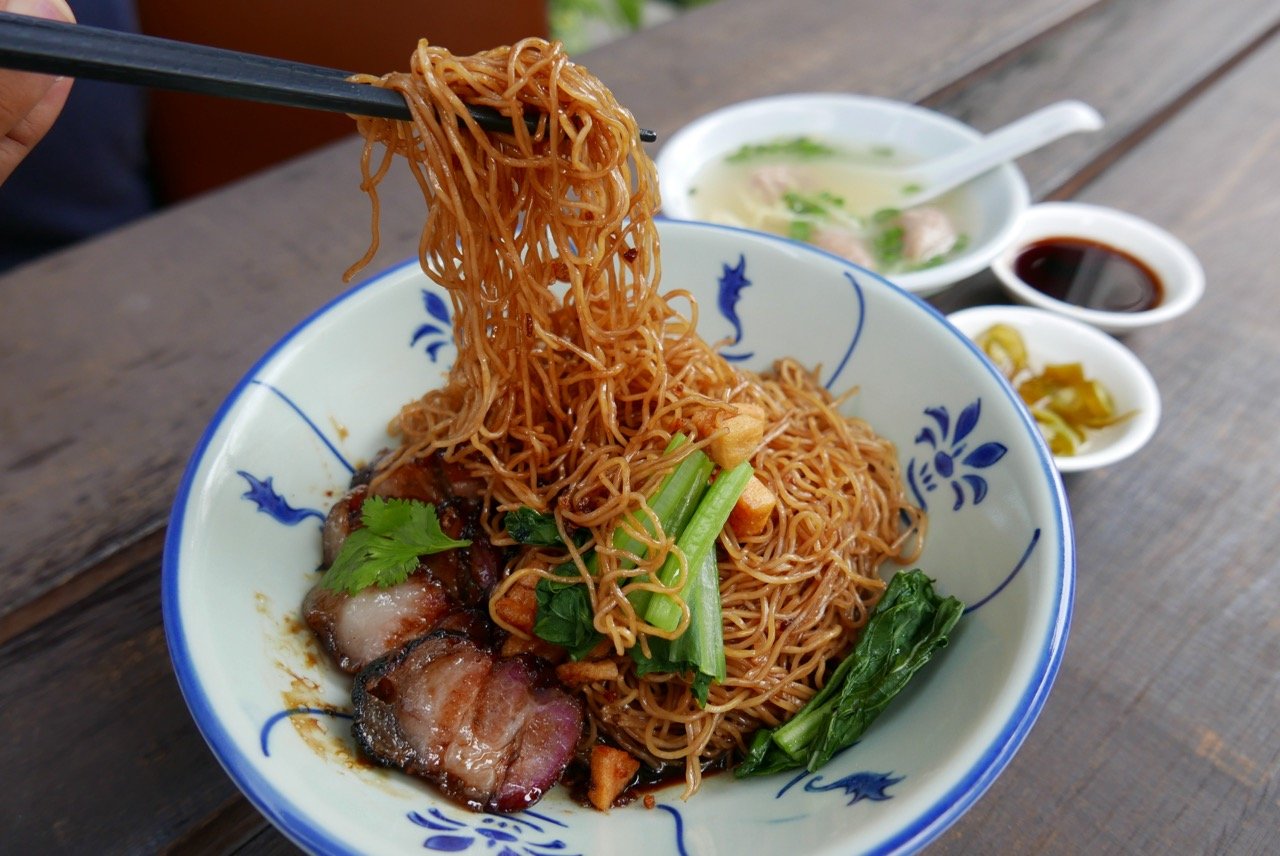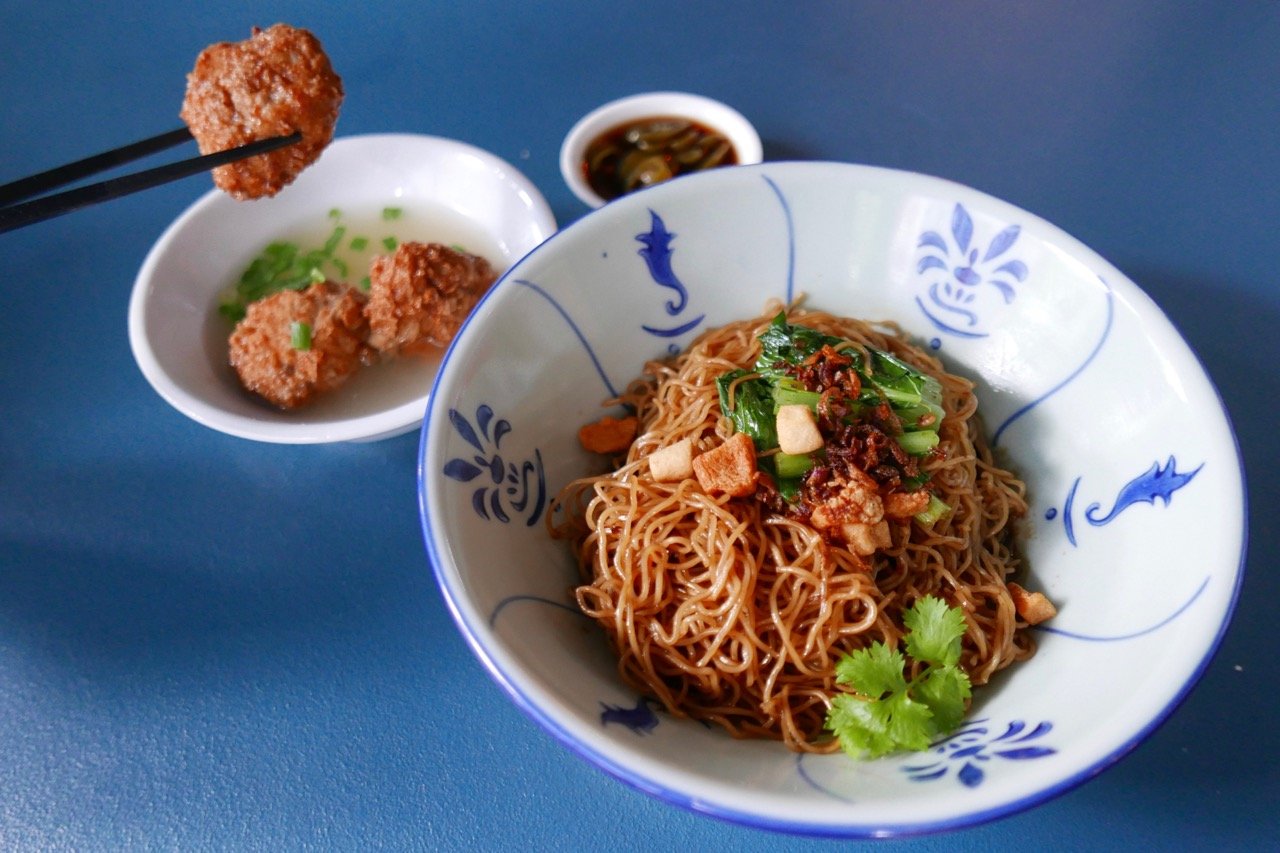 Dim Sum Tapas (RM12.90)
From the small bites menu, the Signature Smoking Shanghainese Xiao Long Bao comes out in a cloud of smoke and mystery. As the glass dome is lifted the delectable aroma of hickory smoke tickles the nose and eventually reveals a trio of steamed multi-coloured buns. Don't take too long snapping pics as they really are best eaten hot but, on the other hand, a little cooling time is beneficial as when you bite in a warm soup first spills into the mouth followed by the pork filling. Yummy.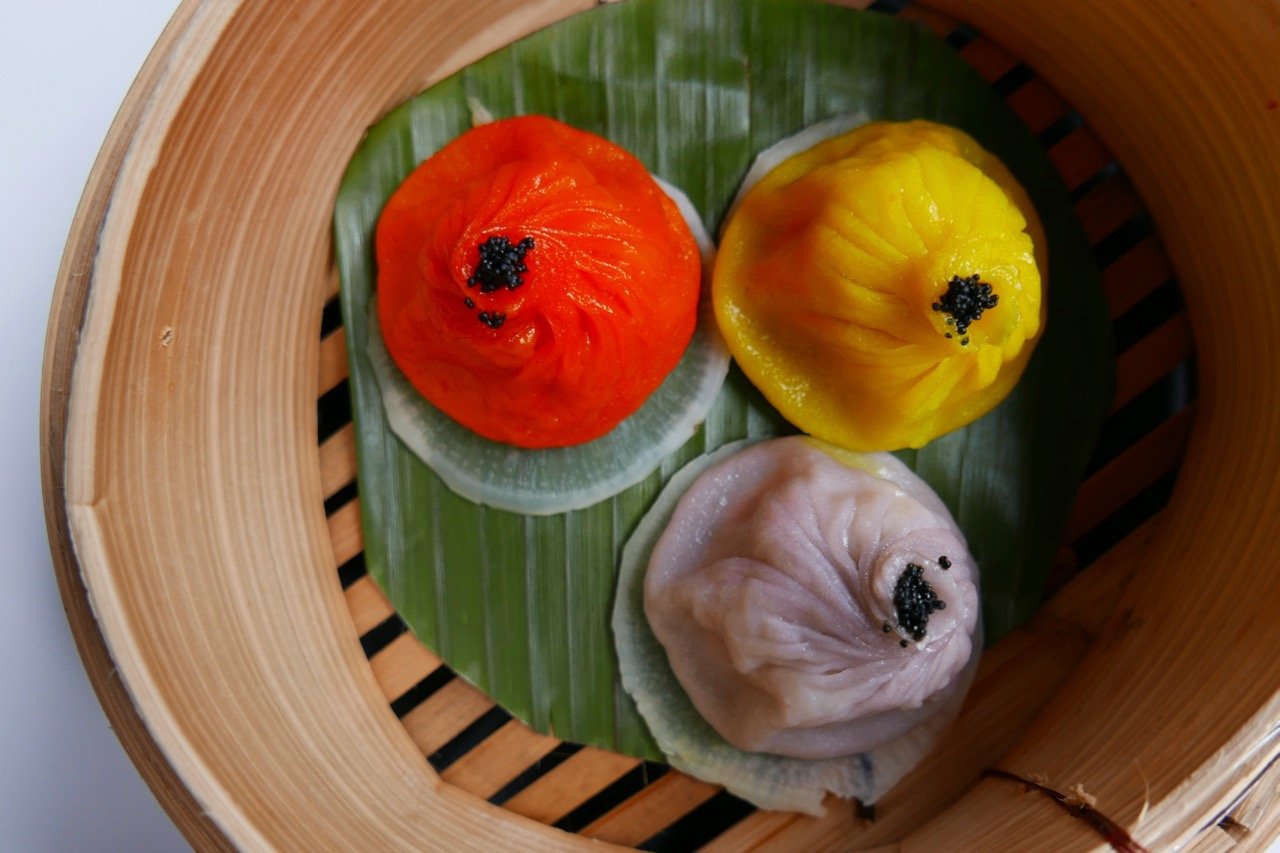 Chef's Canton Specials (RM22.90)
I think that fried rice is a comfort dish, even in western culture, and the Yang Zhou Fried Rice donates a sense of familiarity. A large bowl cradles a generous mound topped with small firm prawns. Shredded lettuce is garnish for most but I determine that it adds a nice crunch to the dish.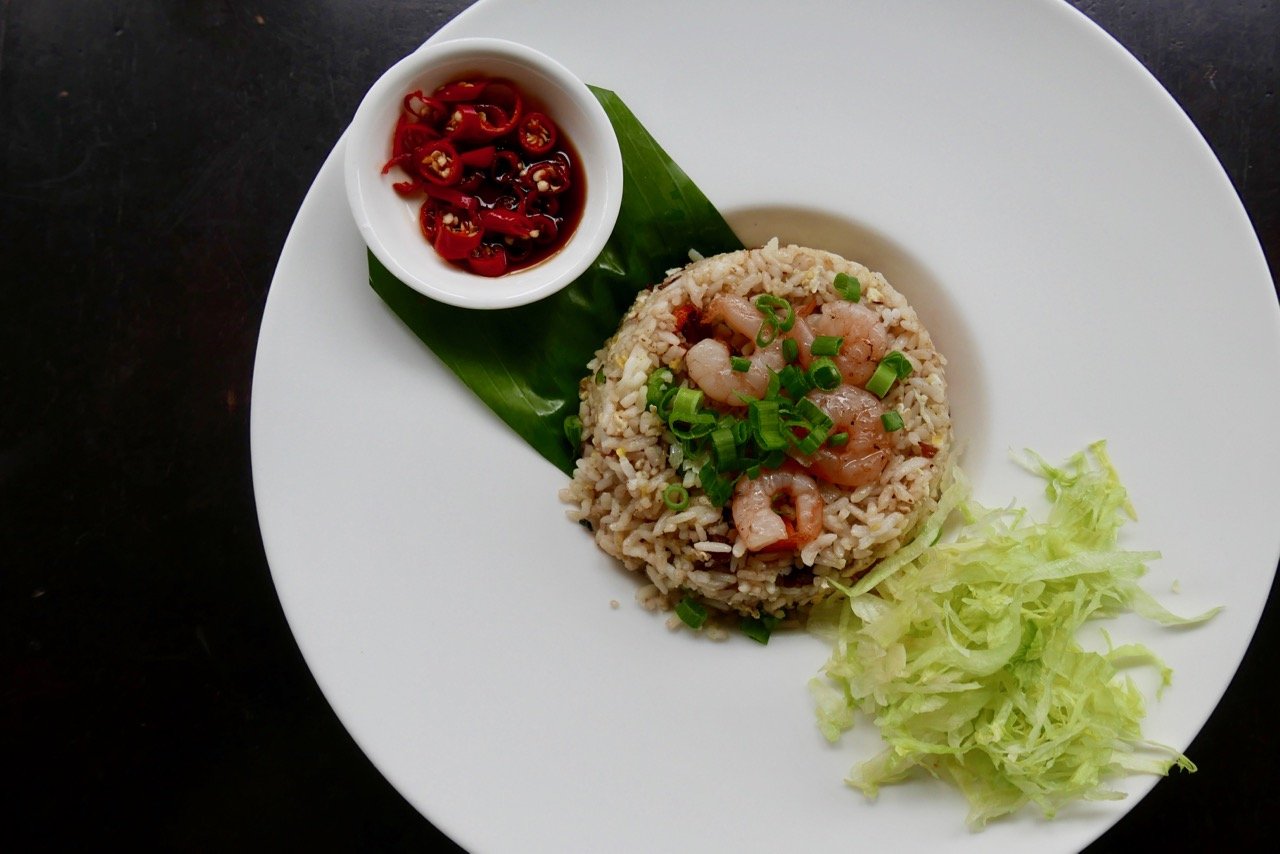 Rice (RM16.90) (Add RM5 to get both roast and char siew)
Roasted Pork Belly and Char Siew are served with what I usually associate with chicken rice; soup, rice cooked in chicken broth, bean sprouts and that special chilli sauce on the side. The sprouts are plump, the pork cooked to perfection and the accompaniments up-to-scratch.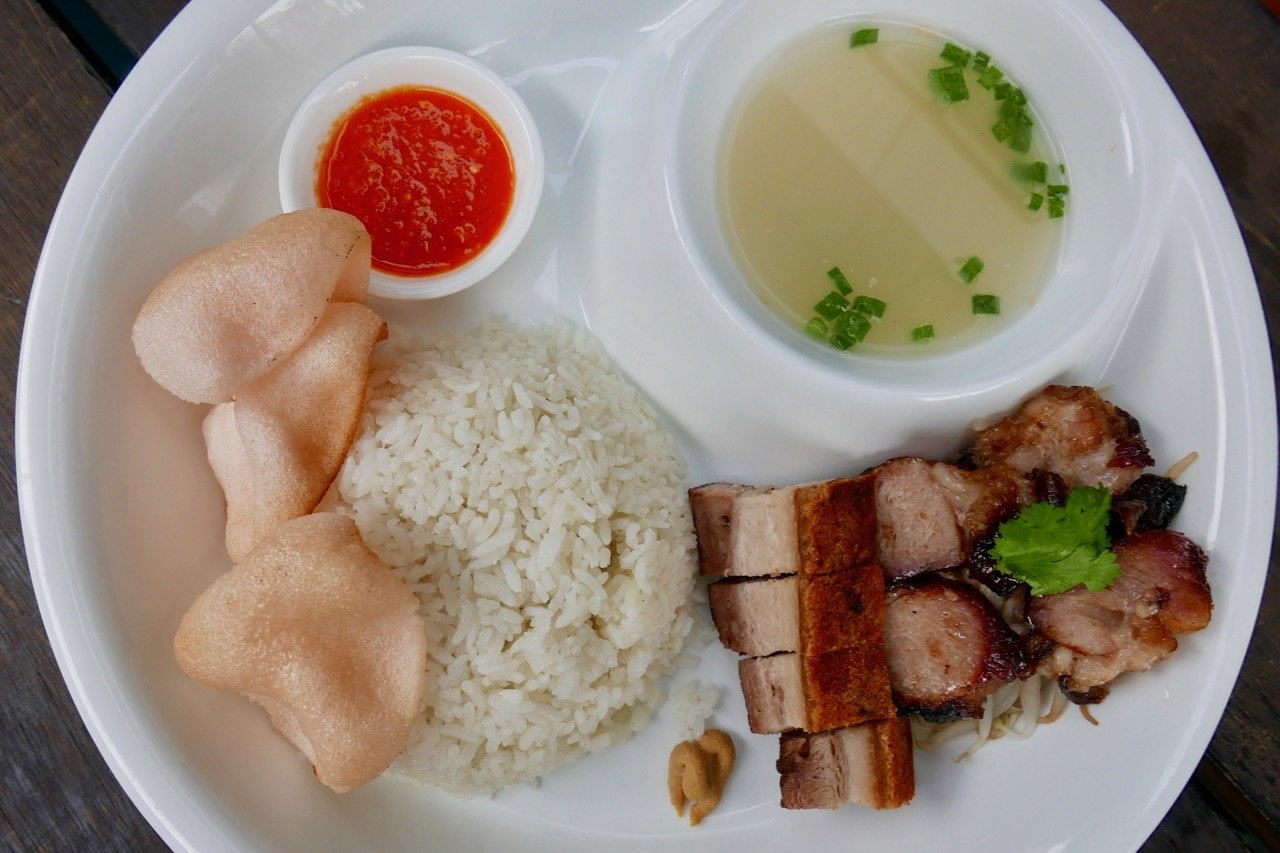 Greens (RM12.90)
In an ineffectual attempt to balance out our indulgences we try the Wok-tossed Kai Lan with Ginger. Served on a pretty blue and white ceramic plate, it at least makes a nice photo.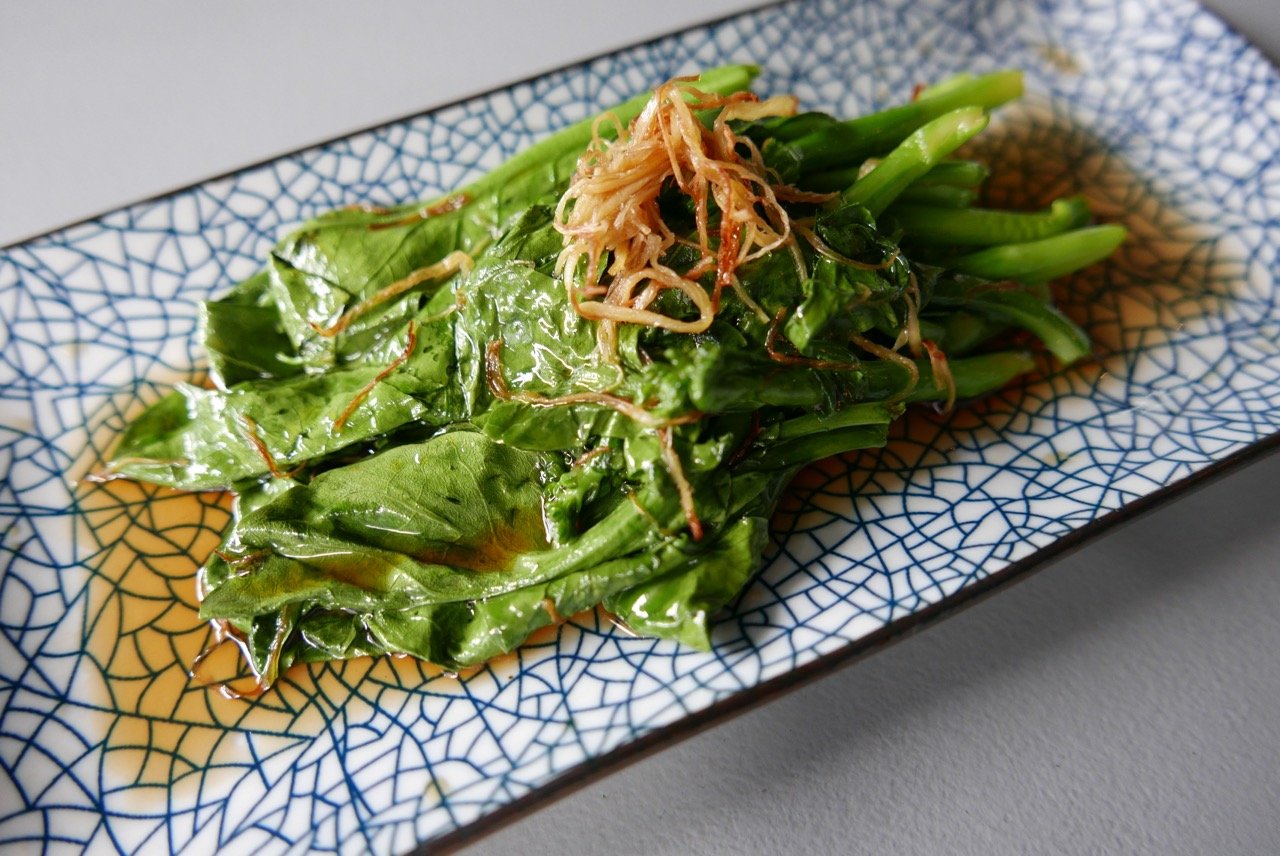 Roast (RM24.90)
The Platter of Roasted Meat Combo comes highly recommended featuring char siew and roast pork plated on a black slate pate. What can I say? They're both done flawlessly with the roast presenting a superbly crispy skin and a balance of meat and fat producing a rounded feel in the mouth. The char siew is tender and the sauce has a habit-forming sweet stickiness to it.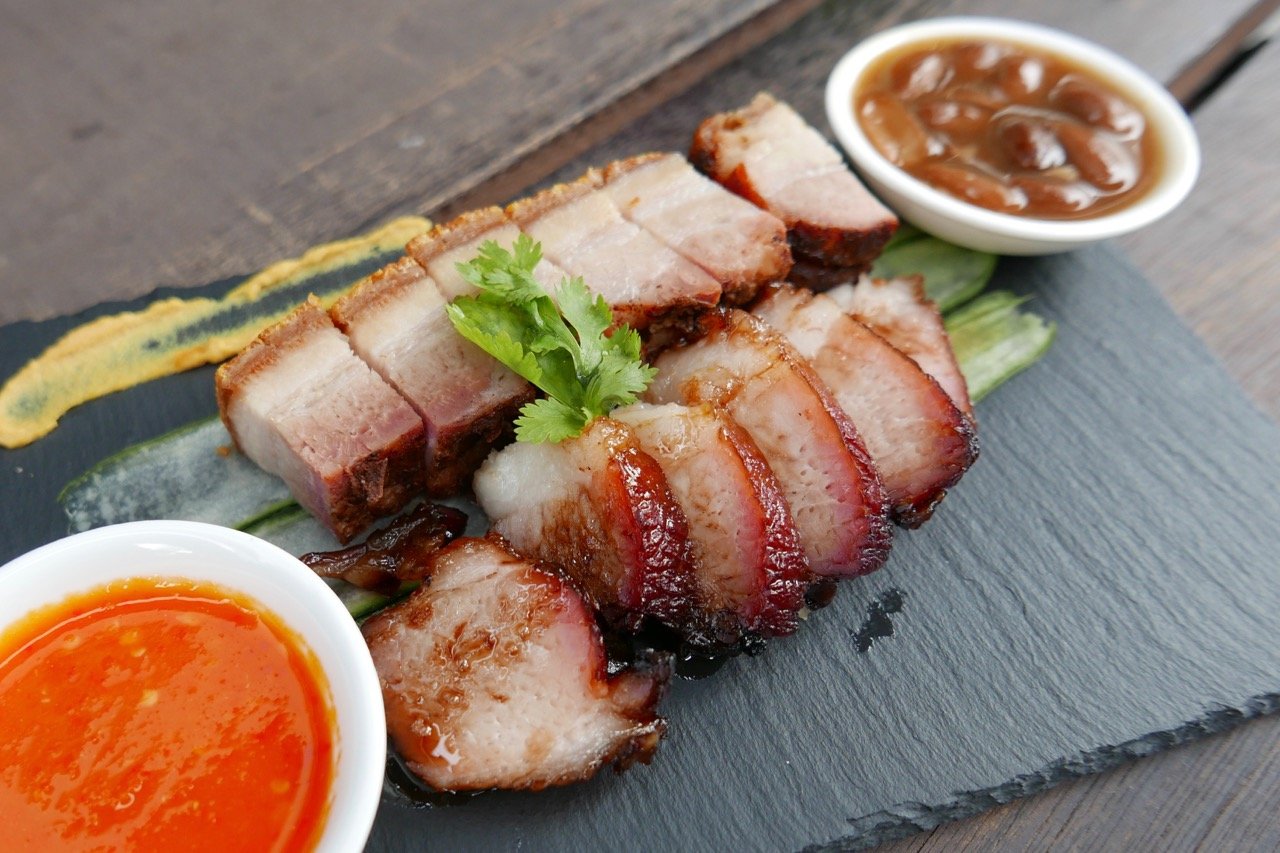 Bao Sliders (RM14.90)
Steamed Mantou with Chicken Cutlet are scrumptious bites of sweet and savoury. The soft buns hug crispy coated chicken and the rojak sauce contributes a bold sweetness. Sweet and sour pickles make an ideal palate cleanser.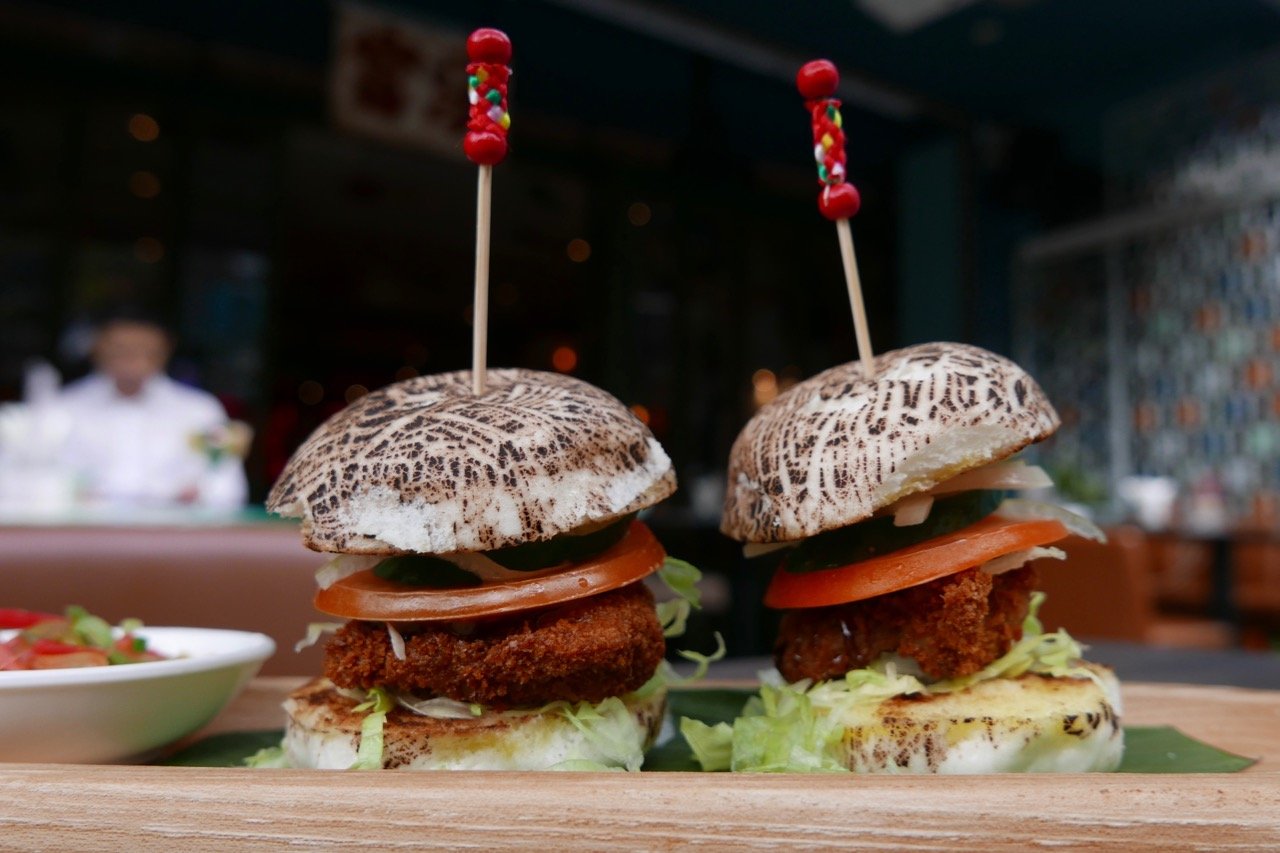 Sharing Snacks (RM14.90)
The saliva-inducing aroma of Deep-fried Sotong coated with Salted Egg Yolk begs us to order beer as they arrive to our table (which we promptly do). Even for a non-fried-food fan like me, these little rings of yum are irresistible. Thin slices of chilli padi and curry leaf have been fried together with the squid, giving the batter an additional oomph.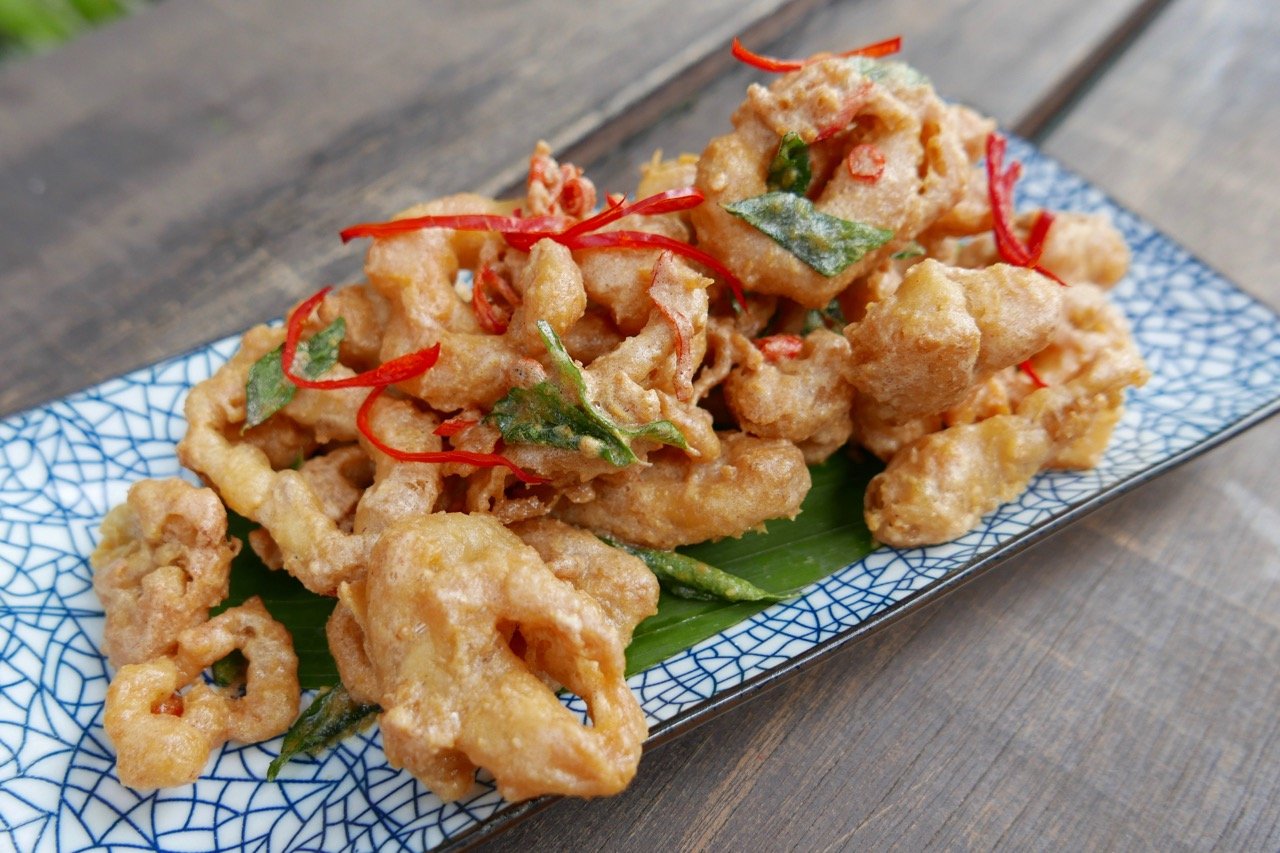 Also from the Sharing Snacks section of the menu, it turns out that Spam is not only a warm memory in Malaysia but Latin America too; according to hubby, at least, as he babbles stories from the past and his mami. Spam Fries have started to become a "thing" here in KL but Fu Luck Bar gives their version a lift by wrapping them in popiah skin, tying them with seaweed, deep-frying the entire bundle and siding them with Wasabi Mayo.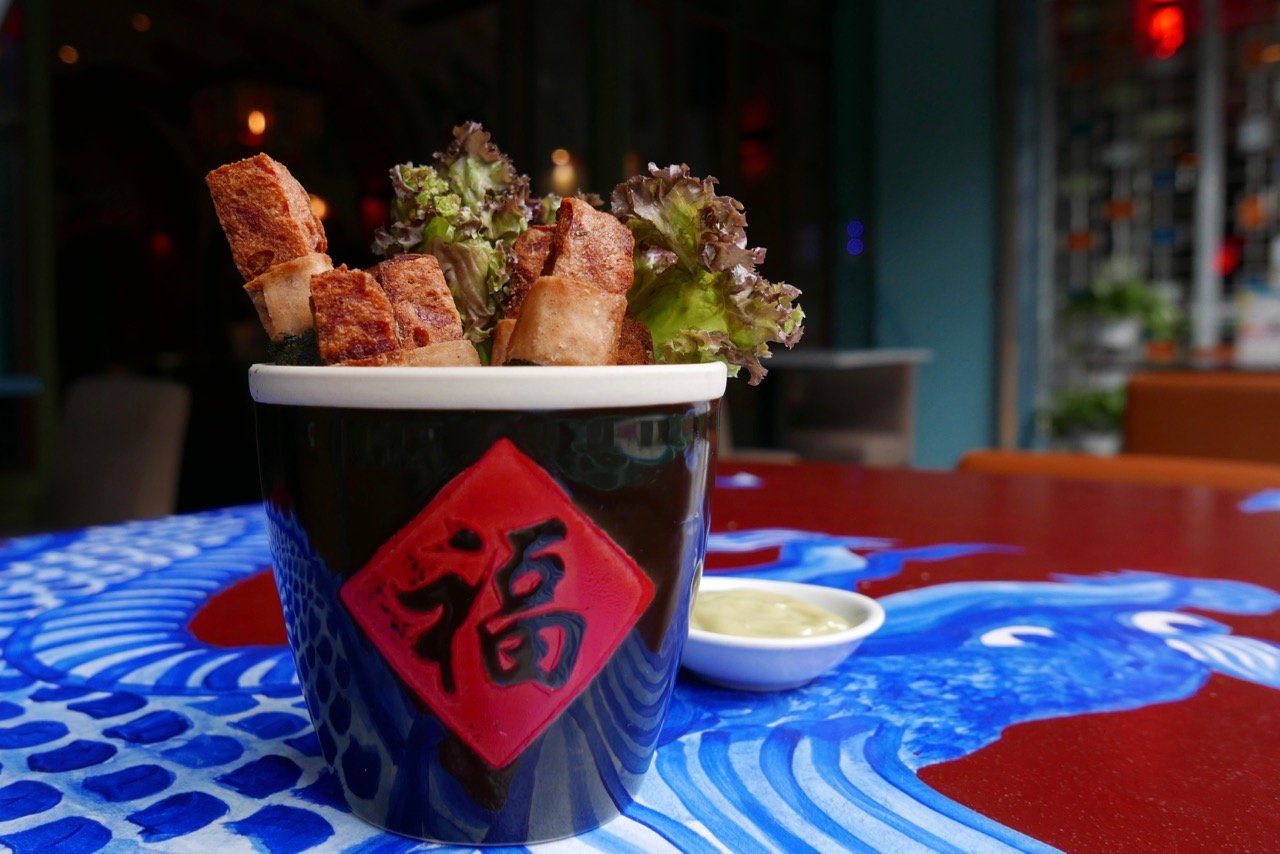 Cocktails at Fu Luck Bar
And what is all of this food without a beverage to wash it down? Fu Luck Bar provides a straightforward menu of drinks with the standard spirits, beer and wine on one side and an assortment of both classic and crafted cocktails on the other.
Ice Kacang Cocktails (RM35)
The highlights are the trio of Ice Kacang Cocktails. Basing the edible drinks around Malaysia's classic shaved iced dessert, they're then topped with a variety of spirits. We're ready to dive deep so choose the Fuluck Ice Kacang with Bacardi Carta Blanca Rum, Malibu Rum, Midori Liqueur, melon syrup, pineapple and lime juices, honeydew, fresh pineapple and shaved coconut. It's a mouthful of sweet textures with a pleasant little kick starting to form by the time I reach the bottom of the cup.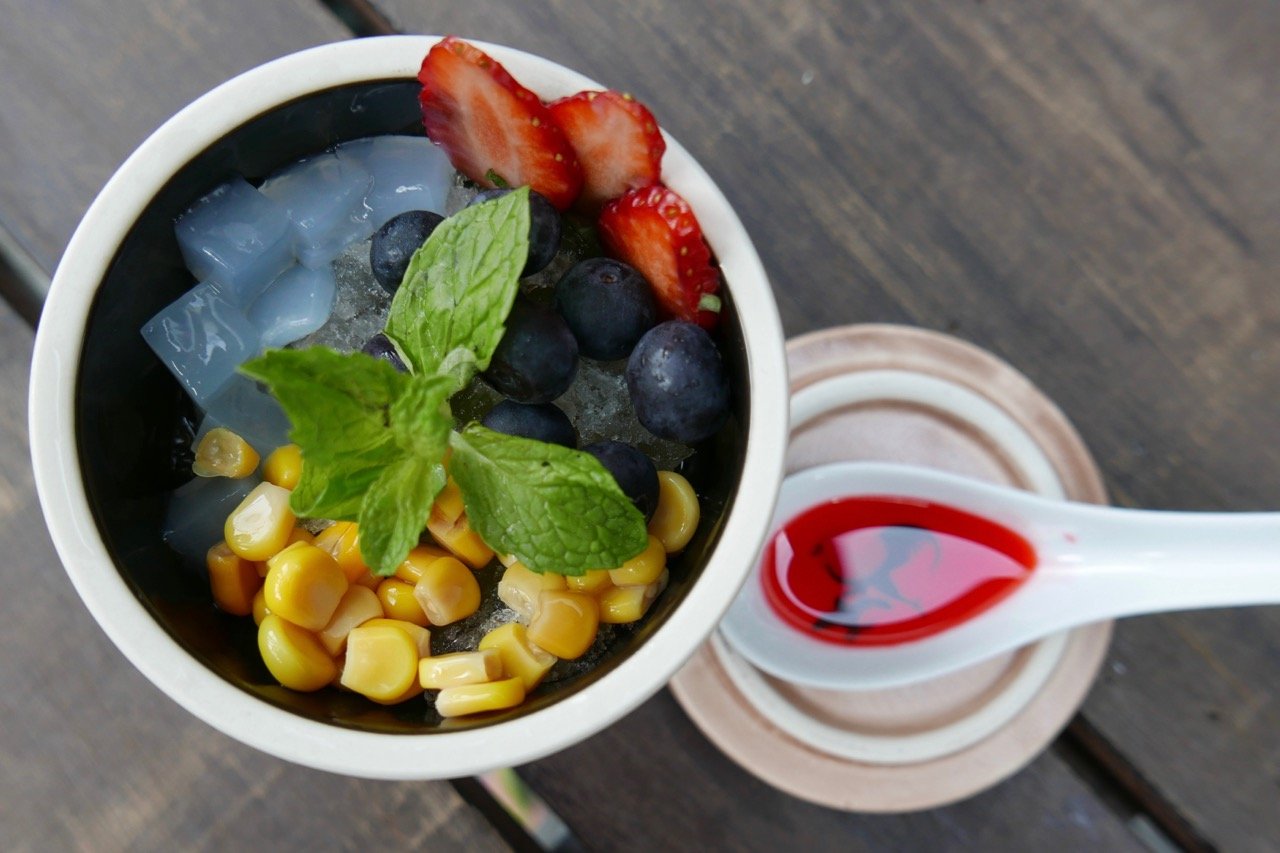 Fu Luck Signatures (RM32)
Most of Fu Luck Bar's signature cocktails are based on gin or vodka and promise to remind you of the 80's bar scene with their tropical fruity overtones. Hocus Pocus Abacus sees Ketel One Vodka infused with jasmine tea mixed with mint syrup, passionfruit syrup, yuzu and lemon and lime juices. It's a refreshing blend with the tang of citrus and herbs smoothed over by the fruit.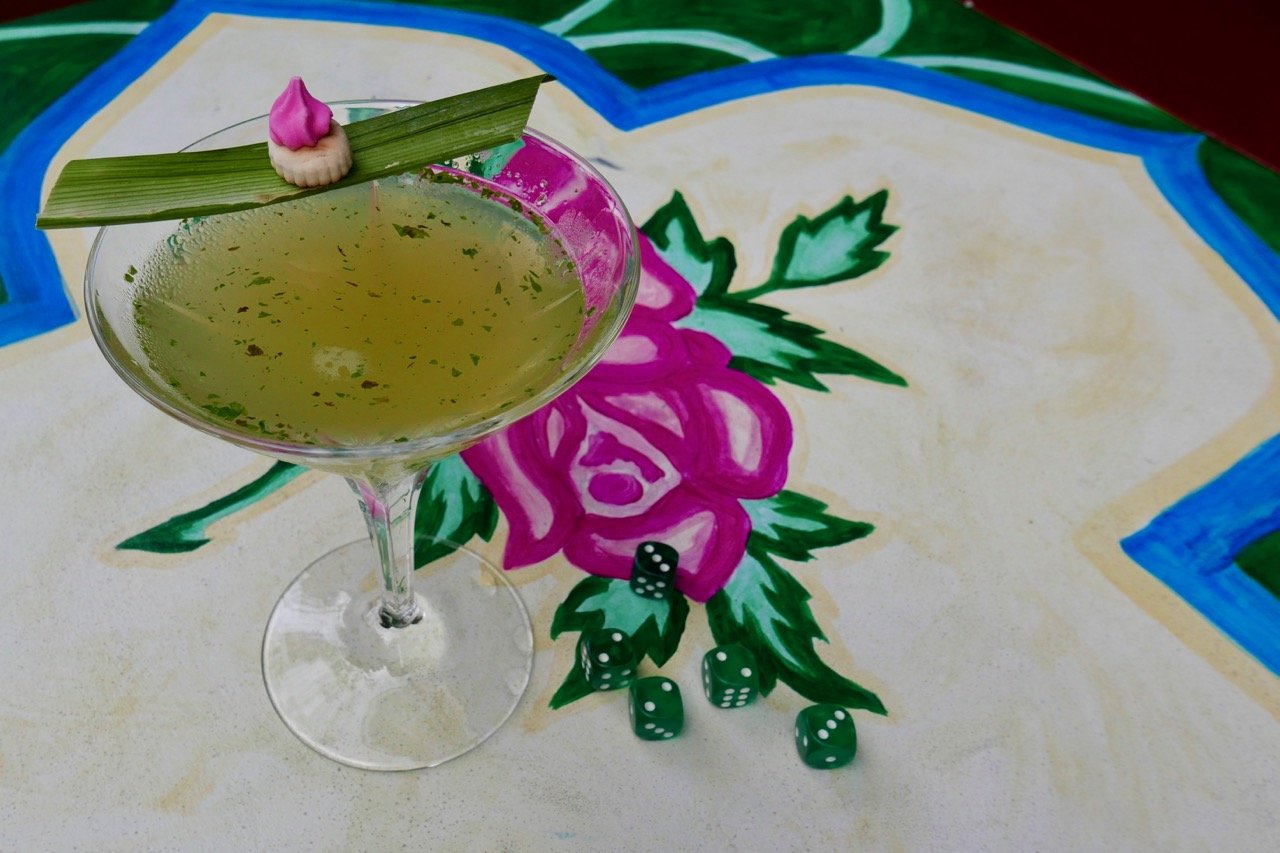 My Fair Lady is an elegant number presented in a wine glass combining Tanqueray gin, elderflower syrup, yuzu and lemon juice. A mysterious looking syringe of violet liqueur lays across the top ready for injecting at your will. It makes a small episode of interaction with your glass before the serious conquest and also allows for some customization depending on the amount of violet you introduce.
Old Master's Brew, charming in presentation, holds a rolled leaf cone of Iced Gem cookies as garnish. Tanqueray gin, Dark Crème de Cacao, pineapple juice, coconut cream and green tea powder are shaken over ice forming a foamy head. Coconut gives this drink a creamy viscosity.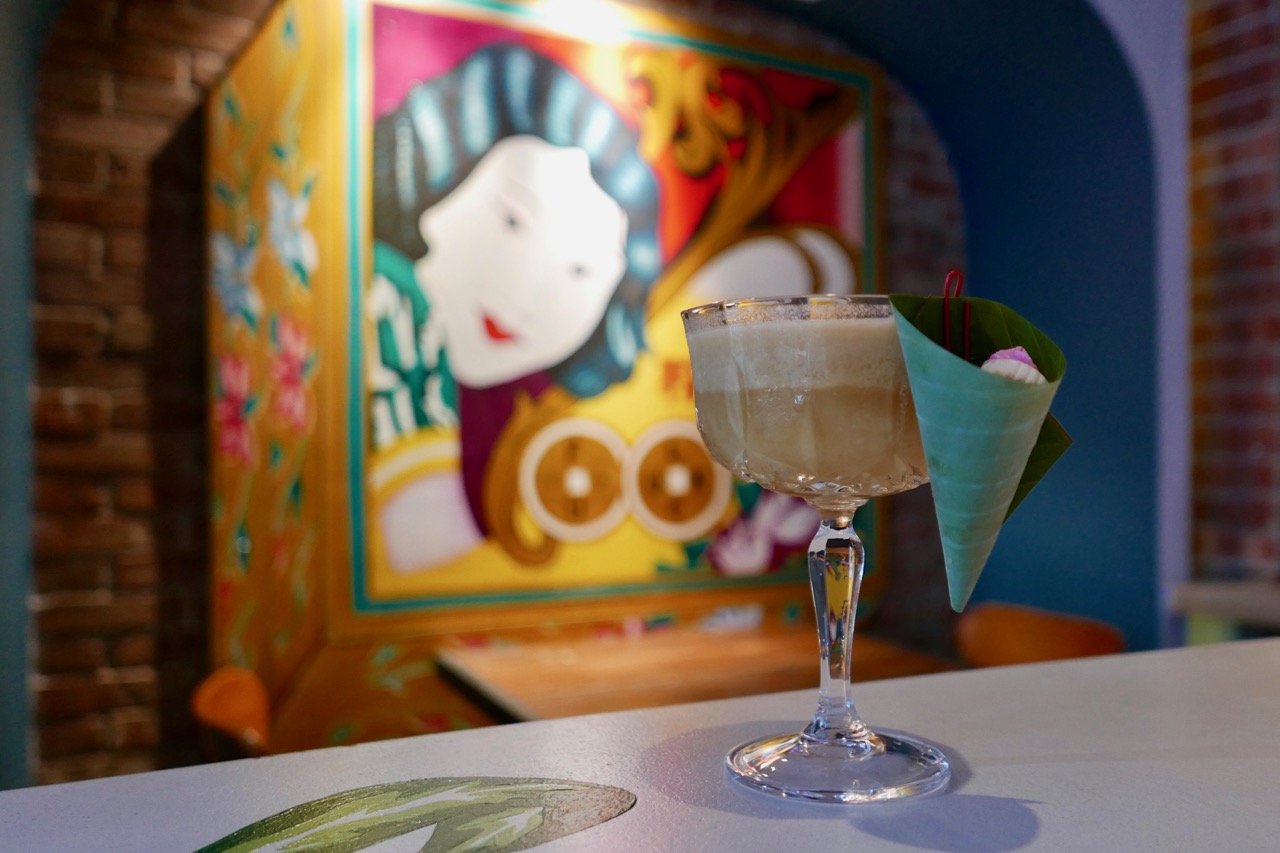 Reasons to visit Fu Luck Bar: a setting that stimulates fun conversations and evokes nostalgia for the 80s; famous Pudu Chan Fatt Wonton Mee; we're also rather fond of the Bao Sliders and Roast Pork; and just for the fun of it, you must order an Ice Kacang Cocktail.
#fuluckbar
*** Non-Halal
Fu Luck Bar opening hours
Lunch Monday – Friday: 12 noon – 2:30 pm
Dinner daily 5 pm – 2:30 am (weekdays) 3:30 am (weekends).