BLANC – Contemporary French Cuisine
Monica Tindall
It was at Macalister Mansion in Penang several years back that I first saw light being shone on Malaysia's future culinary potential. It has never been debatable that the country has much to offer in traditional food culture. At the time, however, very little had been featured on the endless possibilities for a contemporary food scene. Housed in Malaysia's only Design hotel, the restaurant team had solid support to push the barriers. It was first chef Lance U'ren and later chef Johnson Wong who opened my eyes to the broader spectrum of what Malaysia's dining domain has to offer.
Today, the Dining Room has been renamed BLANC and is headed by Chef Alfred Wee. With local roots and a serious resume of international experience, Wee transforms Asian flavours into innovative menus with distinctive French flair. The bill of fare is markedly different from the past kitchen's yet maintains the focus on fine-dining with exquisite cuisine that is beautifully presented. It is a superb example that Penang has so much more to be recognized for than street food alone.
*Post note: Blanc's new chef Yeoh has updated the menu once again. Find the latest revamp here.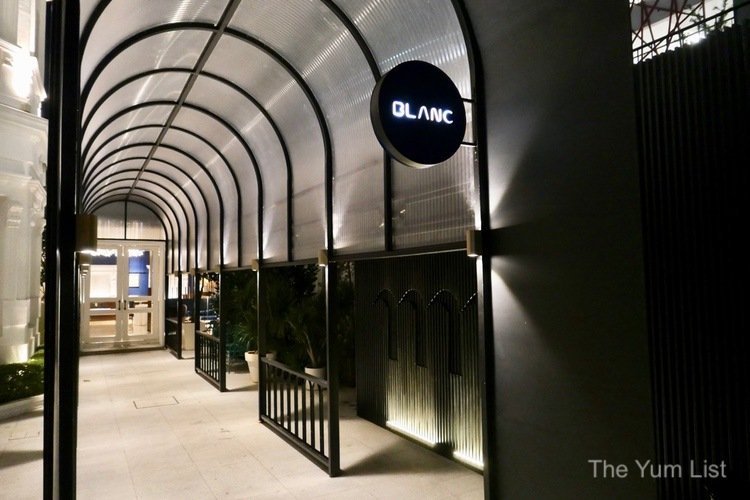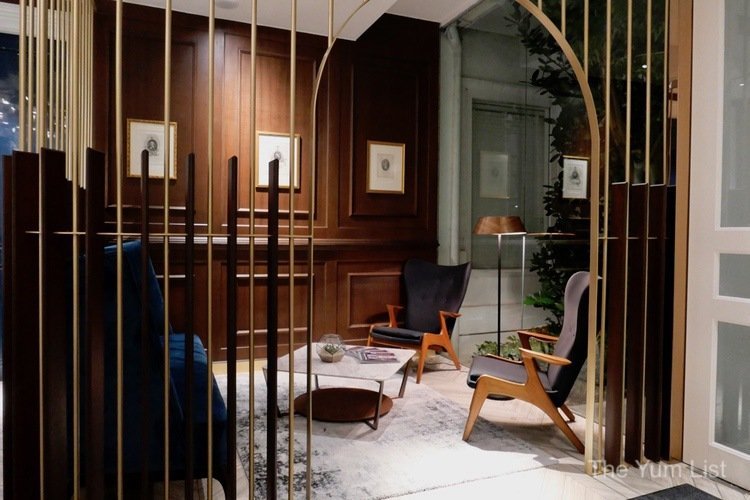 BLANC Macalister Mansion Penang
Renovations have seen BLANC transformed and reopened in mid-June 2019. The restaurant sports a new entrance, some wooden wall panels, feature walls of deep blue and shiny metals. The unforgettable white tree that seems to sprout from the centre and extend its branches reaching towards tables remains, but the overall mood has been given warmth and depth with the incorporation of supplementary colour.
Contemporary French Restaurant Georgetown
Guests can order a la carte or take part in a five-course tasting menu (RM298) with wine pairing (add RM95) or premium wine pairing (add RM195). There is a fabulous deal, however, for guests staying at Macalister Mansion. In-house diners get the five-course menu for a tiny RM100 – an enormous saving of nearly RM200 per person! (This is now RM150 per person – new chef, new chef menu. Check out the latest updates here.) We think that "chef knows best" and so leave the critical decisions up to Alfred by going with the degustation.
We're also delighted by the opportunity to have numerous premium wines by the glass thanks to the use of the Coravin system. This preservation system pours wine from the bottle via a fine needle without removing the cork. At the same time, Argon gas is injected into the bottle preventing the liquid from coming into contact with oxygen, hence preserving its quality.
Snacks
The BLANC meal commences with an eye-catching trio of snacks: a beetroot and raspberry cracker; hamachi tartar with pickled kohlrabi; and medley carrot tart with candied orange peel. They are elegant not only in presentation but also in taste and texture. Each is fashioned with such care as if miniature artworks. We can't wait to see what is next.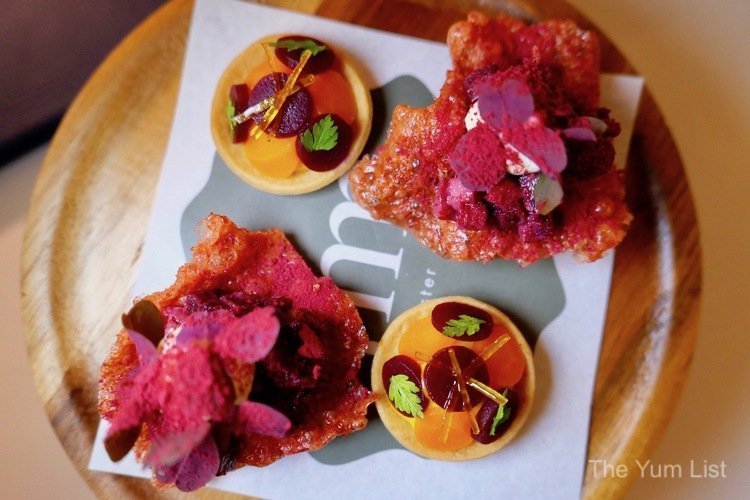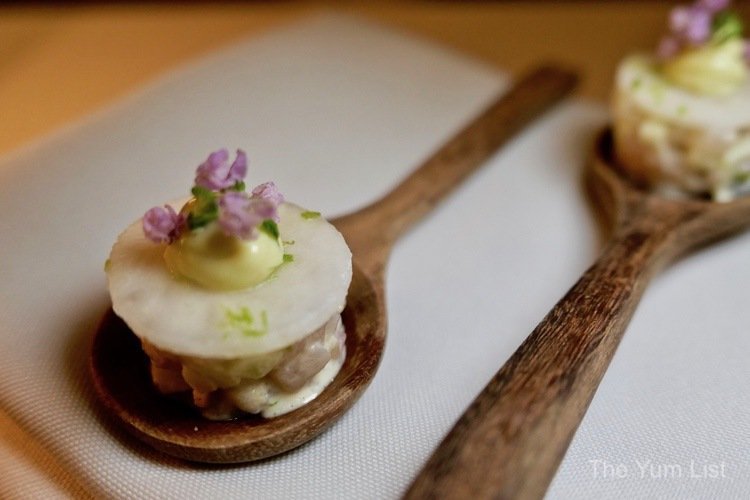 Amuse Bouche
Just as is custom in contemporary degustation menus with dessert following a pre-dessert, we see both snacks and an amuse bouche at BLANC. Almost in unison, we exclaim, "Wow, that's pretty special," with the first spoon of the sea urchin royal with fennel emulsion. It's warm and comforting, and just the right portion. Its richness leaves us entirely satisfied, as we scrape up every last drop from the small ceramic bowl.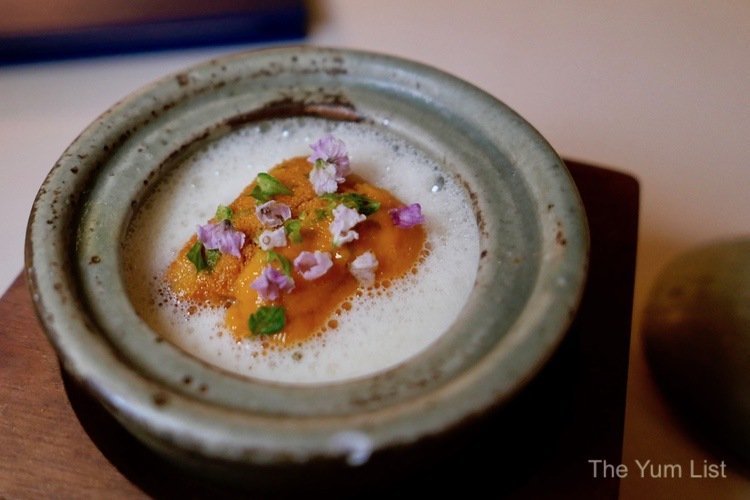 Bread has also arrived. At BLANC we are beginning to understand that no detail has been left uncared for. Slices from a tiny buttery brioche loaf and bacon bread come alongside an intriguing earth-coloured roll. It turns out the log is wild mushroom butter topped with Parmesan and bacon bits. Hubby would have scooped the entire roll of butter up, skipping the bread, if my look of "save some for me" had not stopped him.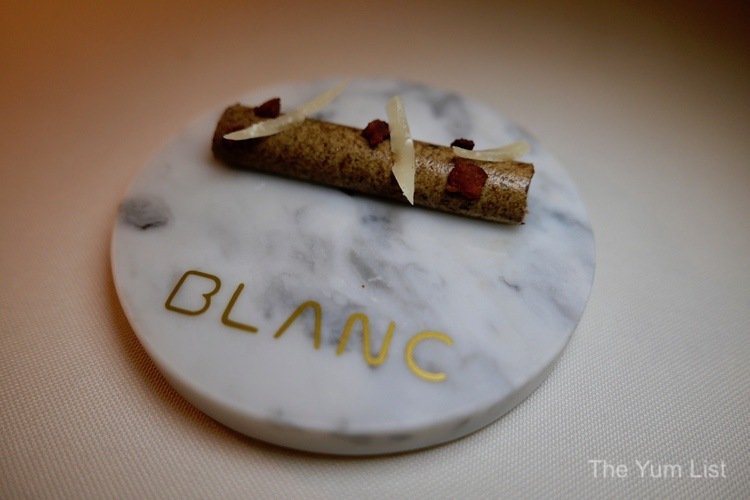 First Course
A delicately layered crab millefeuille builds on the seafood beginning at BLANC. The base begins with a mix of diced and pureed Hass avocado, followed by pieces of fruit tomato and shredded baby gem lettuce, which has been lightly dressed. Next, the crab, seasoned with a delicious lemon mayonnaise with threads of young ginger and curry powder, provides the meaty middle. The whole thing is crowned with a fruit tomato foam and garnished with a sprinkling of we hanaho blooms.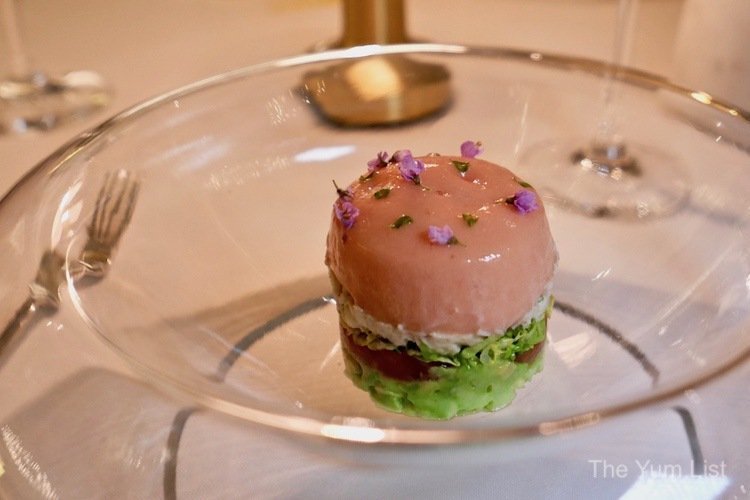 It is fantastically paired with a Pouilly Fume 2017. Both the food and the wine are refreshing and acidic. The wine offers added minerality and herbaceous complexities; the pairing is spot on.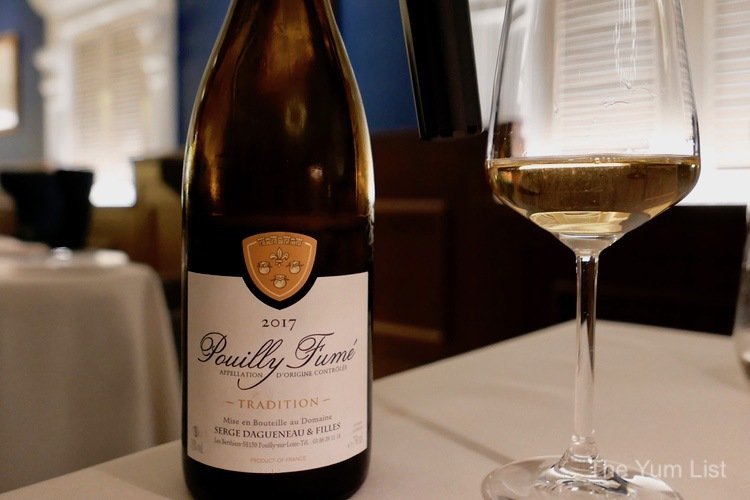 Second Course
Coming directly from France, foie gras is simply seasoned with salt and pepper and pan-seared forming a caramelized edge. It's drizzled with chicken jus framing a mouth-watering focal point. Cherries have been cooked together with kirsch and reduced to a syrup-like consistency. This deep-red sauce is drawn around the plate and shows off an enticing balance of sweetness and tang. Halved cherries that have been confit lay alongside the foie gras. Peeled and quartered almond confit, sesame croustillant, pickled shallots and redwood sorrel turn this into a particularly beautiful dish.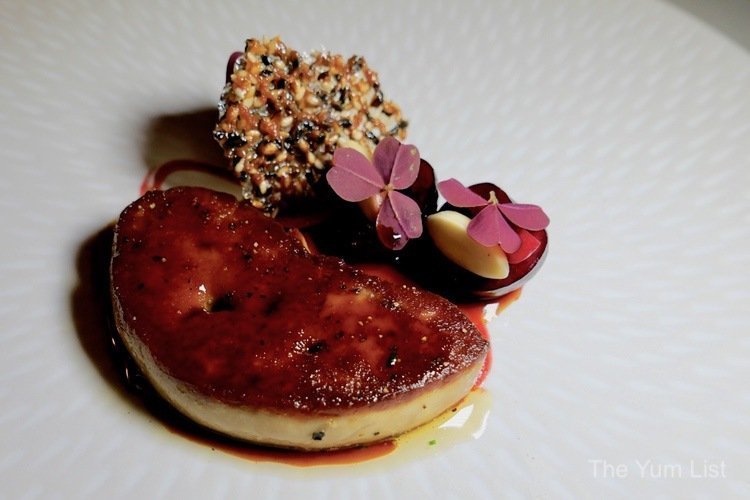 The dry, crisp notes in the 2016 Trimbach Riesling pairing from Alsace slice through the richness of the foie gras. Stone and citrus on the nose, and a lovely balance of fruit, this is a rich wine that goes well with food, but one I also wouldn't mind quaffing on its own.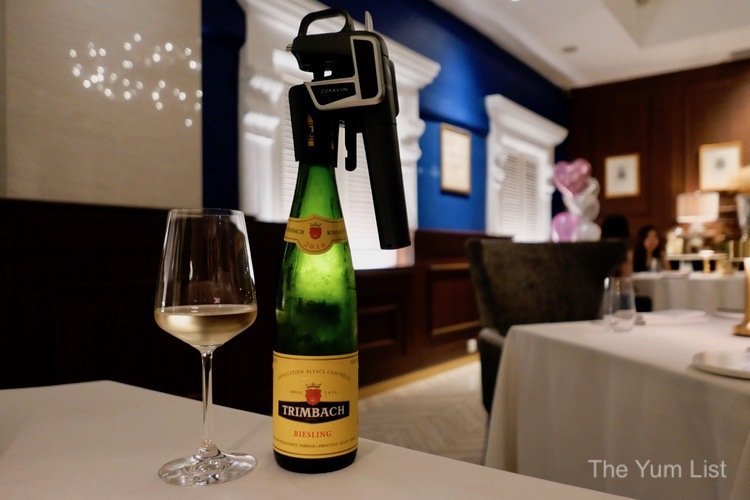 Third Course
The fish course at BLANC is another recipe showing off chef Wee's skill in layering both flavours and textures as if needling intricate lacework. Cauliflower purée acts as a bed, superseded by the fish. Scandinavian halibut has been filleted and cured with salt, firming up the character of the fish and stabilizing its natural sweetness. Potato slices are perfectly arranged over the top. Acting as both embellishment and supporting intricacies, are Amur caviar, croutons, tiny clams, caper berries and wild fennel flowers. Champagne sauce swirls over it all. It's magnificent both to behold and to consume.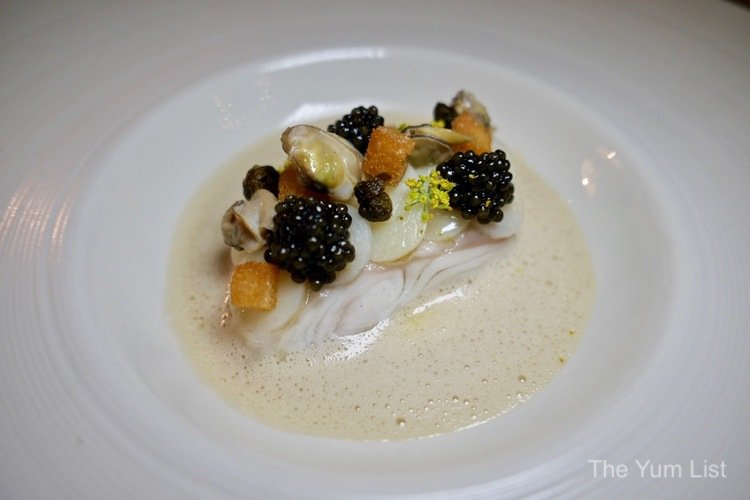 As the food escalates in intensity, so does the wine. The fish mate, Domaine Faiveley Puligny-Montrachet Premier Cru "Champ Grain," has aromas of citrus and brioche. It's much more generous in the mouth than the former two whites. The palate is well-balanced and smooth with great structure.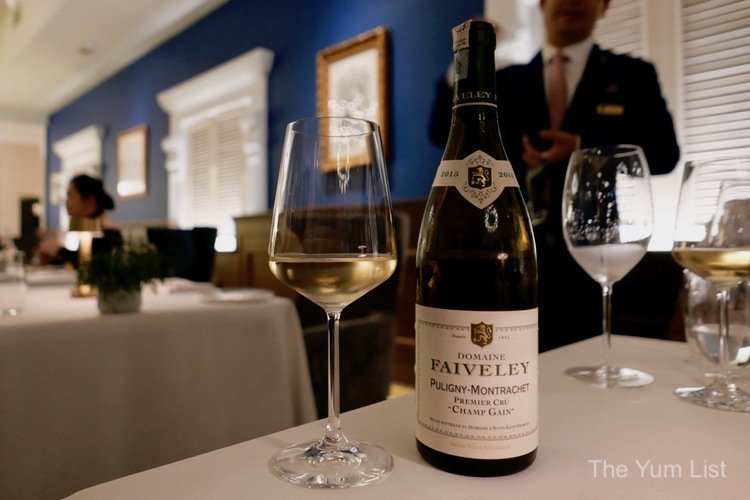 Main Course
Today's main at BLANC features three parts of lamb: rack, saddle and shoulder. I'm concerned that I won't be able to finish off the main, but the portion is just-right, culminating in a feeling of satiation without being stuffed. Both the saddle and the rack are cooked to remain pink in the middle. The shoulder has been slow-cooked for six hours and wrapped in yuba skin. On the side, we find grilled zucchini, red bell pepper purée and green olive. The final complement is lamb jus held in a copper pot, which is brushed over the meat with a sprig of rosemary.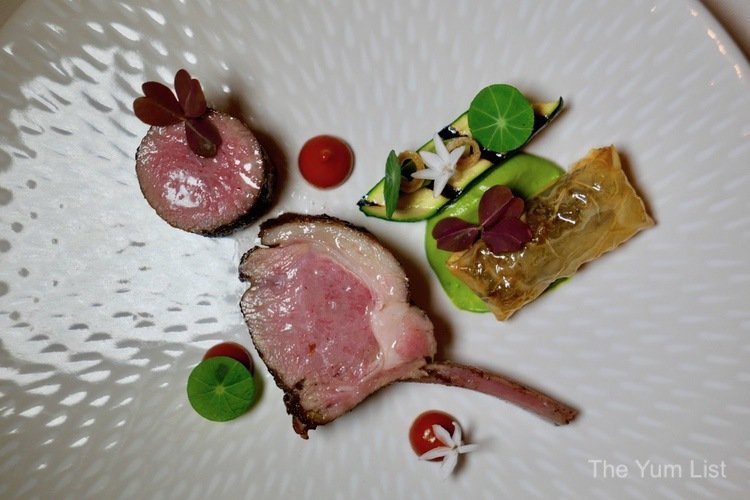 A serious meat dish requires a serious wine, and the Chateau Pontet-Canet, Pauillac, Bordeaux 2012 fits the bill. Consistently scoring over 90 points by multiple wine critics, this red is classic Bordeaux in style. Ripe, dark fruits on the nose follow through to juiciness on the palate. It's well-structured with a whisper of oak found in the middle and a strong finish.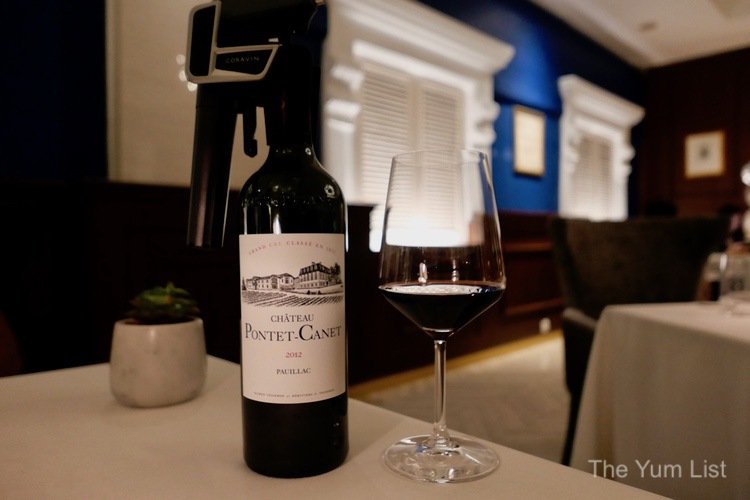 Pre-dessert
Similar to a palate cleanser, the pre-dessert freshens our mouths in the most delightful of ways. Poached pineapple, bergamot foam and pistachio ice cream are accompanied by kefir lime espuma. It's bright, fresh and absolutely delicious.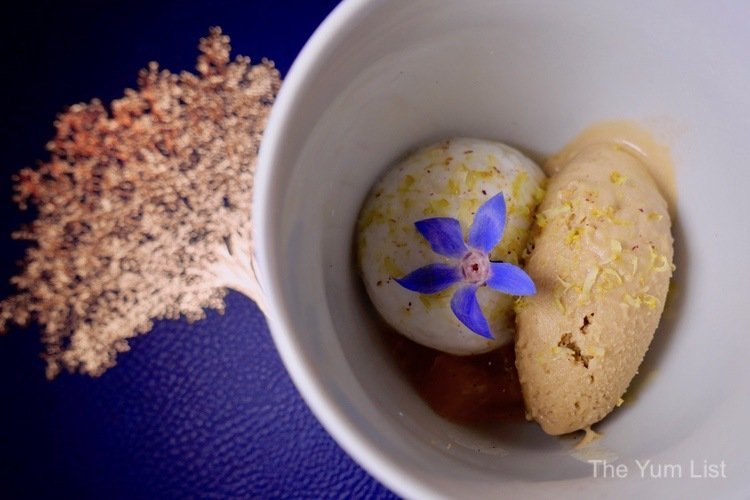 Dessert
The grace and elegance of this beautiful meal at BLANC culminate in the Papillon. Shaped as a butterfly, the first layer is sable Breton, followed by vanilla mousse and apple compote cooked with apple juice, lemon juice and vanilla pod. On top, there is a triplet of chocolate caramel disks. Surrounding the butterfly are rum jelly cubes, apple coulis, and also apple sorbet. Our waitress recommends slicing directly down the middle, so it looks like a butterfly flapping its wings about to take off.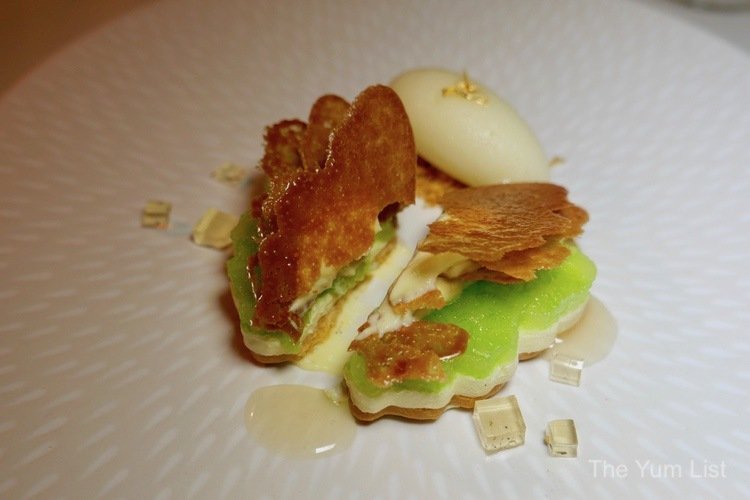 Moss Wood Ribbon Vale Botrytis Semillon Sauvignon Blanc from Margaret River is the final pairing for the evening. It's light yet syrupy and would be enough as dessert on its own. We love the indulgence though, and contentedly relish the double dose of sweetness.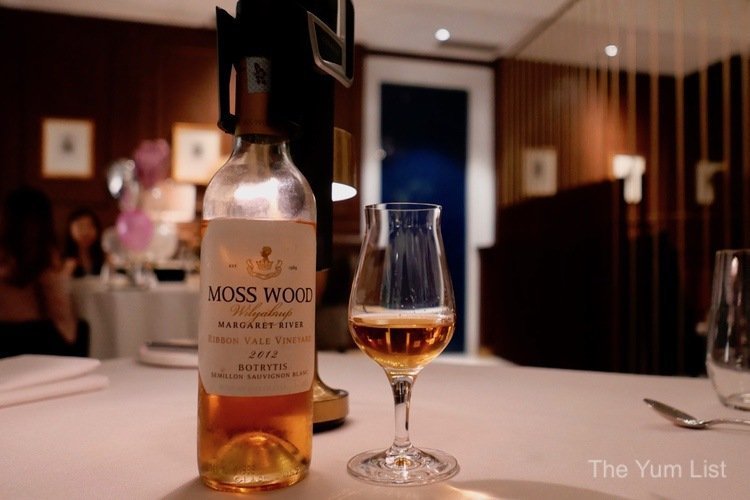 Petit Four
To end the degustation at BLANC are petit fours and tea or coffee. A duo of delicate designs encourages us to have "just two more bites." My preference leans towards the coconut dacquoise topped with coconut mouse and filled with a drop of strawberry jam. Hubby though is rather fond of the stronger more pungent flavours presented in the jackfruit choux puff.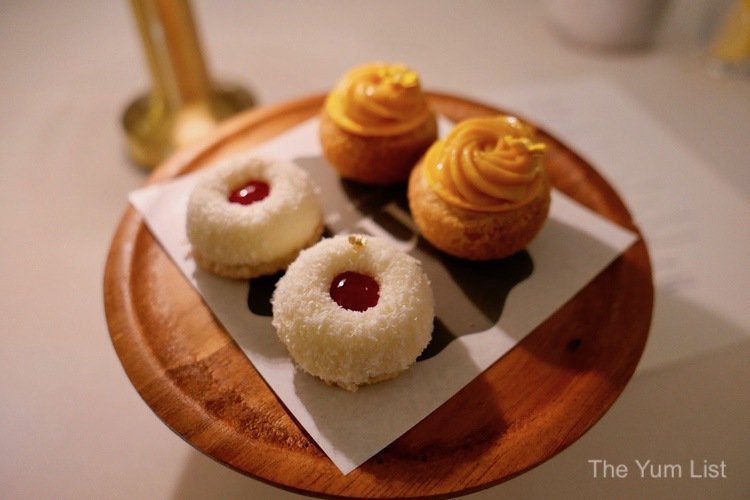 BLANC Penang Review
The new look of BLANC is warm and welcoming, and service is impeccable. Chef Alfred Wee's contemporary French degustation menu is exquisite, undoubtedly worth travelling for. To wrap it all together, the premium wine pairing is a must. Congratulations to the BLANC team! They have put together a superb dining experience; I highly recommend a visit.
Reasons to visit BLANC Penang: an exquisite contemporary French menu with the option of premium wine pairing; in-house guests get the extraordinary deal of purchasing the five-course menu for a steal at only RM100 per person.
BLANC Penang
Macalister Mansion
228 Macalister Road
10400 George Town
Penang, Malaysia
+6 04 2283 888
[email protected]
www.macalistermansion.com
Open daily 7 pm – 11 pm