Noodle Bar KL
Words: Jack Perry
Photos: Rich Callahan
Admittedly, not an overly experienced Thai food patron, I considered my visit to the new KL noodle bar at Krung Thep as a focused educational intro to all things good about Thai cuisine. Krung Thep, short for Krung Thep Mahanakhon, or simply Bangkok, the most well-known city of this ancient land, offered me 'courses' of foods from four regions of Thailand: North, Central, Northeastern Isan and the South.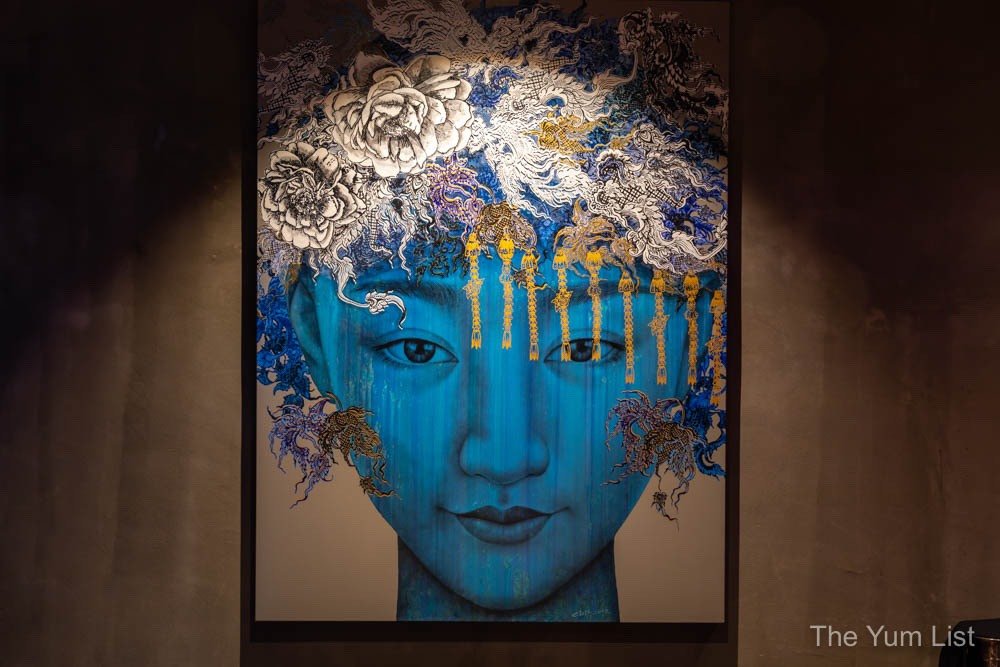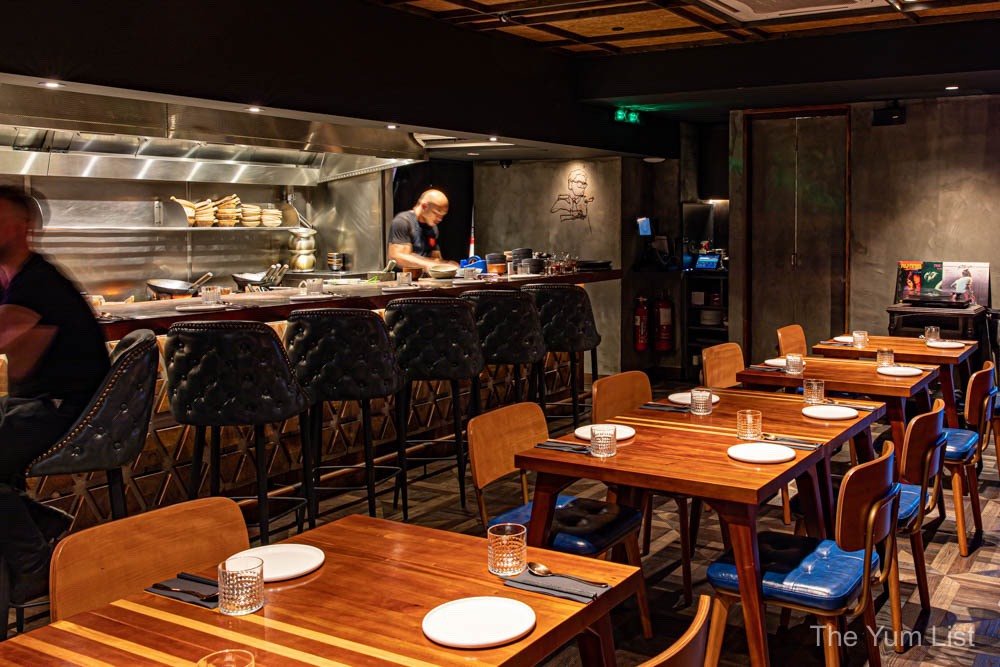 Noodle Bar KL
Krung Thep is located on the ground floor of Republik Damansara. Here there is a rich cluster of unique Asian food options in this beautifully restored historic two-story structure. The restaurant has ample covered, open-air patio with plenty of seating generously salted with potted tropical plants. As I approached the front sliding door, I was greeted by a subtle and rustic raised metal signage. This was followed by bright blue interior wall panels inviting me through a glass and candle-lit hallway to a glass-water sculpture. Crisp, simple, bold forms and details, nothing overpowering. I hoped the food would be likewise.
The restaurant is not huge, yet felt roomy and intimate. It was full of natural woods, burnished metals, rustic ceramics and deep blue seating accents and only one large, bold, blue portrait hangs on a wall. There is a variety of seating, with a semi-private booth for six, two-tops that allow flexible group seating arrangements, as well as inviting single-seating at the Thai chef's open cooking station and small bar.
Initially, Krung Thep was opened to serve the dinner crowd. Their new one-page lunchtime 'Noodle Bar by Day' menu is geared to appeal to the local business lunch crowd that seeks a comfortable space and smaller tasty dishes with a fast turn-around. The 'Krung Thep Noodle Bar by Day Menu' offers a variety of eight noodle dishes, small plates, some desserts and drinks. It is a diverse menu that allows a mix and match for multiple visits that will deliver a fresh lunchtime experience every time.
Krung Thep Noodle Bar KL – Drinks
The two-side drinks menu at Krung Thep's noodle bar includes 'Cooler Teas and Boozy Coolers,' spirits, beer, wine and soft drinks. My Lemongrass Cooler (RM15) was a tall glass with ice, served with a sustainable paper straw; quite refreshing.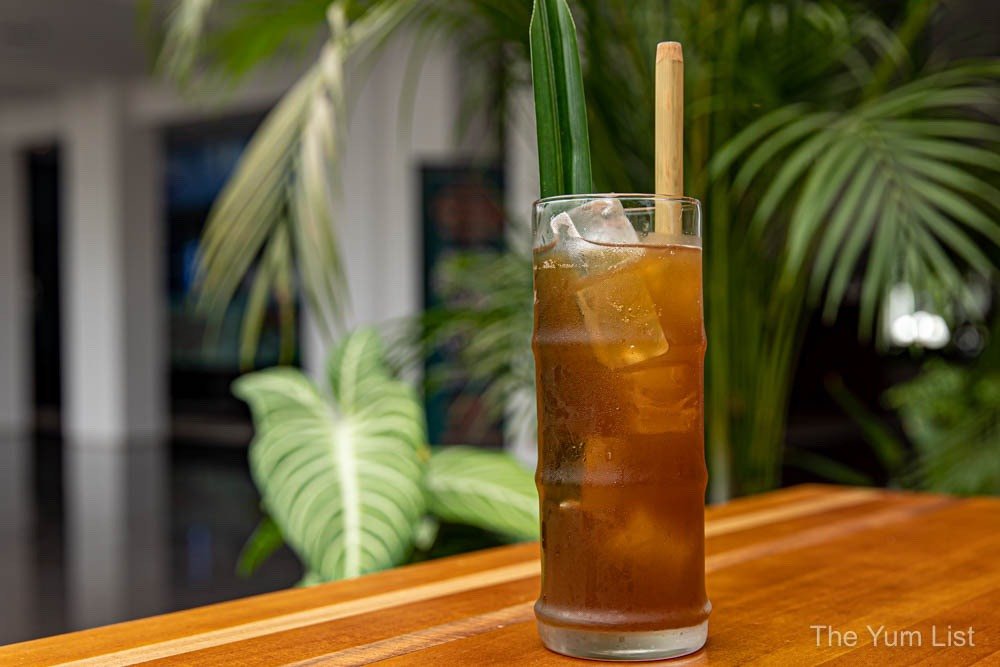 Krung Thep Noodle Bar KL
Pad Thai
I started off my educational course with the ever-traditional Pad Thai (RM26) (nuts, spicy). The prawns, tofu, toasted peanuts, bean sprouts and stir-fried noodles, blended with duck egg were presented beautifully with the noodles, prawns and egg heaped up in the centre and crowned with a bright cilantro topper. It was a superb, straight-forward dish with a spicier kick than I am used to. The portion was generous, and the prawns were full and plump.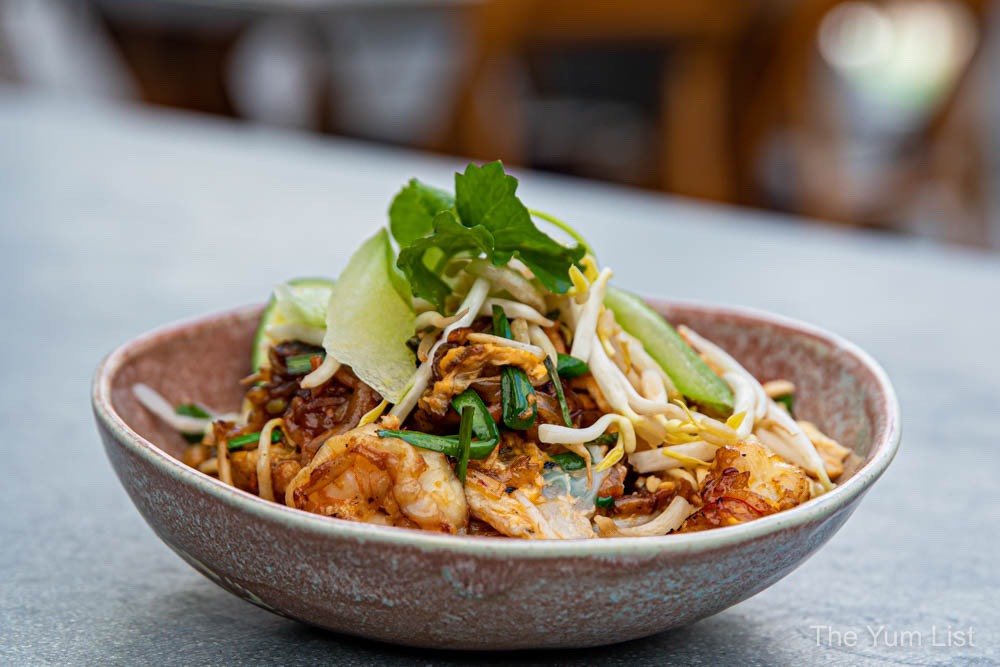 Wun Sen Pat Dtao Huu Yui
My next course was Wun Sen Pat Dtao Huu Yui (RM23) (vegetarian, spicy), stir-fried bean curd and mushroom glass noodles dish. The plate arrived, and it was literally a glistening ensemble of dark golden noodles. Another recipe with heat, it had much finer-textured noodle than the Pad Thai noodles. This one was a quick favourite with both Mon and Rich.
Kao Soi Gai
My next lesson was Kao Soi Gai (RM28) (spicy). Here, a northern Thai curry rice noodle with Chiang Mai mustard greens with chicken initially presented itself as a dry noodle dish. When mixed up before serving, however, the dry and wet noodles mixed into a surprisingly earthy flavour and turned into a hearty, creamy meal. It was accented by the uncooked noodles adding a distinctive crunch.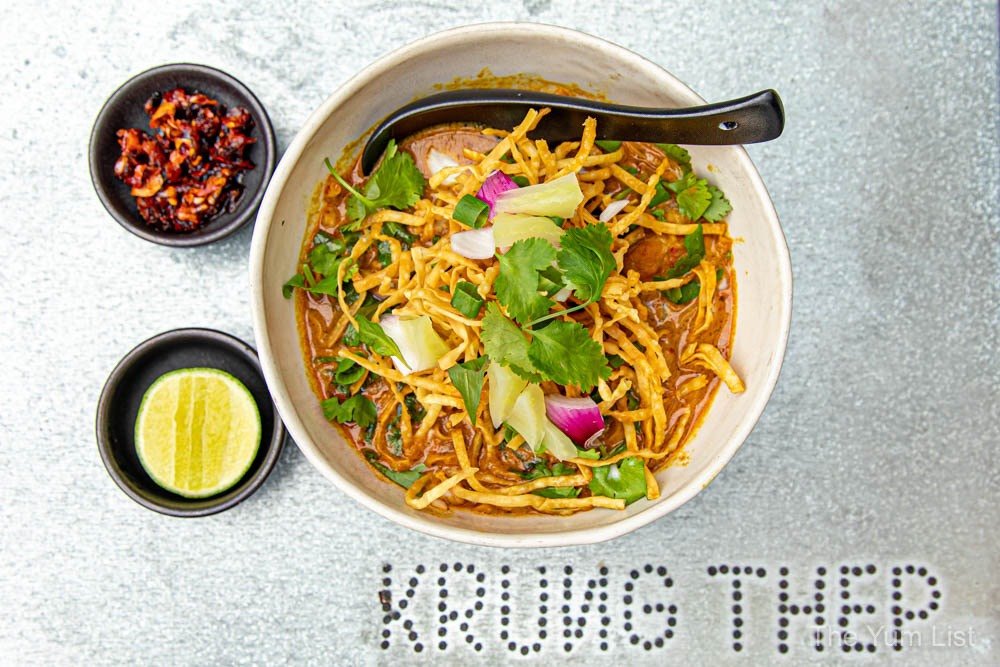 Kai Ceiw Pu
The Kai Ceiw Pu (RM25) presented a duck egg omelette stuffed with crab meat. Its simple plating saw it topped with fresh cilantro and a spicy Sriracha sauce that complimented, but not overpowered, the fluffy golden egg. This subtle dish is big enough to share and best enjoyed with some more seasoned dishes.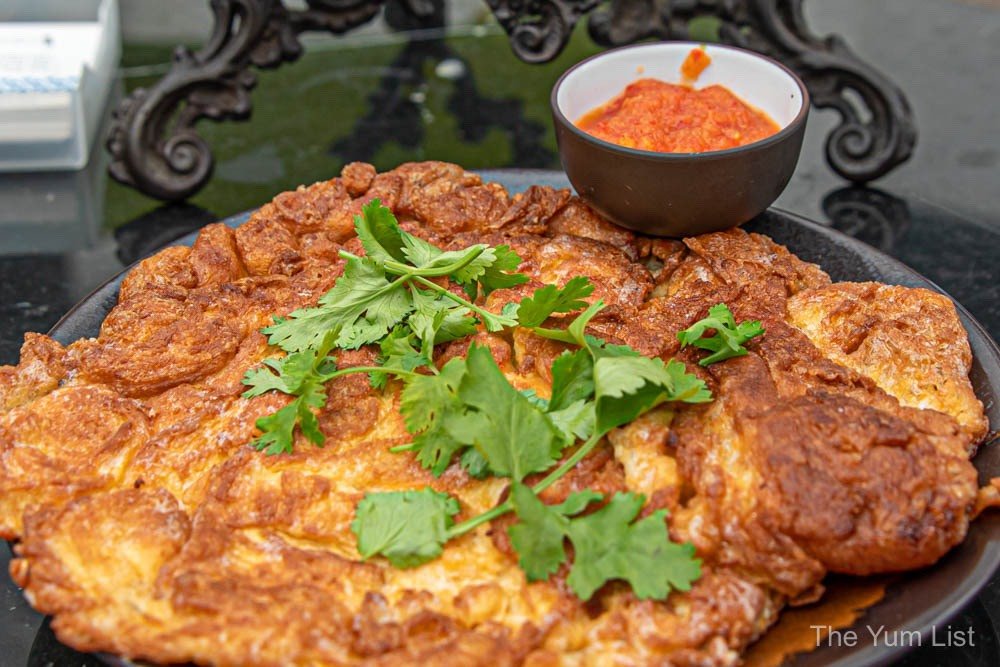 Pad Pek
My final assignment, Pad Pek (RM20) (vegetarian) was a mix of stir-fried sugar-snap peas, coupled with bok choy, and mushrooms in an oyster-mushroom sauce. The bright green sugar-snap peas, dusted with spices was complimented by bok choy and mushrooms. A creamy sauce had a pleasing taste and was contrasted by the crispiest of the sugar-snap peas. As usual, mom was right, 'eat your vegetables' was good advice!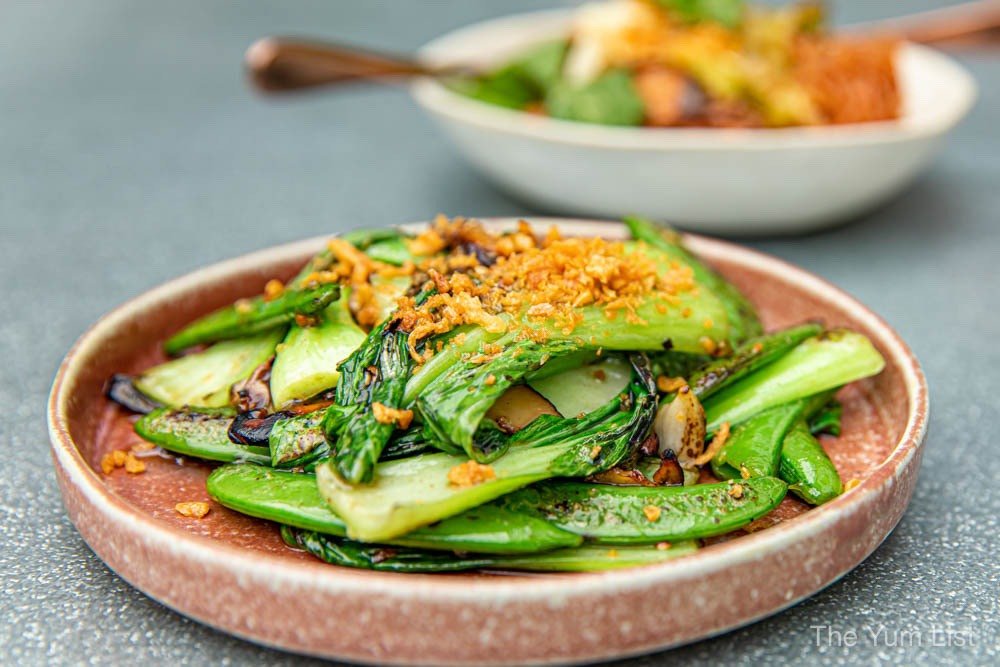 Dessert
A must on any Thai menu is Khao Niaow Dam Ma Muang (RM22) – Krung Thep's version of mango sticky rice. It was comprised of four fresh slices of mango atop black-glutinous rice, with toasted white sesame seeds and coconut milk. The fresh fruit was offset by an earthy, nutty sesame taste. It was so light that I could have quickly eaten the entire desert without sharing it (no such luck with Mon and Rich about!).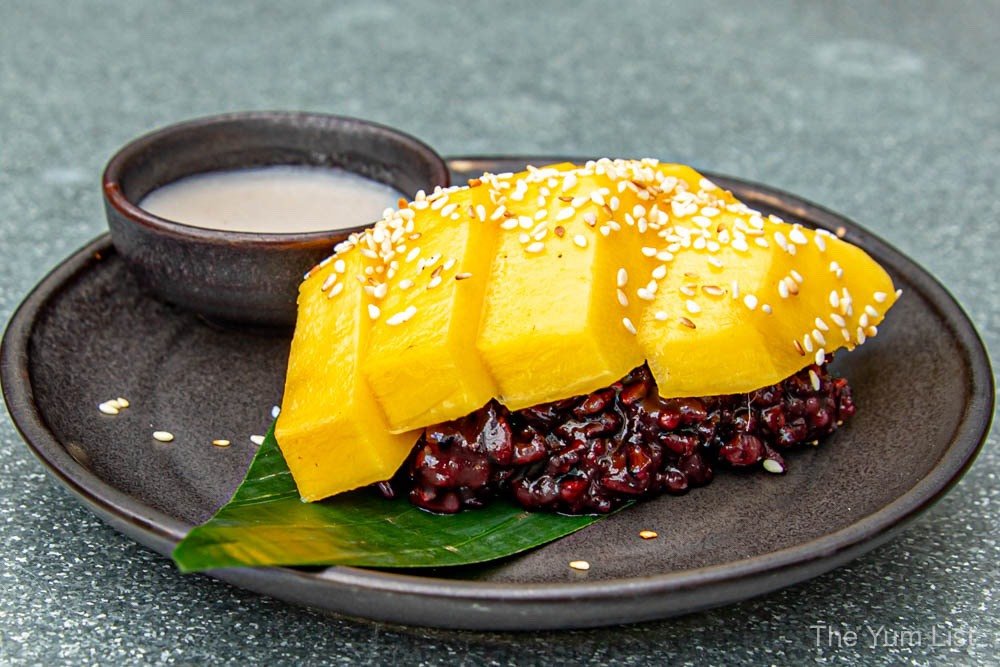 My Krung Thep diploma verifies my initial 'Education in Thai Food', a culinary event of rich visual presentations of the sweet, salty, sour and spicy tastes of Thailand. Now, more aware, more well-versed, and desirous to learn more, Krung Thep will serve as my guide to more Thai eating adventures ahead!
Reasons to visit Krung Thep's Noodle Bar KL: A varied noodle and small plates lunchtime menu; could enjoy a single dish alone, or two people could share 2-3 small plates and leave happily well-fed; an attractive setting that is a fresh mix of traditional materials and bold art; varied indoor/outdoor seating options.
Noodle Bar KL, Krung Thep
Lot G05, Republik Damansara Heights (ground-floor)
1 Jalan Medan Setia 1, Bukit Damansara
50490 Kuala Lumpur, Malaysia
www.facebook.com/.Krungthepkl
[email protected]
+60 37 622 8760
* Pork-free
Krung Thep Noodle Bar KL Opening Hours
Lunch: 11:30-2:30pm