SUPE Japanese Vegan Restaurant
Words: Monica Tindall
Photos: Rich Callahan
A combination of the owner's names, Summer and Hope, SUPE (pronounced soopy) is a Japanese Vegan Restaurant in Bukit Bintang.
Cool polished cement, a marble-topped bar, warm lighting, plants and bamboo make for a stylish and calming setting. Cool jazz tunes enhance the comfort and beautiful crockery and cutlery add to the pleasing aesthetics.
Co-owner Summer says she chose the city centre for SUPE Japanese Vegan Restaurant as she wanted to provide residents with a tranquil respite from the bustling, hectic environment they might find in their jobs and on the streets. She hopes to bring customers a slower, relaxed pace, where they can take a moment to breathe and energize their bodies with nutritious food.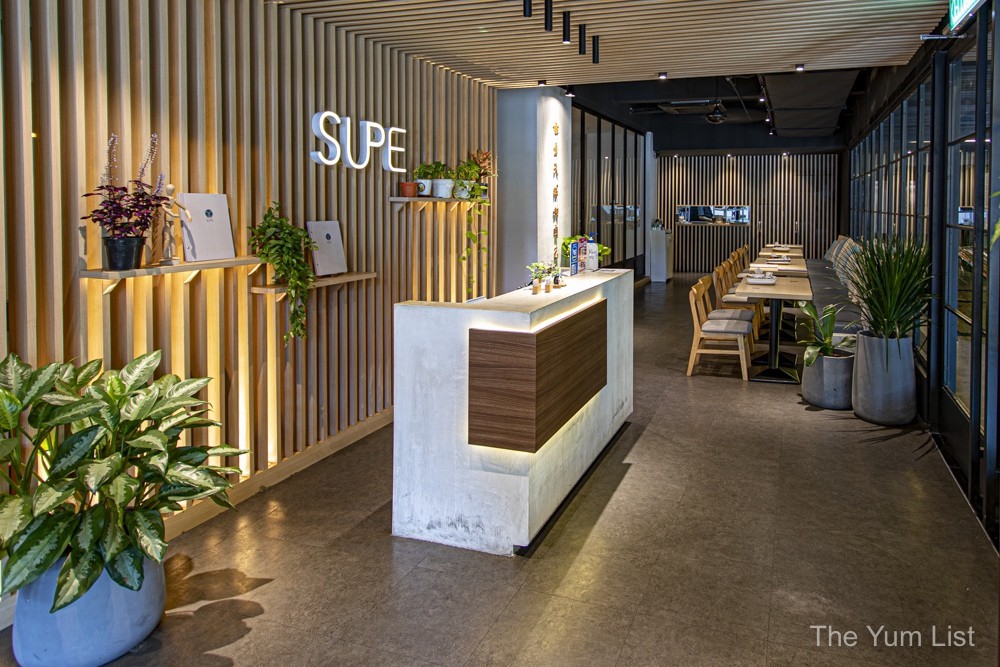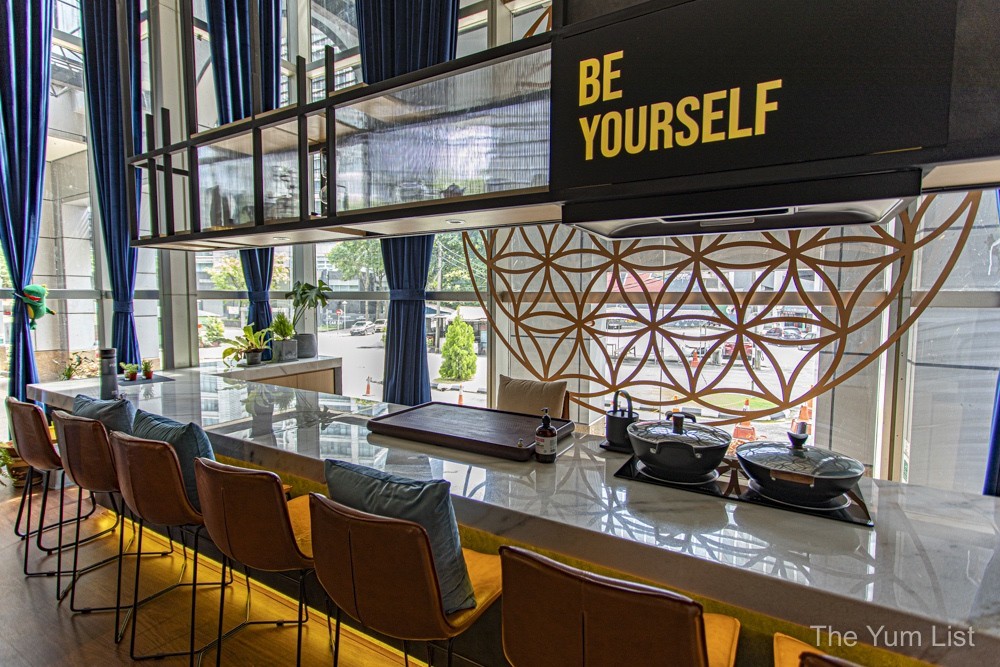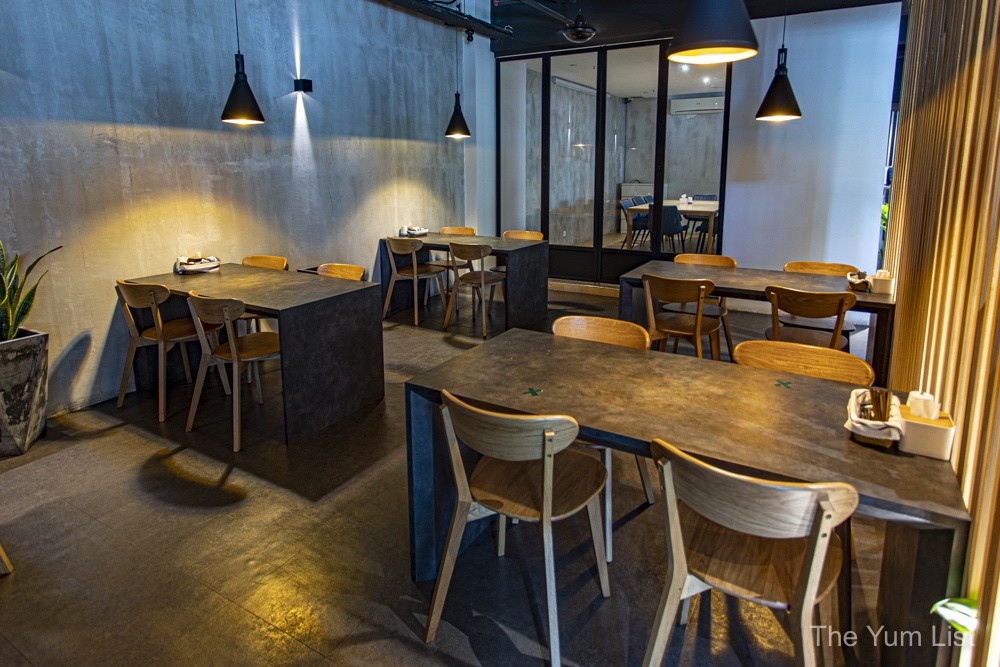 SUPE Japanese Vegan Restaurant Menu
The kitchen team at SUPE Japanese Vegan Restaurant in Bukit Bintang uses only whole, fresh ingredients with a focus on quality such as extra virgin olive oil and Himalayan salt. There are no mock meats or overly-processed foods on the menu. Dishes are made to order and everything that can be, is made in house – from wasabi to mayonnaise.
Handrolls
Handrolls are excellent starters with their crunchy vegetables and light seaweed wrappings. The Tempura Handroll (RM 9) wraps short-grain rice, cucumber, house-made vegan mayo, carrot, tempeh and roasted black sesame in a quality seaweed wrap. Yasai Hand Roll (RM 8) replaces the tempeh in the first with G-ken floss (made with soy fibres) to add a finer crunch to the wrap.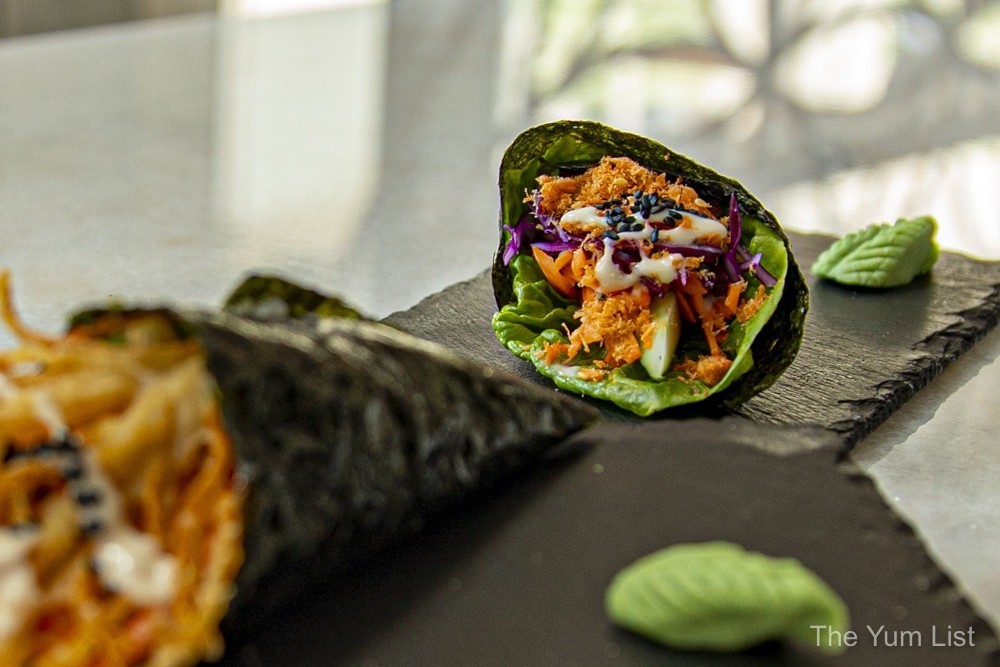 Sushi
An excellent introduction to SUPE Japanese Vegan Restaurant's menu is an All-In-One Sushi Platter (RM 22, 8 pcs). Customizable in portion, you can order small, medium and large platters giving a taste of some of their signature plant-based sushi. It's recommended to start with the Rainbow Maki (cucumber, carrot, purple cabbage, white sesame) and work your way across finishing with the Climate Sushi, hot sushi and the boldest in flavour. In between, there's Crispy G-Ken Floss Inside & Out (soy-fibre floss), Chuka Wakame Gunkan (fresh seaweed) and Pure Inari (sweet bean curd).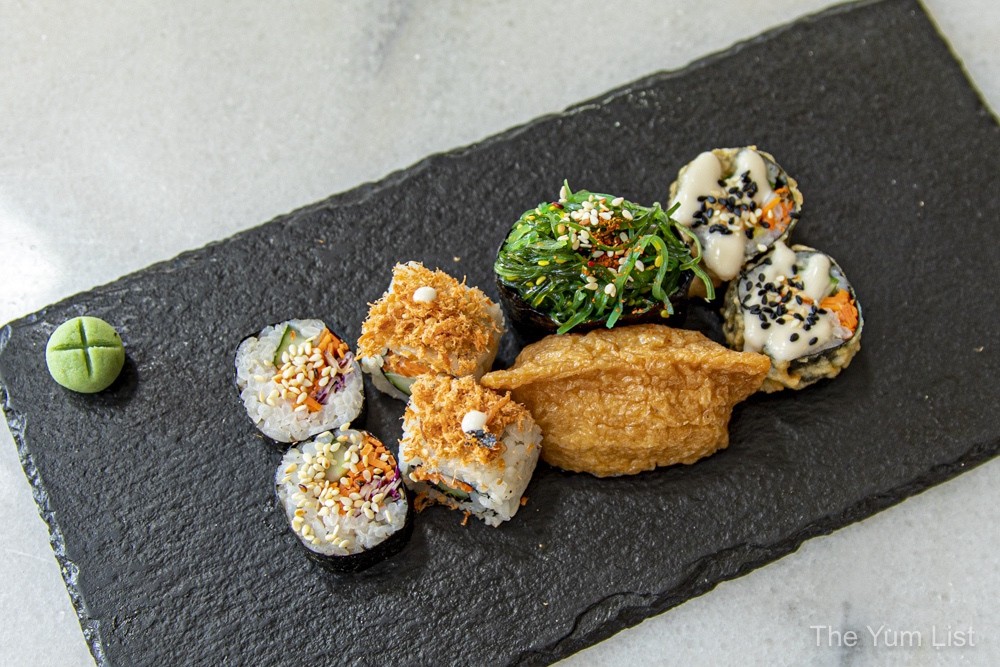 Possibly the prettiest dish on the menu, Mango Sushi (RM 18, 6 pieces) is a vibrant array of rolls with a canary-yellow fruit top. Drizzled with mayo and sprinkled with black sesame seeds, they are delicious bites with a balance of sweet and savoury.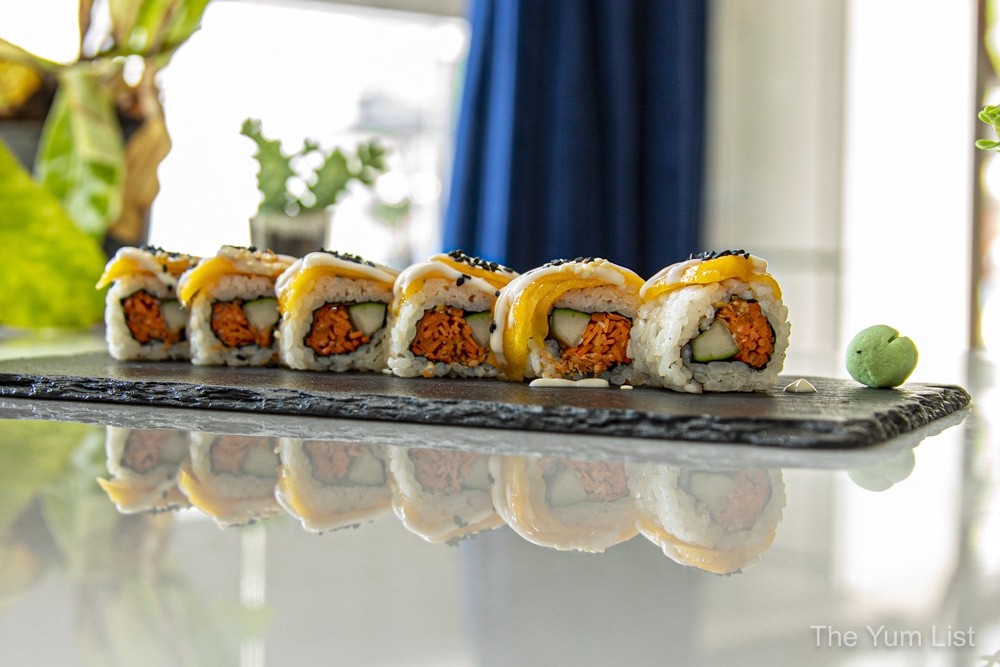 Tempeh
Highly recommended by the restaurant team is the SUPE Tempeh (RM 12). House-made, it's coated in a crispy batter and served with Japanese cucumber and vegan mayo. They're best eaten with a squeeze of lime and a quick dip in the light mayo.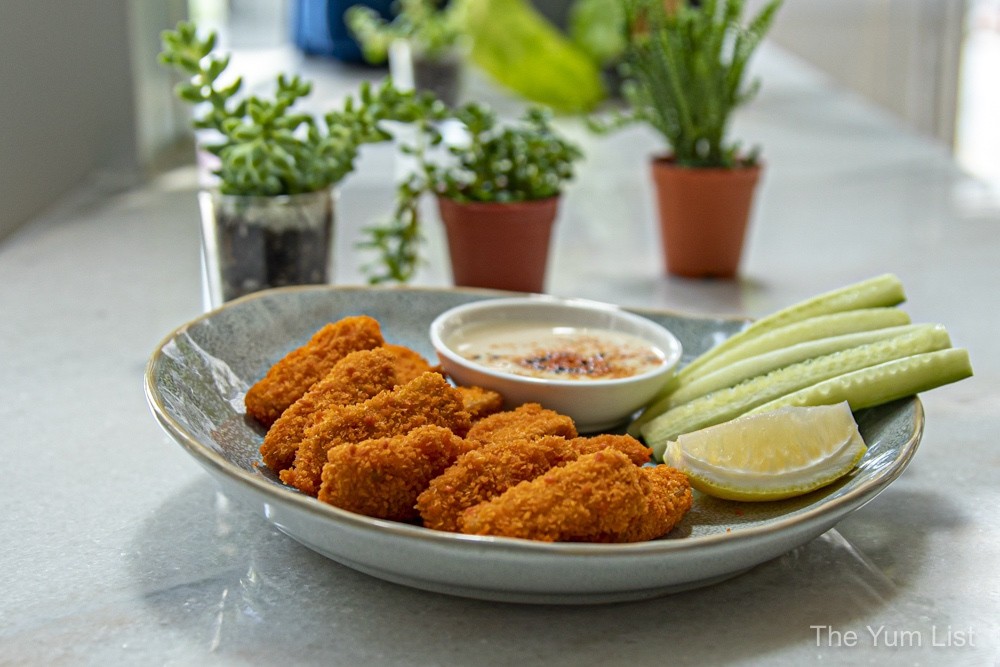 Soup
One of our favourite dishes at SUPE Japanese Vegan Restaurant in Bukit Bintang is the SUPE Ramen (RM 17). It is quite possibly the best veggie-based ramen I've had. I think the secret is in the full-flavoured broth of fresh lemongrass, turmeric, curry leaves, red hot chilli, dried chilli and big red chilli. The soup is plump with springy ramen noodles, seaweed, broccoli, kun-bu, silken tofu, crunchy white cabbage and chewy fungus. Toasted sesame and organic ground flaxseed add both nuttiness and a nutritious boost. You can order the soup in levels of heat from zero to six. I highly recommend beginning with zero as it already has a good layer of spice and I fear additional intensity would overpower the complexity of seasonings. Still, apparently, there are customers that test their palates by ordering with increasing levels of heat at each visit.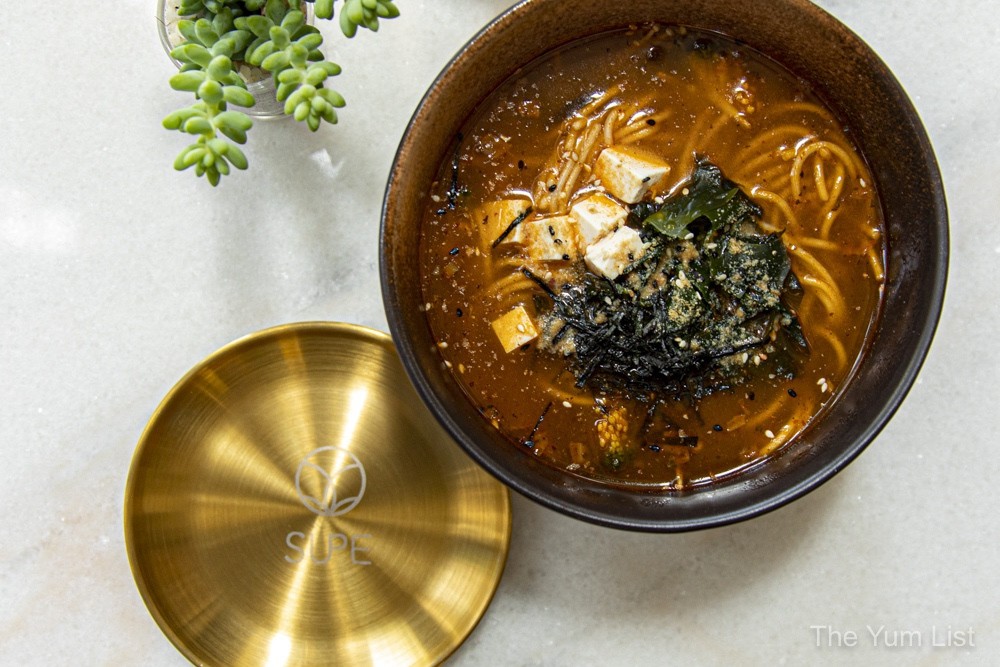 Drinks Menu
Accompanying our meal are pretty glasses of Passion Fruit (RM 8) and Roselle Kefir (RM 8). Fermented in-house and served in martini glasses over ice balls, the attractive presentation adds to the fine atmosphere.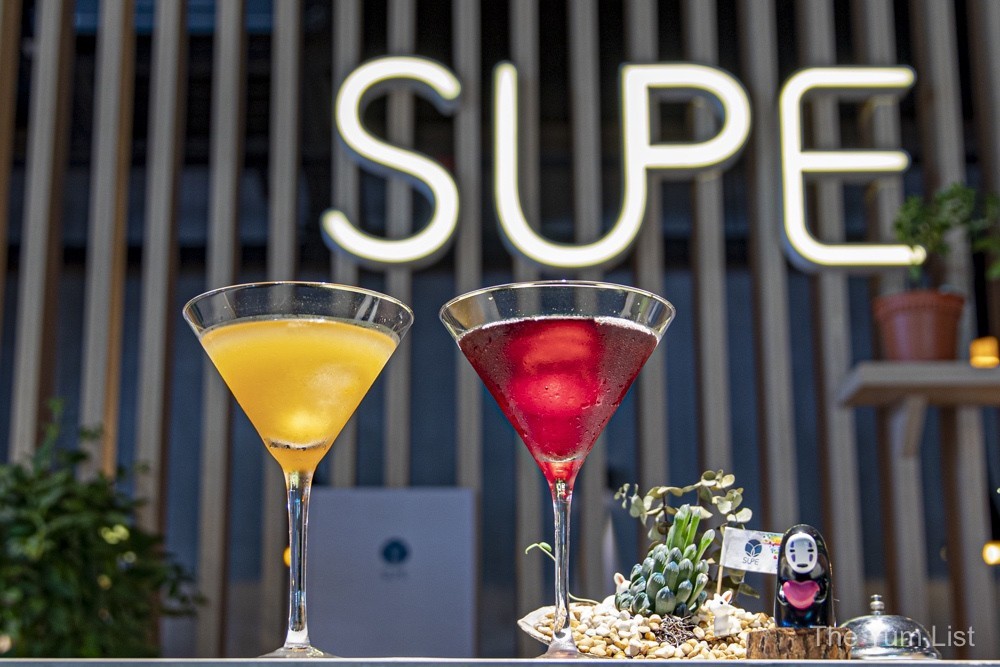 Reasons to visit SUPE Japanese Vegan Restaurant: a stylish and tranquil; setting; excellent plant-based menu; friendly service; very reasonably priced; must order the Mango Sushi, SUPE Ramen, and the Passion Fruit Kefir.
SUPE Japanese Vegan Restaurant
Unit G2, Wisma Noble Land
2 Lrg Changkat Ceylon, Bukit Bintang, 50200 KL
+6011-5758 8479 (WhatsApp to arrange delivery)
+603-2859 2462
SUPE Japanese Vegan Restaurant
Closed Tuesday
Lunch: 11 am-3 pm
Dinner: 5 pm-10 pm
More vegetarian and vegan restaurants in KL here and stay up-to-date with the latest gourmet and travel recommendations for Malaysia here and here.