La Cucina by Spetta, Italian Restaurant Segambut
Words: Kitty Noble Photos: Rich Callahan
La Cucina is an Italian-ish neighbourhood café-restaurant run day to day by a dynamic couple, Angie and Neil Frediani (affectionately known as Freddie), and their partner Joseph. The restaurant itself sports simple chairs and tables, an eye-catching mural and melodic background music.
In July of last year, they took the bold move to relocate their venue from the ever-popular Bangsar to its current incarnation at a neighbourhood spot in Segumbut. Whilst it's a bit out of the way, former customers who already know the food and vibe have happily travelled for the new locale.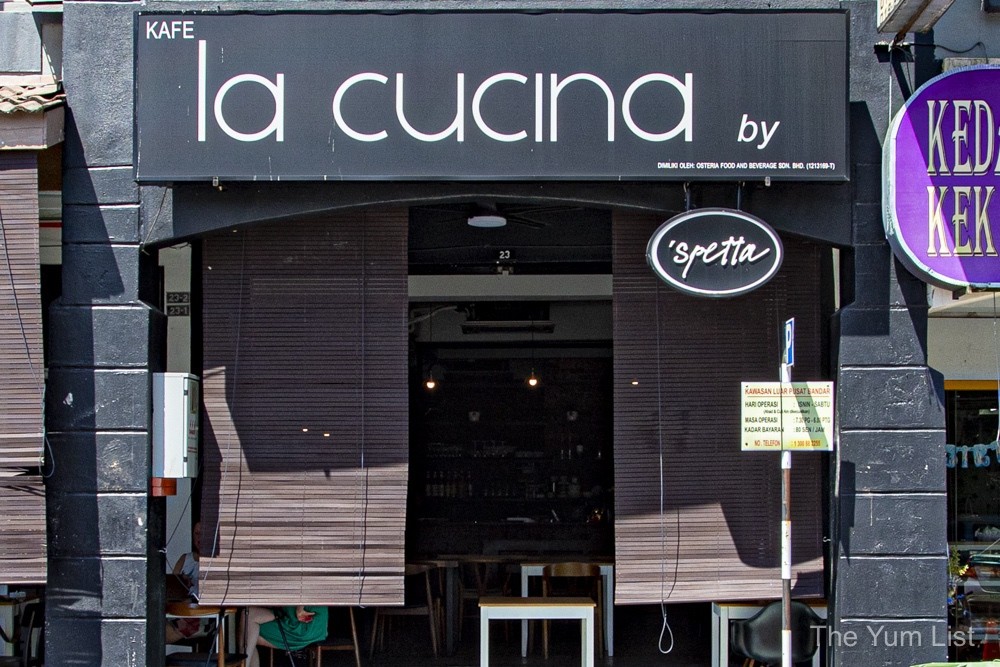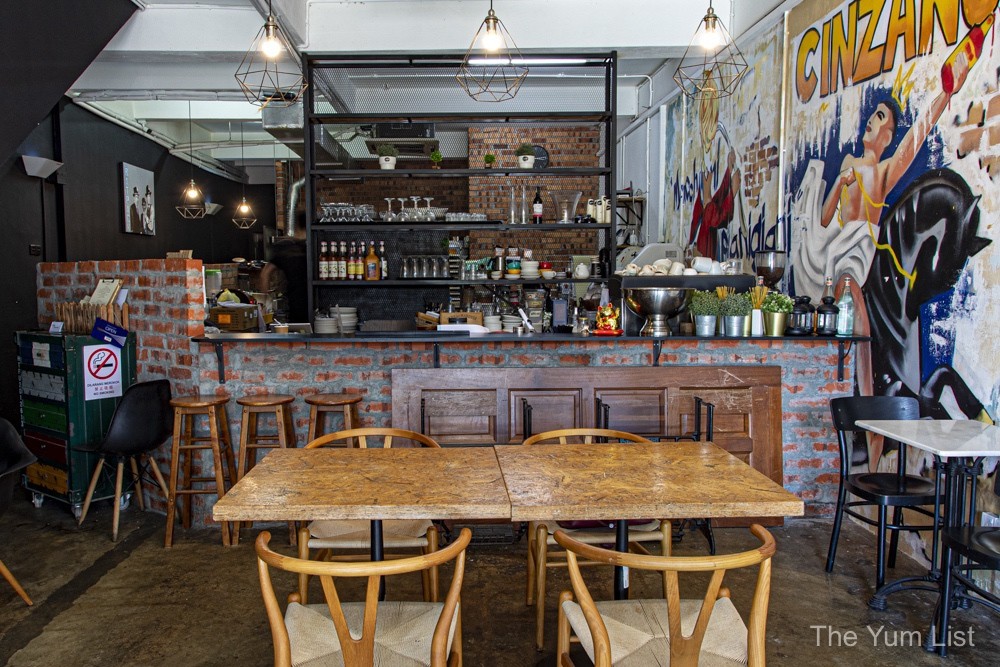 Angie, who runs the front of house part, hails from a background in retail. Her expertise is clear with her easy manner with the customers, many of whom have, as mentioned, followed the relocation. Her two children, Xander and Tash, join her in serving and are very much part of the family business. The apple hasn't fallen too far from the tree as both young adults have an easy charm and unfailing politeness, much like Angie and Freddie.
Freddie started life as a pot wash and trainee chef. He was in the kitchen with his Italian mother to make salami and pasta from a young age. Meanwhile, his sister had her head under the bonnet of a car with their dad. Don't expect Freddie to fix a clutch, but he can make a mean pasta! His passion for good quality, simple food began back then and continues to be the driving force of his creations.
Italian Restaurant Segambut
The food at La Cucina by Spetta, like most Italian, is cooked from the heart. One customer said they like coming because they serve 'happy food.' And that pretty much sums up this eatery patronised by both expats and locals alike.
The food itself isn't formally of one particular cuisine. Still, it has a general European feel, leaning towards Italian, British, Greek and French. Everything is made from scratch with no preservatives. Options for gluten-free food and veggie food can be arranged with notice. Freddie, like any good chef, is concerned with the provenance of his fresh ingredients. Some meat is sourced locally, and veggies come from Cameron Highlands. Fancier ingredients may be sourced from distributors, but fresh and local is the goal.
The feel of the establishment is that of friendly, casual dining – feel free to turn up in your shorts. This place is also dog-friendly and offers a discount on food to members of the Hash House Harriers (mention you are a hasher, with some evidence to demonstrate). To give it even more of a community feel, they are introducing events as they are able, in line with SOPs, of course. This Saturday, March 6th, at 8:30 pm, they're having their second pub quiz. Watch this space for brunches and other plans!
Starters
So to the food! If something says 'signature' on any menu, it is, of course, a must-try. Signature Scotch Duck Egg (RM26) is a huge, hard-boiled egg surrounded with herbaceous pork mince and coated in a crispy shell. It's served with sharp French mustard. Being a British favourite (the clue is in the name…), Scotch egg has a lot to live up to. It works nicely as a shared starter, or would, in fact, do me for a main. Given it is fried food, it somehow manages to be light and certainly delicious.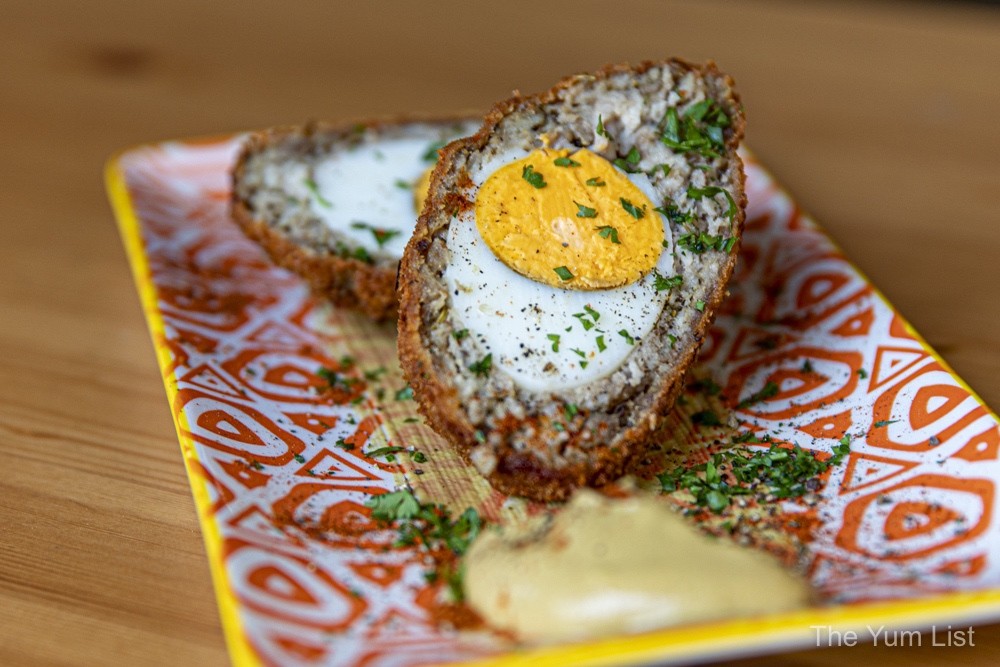 Spinach & Mushroom Souffle (RM 34) is bravely turned out on the plate with a topping of tarragon sauce. The eggy concoction is extremely rich and another good sharing dish. It is so laced with cheese and spinach that it sits somewhere between souffle and a pastryless flan. The flavours work well together with the tarragon elevating the carb-free dish.
Mussels Frediani (RM 26) is a super popular dish with half an ocean of mussels and a Thai inspired sauce. Ginger, tomato, chilli, onions, garlic, coconut, white wine and parsley combine to make a slurpable broth. This is served either in a starter portion, or you can opt for a main. Either way, it comes served with home-baked bread with a drizzle of balsamic. The mussels are fresh and plump, with the sauce absolutely reminding me of my beloved Thailand.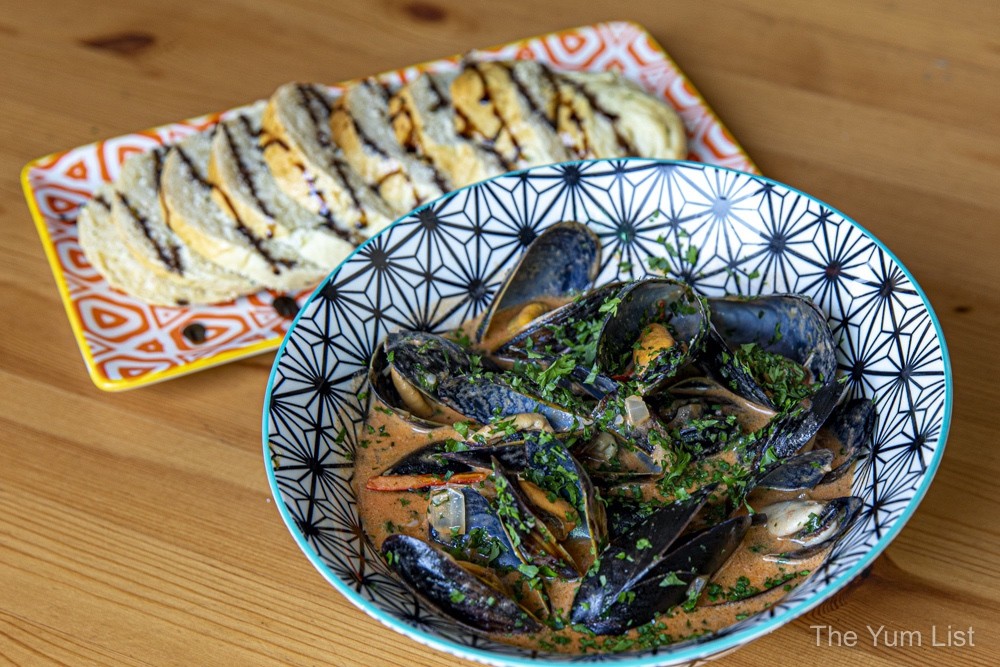 La Cucina by Spetta Mains
Sticking with the sea theme, we try the Barramundi with Bean Cassoulet (RM59), which comes with a lovely char on the fish's skin. The cassoulet is a blend of tomatoes, onions, and mixed beans and a cheeky addition of smoked streaky bacon. The cassoulet could be a meal in itself but marries beautifully with the fish's white, chunky, opaque flesh. Homemade pesto adds a zestiness to lift the plate.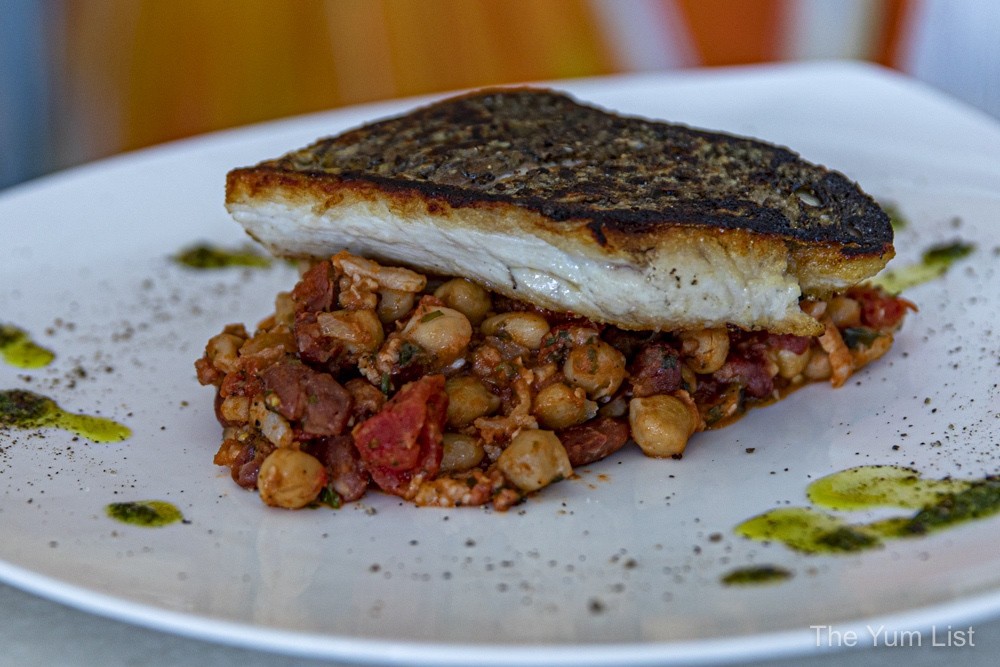 As the plate is so pretty, Angie is keen for us to try the Crispy Skin Seabass with Carrot and Ginger Puree (RM 59). It's well balanced with wafer-thin zucchini and roasted mushrooms. She wasn't wrong! As described, the skin is crisp, and the carrot and ginger puree is superbly light. It is full of delicate flavours that blend well together. As expected, the fish is very fresh, indeed and brilliantly cooked. I kicked myself for not asking how he manages to get the skin just so without annihilating the fish!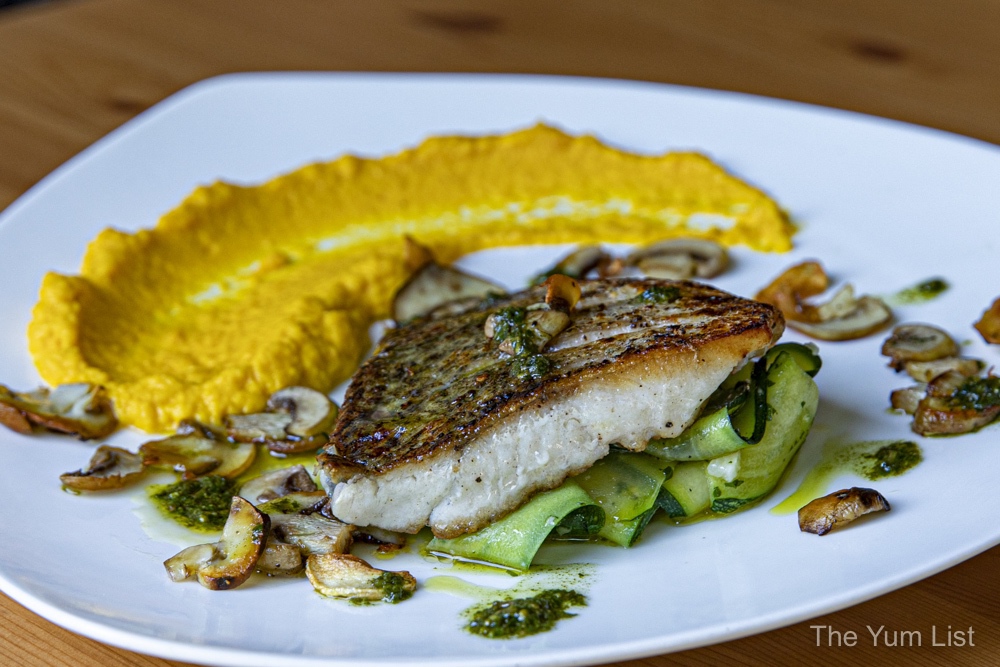 Moving to the land, we try the Pork Schnitzel with Spaghetti Pomodoro (RM 45), already a favourite of my husband. A finely bashed out piece of pork covered with a crispy coating is ostentatiously topped with cheese and herbs. Although the spaghetti is served as the meat's side, I would be happy with this as a meal in itself. There are bright, sharp notes from the homemade pesto peeking through the rich tomato sauce.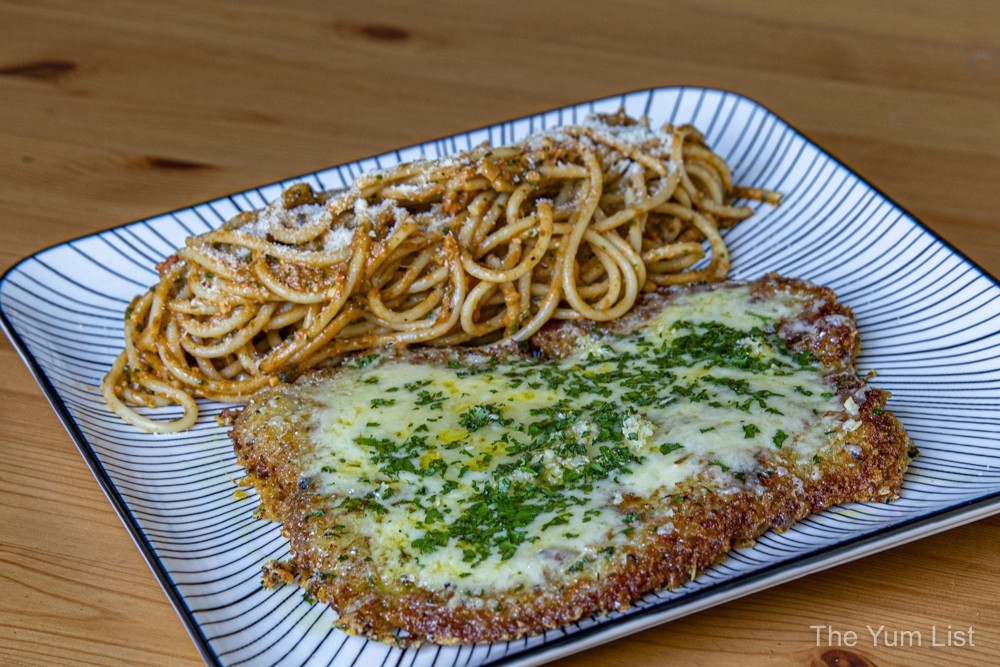 La Cucina by Spetta Desserts
For a sweet treat, we had Angie's Lemon Drizzle Cake (RM 24). It is light as a feather, and super lemony served with cream to add some extra calories! This is my kind of sweet!
It wouldn't be a true Italian chef's meal without concluding with Tiramisu (RM 26), my good old Dad's yardstick for judging any Italian restaurant. With the traditional sponge, Freddie blends coffee and rum to create a lighter, less sickly dish rather than using Kahlua. It's covered with mascarpone and a sprinkling of cocoa. I'm certain Dad would declare this a brilliant restaurant based on the dessert alone!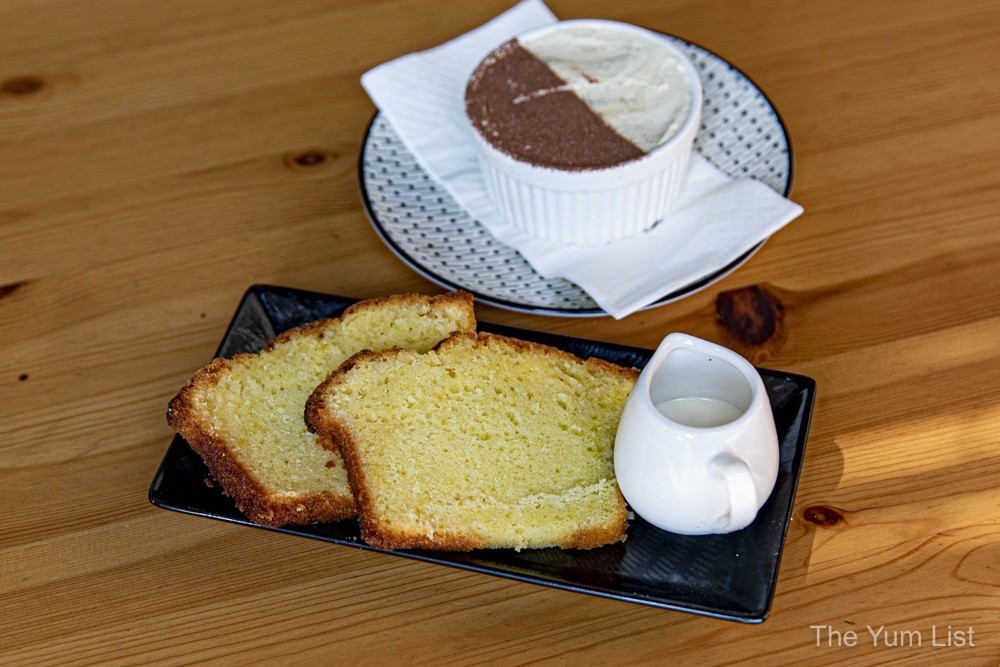 La Cucina by Spetta holds up to 32 covers with social distancing and has both tables inside, with a view into the open kitchen, or on the walkway outside. It is a lovely, destination neighbourhood restaurant with an evolving, seasonal menu. I can also heartily recommend the Sunday roasts, which are always quick to sell out (we've been back a few times!).
Reasons to visit La Cucina by Spetta: good, hearty food, made from scratch with local fresh ingredients; happy food; super relaxed chill-out atmosphere; beautiful family unit; dog and Hash House Harrier friendly.
La Cucina by Spetta
23, Jalan 5/38d, Taman Sri Sinar,
51200 Kuala Lumpur, Malaysia
+6 0125666135
La Cucina by Spetta Opening Hours
11 am – 9 pm
Closed Tuesdays
Find more Italian restaurants in KL here and stay up-to-date on the latest happenings in KL's food and beverage scene here and here.