Pavilion Hotel Kuala Lumpur
Monica Tindall
You may remember a while back, I posted about escaping the horrendous noise pollution enveloping our condo with a stay at Banyan Tree Kuala Lumpur. Turns out two days was not near enough with ongoing daytime construction augmented by continued midnight jackhammering of the sidewalk. Banyan Tree KL was a superb choice of stay but not something that one can afford for an extended period. Fortunately, Pavilion Hotel Kuala Lumpur (also managed by Banyan Tree) offered a similar Stay & Dine-in Package but at half the price!
However, the day I wrote this, further lockdowns were announced so the previous Stay & Dine package has been replaced with the MyVaccine Rewards Offer now that things are opening up once again. This deal sees rooms priced from RM360nett per night inclusive of breakfast for two for fully vaccinated individuals. If dining in the outlets that are open at Pavilion Hotel, you'll get 25% off the food bill, and all purchases at the retail shop will also benefit from a 25% discount.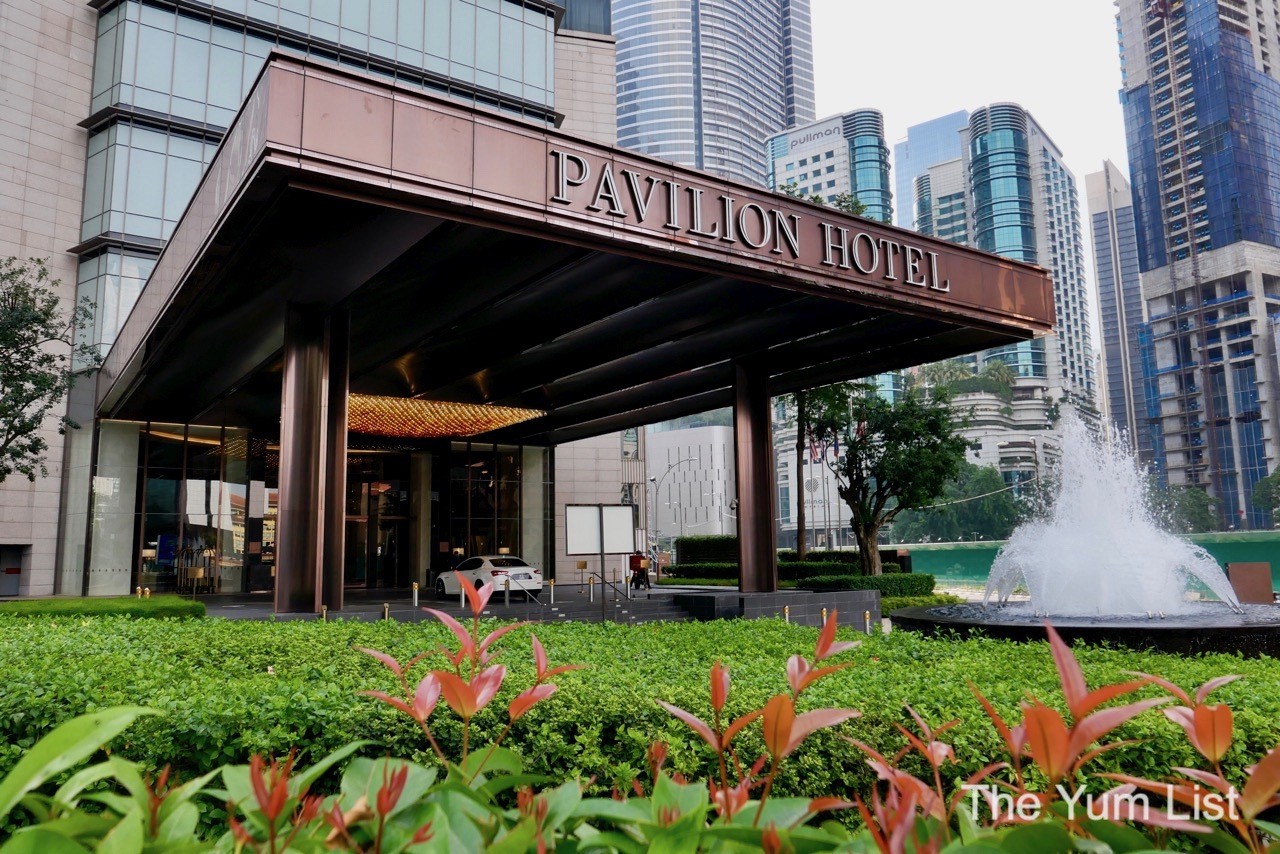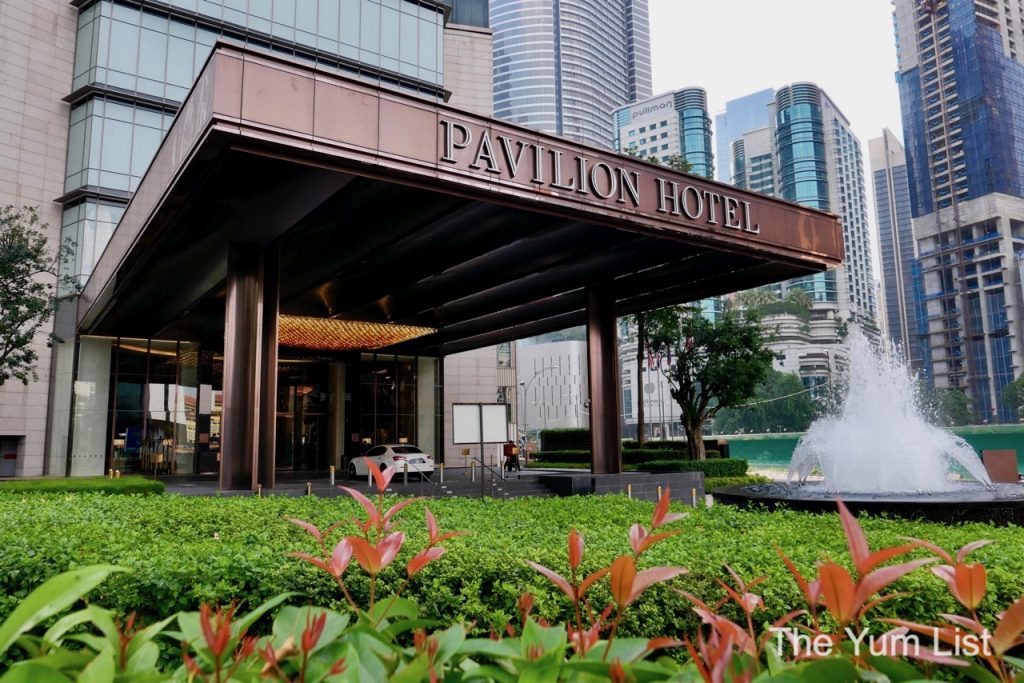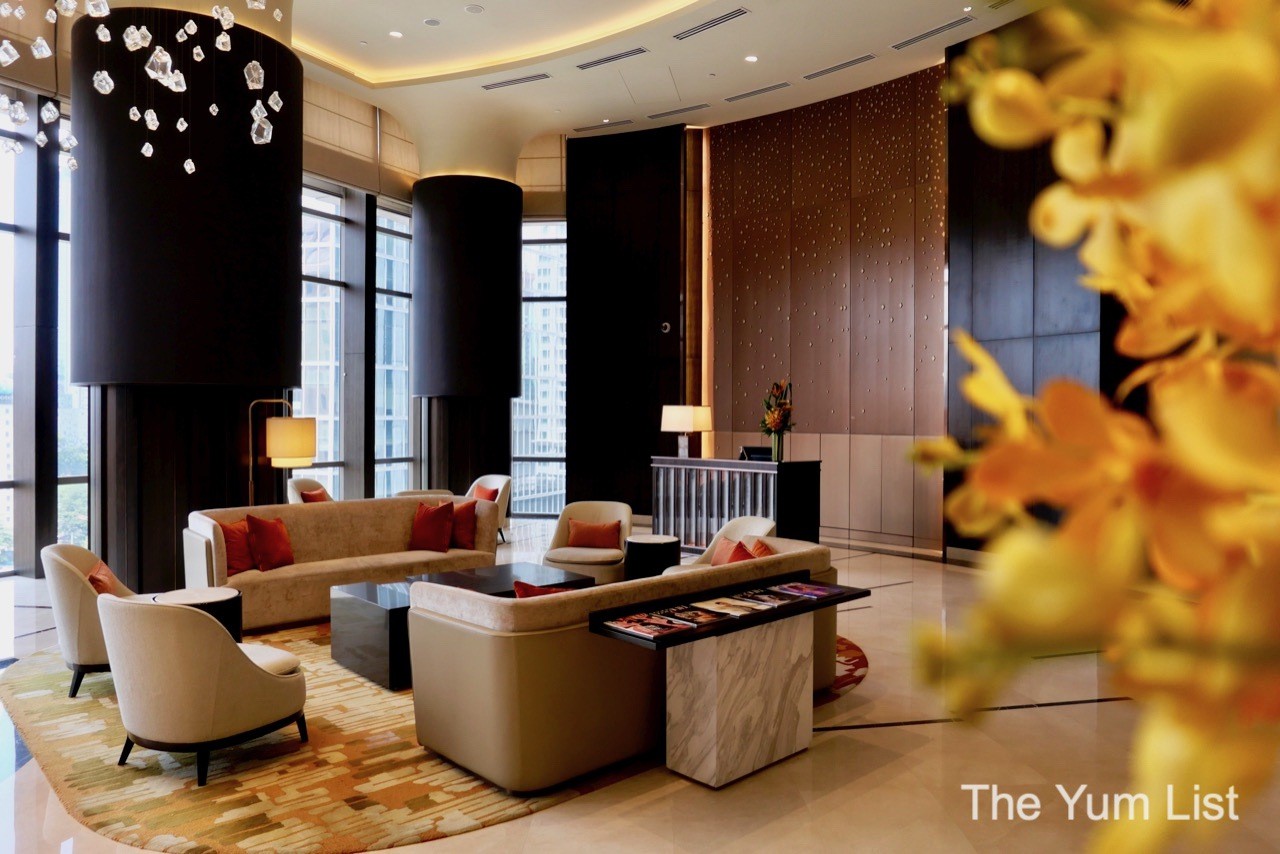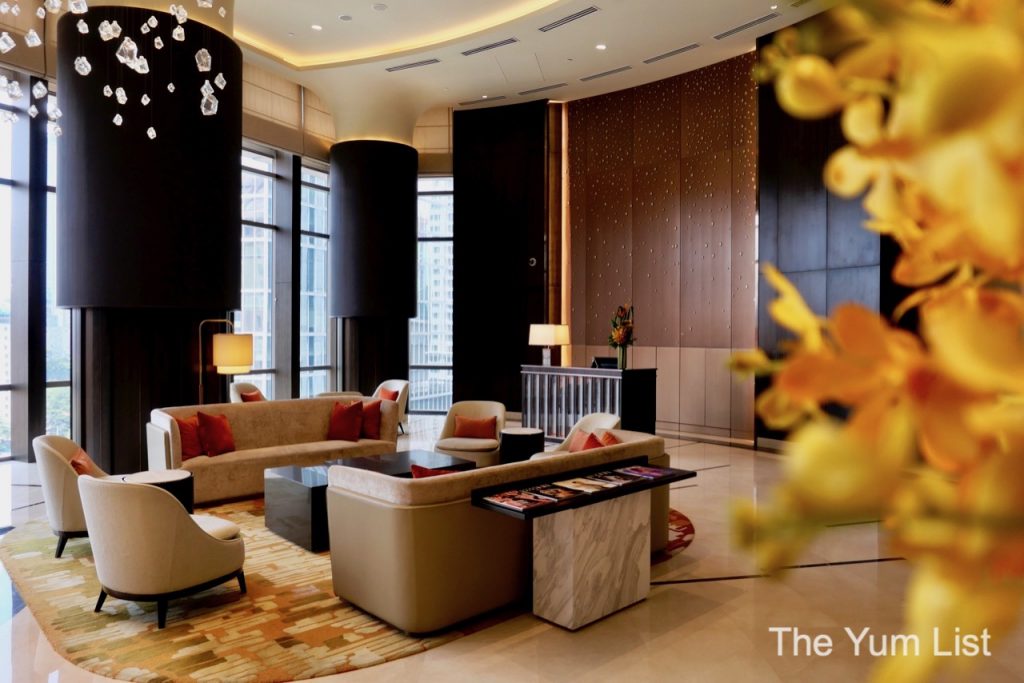 Stay
Pavilion Hotel Kuala Lumpur – Rooms
The most popular room is the Urban Studio (64-72 sqm), with good reason! It's a contemporary, generously sized space filled with natural light and vibrant art pieces. The showstopper is a free-standing tub bordered in by corner glass walls looking out over the city. I imagine some long, luxurious soaks high on the agenda.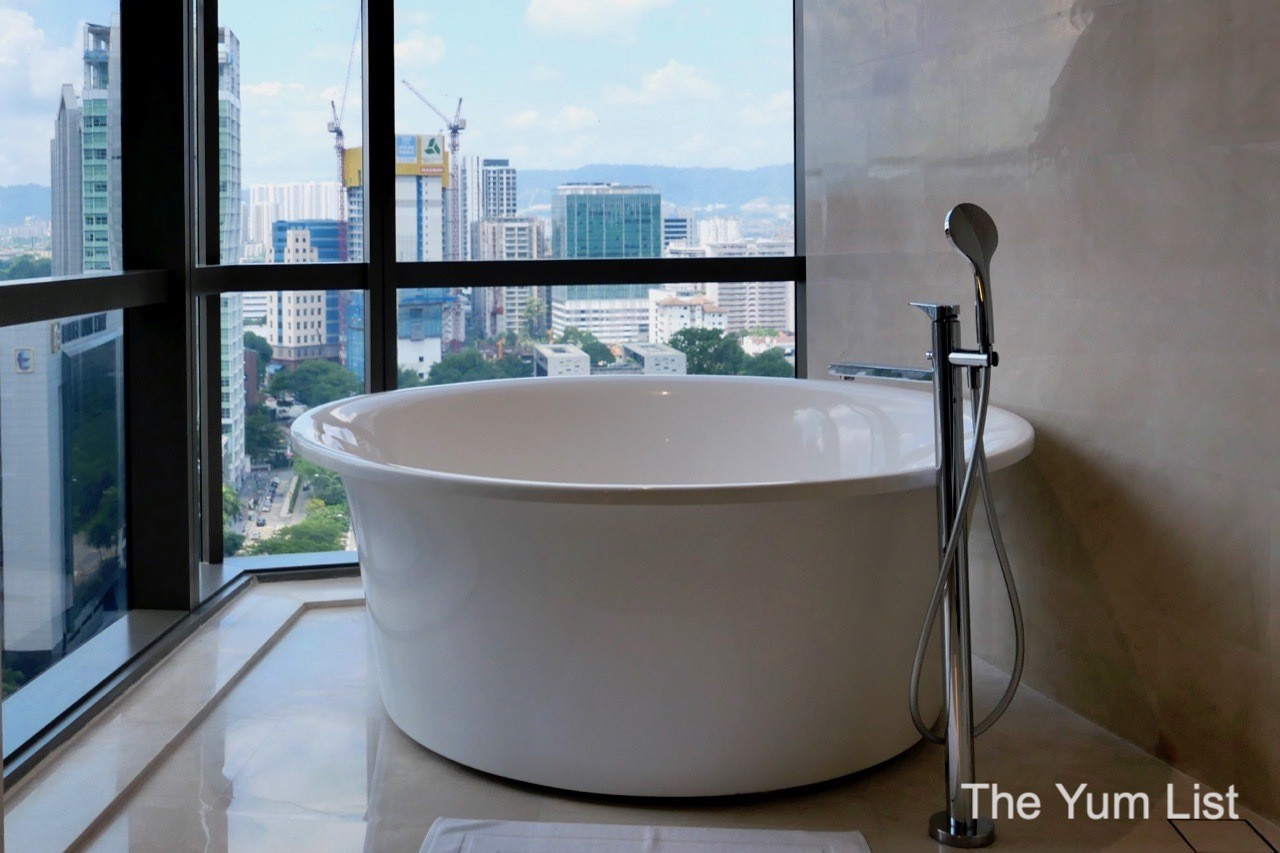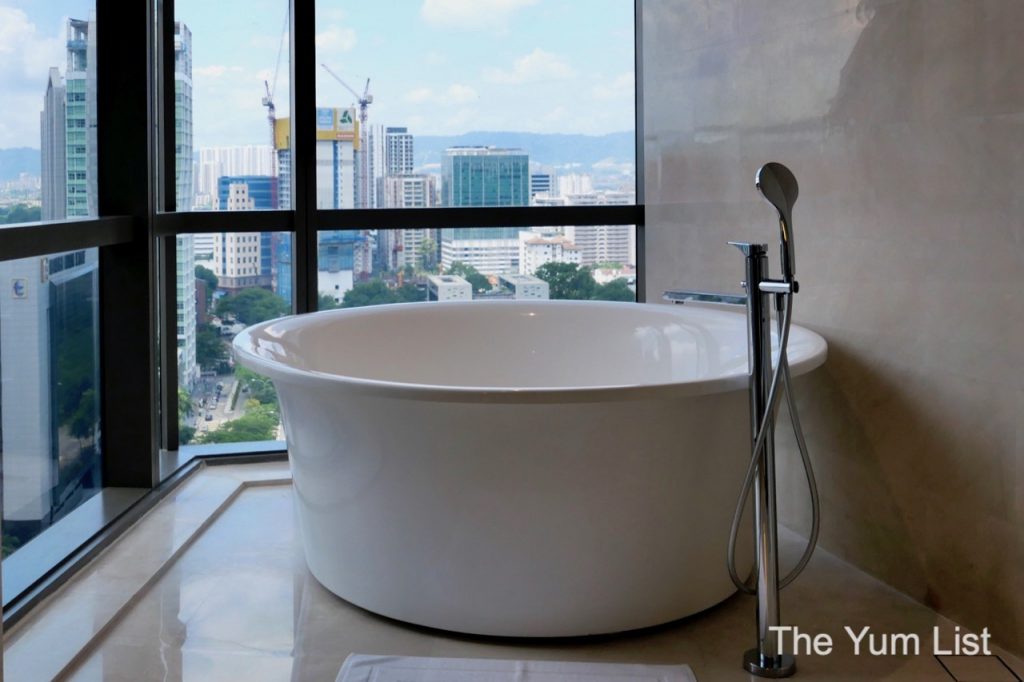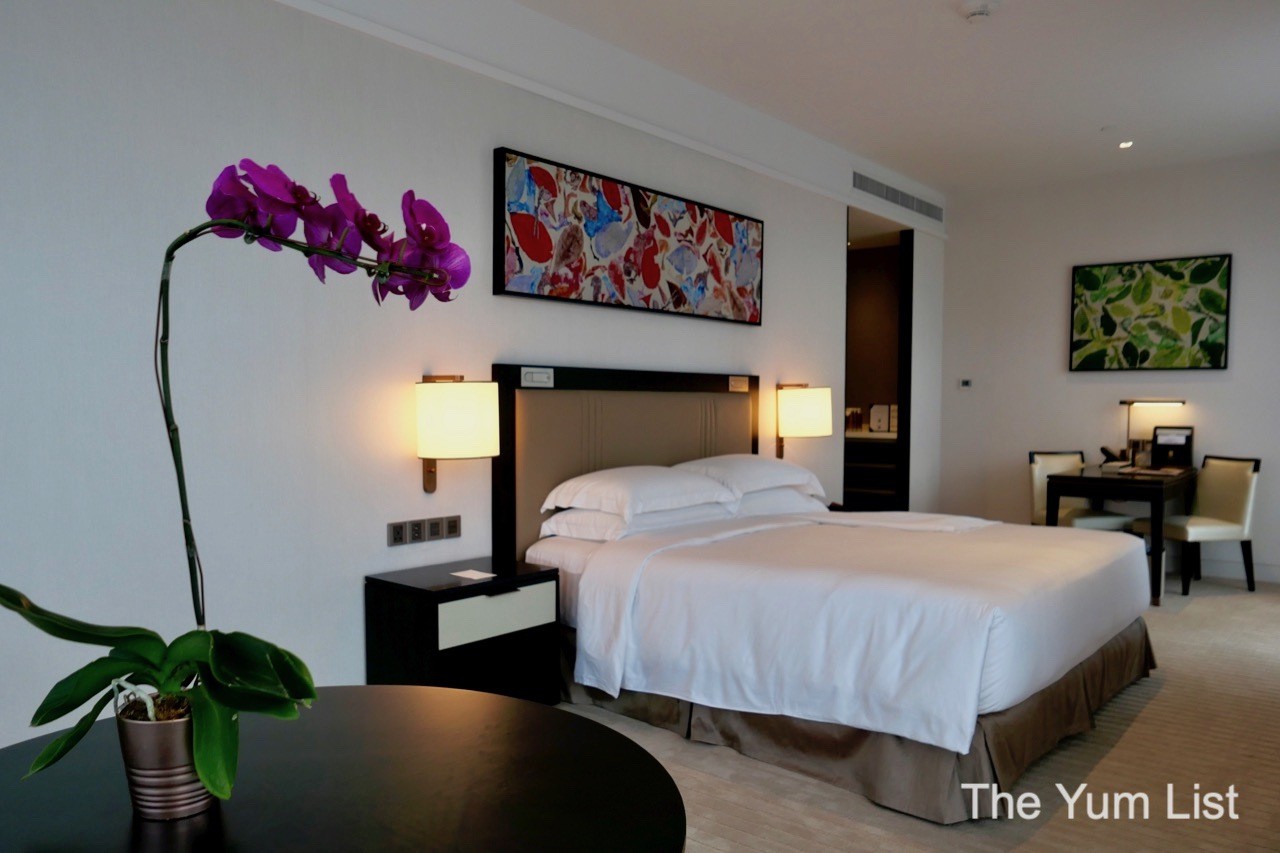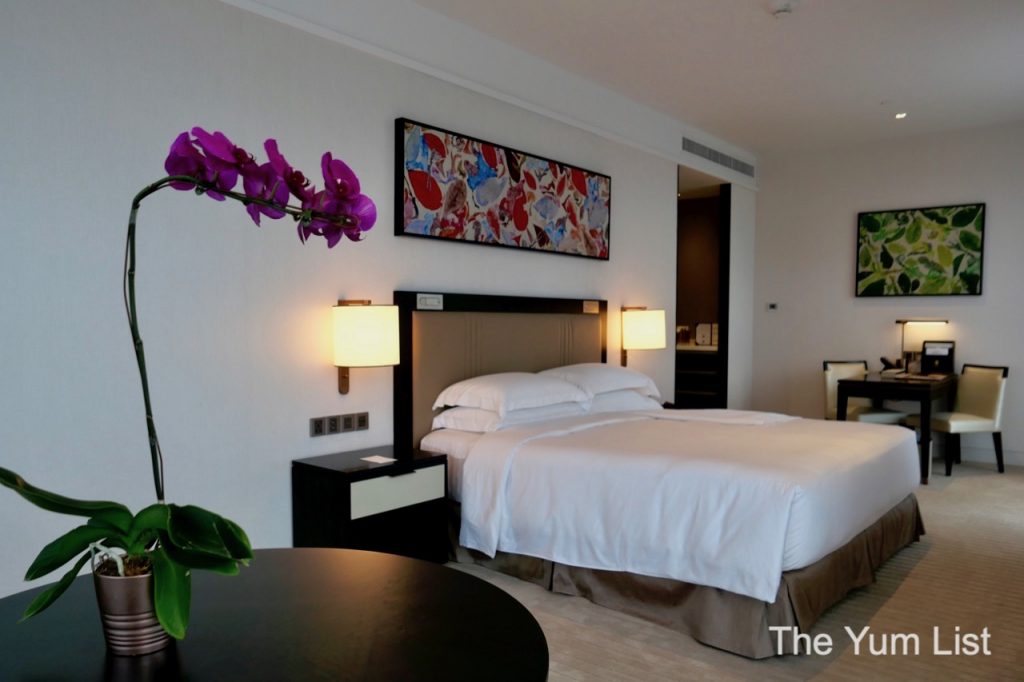 While that tub sure looks enticing, our sleeping patterns vary considerably. I am an early-to-bed-early-to-rise kind of gal, whereas hubby will never be a member of the 5 am club. Given lack-of-sleep temperaments, we instead book the Urban Suite, which offers separate sleeping and living areas. The bedroom contains the full bathroom (including a bathtub, but not a view). The lounge/ dining area also has a guest facility. Separated by a thick, wooden door, light and sound are blocked, making the chances of disturbance far less likely during late night or early morning activity.
Our Urban Suite looks straight down and along Jalan Bukit Bintang through large picture windows. It's a bit of a surreal experience witnessing the street so quiet. Usually one of the city's most bustling thoroughfares, today there is not a soul or car to be seen.
Blackout and sheer curtains allow us to adjust for light and privacy as desired, and double-glazed windows ensure peace and quiet. With a lounge, recliner, dining table, desk, king-sized bed, and plenty of storage space, even stays for more extended periods would be very comfortable here.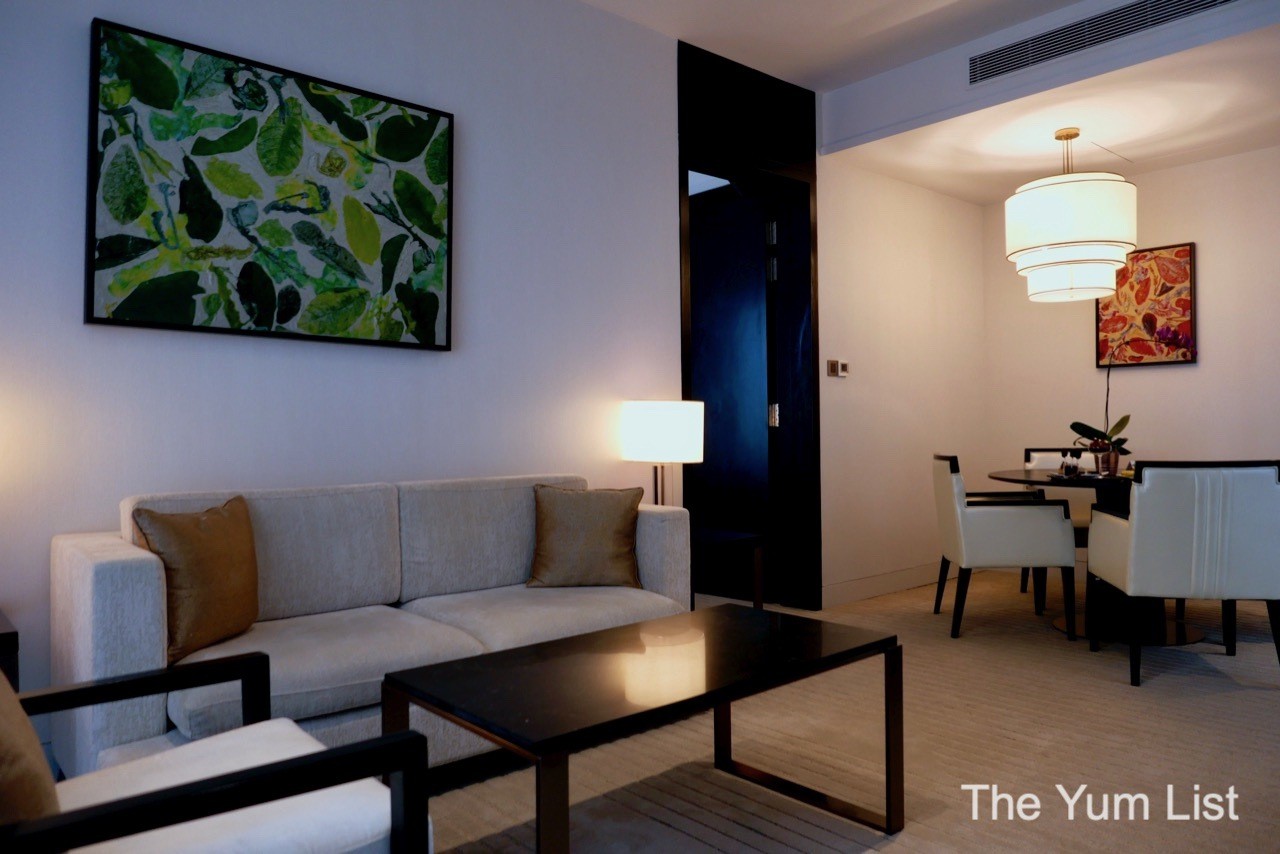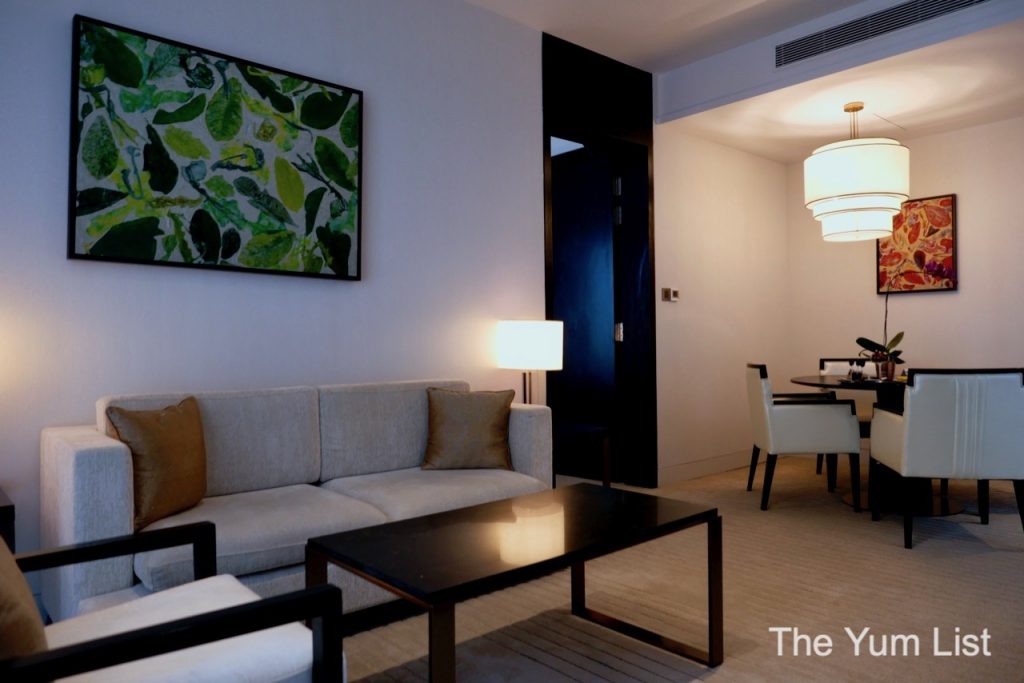 Both the Urban Studio and Urban Suite come with privileges, including access to the Club Lounge.
Club Lounge
A small detail such as forced closure will not stop the Club Lounge team at Pavilion Hotel Kuala Lumpur from making member's experiences a little extra special. Can't go to the Club Lounge? They'll bring it to you! We receive a call mid-afternoon asking for drink preferences (wine, cocktail, beer, something else?) and a time for delivery. At 5:30 pm on the dot, staff arrive with a trolley, not only wheeling in our wine (a lovely French Chablis) but also sandwiches, sweets and a tiffin carrier of local goodies. In all honesty, if you've had a decently sized lunch, this might well do you for dinner.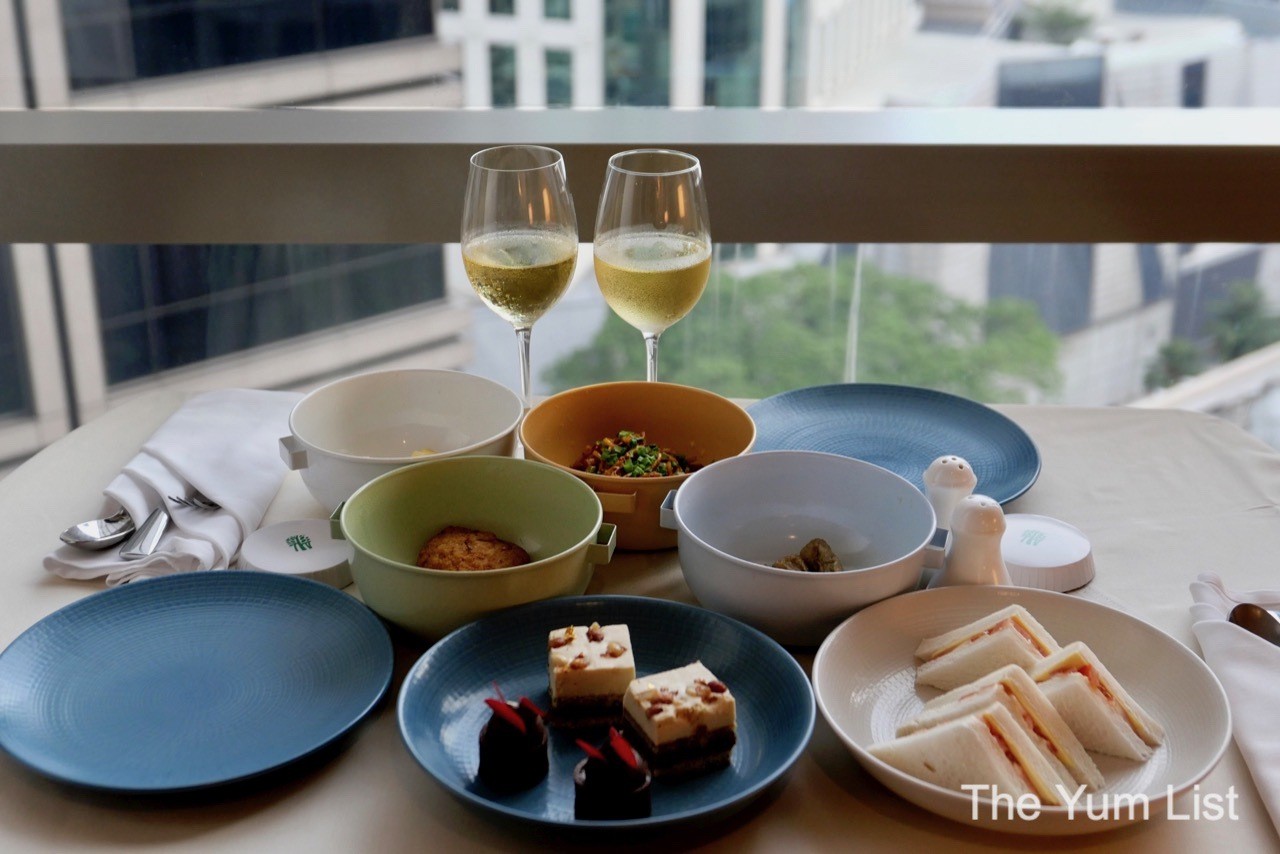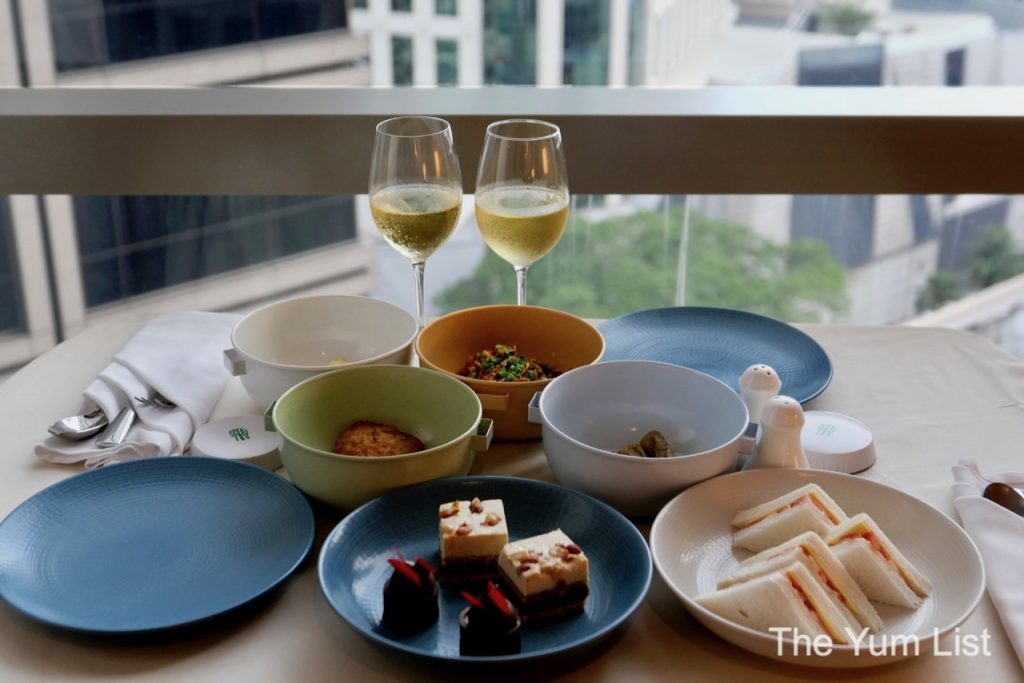 Do save space, though, or arrange dinner for a little later, as Pavilion Hotel Kuala Lumpur's Chinese restaurant, Jade Pavilion, has much to offer.
Pavilion Hotel Kuala Lumpur's MyVaccine Rewards Offer
Jade Pavilion
The dinner for two from Jade Pavilion is a feast that could easily serve four people. Fortunately, I always carry reusable containers, so we keep leftovers in the fridge and enjoy them the following evening for dinner.
As starters, the Golden Fried Silver Whitebait Fish makes me yearn for an icy cold beer. These are perfect bar snacks. Lightly fried until crisp and golden, they're tossed with spices, salt and chicken floss. Superbly tasty Chicken and Mushroom Soup take us from the snacks to the mains. The original menu includes a Hot and Sour Soup, but hubby is sensitive to spice, so we have this milder version instead.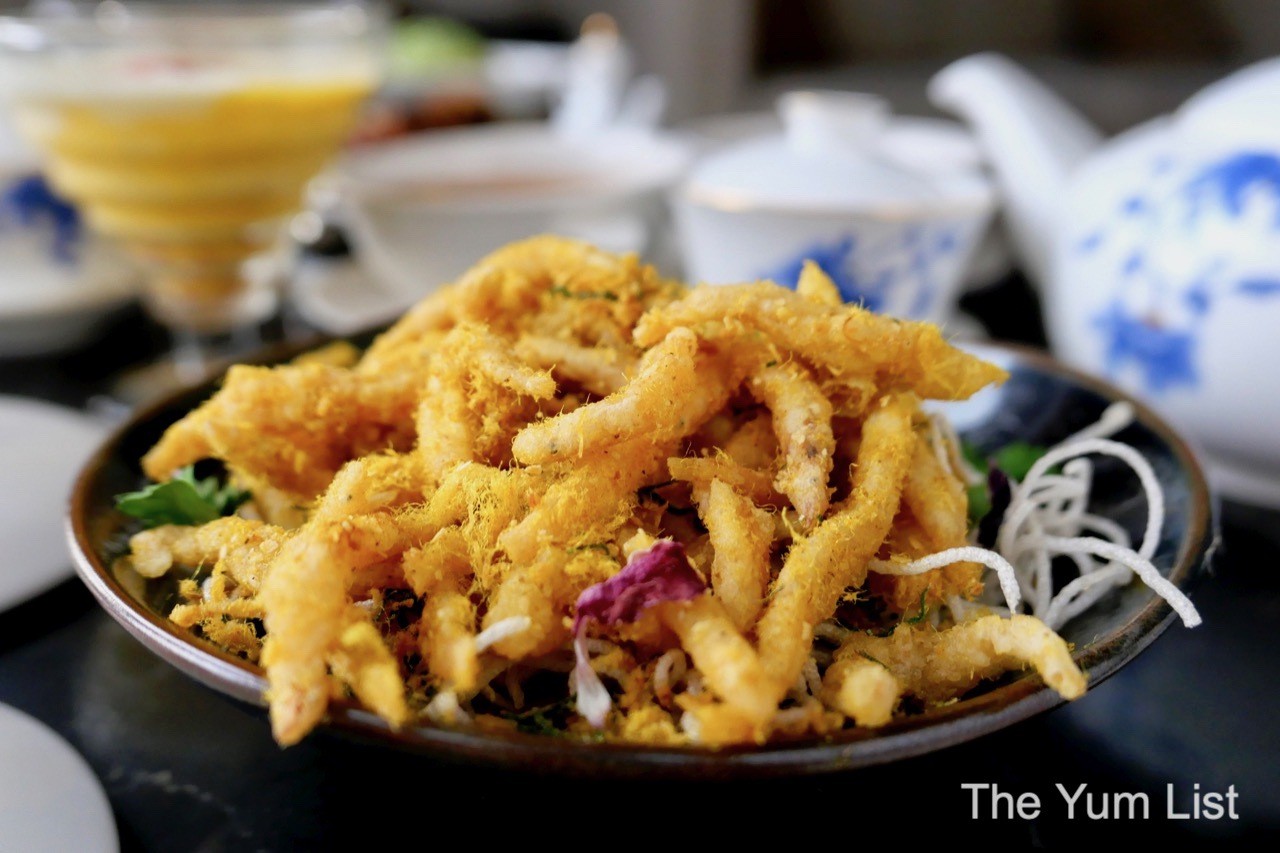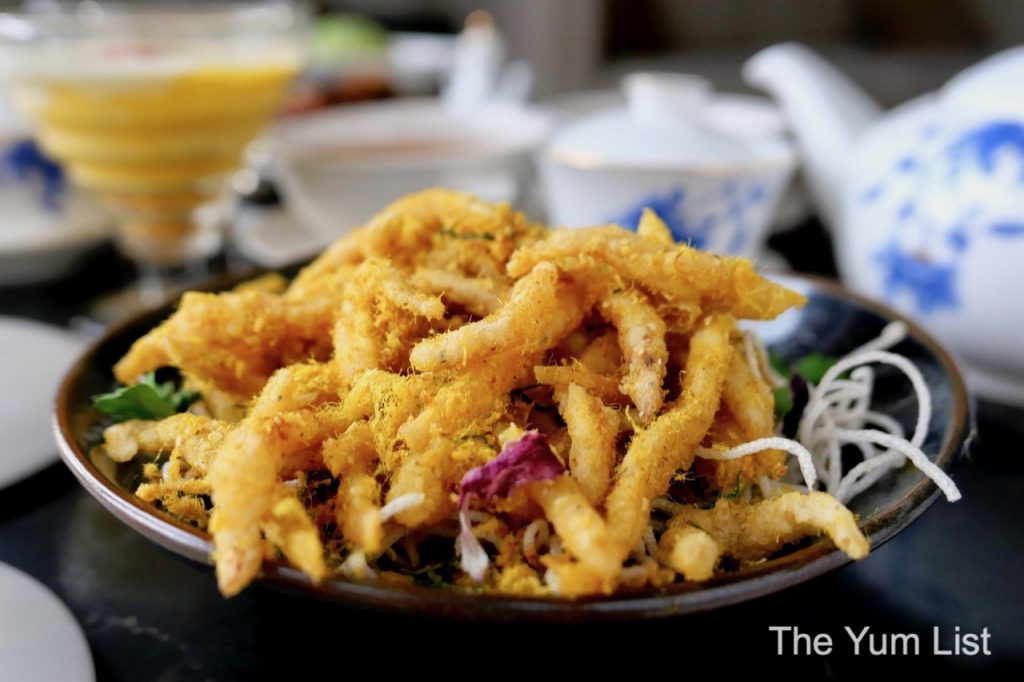 The mains are plentiful and, as mentioned, more than enough for two. Crispy Marinated Village Chicken comes with a whole tumbler of chef's secret recipe sauce. The sauce is delicious, but the poultry can also stand on its own. The Golden-fried Barramundi is topped with young mango strips and pairs perfectly with a spicy plum sauce. Hubby's fave is the Pan-fried Beef Tenderloin with Chinese barbecue sauce. It's such a hit that not even a single piece is left for our takeaway containers. Lastly, Jade Pavilion's Seafood Fried Rice with supreme spicy sauce ensures zero possibility of ending hungry.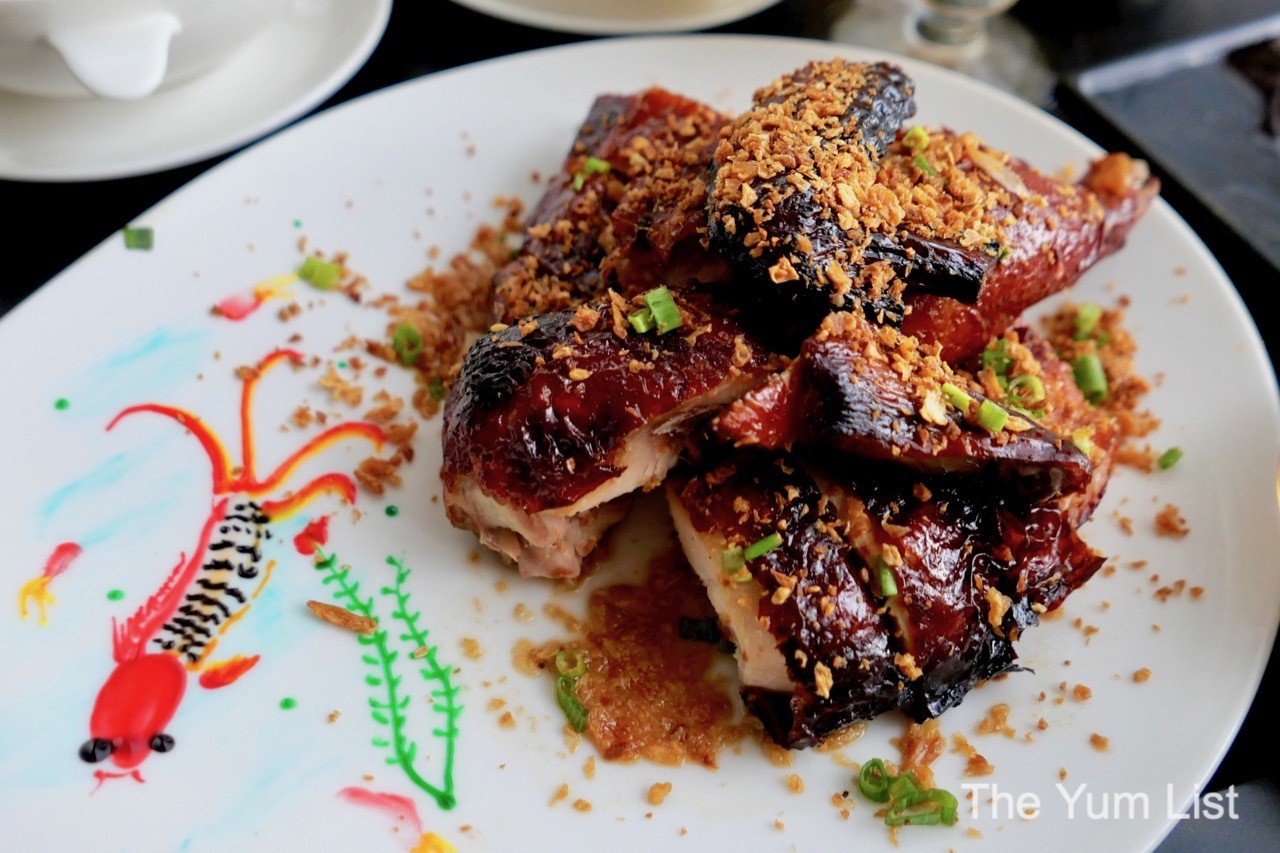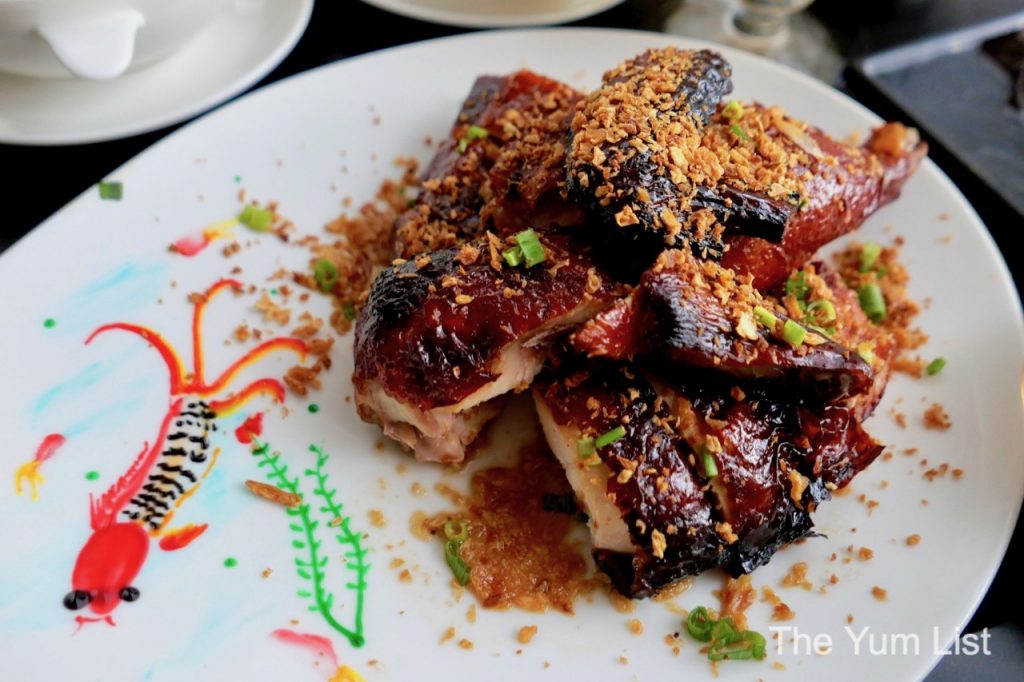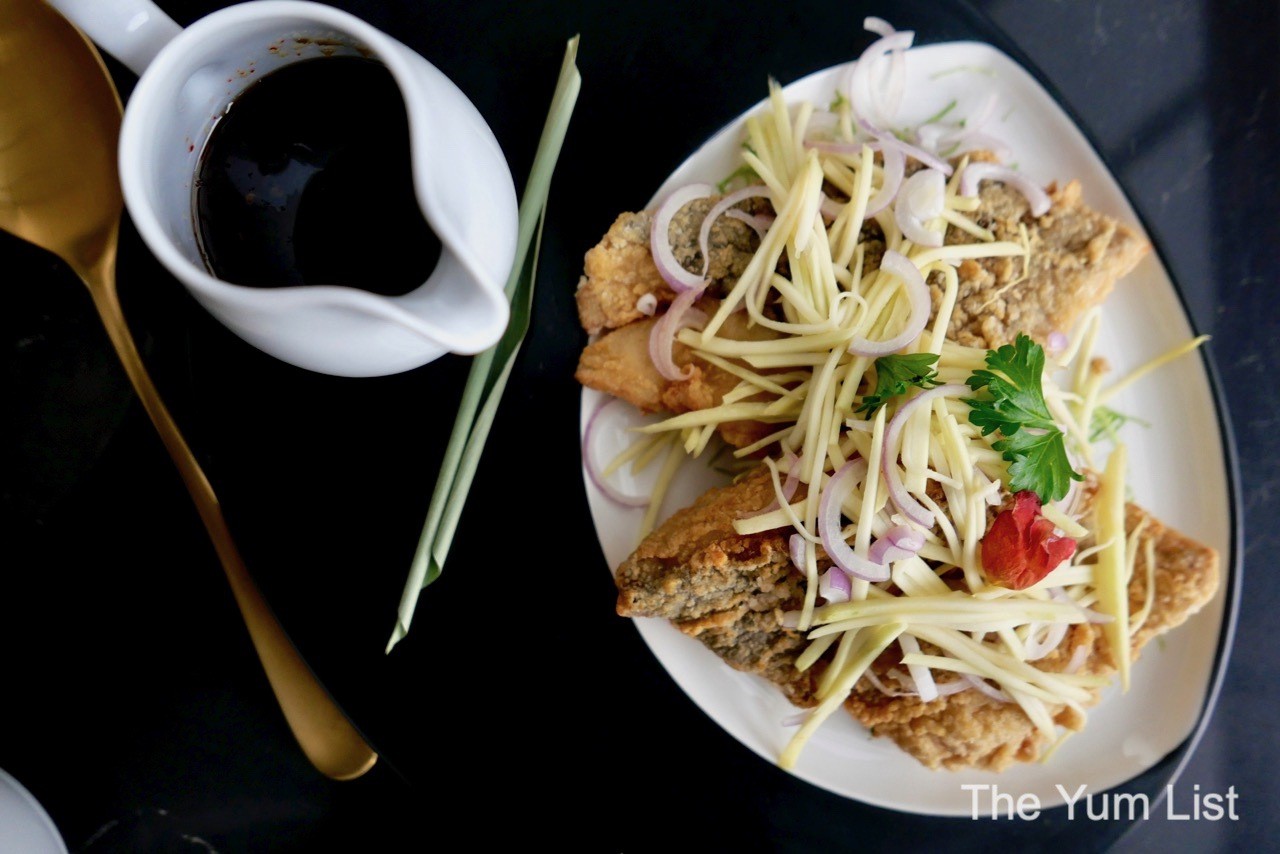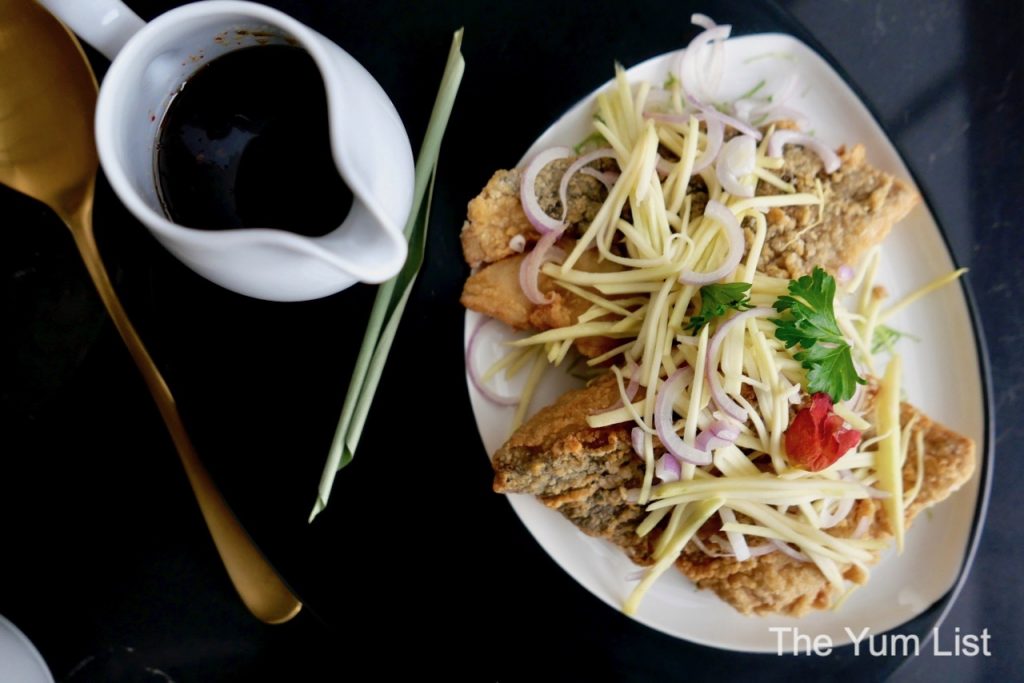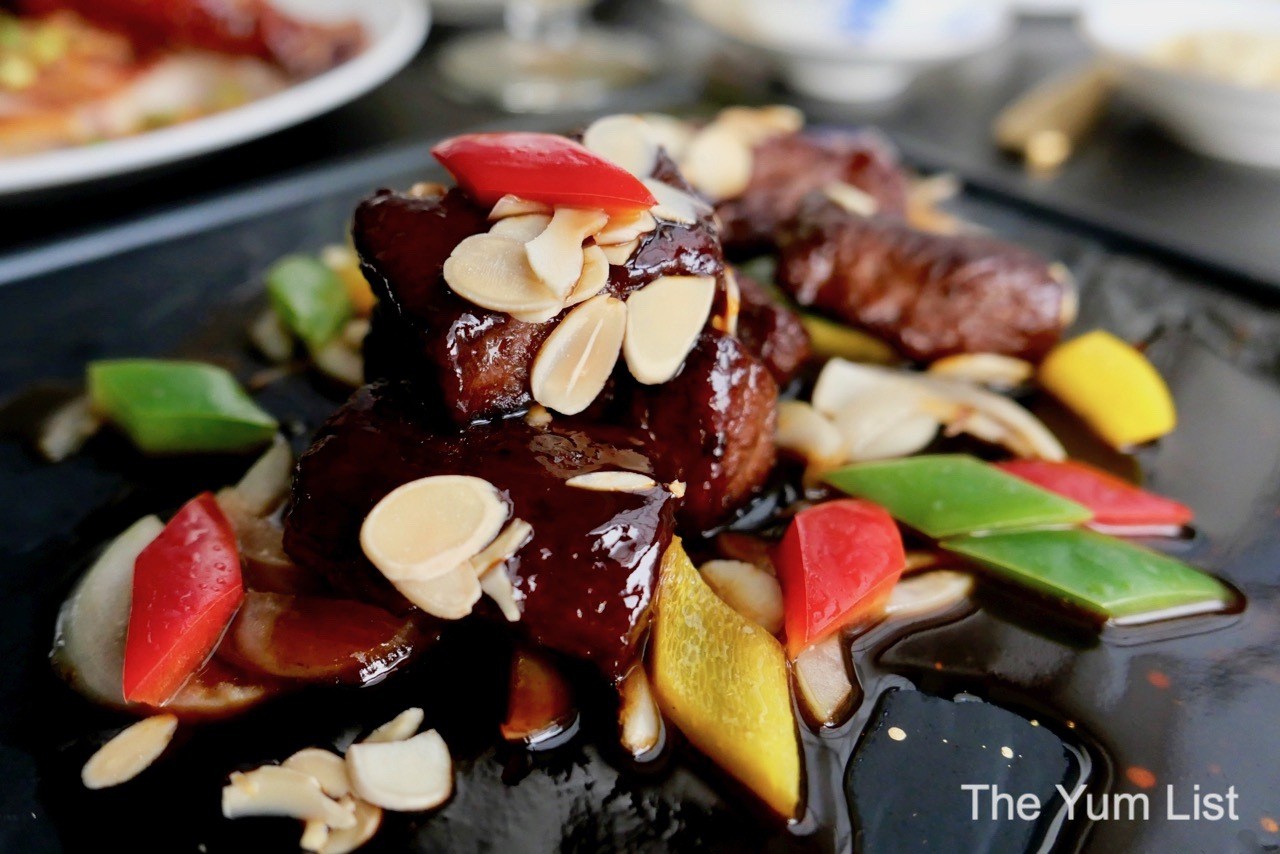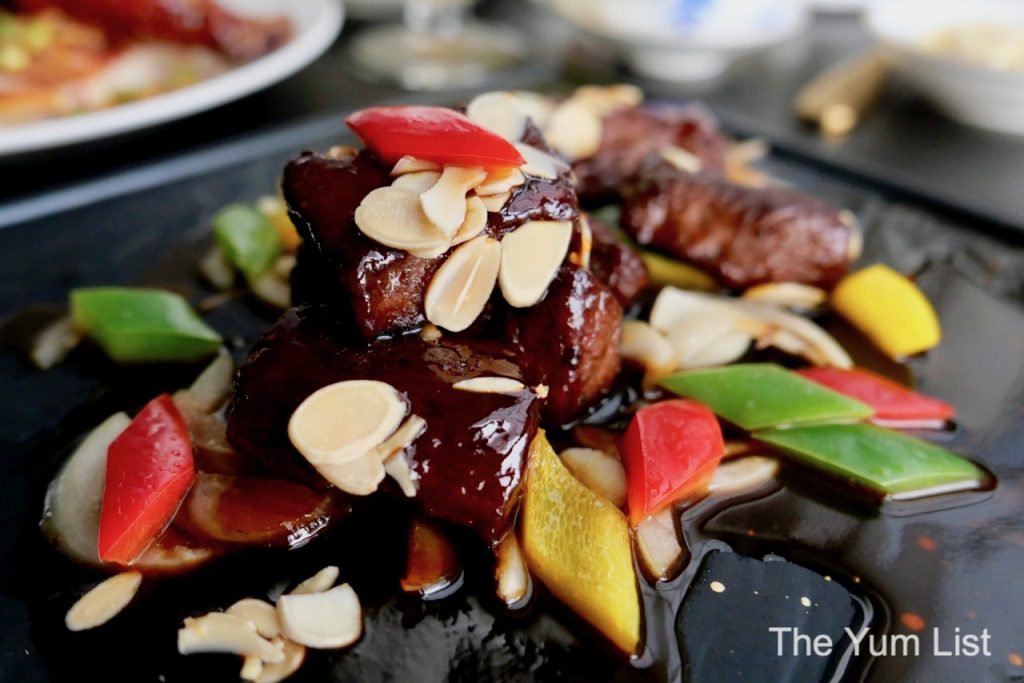 Finishing off the set is Chilled Mango Puree with Pomelos and Strawberries topped with caramel cream cheese. It's like a chunky fruit soup, sweet and refreshing.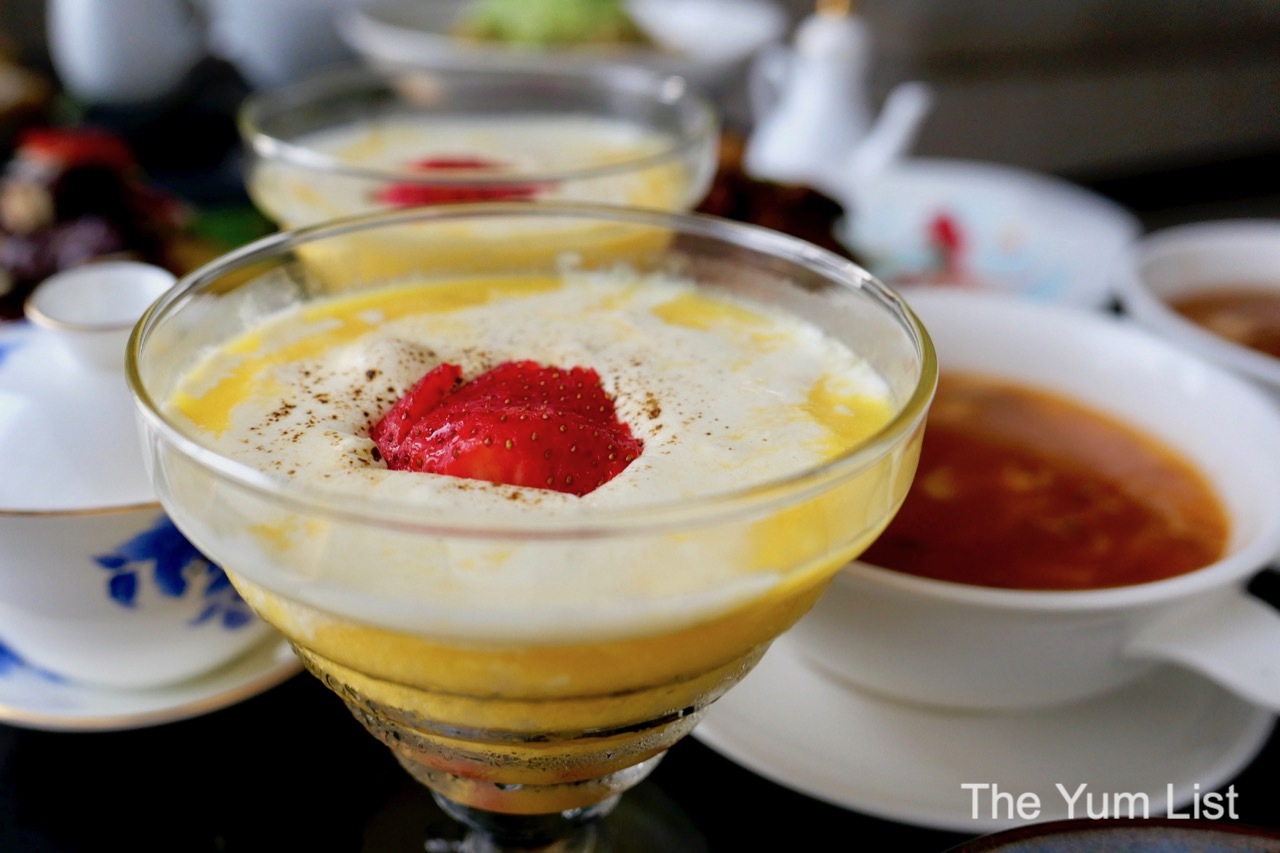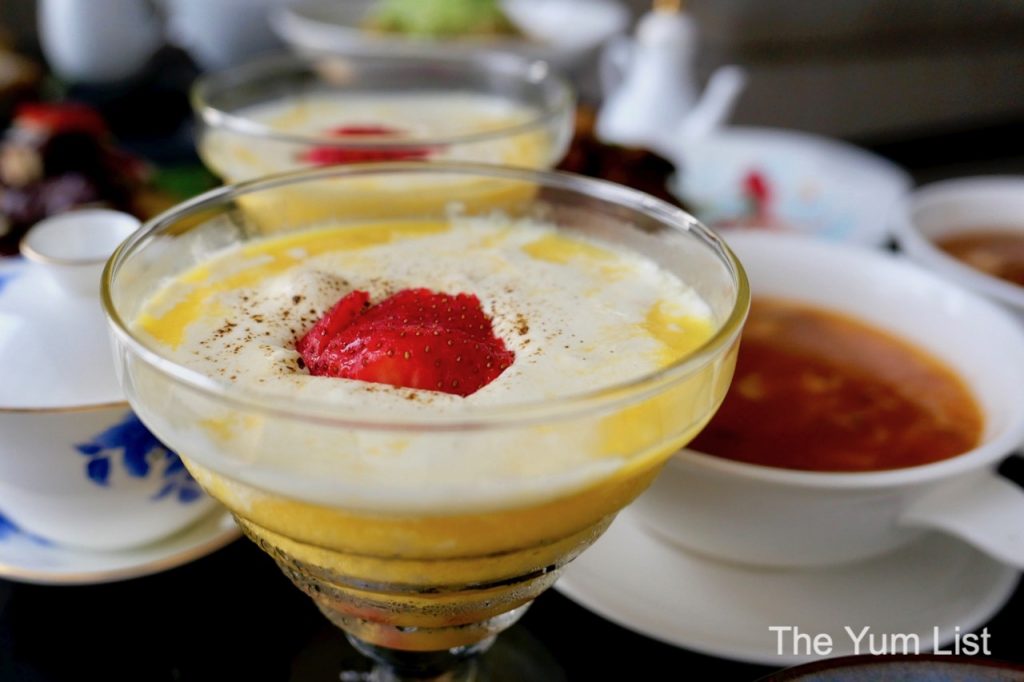 Exercise to Counter the Calories?
Usually, I begin my mornings with exercise (have to work off last night's calories for a big Sunday breakfast). The gym remains closed, but the rooftop pool (header photo) is now open. Bookings are necessary but it also means limited numbers splashing around while you're there. I'm quite happy with that. Additionally, Pavilion Hotel Kuala Lumpur does have easy access also to KLCC park and its walking track. If you follow the covered walkway from Pavilion Mall to the park, do three laps around the garden, and return again, you clock up around seven kilometres or 10 000 steps if you prefer. It's a brilliant start to the day and has us back in time for a leisurely breakfast in the room.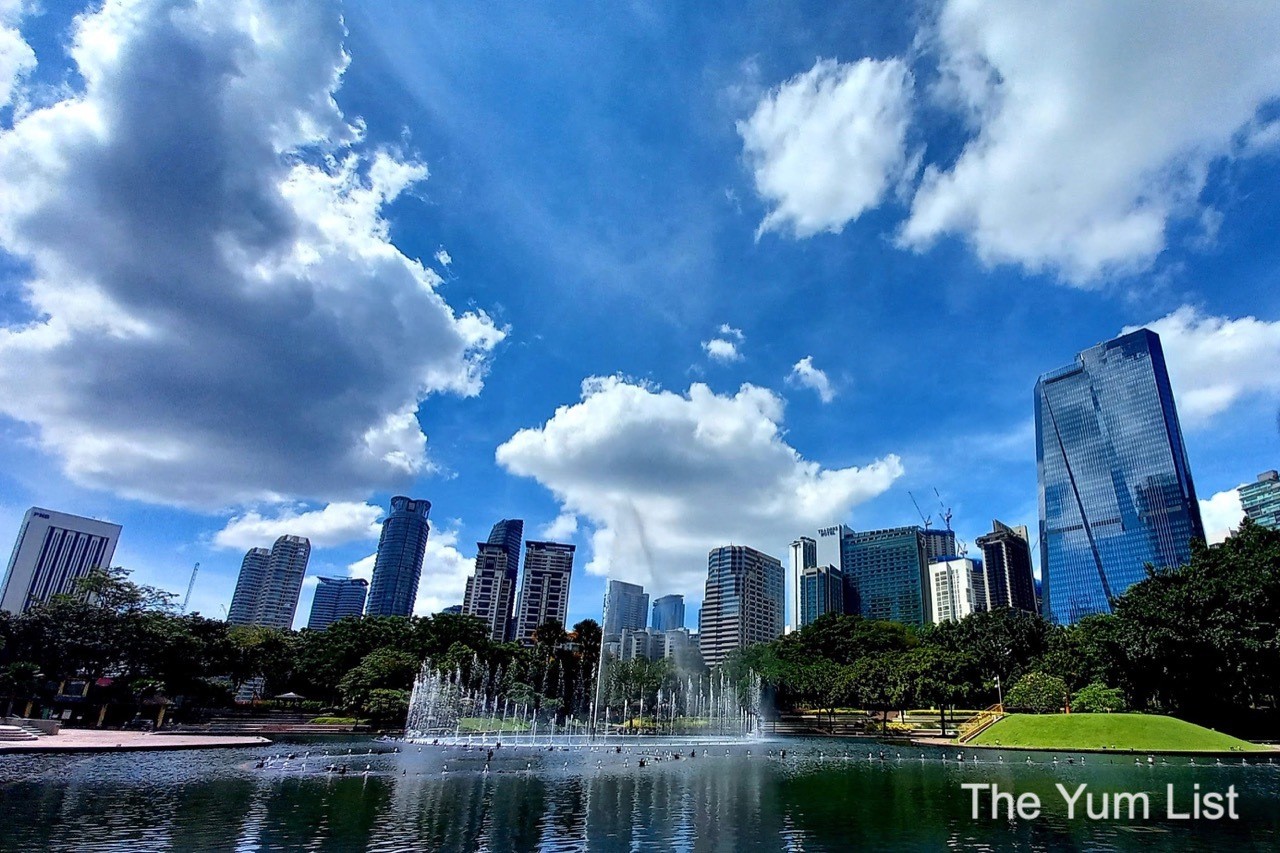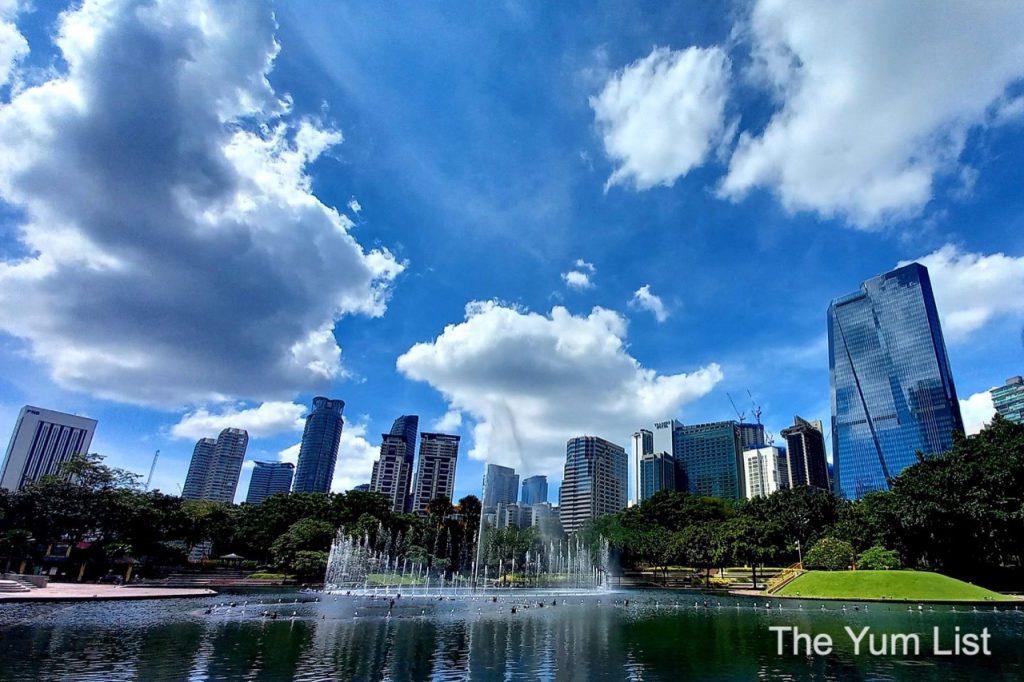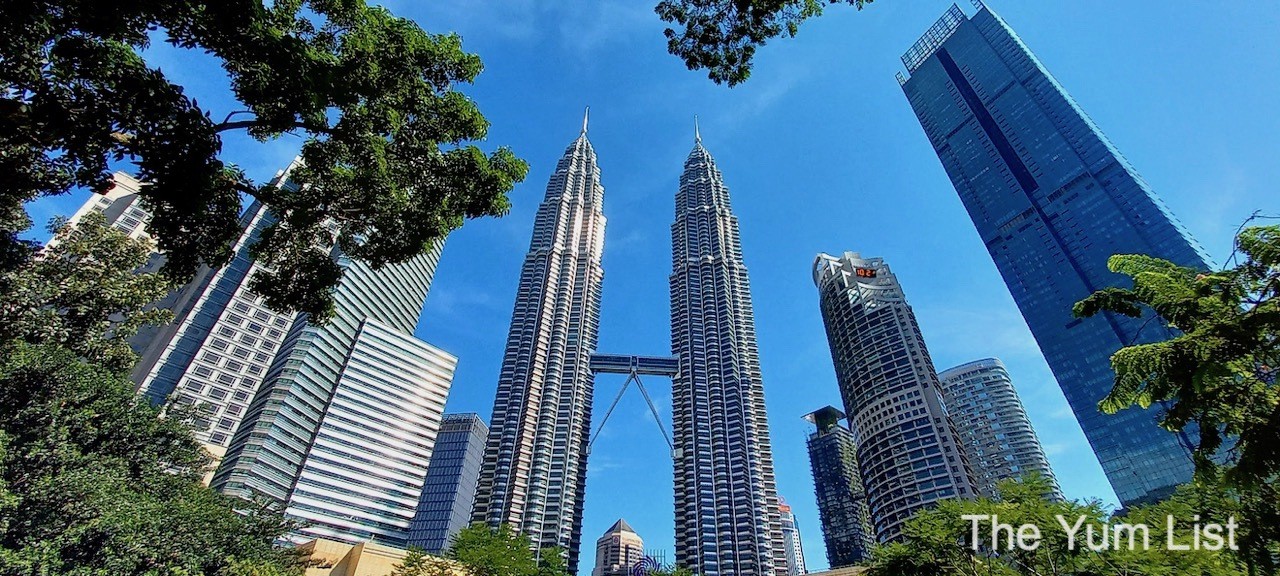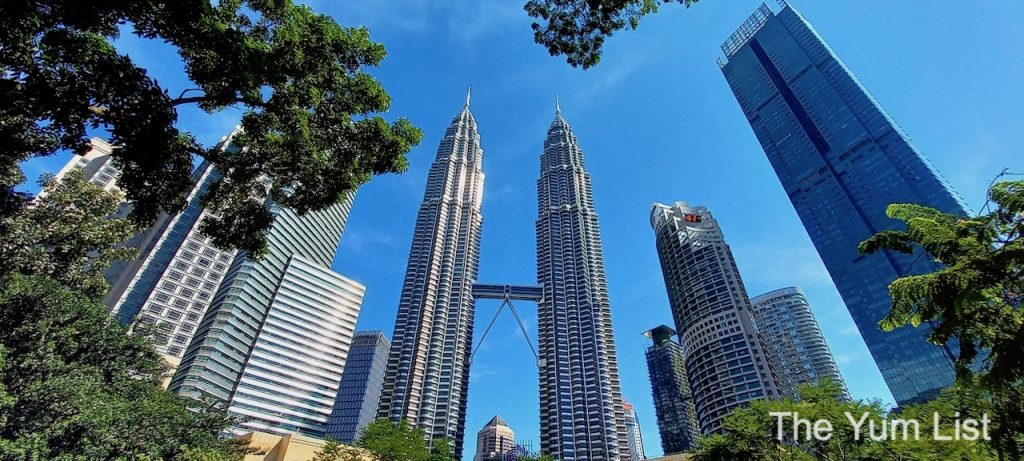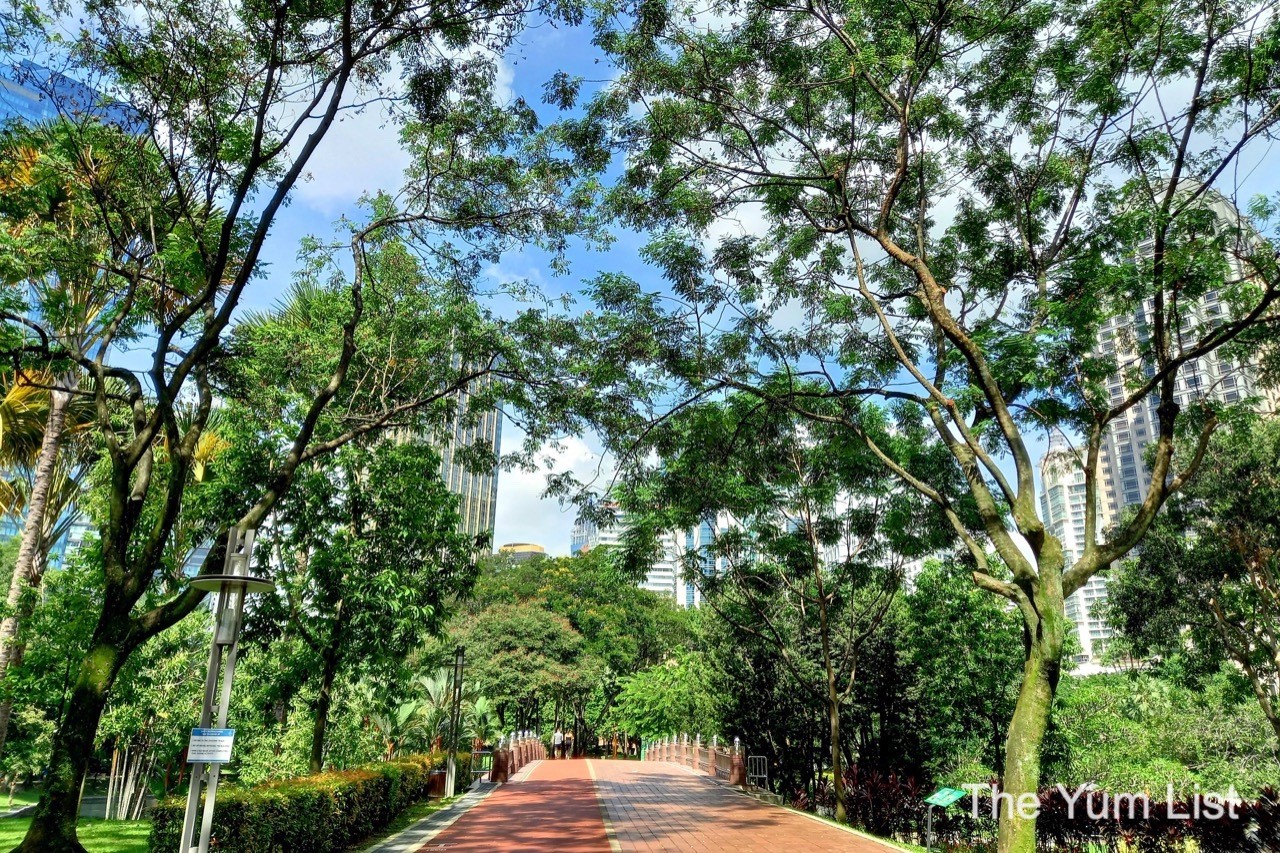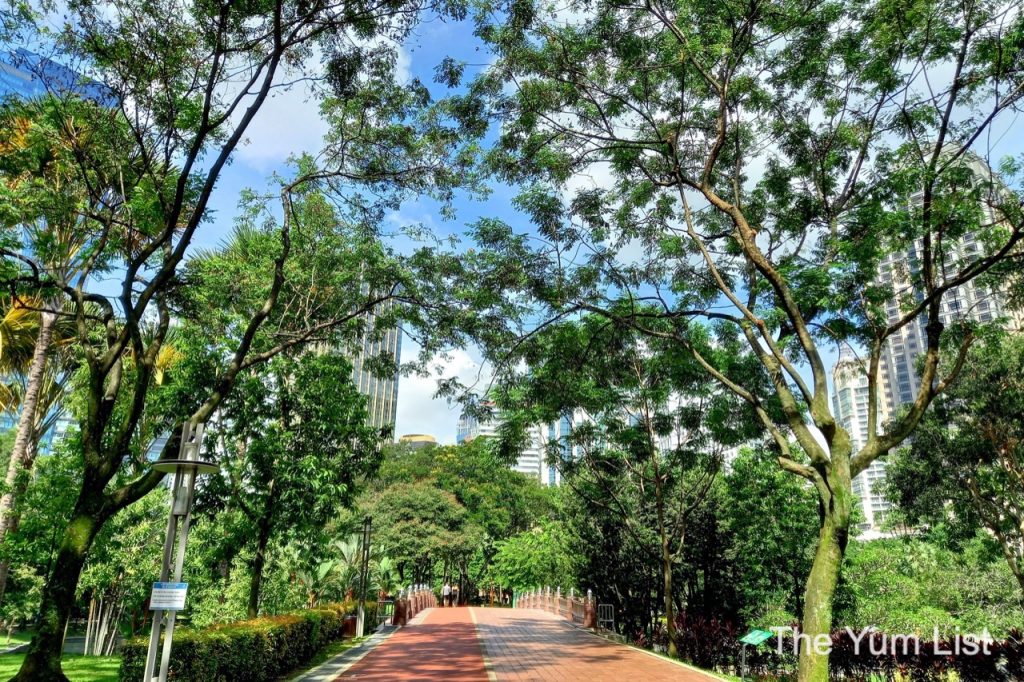 Pavilion Hotel Kuala Lumpur – Breakfast
There is so much choice for breakfast that we only request half of what is allowed. Each guest can order up to four dishes from the menu of international and local cuisine. Yep, that's eight dishes if you are two people! Honestly, we don't need anything more than a big breakfast. It comes with eggs done to your liking, sauteed veg and meats, toast, porridge and yoghurt. We do add on pancakes and fresh fruit, though, just to make sure we have enough for photos. 😉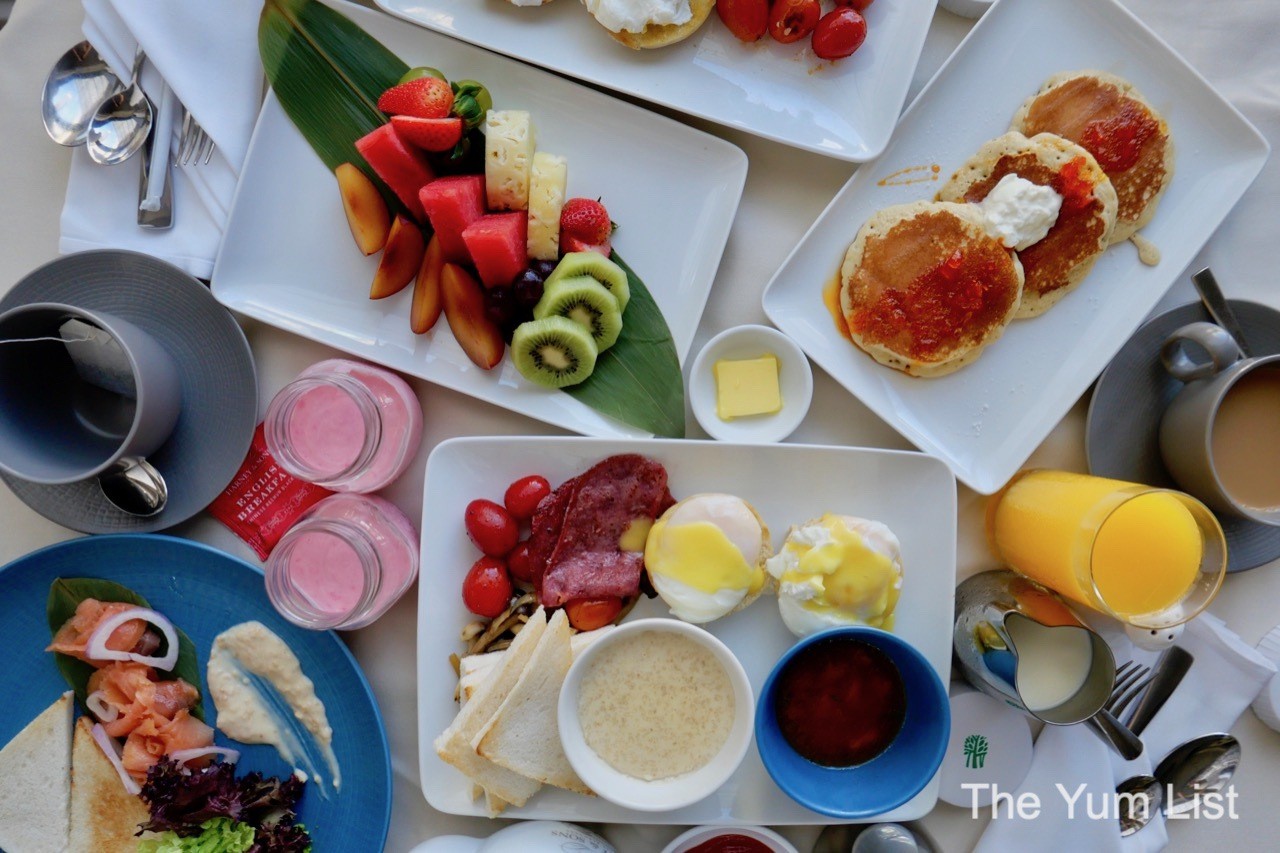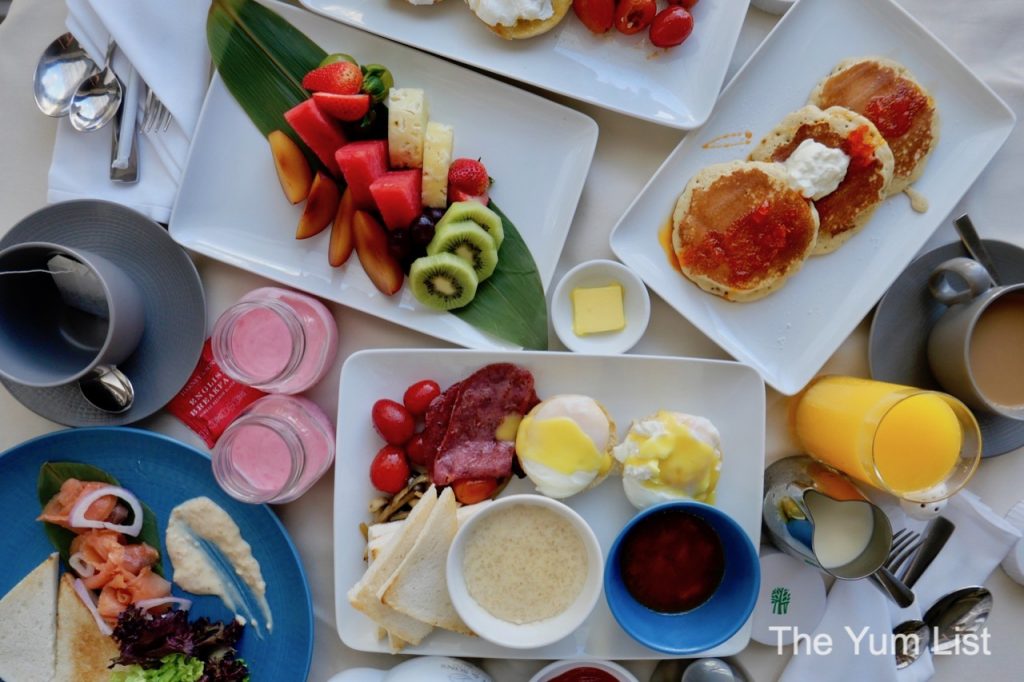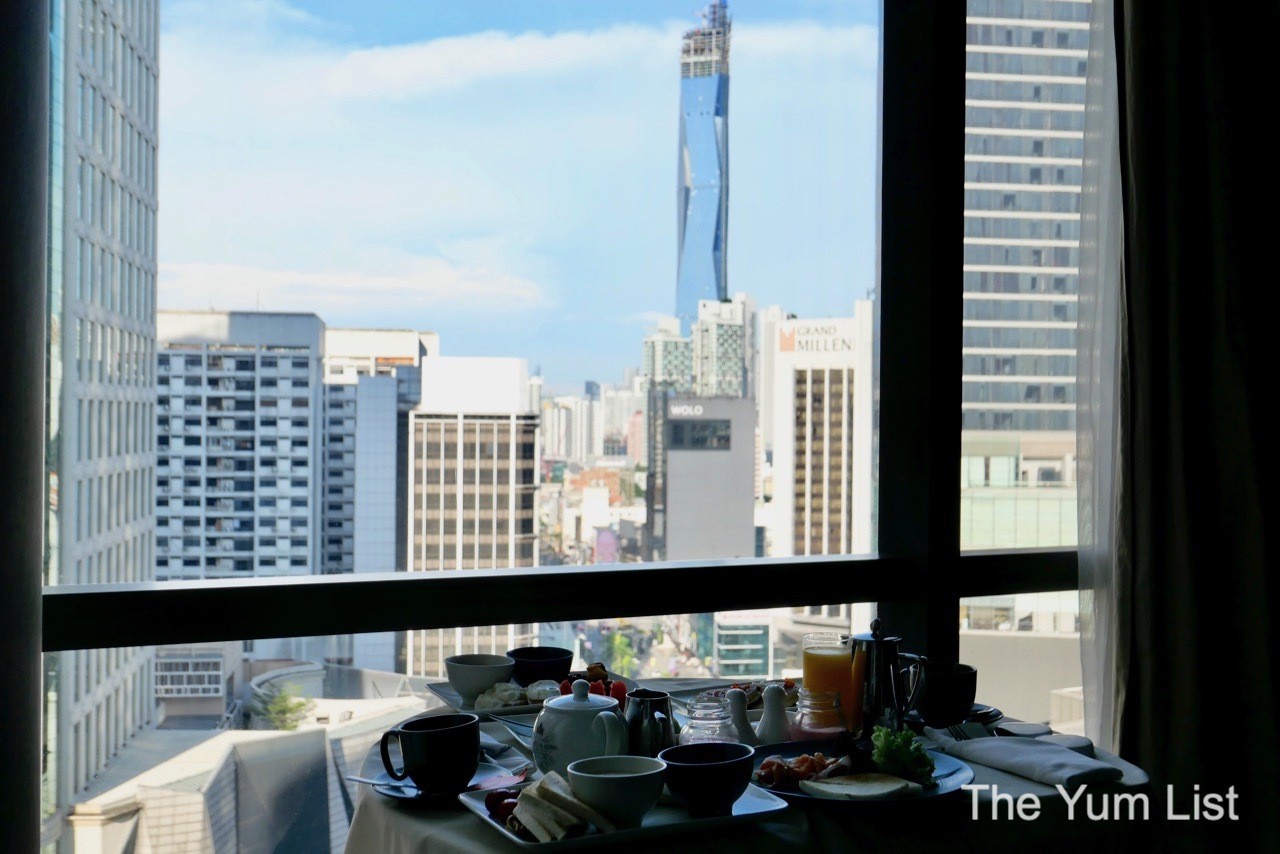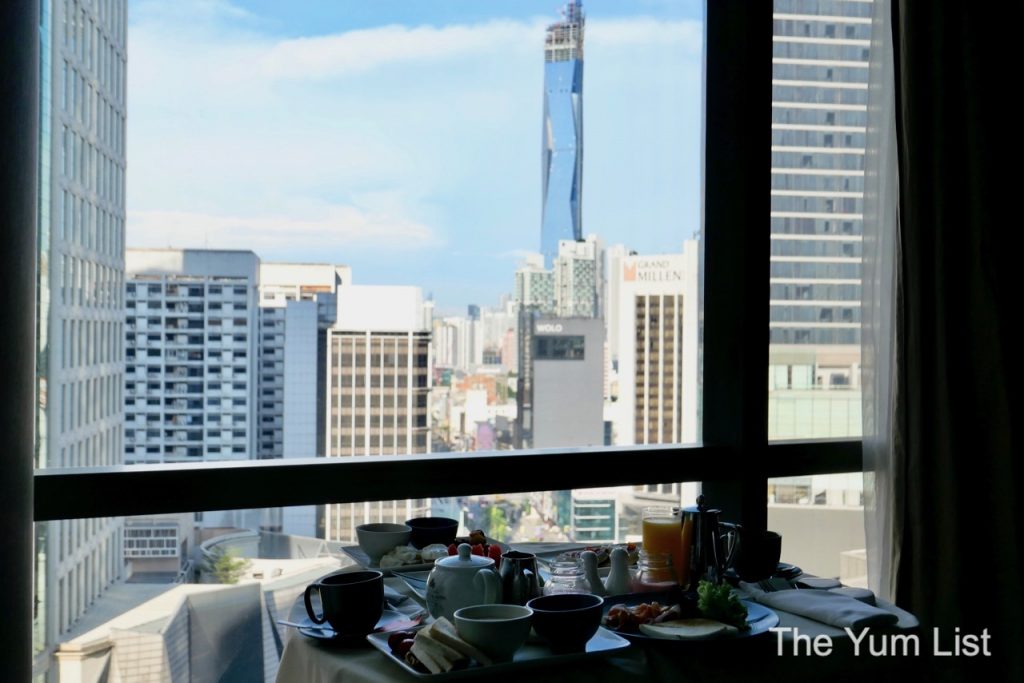 Reasons to try the MyVaccine Rewards Offer at Pavilion Hotel Kuala Lumpur: comfortable rooms, Club Lounge benefits delivered to your room; Banyan Tree gracious service; delicious food; value-for-money deal; fabulous bathtub; a good break from your own four walls.
Pavilion Hotel Kuala Lumpur Managed by Banyan Tree
170, Jalan Bukit Bintang, 55100 Kuala Lumpur, Malaysia
+603 2117 2888 or +603 2117 2999
[email protected]
Find more recommendations for hotels in Kuala Lumpur here and stay up-to-date on the latest gourmet and travel happenings around Malaysia here and here.