Grandmother's Table, Italian Brunch-Nero Nero
Words: Meg Alice
Photos: Rich Callahan
All the beautiful people magically appear at 12:29 pm for the endless prosecco and wine brunch at Nero Nero, Grandmother's Table, held every other Sunday from 12:30 to 3:30 pm. The alcohol is not that important to me, but I wanted to start this review with something eye-catching for the non-teetotaller Yum List readers. Monica, Rich, and I share brunch at Nero Nero and are wowed as always by Nero Nero's pitch-perfect Italian servings.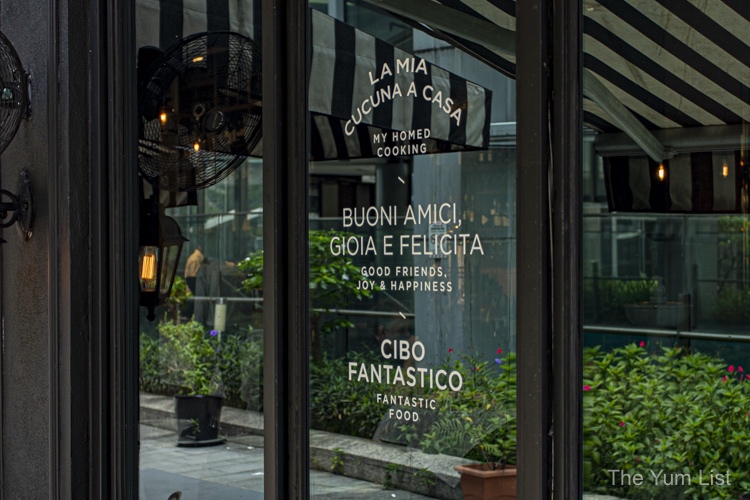 Grandmother's Table – Italian Brunch
We have the pleasure of speaking with Nero Nero's new head chef Marco Petriacci. He returned to Malaysia after a hiatus through Bali, among other locations, and is happy to have landed with the Cinnamon Group of restaurants about five months ago. He came into Nero Nero with its already established menu and strong following. Instead of seeking to change the menu, his philosophy has been to focus on sourcing the best ingredients for existing dishes and creating a variety of rotating specials with his unique voice.
This is a family brunch, dubbed Grandmother's Table. The waiters dodge strollers to make their way to the tables. Nero Nero's brunch has a long history. Still, in COVID times, it hasn't been able to maintain its communal table concept of putting strangers together to dine. Still, we are impressed that it has held the family-forward feel while also attracting the Instagram-able single crowd. Whatever your demographics, grab your best-hand bag and toddlers if you have them to experience the Nero Nero marathon brunch.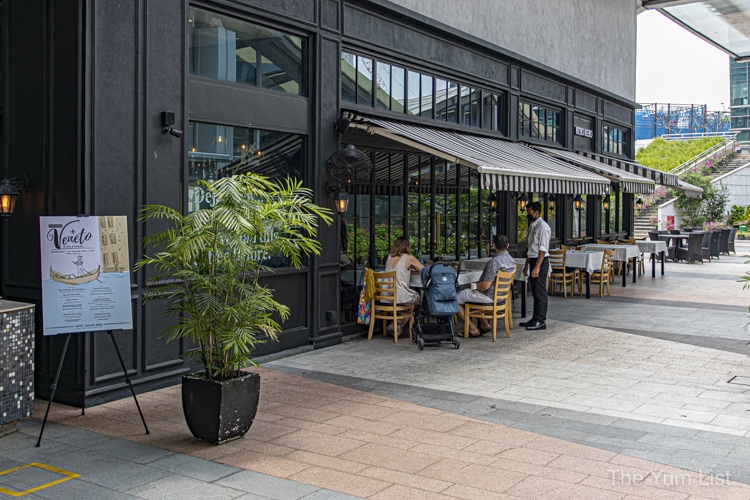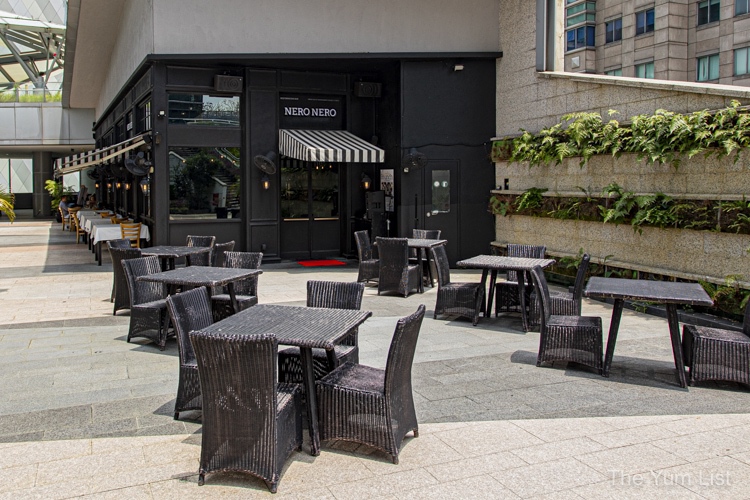 Grandmother's Table – Appetizers
The appetisers feel as bottomless as the wine pouring. In total, I count eight. We keep saying that this one is the best until the next dish arrives. There are no shortcuts here or throwaway dishes. Nero Nero uses high-quality cheese, the best olive oils, the freshest vegetables. Some dishes are available on their a la carte menu, and some are unique to this brunch.
We start with two offerings of bread: a fresh rosemary white bread and focaccia Pugliese, both made on site. The focaccia is dense and spongey; it is a meal on its own loaded with black olives and tomatoes. I like the rosemary because its simplicity is a better vehicle for the olive tapenade and herbaceous green dip accompanying the bread.
We then experience a barrage of bite-size appetizers, including the cocktail di gamberi, stracciatella di bufala, bruschetta with mushroom, and eggplant polpette (which I'll get to later). The shrimp is served in what I can only describe affectionately as a Big Mac sauce. The straticcialleta di bufala also served on a spoon has a nice melt happening, like a soup, enveloping the cherry tomato and herbs. The bruschetta is loaded with mushrooms and truffle flavours. The earthiness is a nice offset from the other bites.
Next, we move to the fritto mare comprised of fried calamari and prawn accompanied by a garlicky tartar sauce. The fritto mare is served on a wooden platter and is a staple for both Nero Nero and its sister restaurant in the Cinnamon Group, Natalina Kitchen, located in Avenue K. This dish or a close variation dates back to our 2017 review. Why change a classic and crowd favourite?
The bresaola salad is comprised of thinly shaved bresaola and rocket. The lemon hit raises the bresaola savoury flavours. This dish is similar to Nero Nero and Natalina Kitchen's beef carpaccio, another long-time favourite on the a la carte menus.
The two MVPs for the appetizers are the comfort foods, panzerotti pistachio e burrata and polpette di melanzana. It's ironic because I would not have ordered these appetizers as they're not my style, but their homeyness is appropriate for a grandma-inspired meal. And who doesn't like fried bread? The panzerotti is stuffed with a burrata that almost disappears because it's fully integrated with the bread. The pistachio is a unique punch of flavour and needed crunch.
The polpette di melanzana, or eggplant meatball sans meet, is served with Nero Nero's arrabbiata sauce available purchase and pecorino cheese. This bite of oozie, smokey eggplant screams Italian. It might not look like much in the photos, but pictures can't capture the entire tasting experience.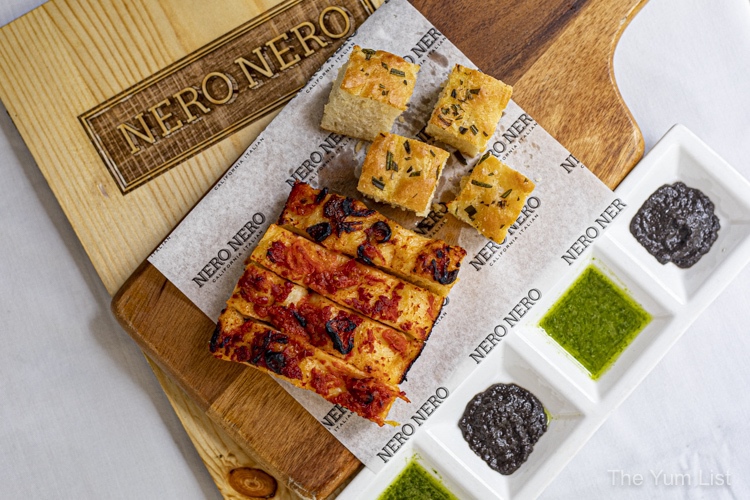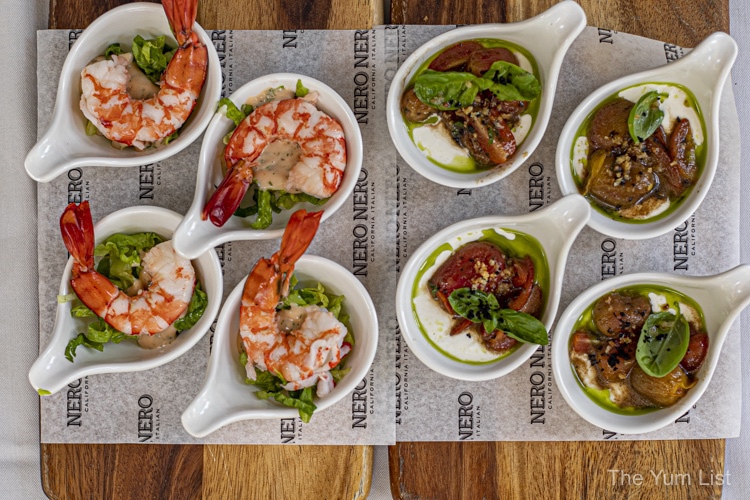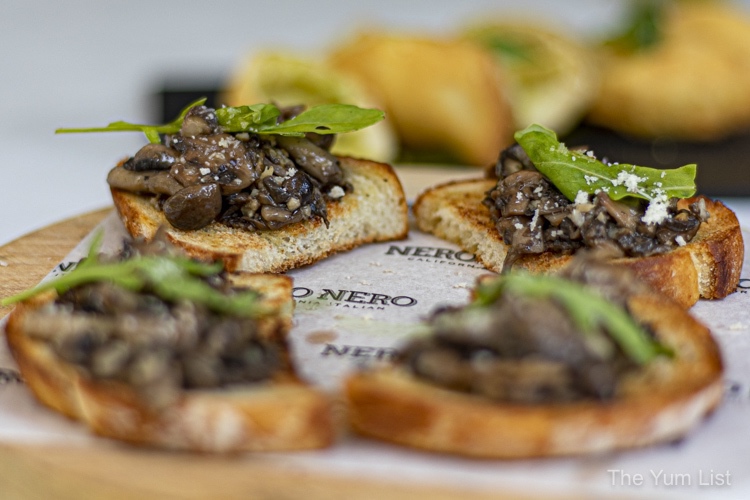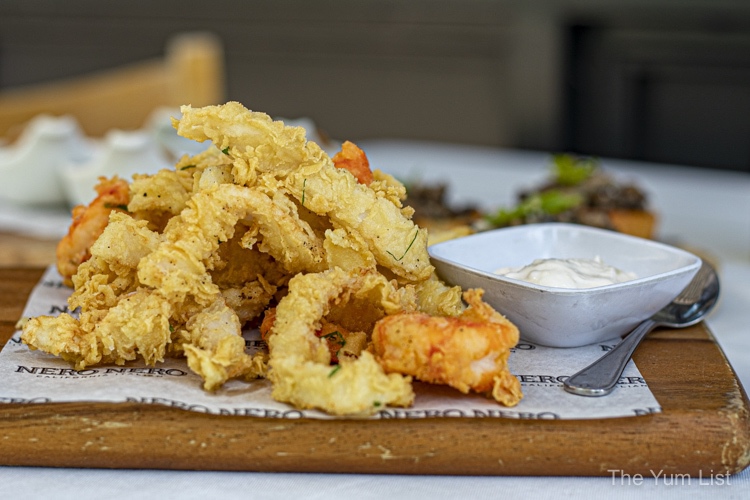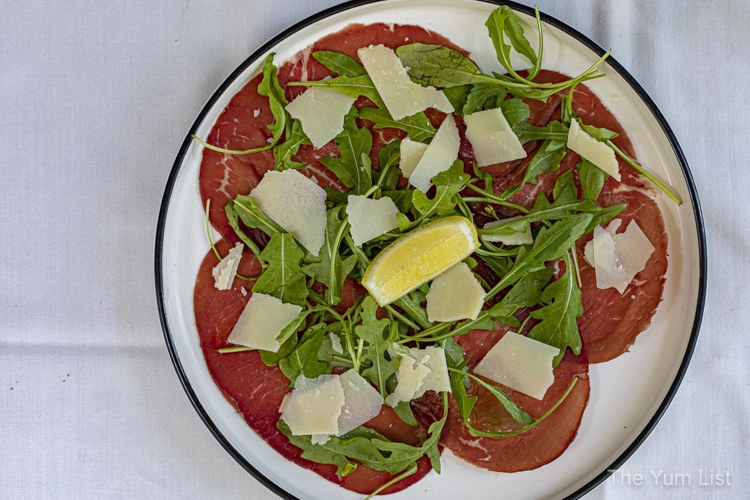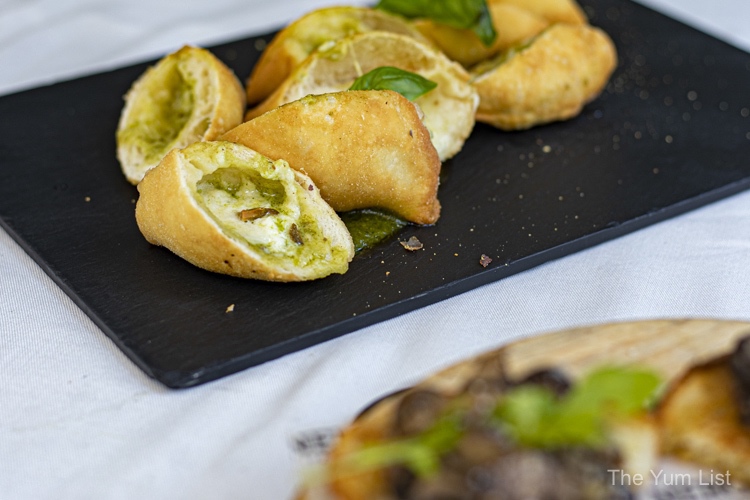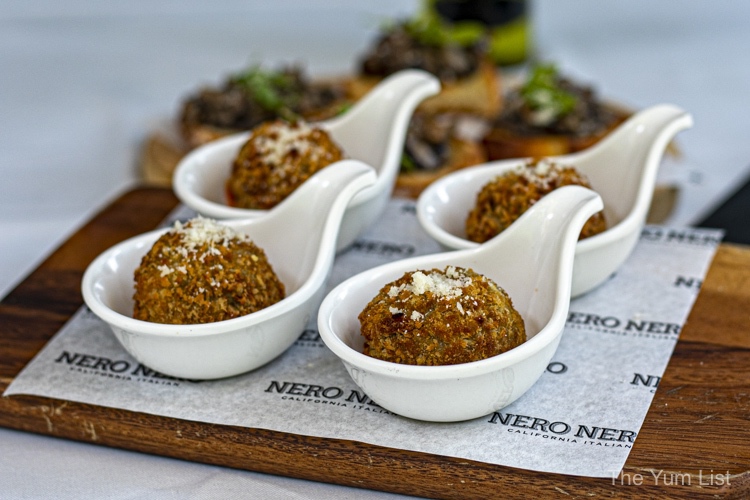 Pasta – Rigatoni al Ragu
The lamb ragu stole the day. Every dish for this Sunday brunch must take days to plan out, source ingredients, and prepare. For the lamb ragu, Chef Marco must start cooking, reducing, and rebuilding this sauce on Thursday or Friday – the layers of complexity run deep. The fat tubes of rigatoni are perfectly al dente allowing for the sauce that demands being centre stage. The rosemary sprigs are an added bonus. This is an entire Italian grandma reincarnated.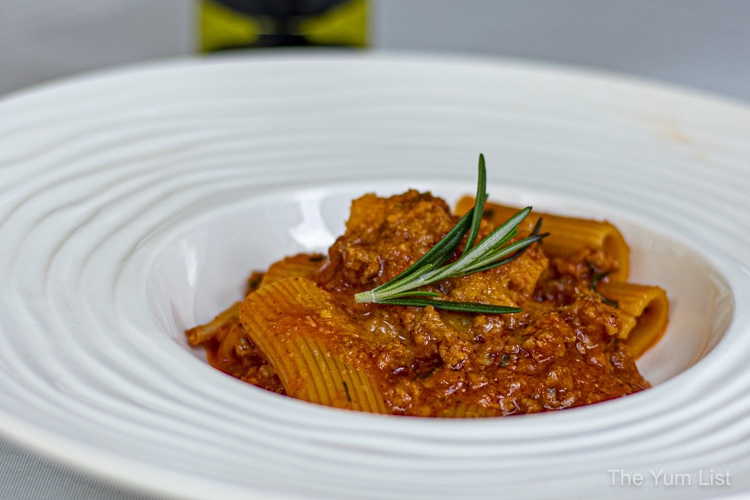 Risotto – Pumpkin and Taleggio
Pumpkin is not the first ingredient I think of when considering Italian cuisine, but Mon says they are used generously in the north. Since their introduction in the 1500s by the Spanish, Italians have been using them in all manner of recipes, including the famous tortelli di zucca (pumpkin stuffed pasta), as a side and also in risotto. Chef Marco honours the pumpkin by letting it be both subtle but ever-present in this rice dish. Taleggio is a cheese akin to brie known for its pungent smell but having a mild, tangy-fruit profile. The added almond completes this otherwise silky dish giving it a crunch. Sadly, this special is not on Nero Nero's a la carte menu, but it's something we'd definitely return for if it were.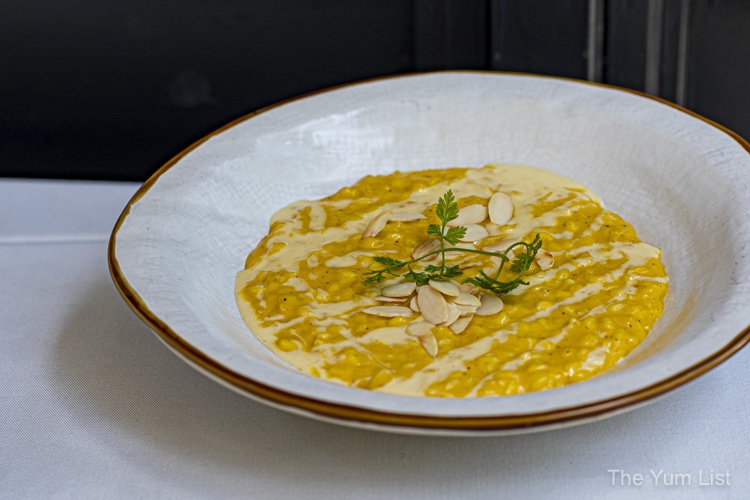 First Main – Dentice Arrosto
Frankly speaking, the meal could have ended with the pumpkin risotto, but not if you read this Yum List review. As I mentioned from the top, this is a marathon brunch. Work with the waiters to ensure the dishes are spread out to cover the full three hours. If you do, by 3 pm, you will be ready for the mains to help absorb the alcohol. The Dentice Arrosto is a whole red snapper stuffed with a cherry tomato, black olives, and rosemary and served with roast red pepper. She's a beauty.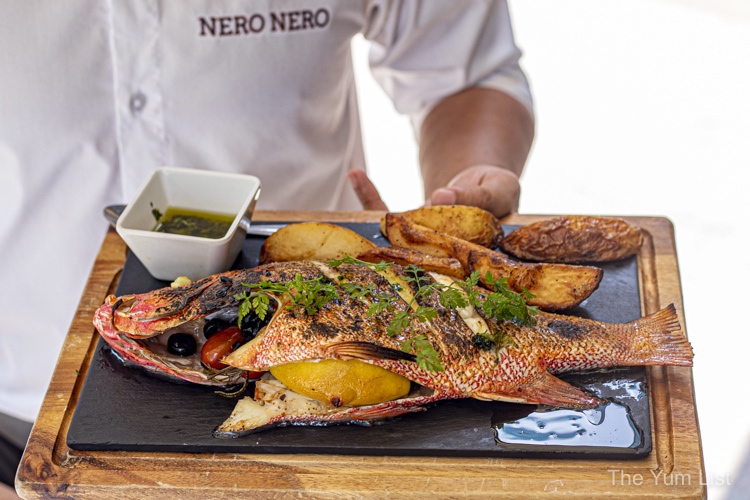 Second Main – Costine di Manzo
The costine di manzo, or short ribs, are more like long ribs (see photo!). The meat is appropriately falling off the bones and, surprisingly, not too fatty. The two long bones sit abed creamy mashed potatoes. Monica must leave at this point for another event. Rich and I each take our own bone to scrape every bite.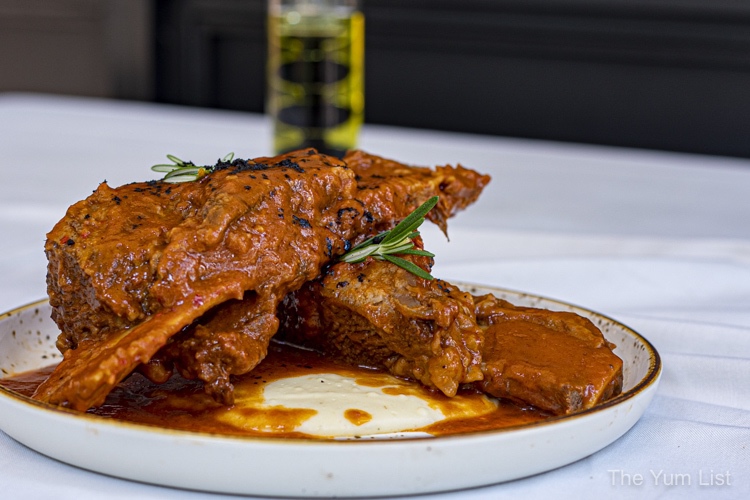 Desserts
Desserts are appropriately sized with a bite-sized chocolate caramel and mango pudding in a cup. You will enjoy the dense chocolate in a small package if you have a chocolate tooth. The mango pudding is refreshing and light. If this combination comes up in another grandmother's table brunch, stick with one but not both. Save a sip of your red wine for the chocolate and the white or some more prosecco for the mango.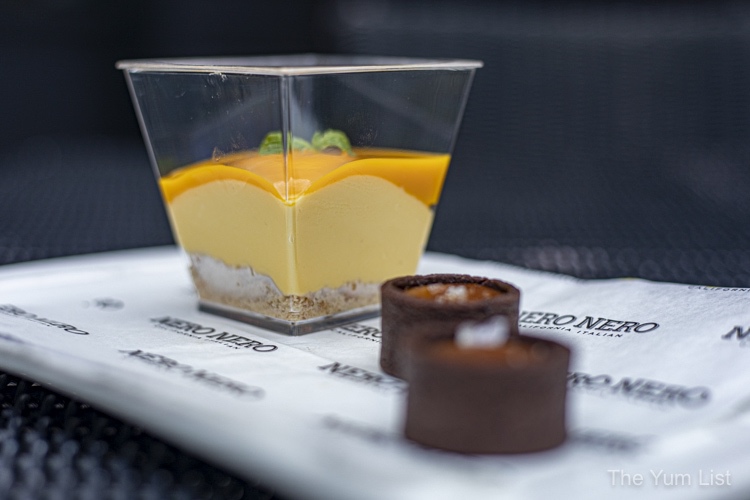 Free-flow Wine – Grandmother's Table
The Grandmother's Table brunch offers bottomless glasses of Italian prosecco, white, and red wines from 12:30 pm to 3:30 pm. This could be why the KL brunch crowd shows up precisely at 12:29 pm to be seated. This might be the one event in Malaysia that no one is fashionably late for. Nero Nero's brunch is obviously not going to serve RM 600 bottles of wine when it's bottomless. However, these are still imminently drinkable and delicious options. And, the wait staff are quick to top up.
The sparkling wine is from the Montelvini winery located northwest of Venice. It's from a promoted collection of single harvest grapes. It is dry with high acidity. We can taste the pears and lemon. The white wine is the Kasaura Trebbiano d'Abruzzo. Kasaura is a secondary label under the winery Cantina Zaccagnini. It is crisp and dry. The red wine is from the Caleo winery in Puglia region. The grape is called negroamaro. It's a deep red but with a lighter finish, and medium-bodied overall. It goes well with the mains, especially the ragu and short ribs.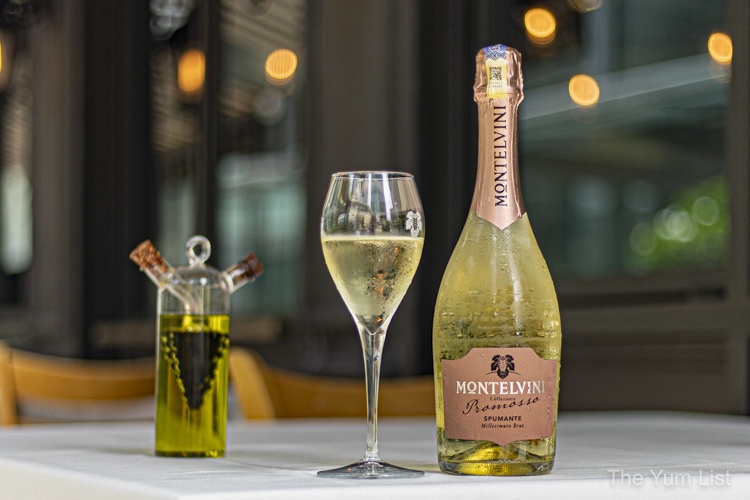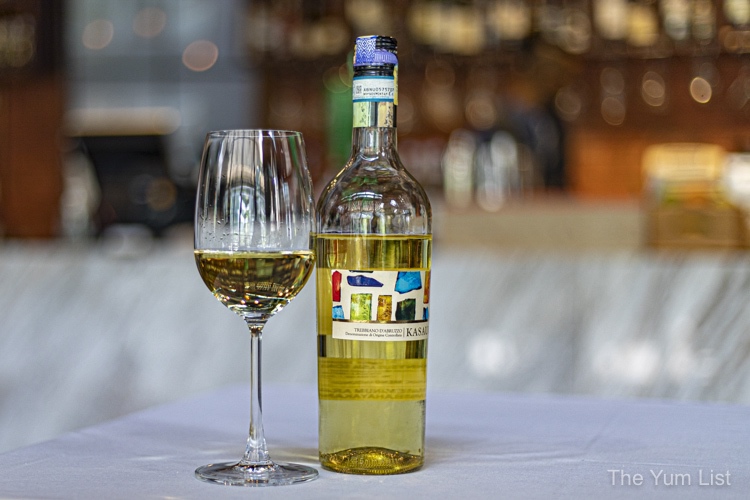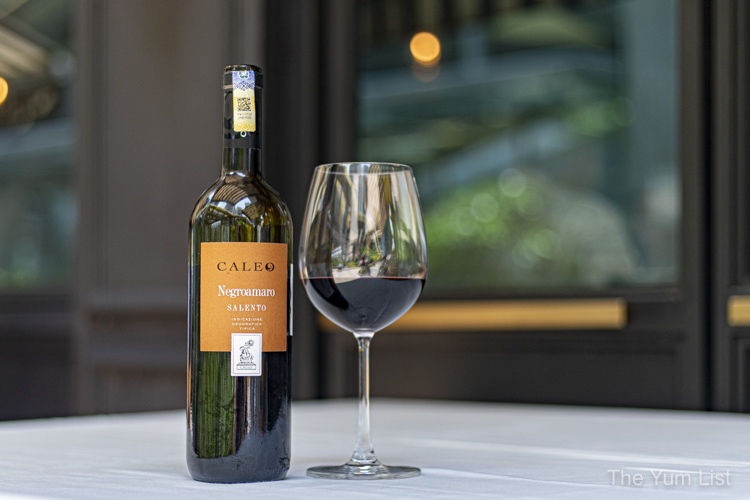 Reasons to visit Grandmother's Table, Italian Brunch at Nero Nero: Lamb Ragu, delicious southern Italian comfort food, highly quaffable wine, making brunch an event to remember.
Grandmother's Table – The Details
Without wine, the Nero Nero Grandmother's Table Brunch cost RM 188 per person plus RM 10 for unlimited soda. The endless wine option increases the price to RM 338 per person. Kids ages 6 to 12 are charged RM 100. Kids up to age 5 are free. Prices could change depending on the brunch offering.
Nero Nero is located on the top floor (third floor) of the semi-deserted DC Mall. It's a little strange going through a mall that feels like it was hit by the apocalypse (I guess it kind of was with the pandemic). Once you make it to Nero Nero, you will be glad you wore your A-game fashion jeans and branded handbag. The top floor is also an outdoor garden space, so you can opt to sit indoors or outdoors.
Nero Nero Restaurant
L3-02, DC Mall, Damansara City
6 Jalan Damanlela, Damansara Heights
50490 Kuala Lumpur, Malaysia
+60 19 667 4546
[email protected]
www.facebook.com/NeroNeroKL
Grandmother's Table Sunday Brunch Dates
Available approximately every other Sunday. Call or visit Nero Nero's websites to learn about the next brunch and other special events.
Find more Italian restaurants in KL here and stay up-to-date on the latest happenings in KL's food and beverage scene here and here.