Heart of the Sea: FLOUR®
Words: Meg Alice
Photos: Monica Tindall & FLOUR®
This is my second visit with Monica to FLOUR® in Kuala Lumpur, offering fine dining inspired by Indian culture and French techniques. We are invited back to try the Spring/Summer degustation menu called FLOUR Rises, Heart of the Sea. I find myself having the same transportive response as my first visit. FLOUR®'s founder and creator, Chef Yogesh Upadhyay (fondly known as Chef Yogi) explains that the menu celebrates warmer weather, lighter foods, and showcases tastes from Gujarat, moving east around the Indian coast, and landing in Calcutta.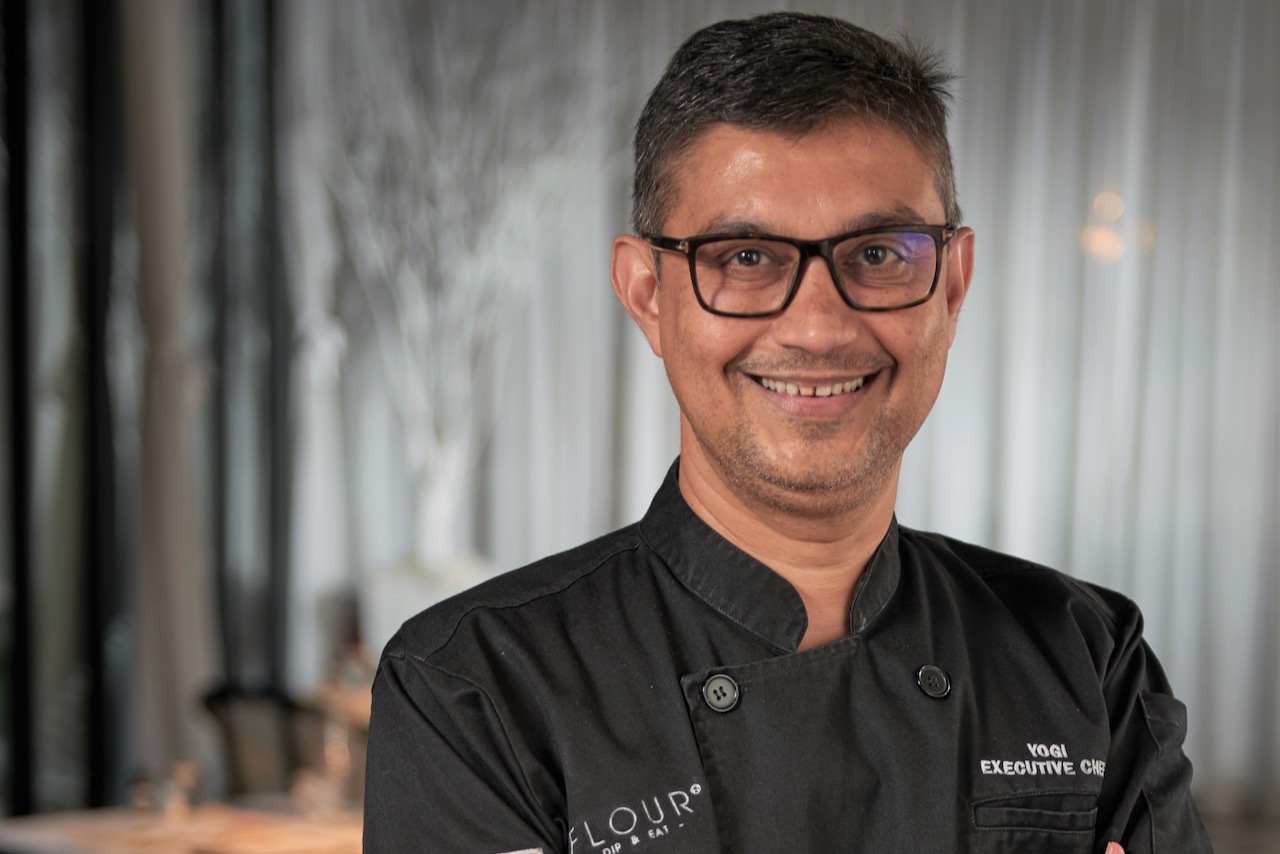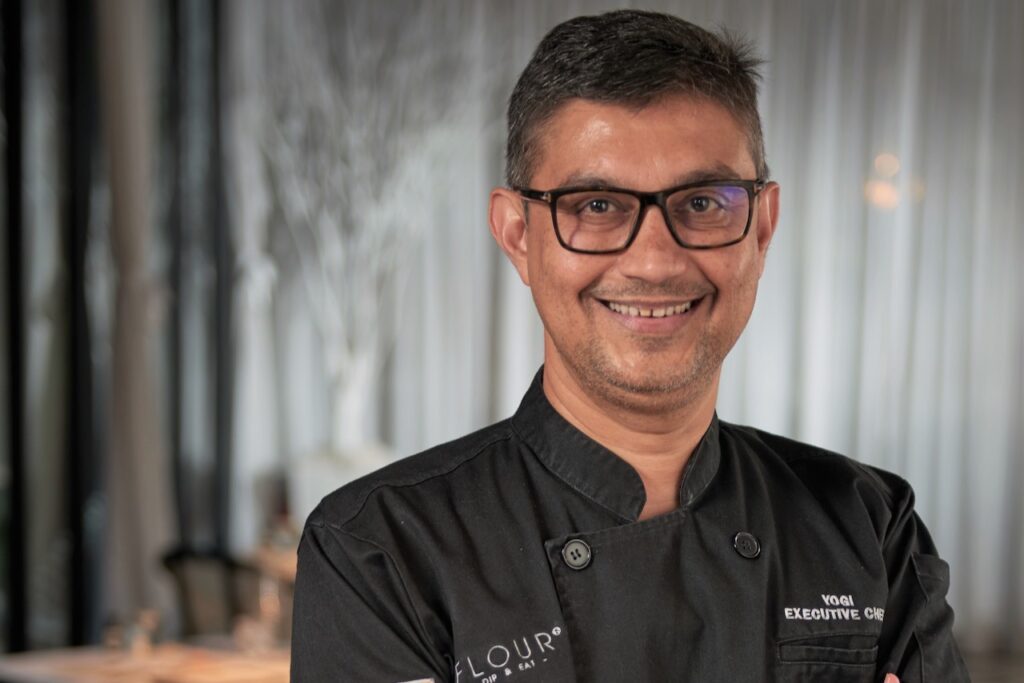 FLOUR® speaks to me like no other restaurant in Malaysia or maybe anywhere, possibly because of my years of working in the Indian subcontinent. I taste Afghanistan, Pakistan, Nepal, and Bangladesh in every dish and ingredient, whether it be mango, char on the flat naan, or some spice that I vaguely remember from travelling in Bhutan. At the same time, none of this food is outright Indian. There is nothing resembling a vindaloo or tandoori.
In my second experience, it occurs to me why FLOUR® tastes different on the palate than other restaurants. Chef Yogi's food has no archetypal flavour hits of salt, fat, acid, and sweet. These four elements are the raging food trend—ensure every bite has them in balance. There's even a Netflix food series by this name. Chef Yogi doesn't subscribe to that philosophy. Instead, he pulls these elements from the food naturally. For example, he seldom uses salt and instead relies on the minerality from seafood. The sweetness in his dishes comes from the fruit or coconut, never added sugar.
FLOUR® is a full sensory experience of not only taste but also sound, touch, and sight, with each element painstakingly chosen and sourced from around the world by Chef Yogi. He is bossy, passionate, and always right (although I like to tell him otherwise). He is a Mozart, not a Salieri. As I said in my last review, you must give yourself over to Chef Yogi without trying to deviate from his path. This is not a choose-your-own-adventure journey, and you might not like every stop, but that's part of expanding your palate. Monica and I enter with an open heart and mind to experience his vision of spring and summer.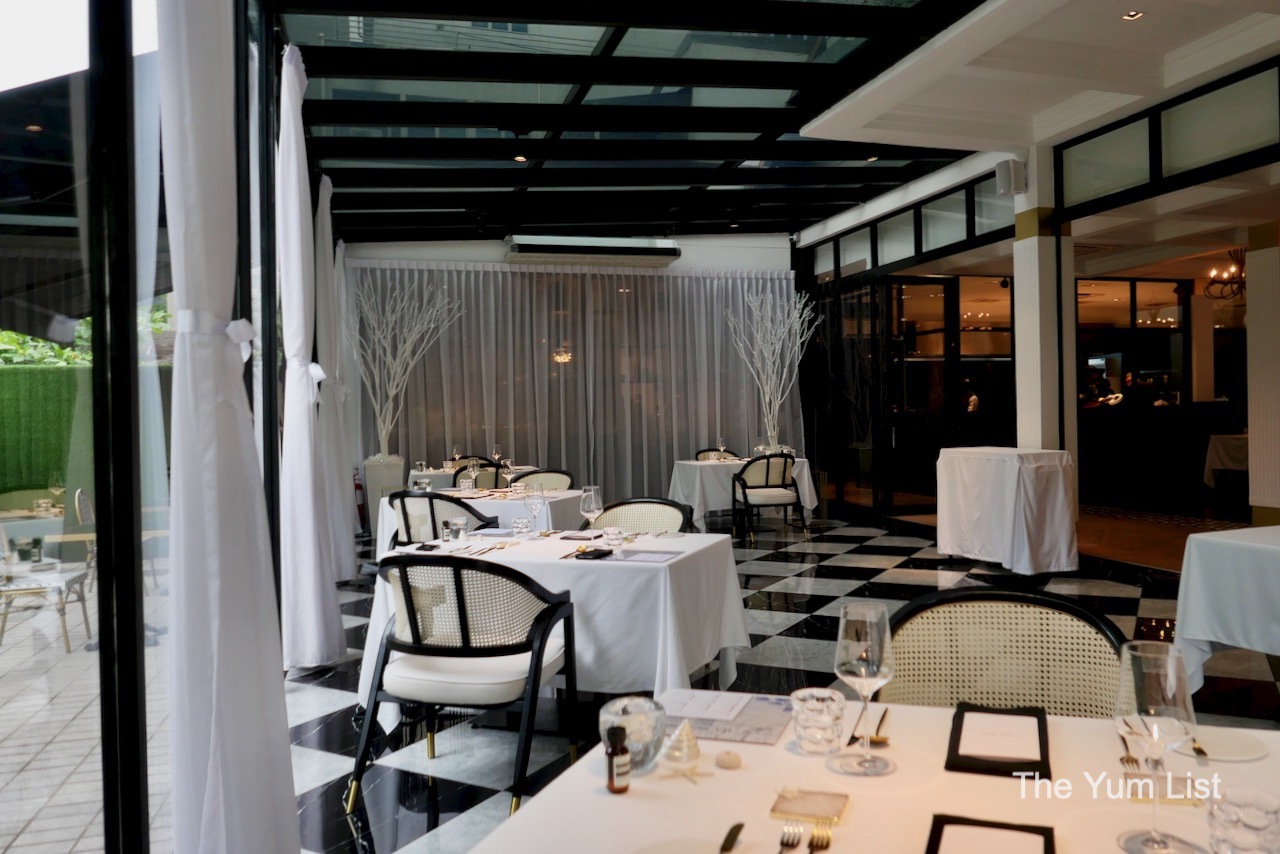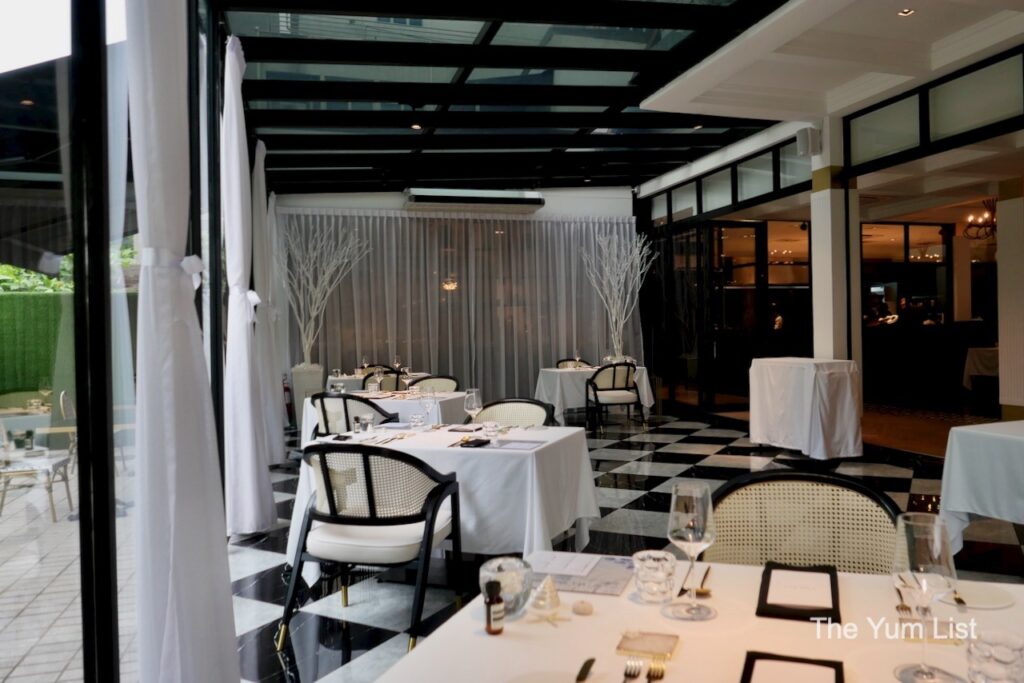 Heart of the Sea: FLOUR®
Bread
The pre-flight course consists of croissants and a simple flatbread with sesame, both of which are elevated versions of these staples. The butter is warm and infused with cumin. I fondly remember this bread from our first visit to Flour.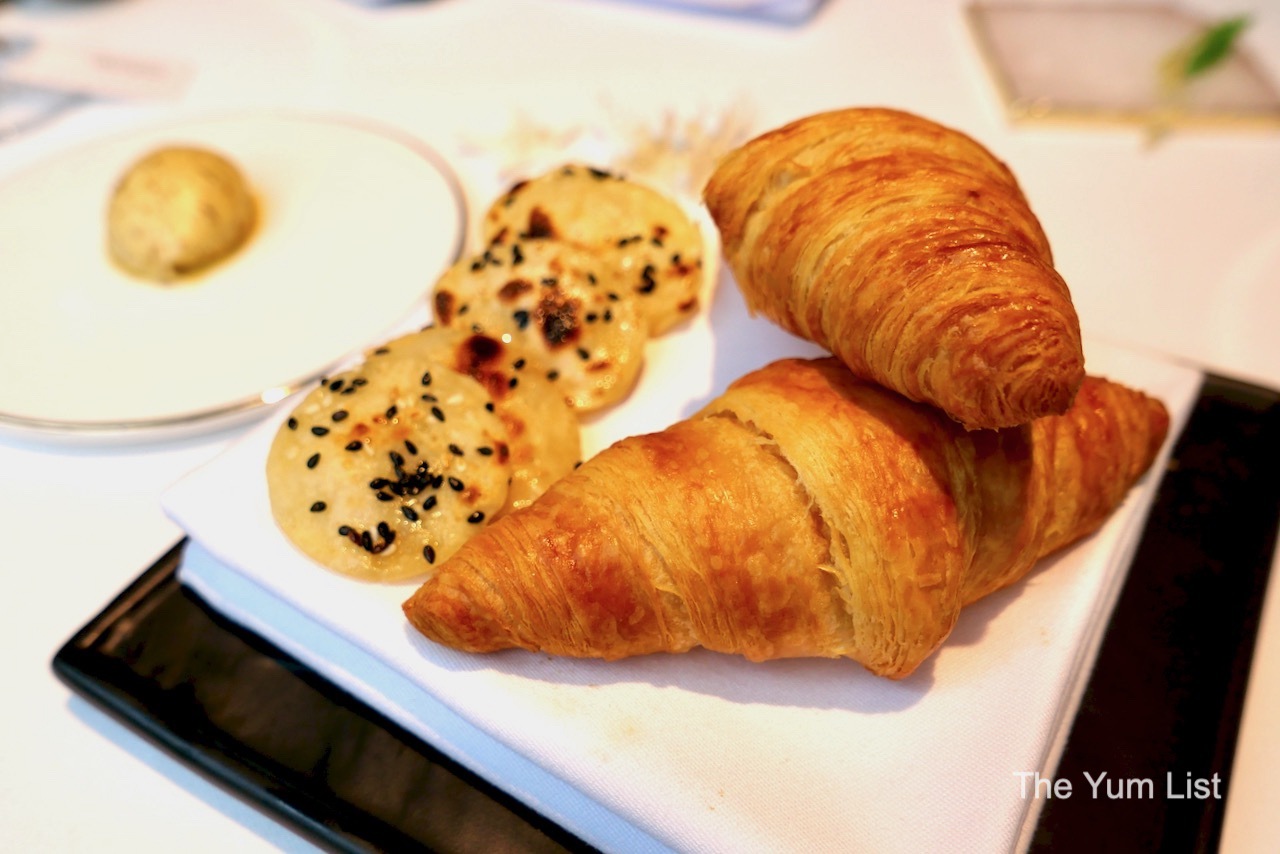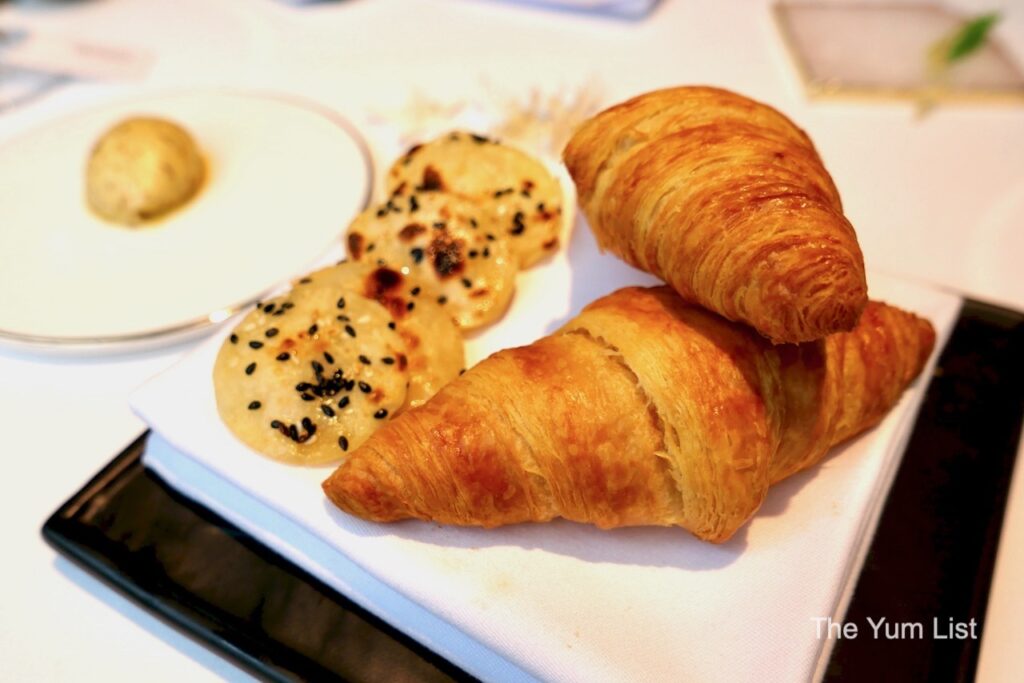 The Circle
The circle starter comprises three amuse bouche and three tuiles sitting on a circular dish. According to Chef Yogi, there is no beginning or end to a circle thus, there is no prescribed order. Of the three bites – savoury sponge cake hailing from Gujarat, puffed pomme frites, and a taco – the crispy potato filled with tamarind yoghurt opens my appetite most. I am not expecting the tangy liquid inside. The taco is playful, holding an Indian version of ricotta cheese.
The trio of delicate tuiles highlights orange, mango, and strawberry flavours. The tuiles are an exercise in how little food you need to deliver a taste. The freeze-dried strawberry flavour is most intense.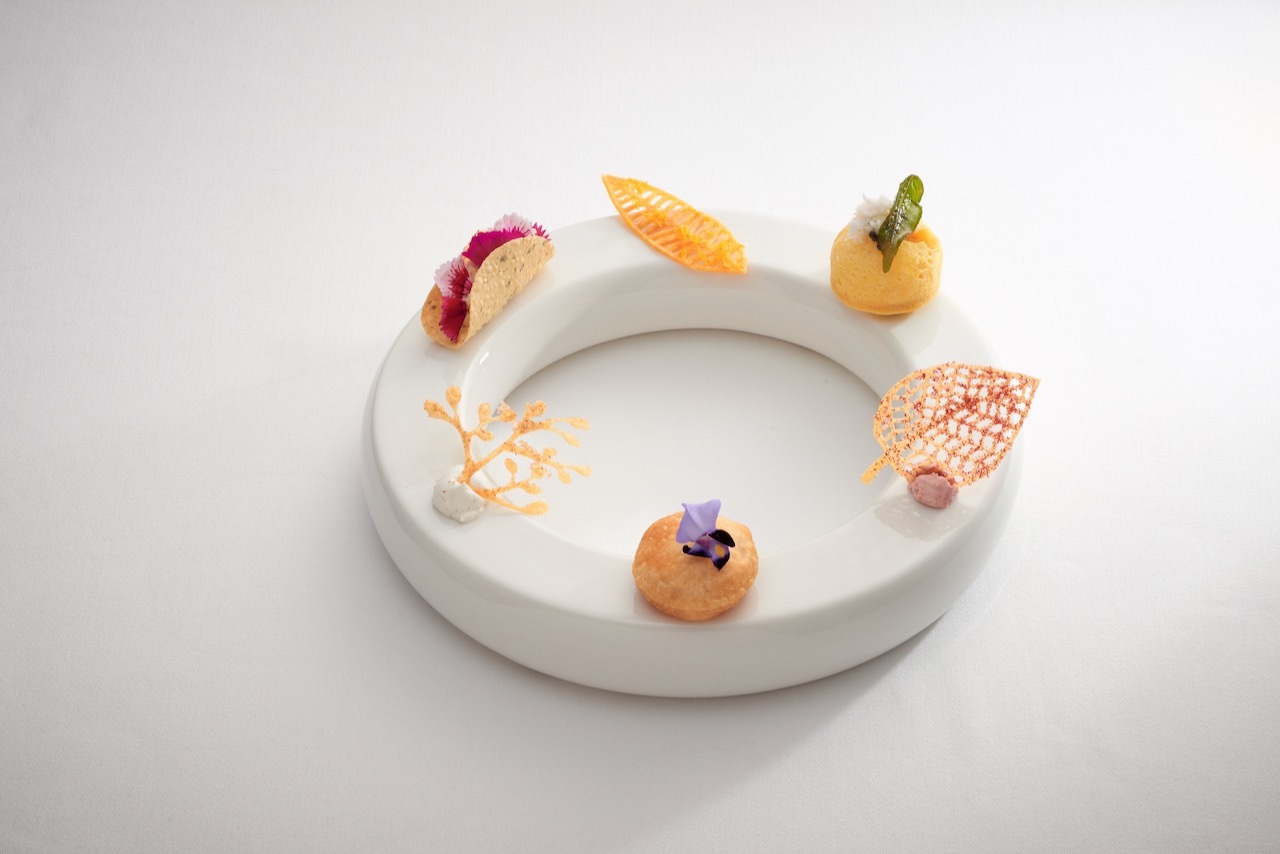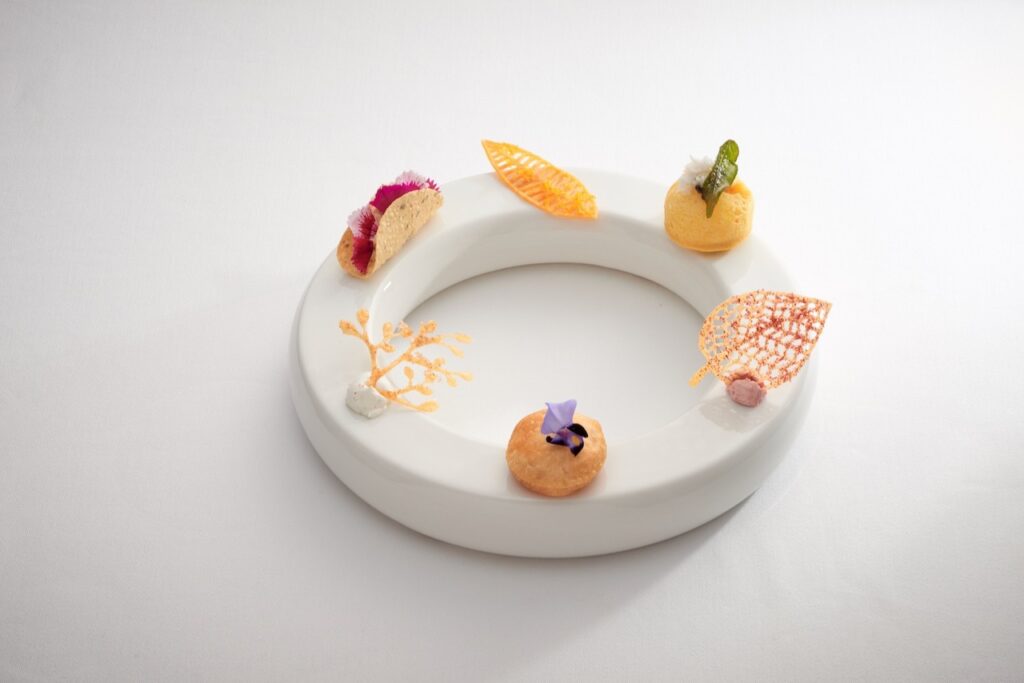 Earth and Sea (Oyster and Uni)
Earth and Sea is an evolved version of the caviar course from the Charcoal menu bringing in more chef skills and design. Instead of only caviar from the sea, we are also offered sea urchin (uni). The caviar is accompanied by the same coconut espuma, but Chef Yogi has added ginger. The uni sits abed caramelized onion adding natural sweetness. He says the caviar offers minerality, whereas the uni refreshes the palate. In the centre, the sea-borne flavours are grounded with a single, perfect oversized cracker to support both the caviar and uni.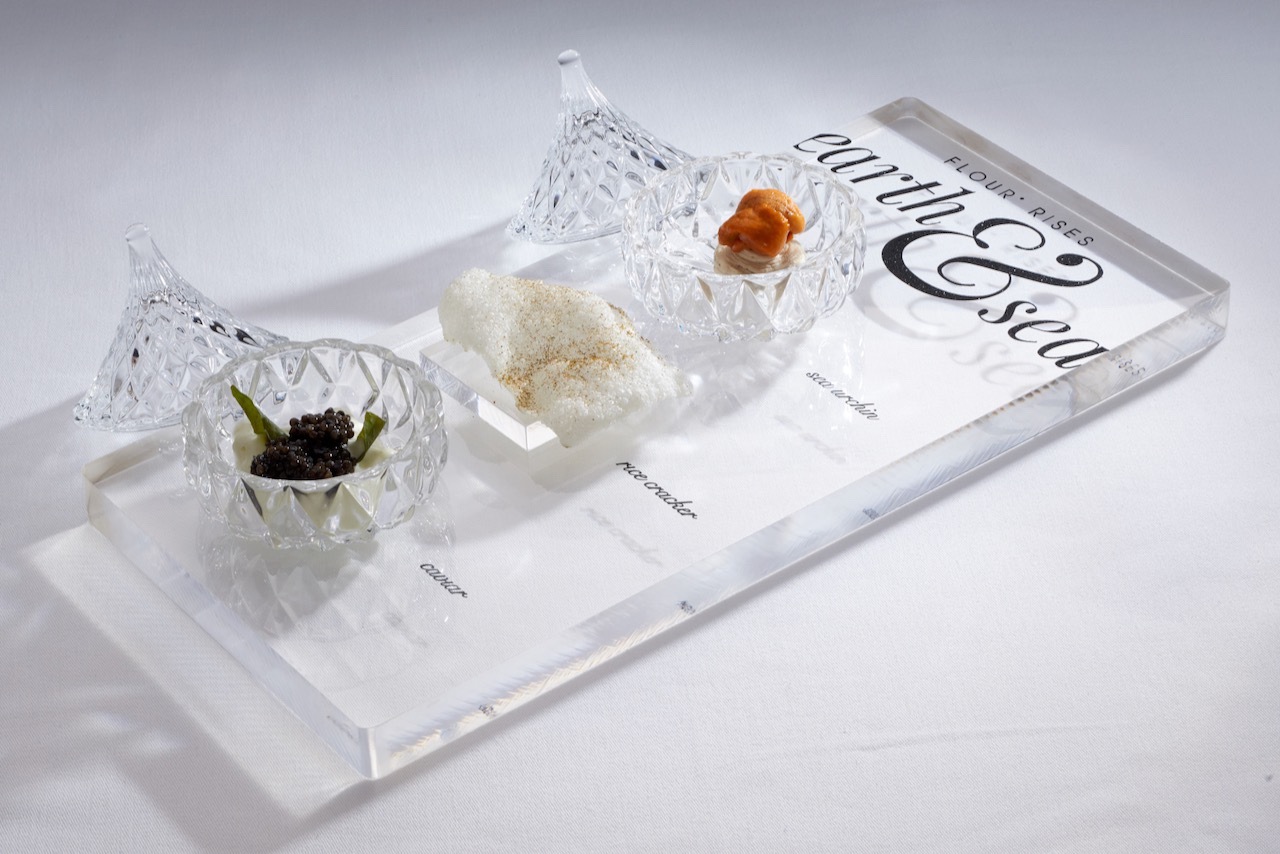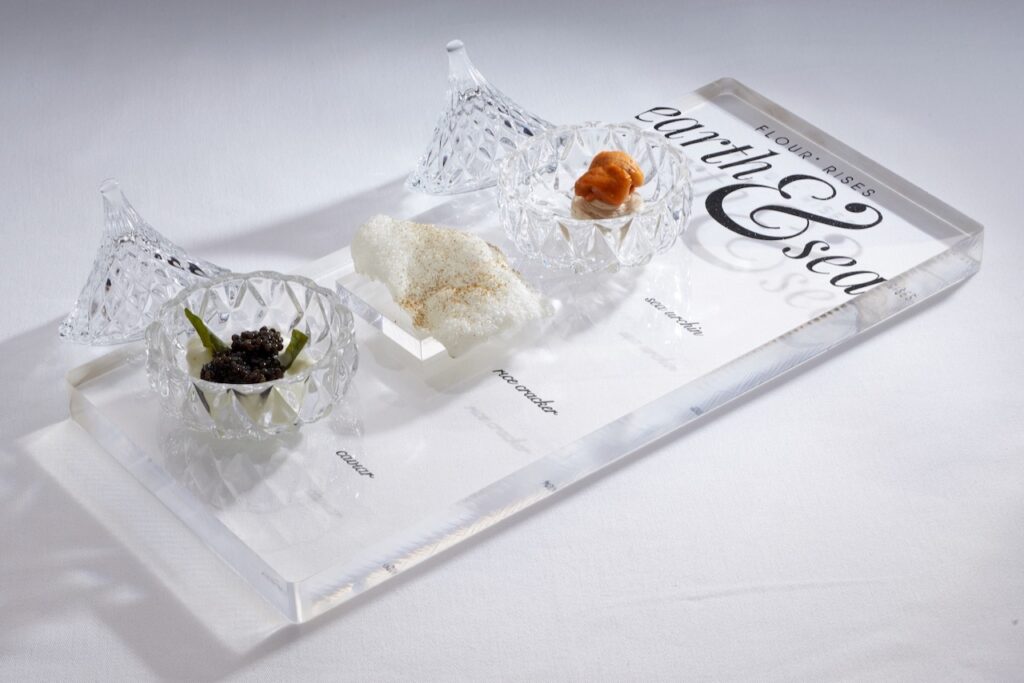 Champagne: Amour de Deutz 2010 Brut Millesime
The wine pairing for the oyster and uni is the Amour de Deutz 2010 Brut Millesime. This is a spectacular Cuvee champagne with a light-yellow green colour, slight fruitiness, minerality, and extra dry. It is from the renowned Deutz family winery in Champagne, France, dating back to 1838. Not to judge a champagne by cost, but I'm shocked to see the sticker price when researching it after the fact. In this case, it tastes as expensive as it costs.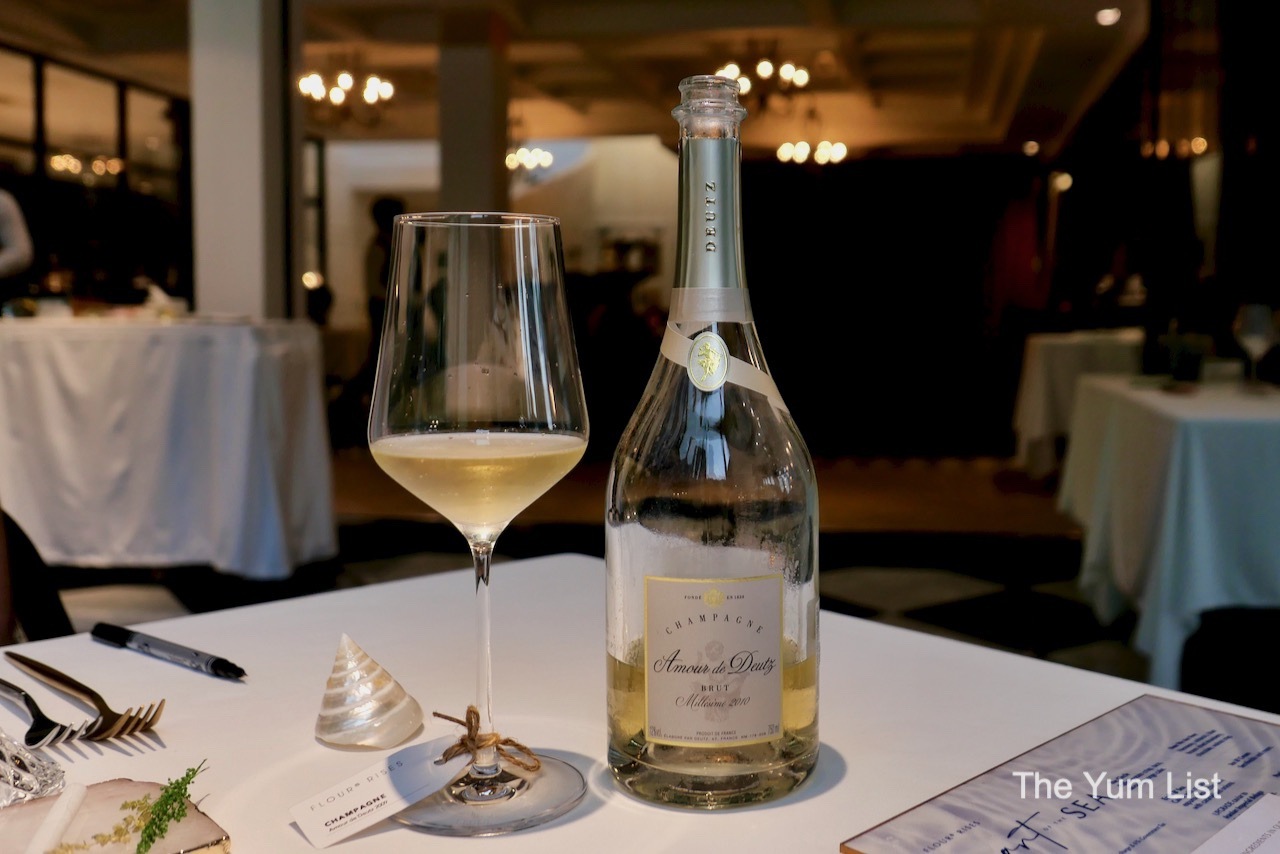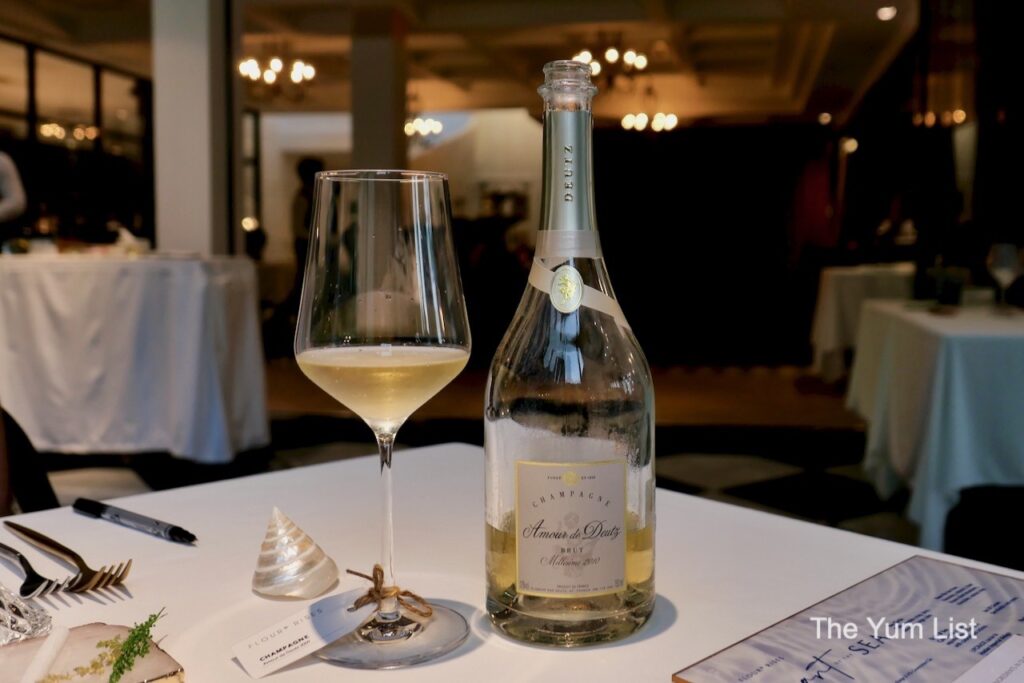 Mexico Meets India (Prawn)
If you recall from the Charcoal menu, Chef Yogi's whimsical Dr Suess moment was an egg dish called "Eggs Must Be Crazy" featuring a zucchini flower. He has replaced that course with an equally experimental dish – guacamole Indian style. Chef Shauffie prepares the guacamole table-side like at a Mexican restaurant. The Indian twist is that the guacamole is heated to infuse the flavours, which includes some Indian spices. I'd like to get a Mexican chef's opinion on this technique. It tastes like guacamole but something warm and new.
Chefs Yogi and Shauffiie then prepare an extra thick tuille (like a thorn bed) with the guacamole and single perfect Sabah prawn. We've seen every ingredient go into this dish in front of our eyes. There is no lemon, salt, or extra oils. It does feature mustard oil and mustard seeds. With the techniques and high-quality ingredients, the dish is well balanced in salt, fat, acid, and sweet through, letting the ingredients rise to the occasion.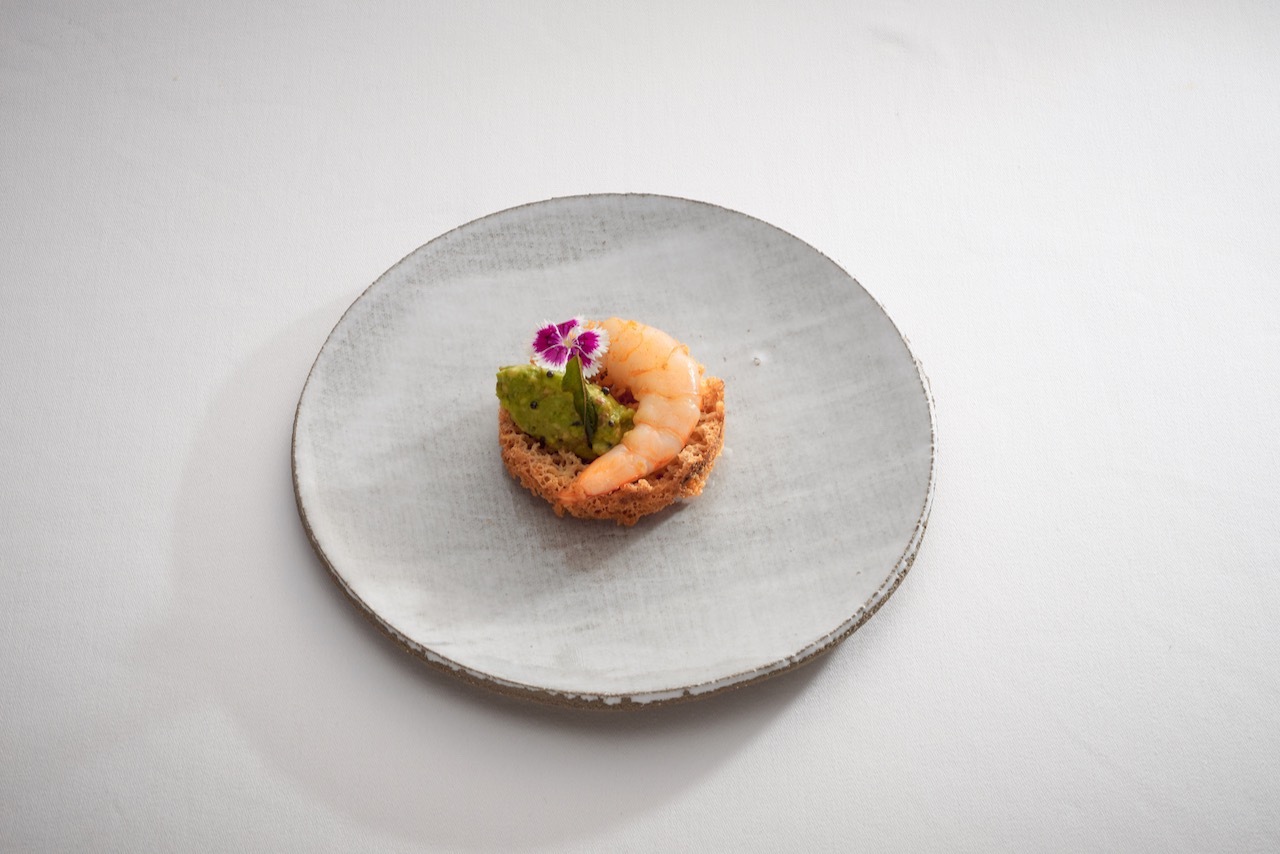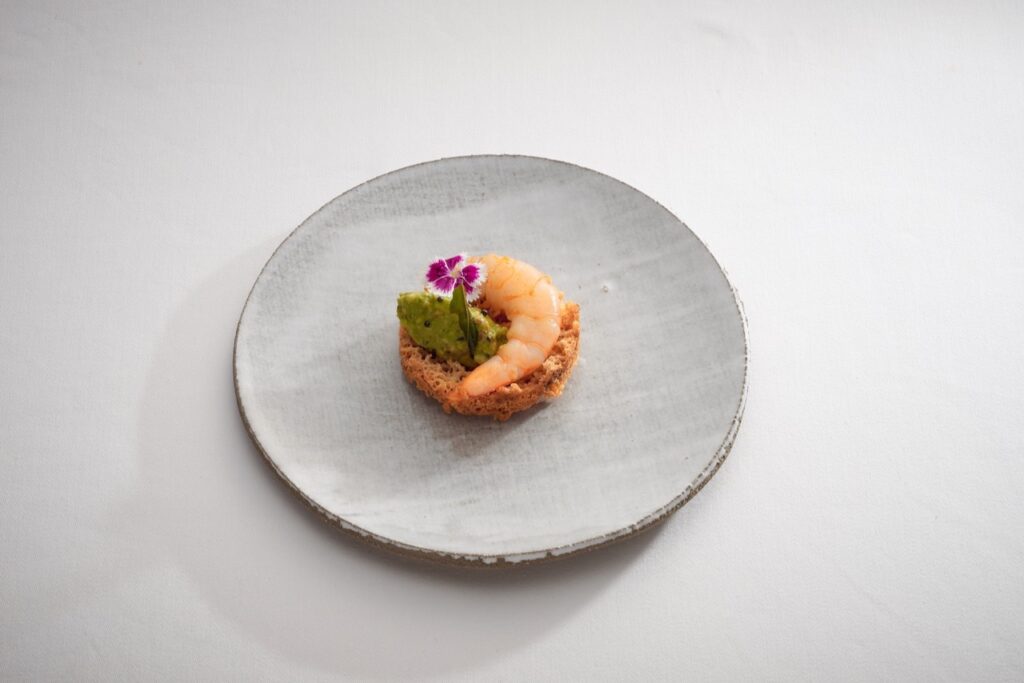 Shorba – Heart of the Sea
The soup from Flour's Charcoal menu, the Nepalese thukpa soup, was one of the most emotional food dishes I've experienced in recent memory. The spices moved across your palate, lingering in the back of your throat. These spices were new and different to me, not having become mainstream yet. I felt like I was hiking in the Himalayas and served soup in a high up mountain hut.
Chef Yogi has swapped out the thukpa for shorba in this third course. A lot of cultures claim ownership of shorba. If you google the term, you'll find dozens of definitions. Chef Yogi has made an Indian tomato shorba. It is different from a soup or stew and has few added ingredients beyond tomato, cumin, and chilli. The liquid is pure like a consomme. Since he's using so few ingredients, he only uses the best, letting them rise to the front. He uses imported Spanish tomatoes, which he shows us and are a deep brick red in colour. They are more regal than the truffles that he shows us later.
To accompany the shorba, Chef Yogi has added Scottish scallops shaped into pearls as a vehicle to absorb some of the intensity. We also enjoy a crisp focaccia cracker. I could see an ultra-marathoner craving this soup to replenish depleted nutrients. It is clean, supple, dense in flavours, and rivals my memory of FLOUR®'s thukpa.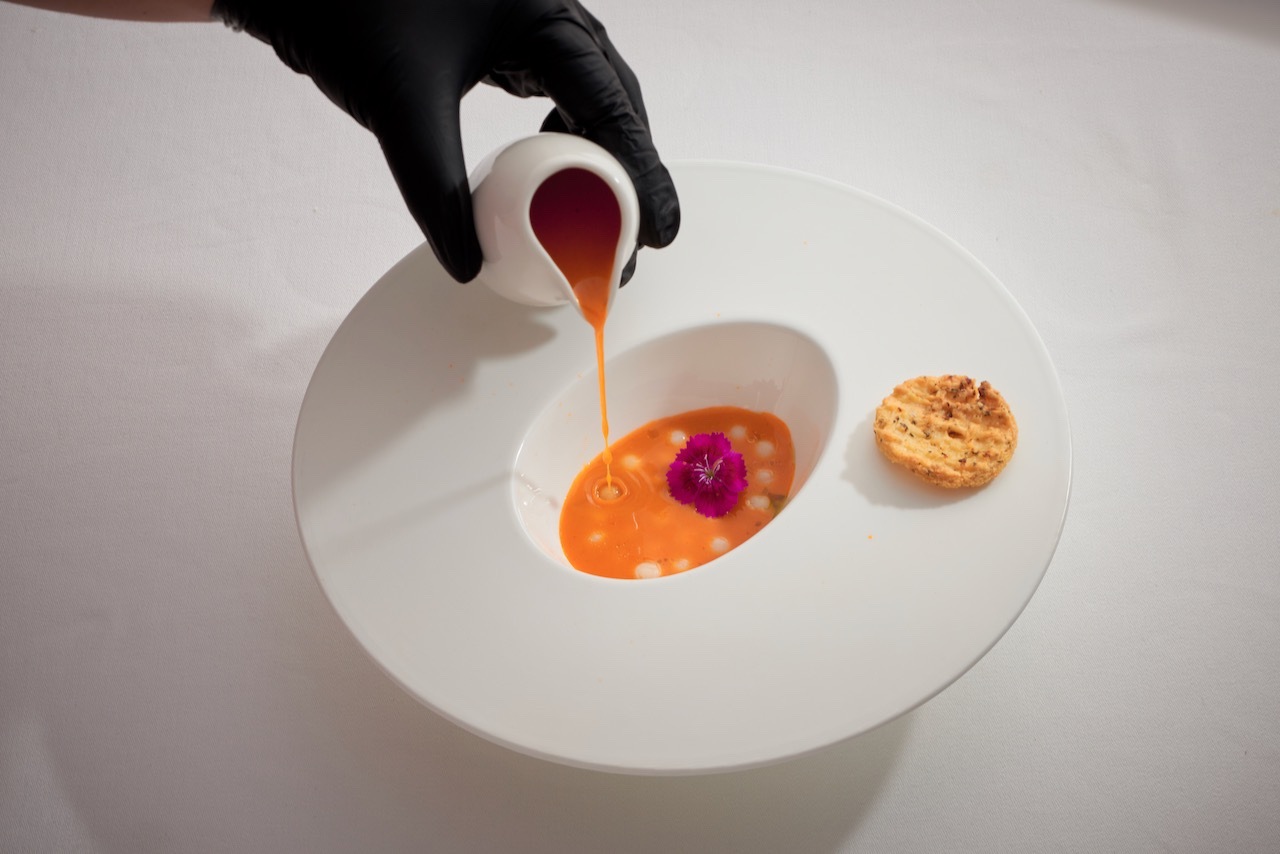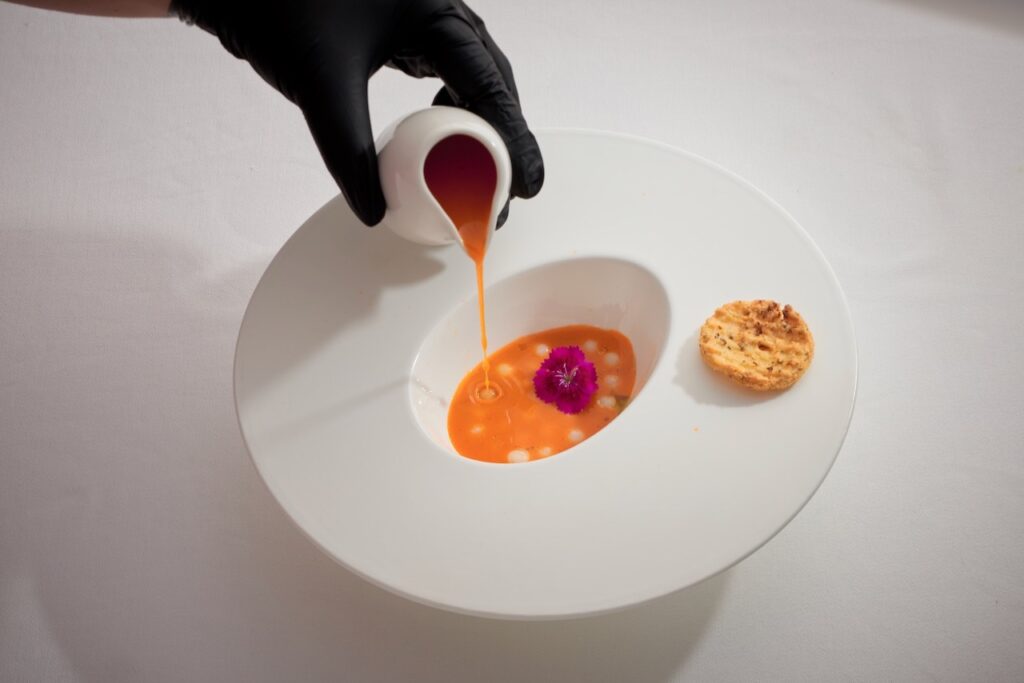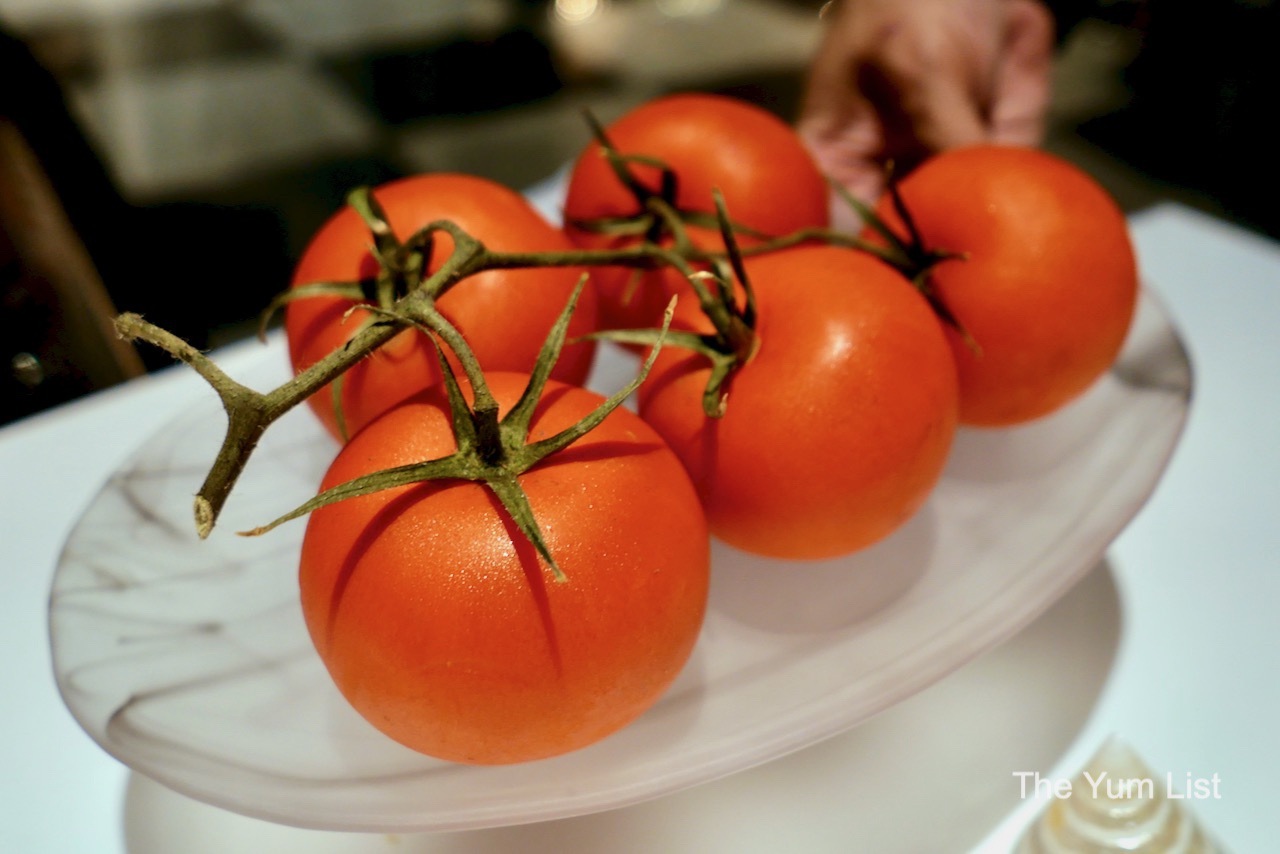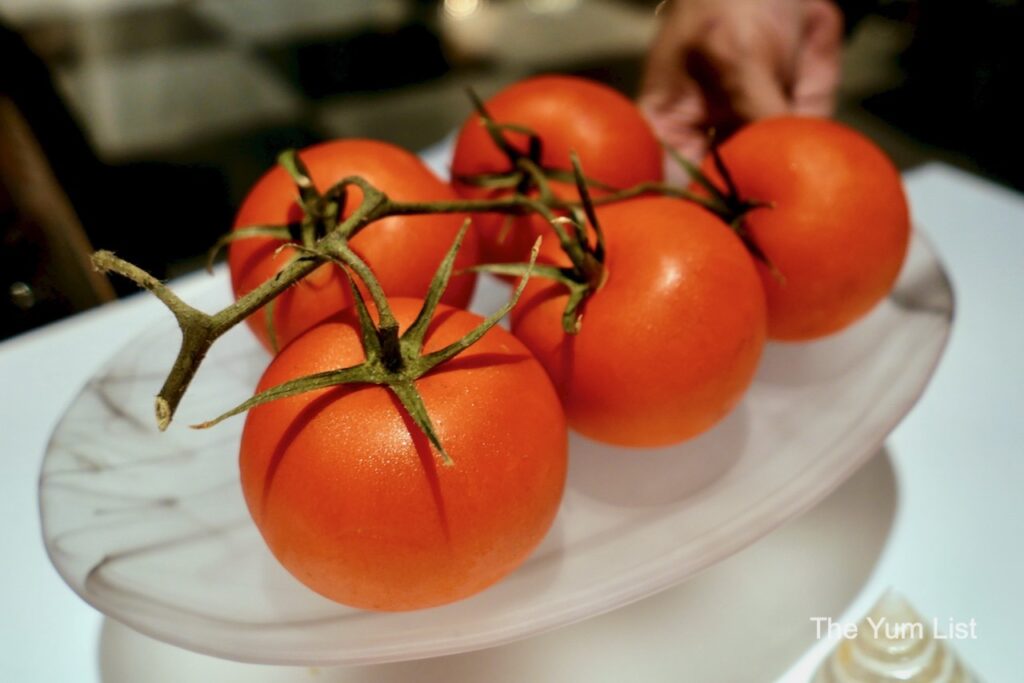 De Bellene Coteaux Bourguignons 2018 l'Eclos de Abeilles
The prawn and shorba are paired with De Bellene winery's 2018 l'Eclos de Abeilles. It is a chardonnay from Coteaux Bourguignons, or the hills of Burgundy in France. It takes creamy with lemons, bananas, and pineapple. We enjoy it with both courses.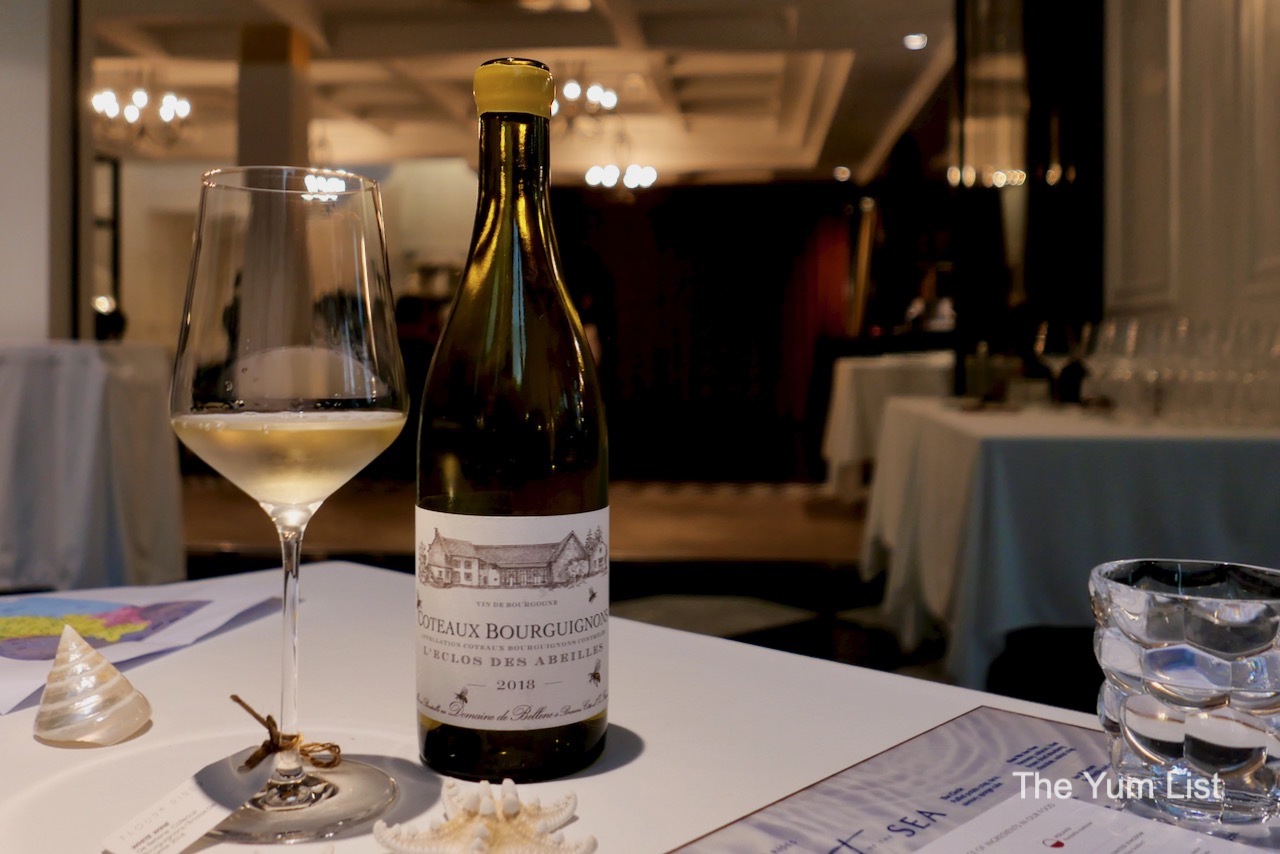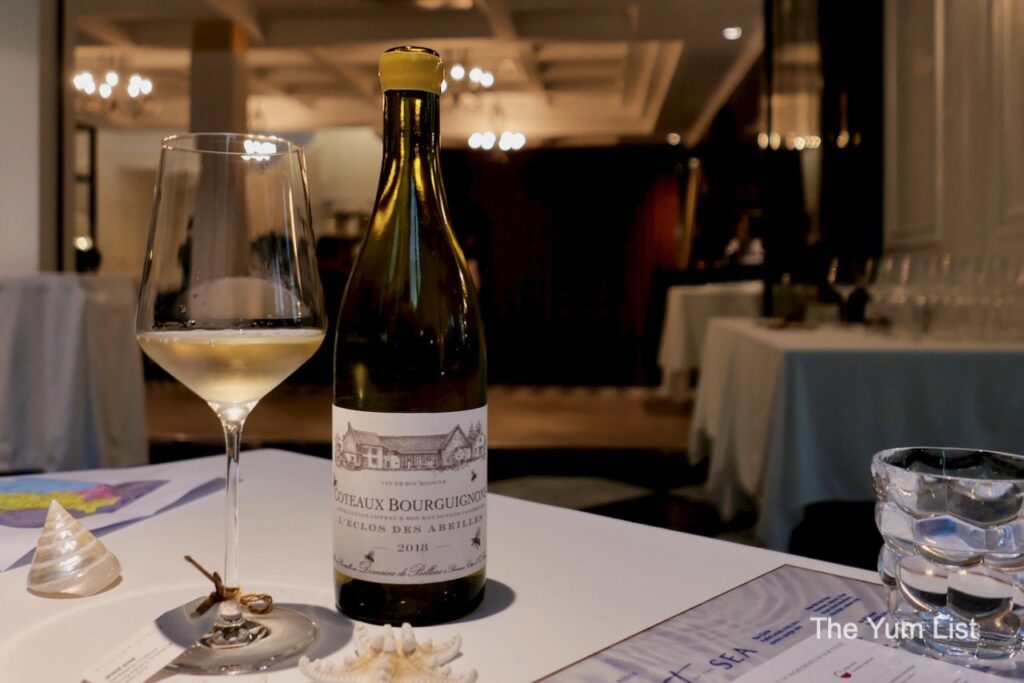 Turmeric and Mustard (Abalone)
Chef Yogi's discipline surfaces in full form for the abalone course. The abalone tastes grilled with a charcoal or smoked edge to it. It has the texture of grilled squid, which is good for those who dislike abalone, the maligned sea snail of the ocean. It is served with a mustard-turmeric fresh cream sauce and wasabi pearls. The philosophy behind this dish is the competing coasts of India. Turmeric is more prevalent in west India, whereas mustard seed is used in Bengali cuisine. He brings the two together. The abalone is flown in from Australia alive and cooked just before the meal.
The strictness comes with Chef Yogi's direction to eat the abalone in three bites. We are only offered three wasabi pearls—one drop for each bite. I appreciate the curved razor-sharp knife that we are given to slice the tough abalone in swift cuts. The result is a beautifully balanced and seasoned dish, again with no other ingredients besides what has been stated. Each element rises, allowing for big bold and somewhat unfamiliar combinations.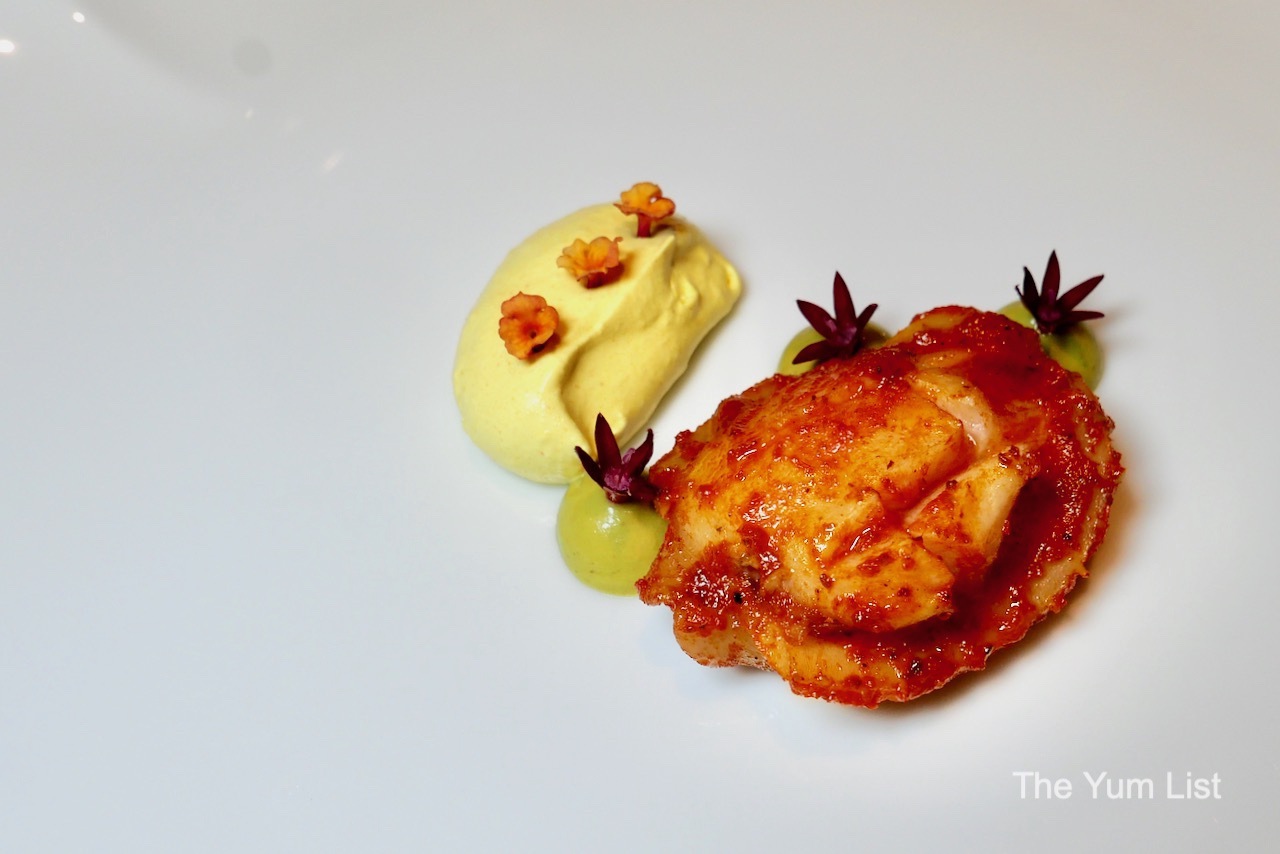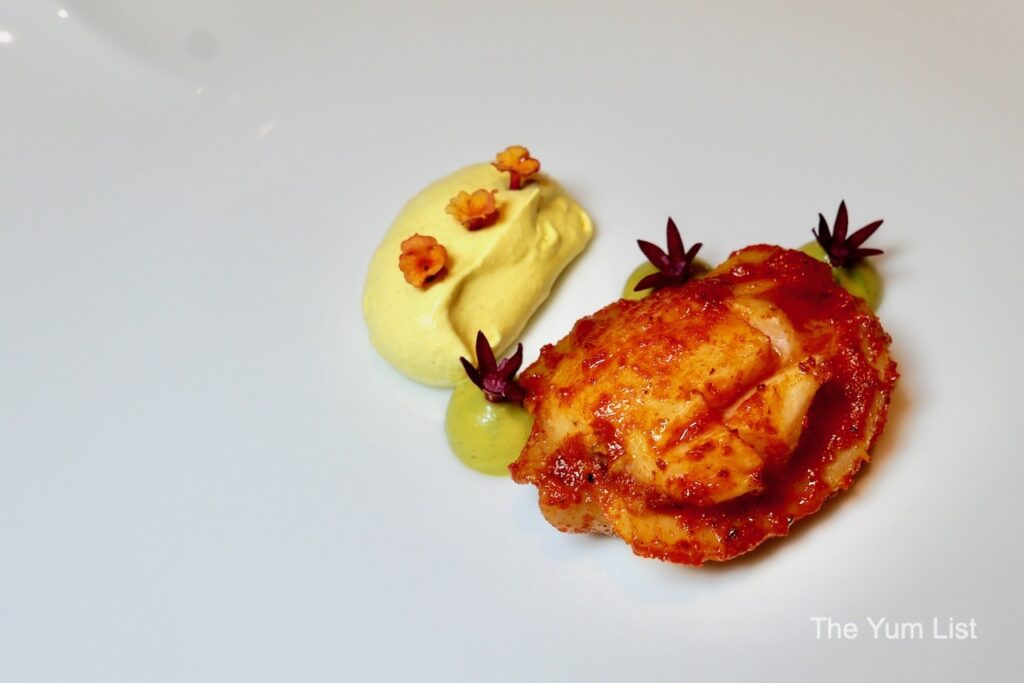 2018 Jean Javillier & Fils Meursault
The abalone is paired with the clean, crisp 2018 Jean Javillier & Fils Meursault. In FLOUR®'s last degustation menu, this same wine was paired with the octopus and monkfish. The citrus and minerality are excellent with these sea-based dishes.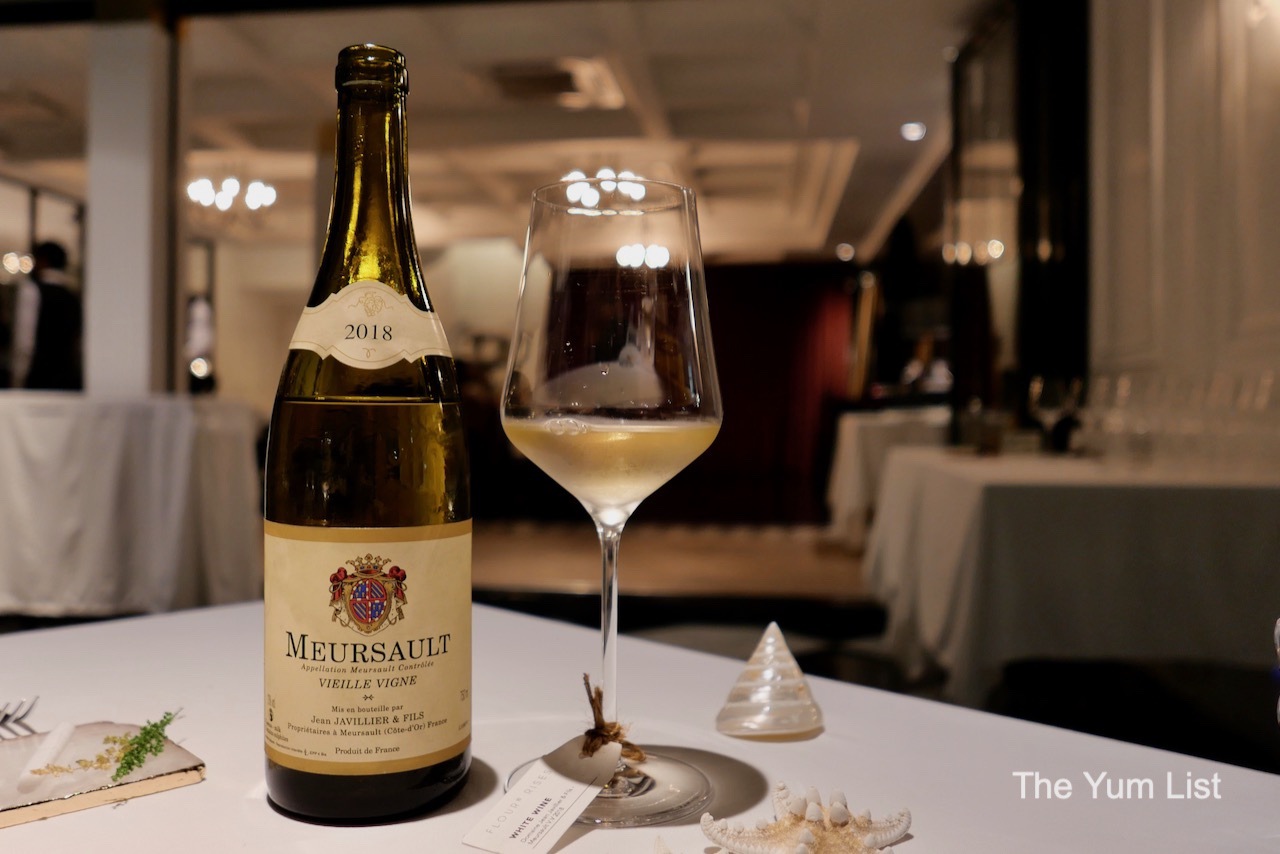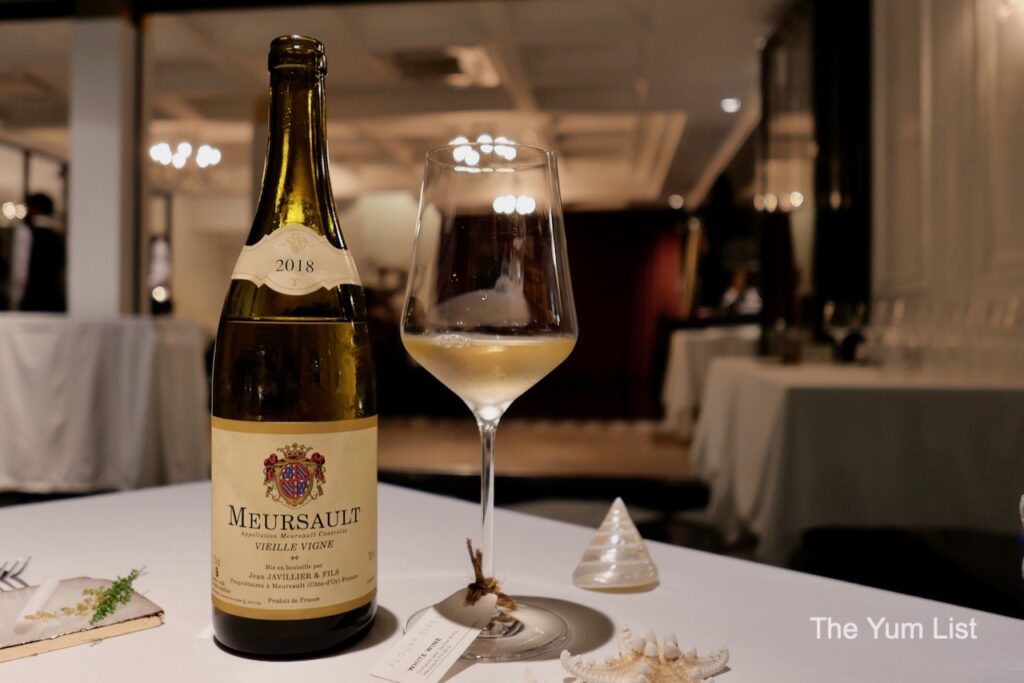 Heart of the Sea – Kerala (Lobster)
Kerala is a southern state in India on the west coast. It also means land of coconuts. The dish is lobster in coconut sauce with bread. (The menu lists this dish with crab, but due to supply chain issues, it is swapped out for Alaskan lobster.) This is a light and summery dish seasoned with joy and warmth. The sauce uses the Indian technique of tempering where spices and ingredients like garlic, mustard seed, chilli, cinnamon, and curry leaves are roasted in oil at the start to bring out character and re-added at the end.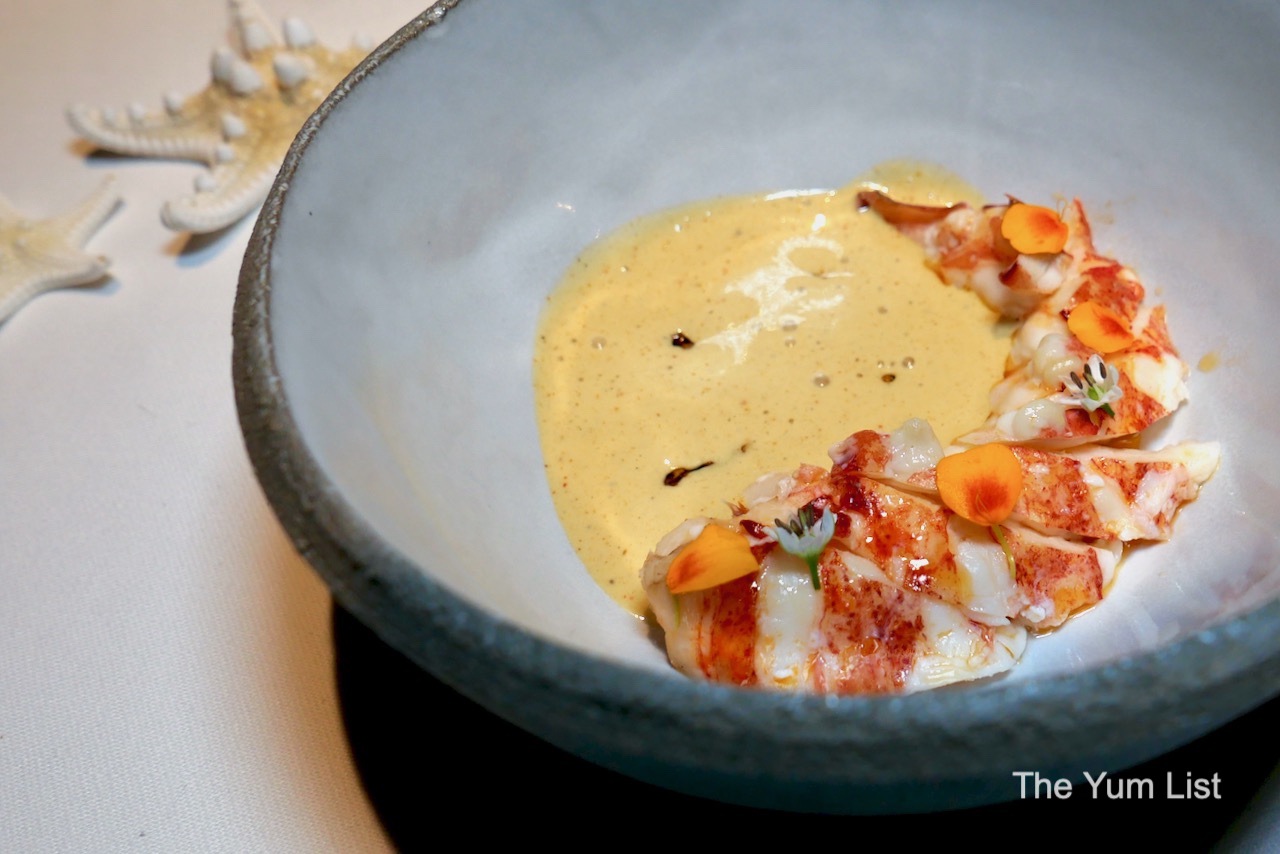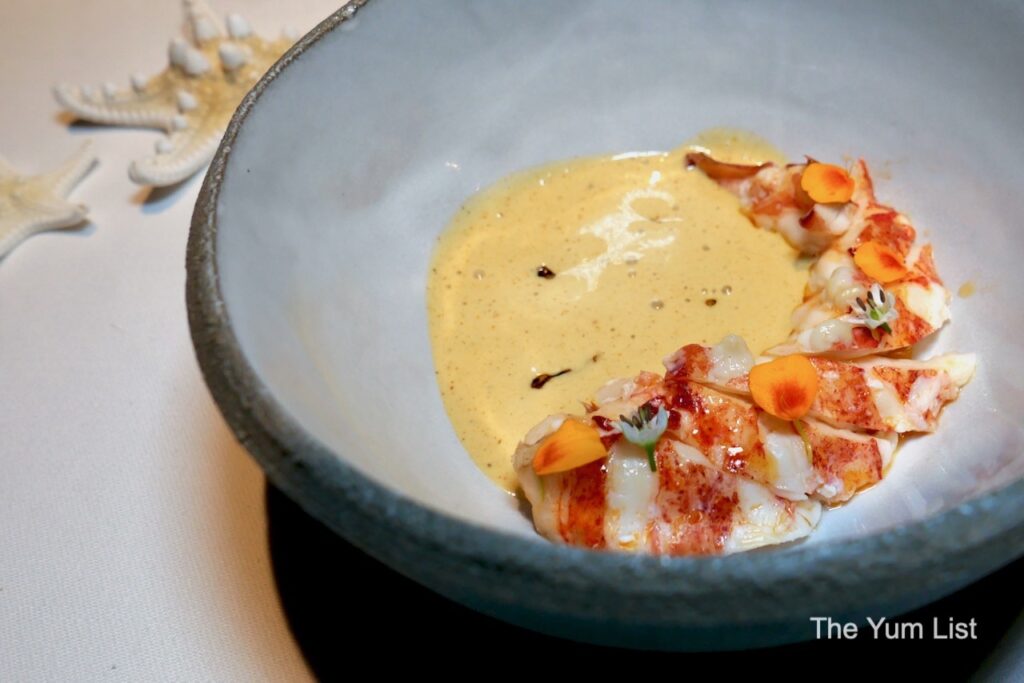 Maison Roche de Bellene's 2018 Bellenos
The lobster is paired with a 2018 rosé from the wine trading company Maison Roche de Bellene's Bellenos, or pleasure collection. It originates from Beaujolais, France, known for its gamay noir grape. Its bright minerality and fruit complement the lobster and coconut perfectly, making this one of the standout pairings of the journey.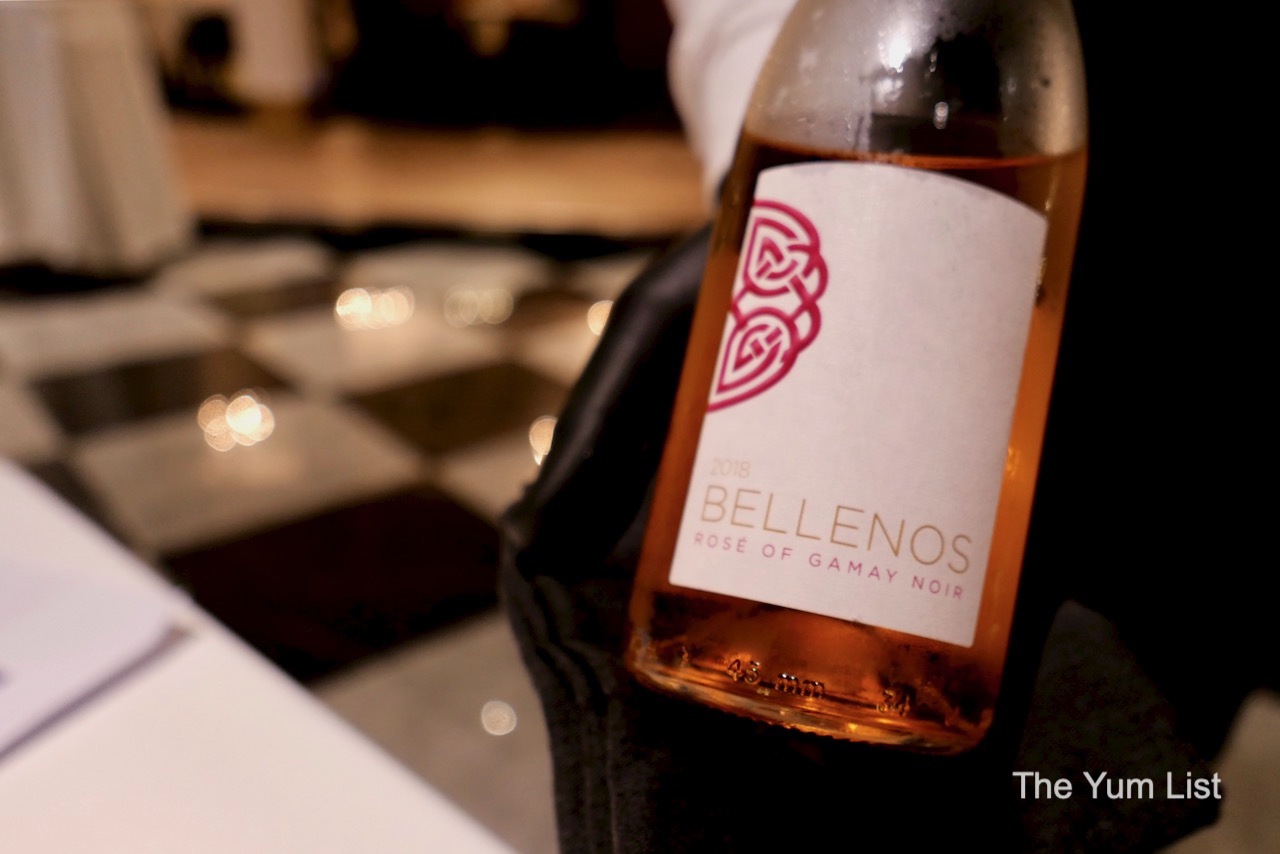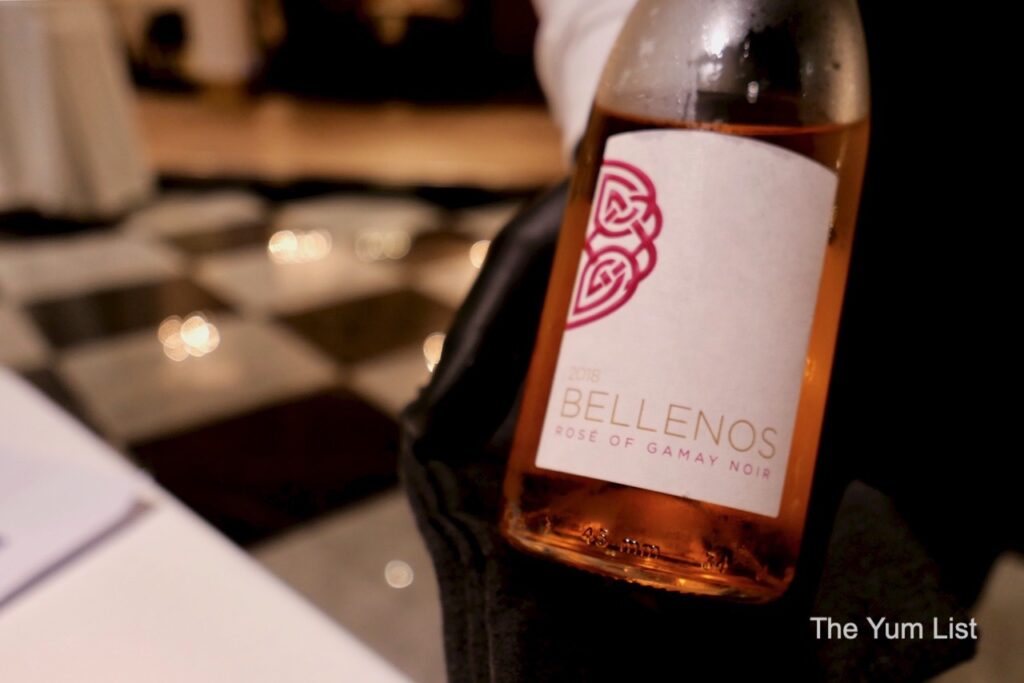 East and West Coast (Black Cod)
Our main courses conclude with Arctic black cod. The dish is deconstructed into three plates: the cod, rosematta rice, and a shallot curry. Each component is deceptively simple in its construction. In fact, the photos (pre-truffle shavings) depict what appears to be three humble bowls of food. Being understated gives space for the ingredients to rise.
The cod is not messed with except to be cooked perfectly. It peels apart like an onion. The curry is clean and takes a back seat but adds the savoury element. The rosematta rice imported from India is unique among rice. Chef Yogi adds little snap peas from Kenya for a slight change of texture and sweetness.
While the precious cod has been imported from Alaska and given its life for this dish, we can't stop talking about the rice. And not the generous shaved Italian truffle that Chef Yogi's team adds to it, but the rice itself. It is earthy and coarse, reminding us of an ancient whole grain. We learn that it is indigenous to Kerala state and popular there as well as Sri Lanka. It is known for its health benefits and slightly red hue.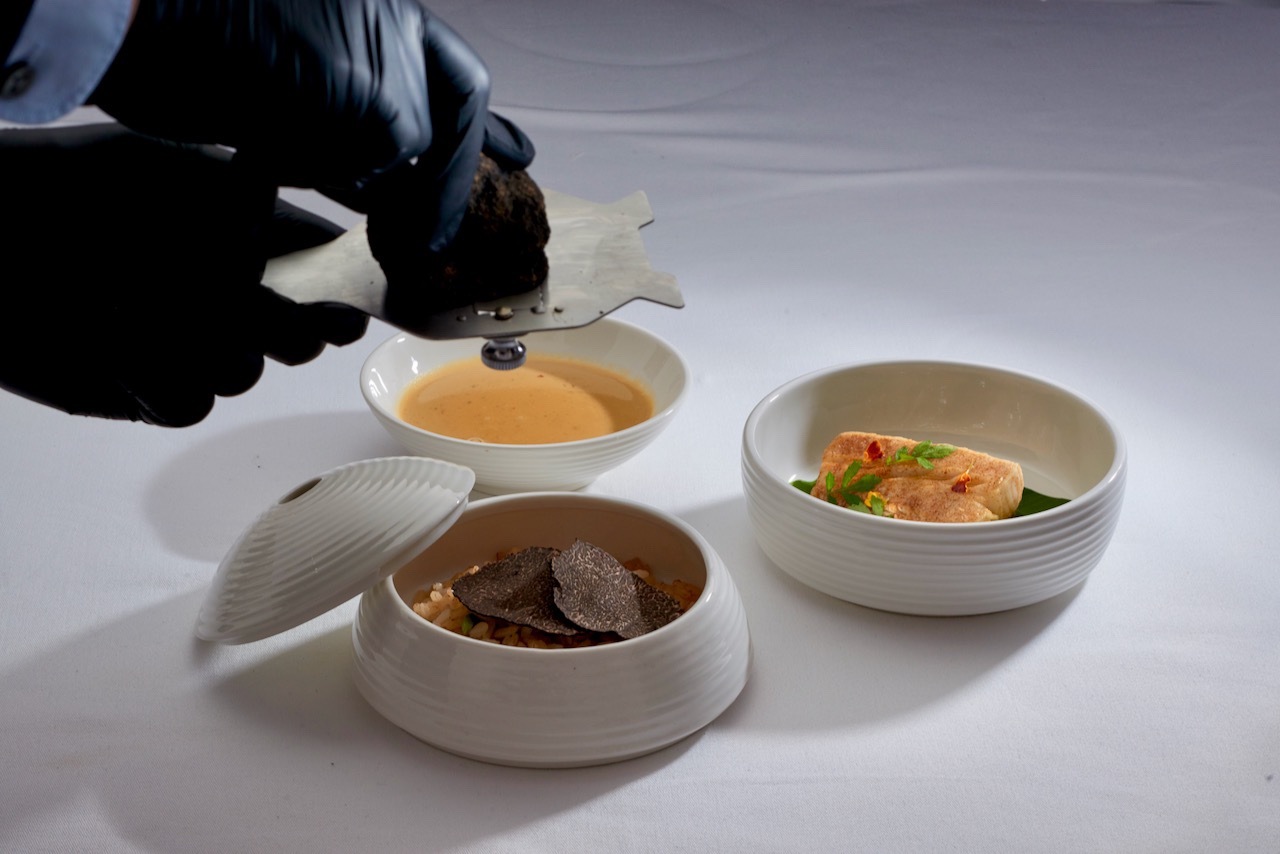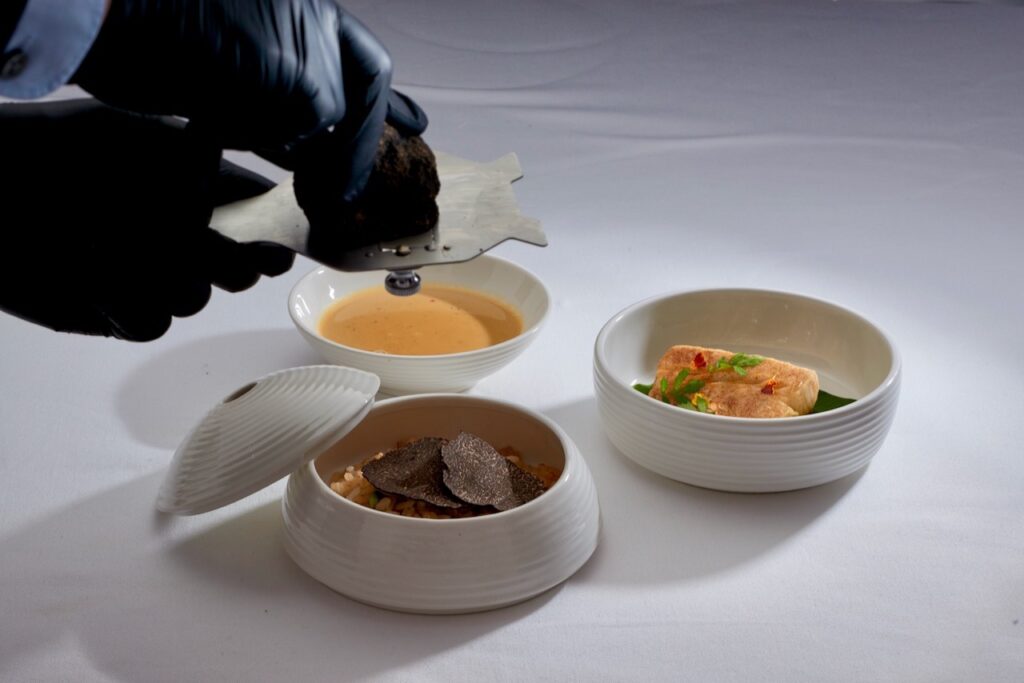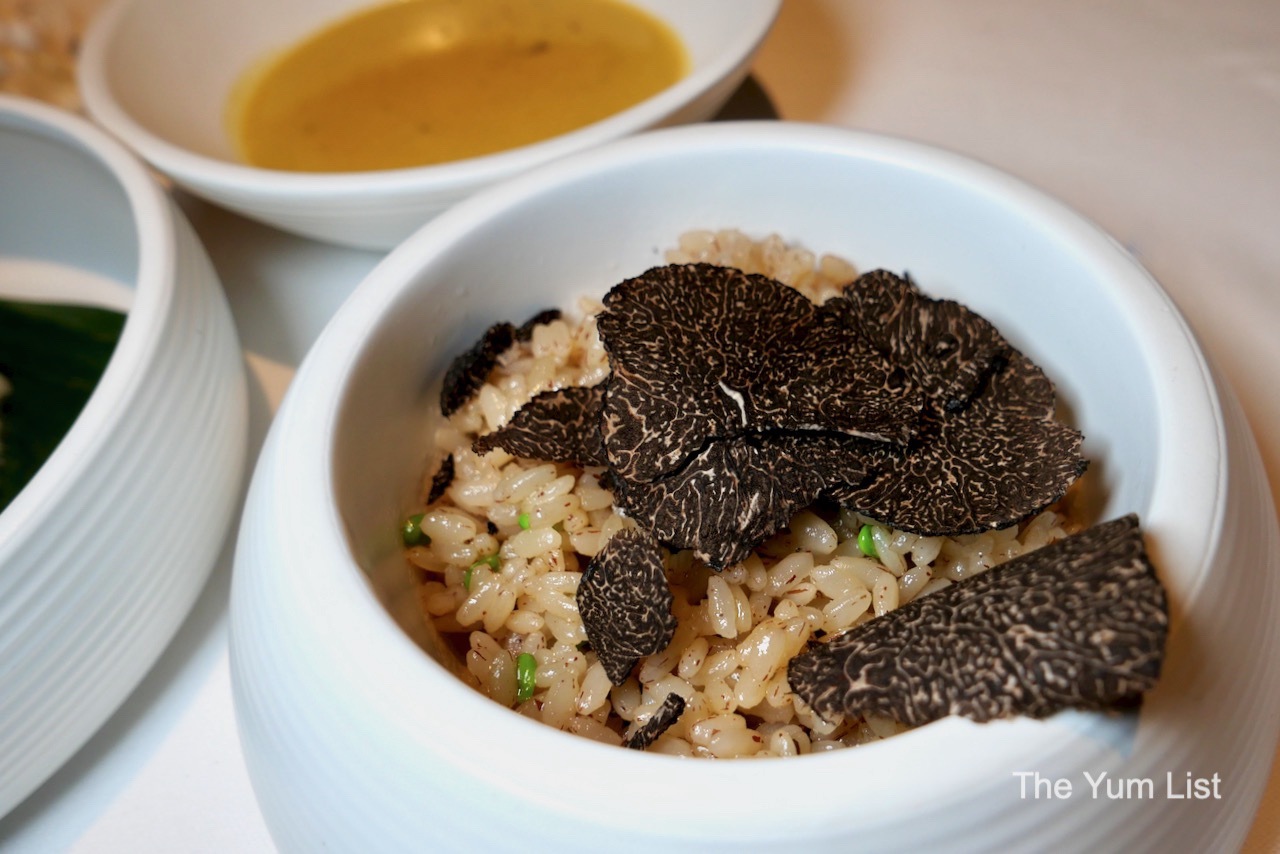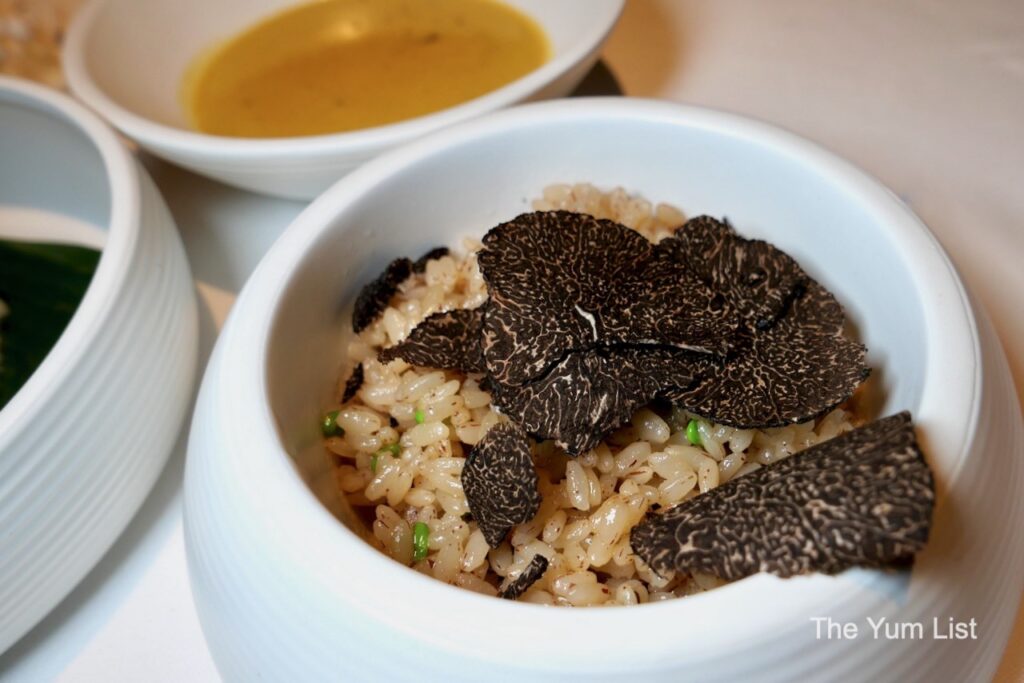 Domaine Joseph Roty's 2018 Gevrey Chambertin
The final wine pairing is the coveted Domaine Joseph Roty's 2018 Gevrey Chambertin. It is a pinot noir blend and medium to full-bodied. It drinks like velvet – the same texture as the cod — and is bursting with cherry and spice. If you opt for the lamb or partridge add-on courses, you'll want a second glass. Save a few sips for the sultana dessert.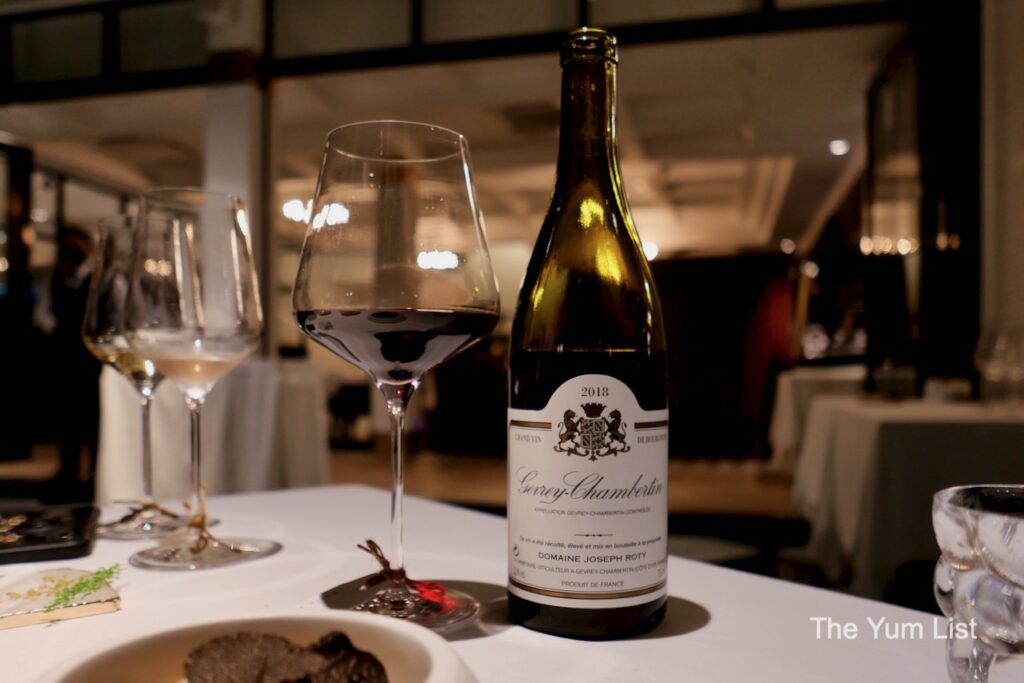 Now We Are Free (Dessert)
There are three desserts to this degustation menu plus digestive chocolates. That's entirely unnecessary, but Chef Yogi has decided to keep desserts from his prior menus that customers like. If he's doing three or four tasting menus per year, the number of desserts will potentially double by next year.
The first dessert is a holdover from the charcoal menu with some updates. I love the addition of the intense freeze-dried strawberries to compete with the sultanas (and bringing us full circle to the tuile from the start). There is also a chocolate walnut crisp. Chef Yogi lets us taste the sultana in its raw form imported from Iran. Their royal plumpness puts your local store-bought raisins to shame. I am more transported by the music that accompanies the dish than the last time.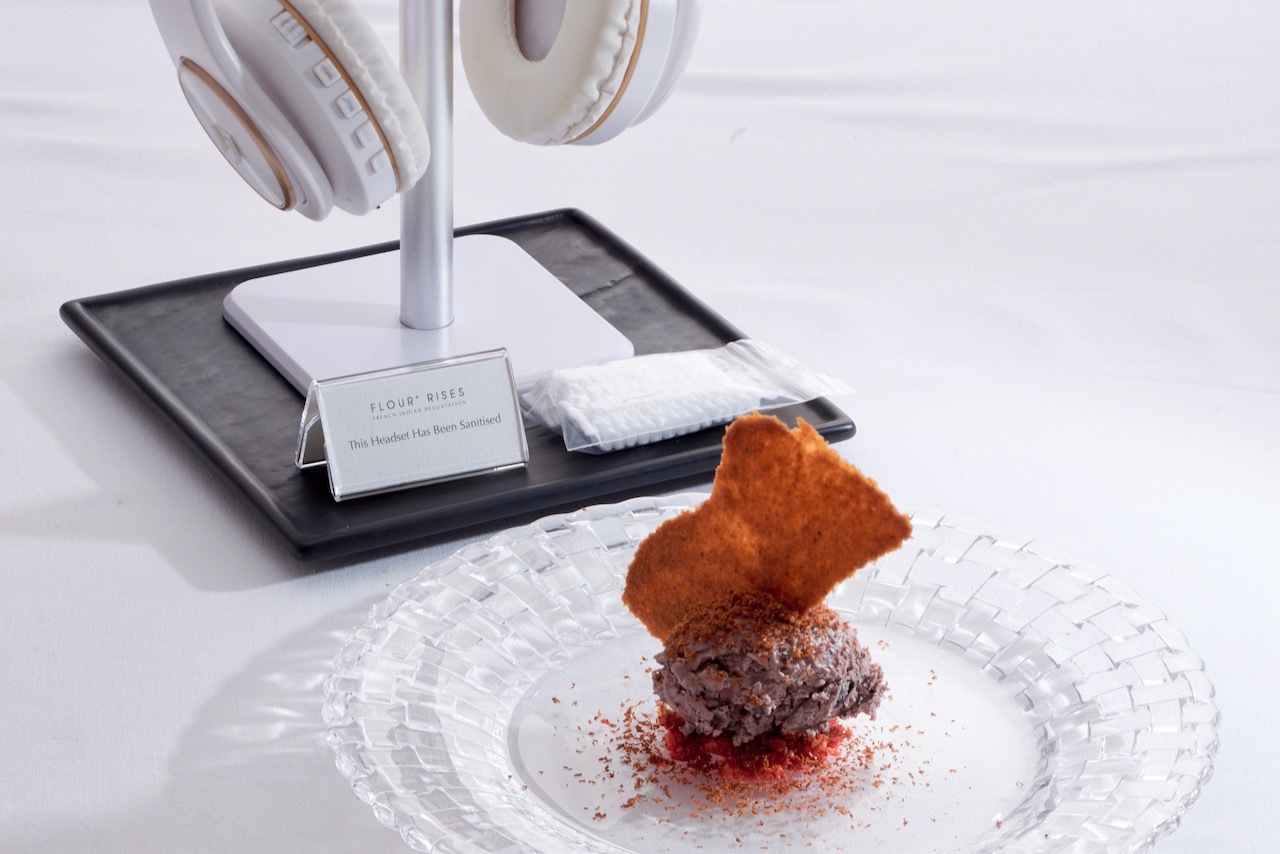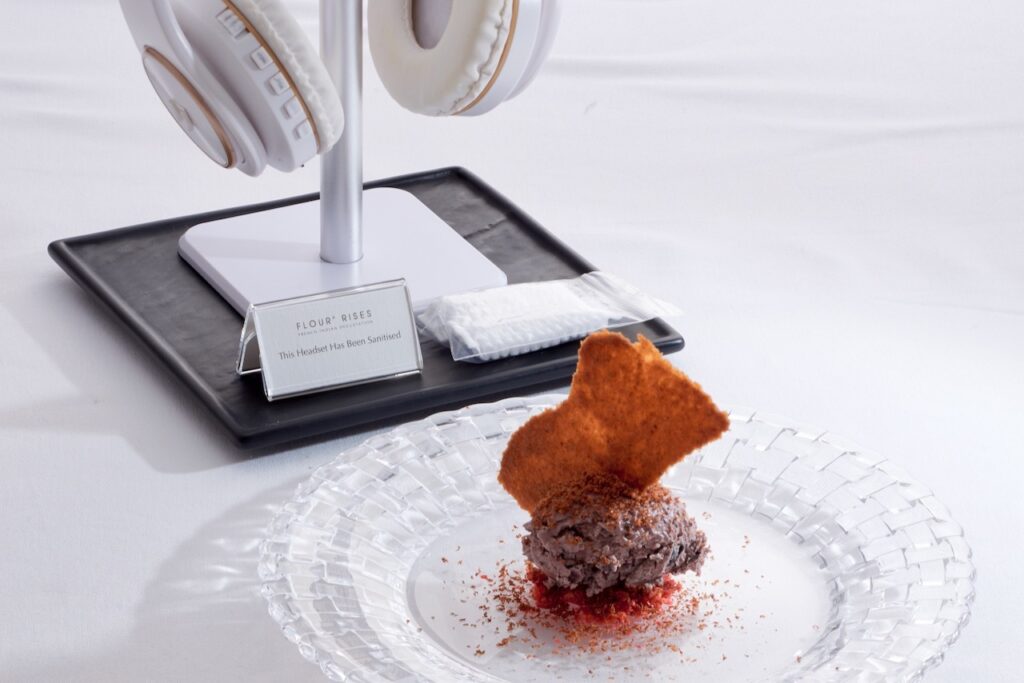 Ice and Cream (Not Ice Cream!)
This is not ice cream but rather ice and cream – a deconstructed ice cream. The mango sorbet with a hint of ginger and no added sugar sits next to the cream drops. The South Asian-ness from this dessert is the mango sourced from Pakistan, which can produce the best mangoes in the world. Pakistan has more varieties of mangoes than the West has for apples. When you catch them at the perfect ripeness like Flour, you don't need added sugar. The dessert is shaped like a tree which reminds me of sitting in a summer orchard eating orange creamsicles from my childhood.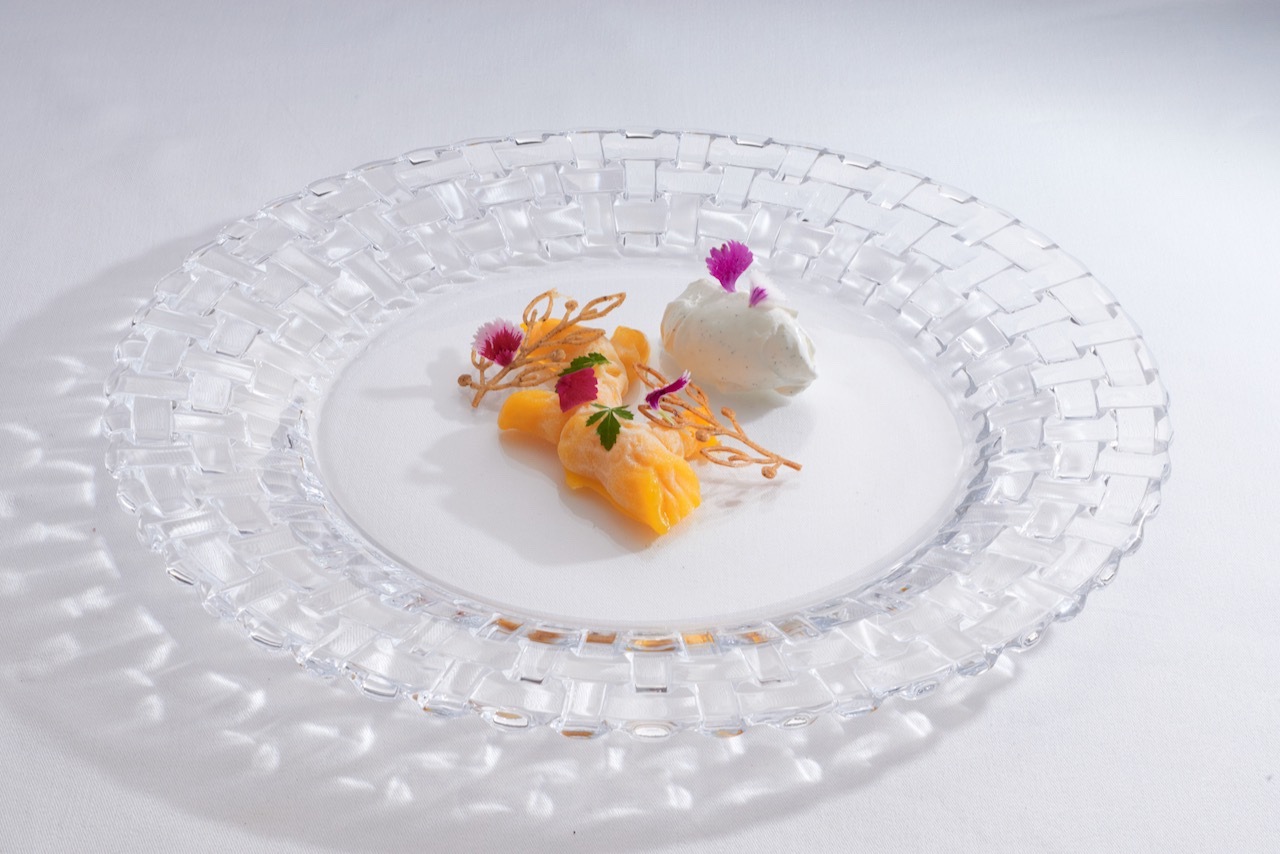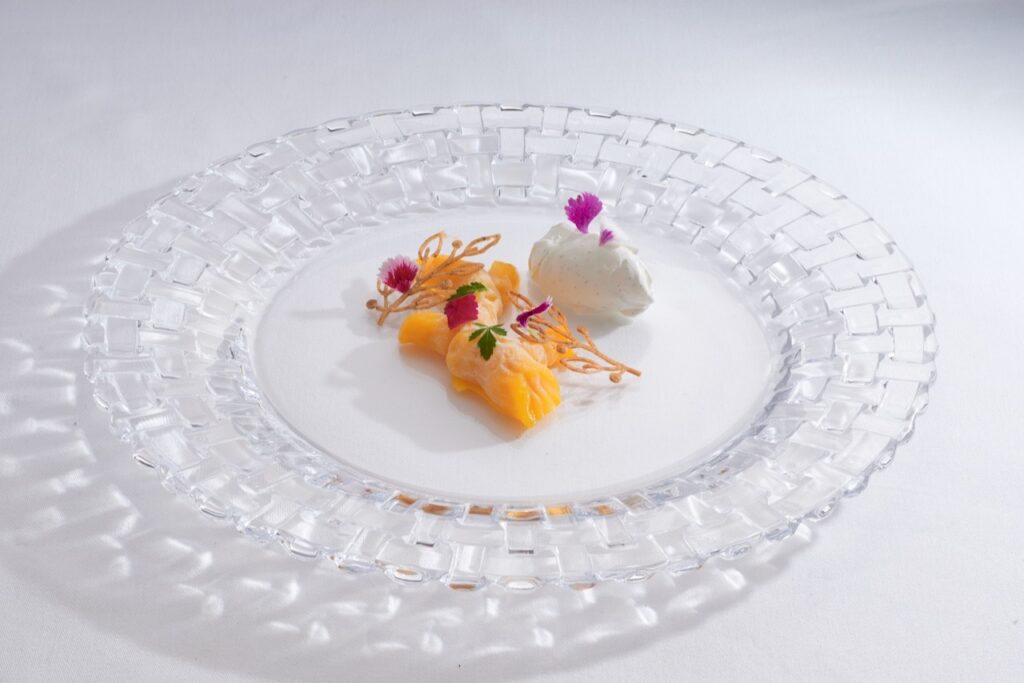 Heart of the Sea – Passion of the Fruit
Ah, the souffle. This airy gem takes exactly 16 minutes to rise. Chef Yogi and the team must guess when to put it in the oven, so it lands on our plates in 17 minutes. If we linger too long on the first two desserts, the souffle will crash before it's served. Chef Yogi uses no flour in his souffle and opts for an orange-forward taste. Monica ate every bite. Enough said.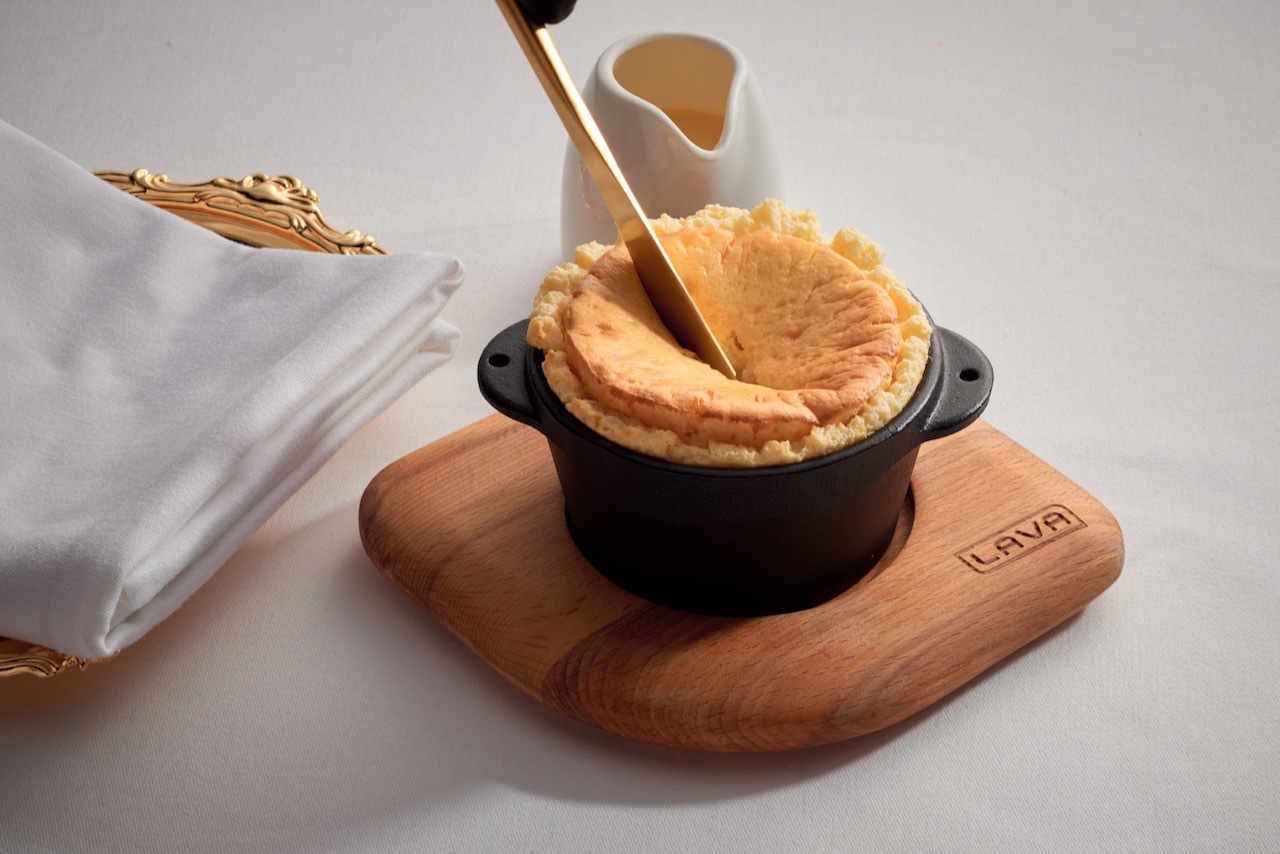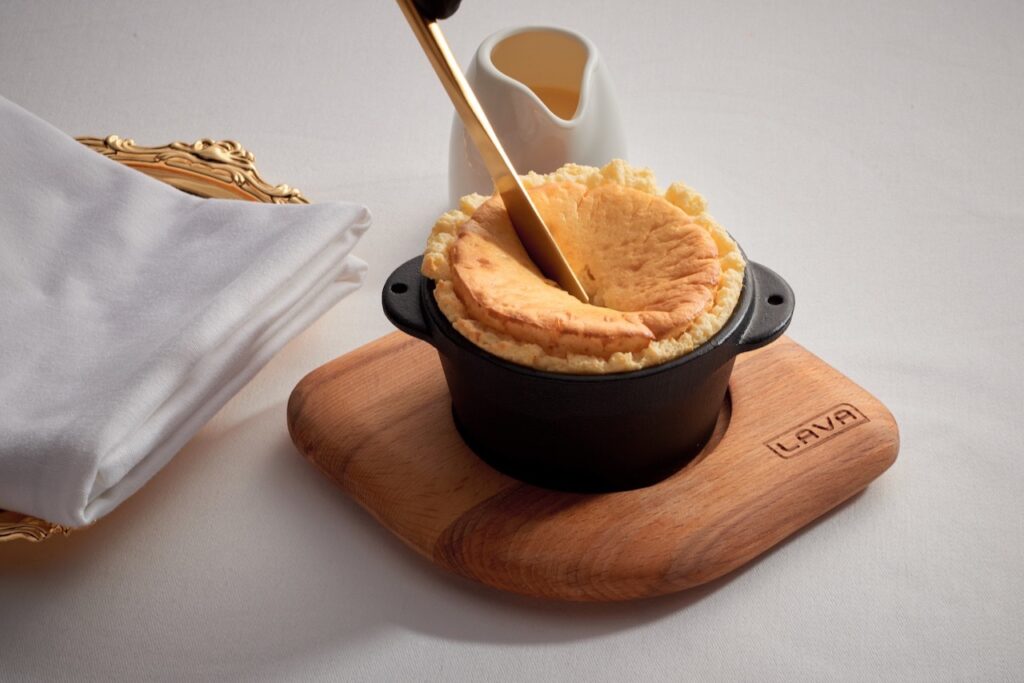 Digestive – Heart of the Sea
As with the Charcoal tasting menu, we finish Flour Rises leaving the subcontinent to return to Malaysia with a piece of award-winning Malaysian Kelantan chocolate and a sip of Hennessy XO cognac. We also enjoy a delicious cup of masala tea.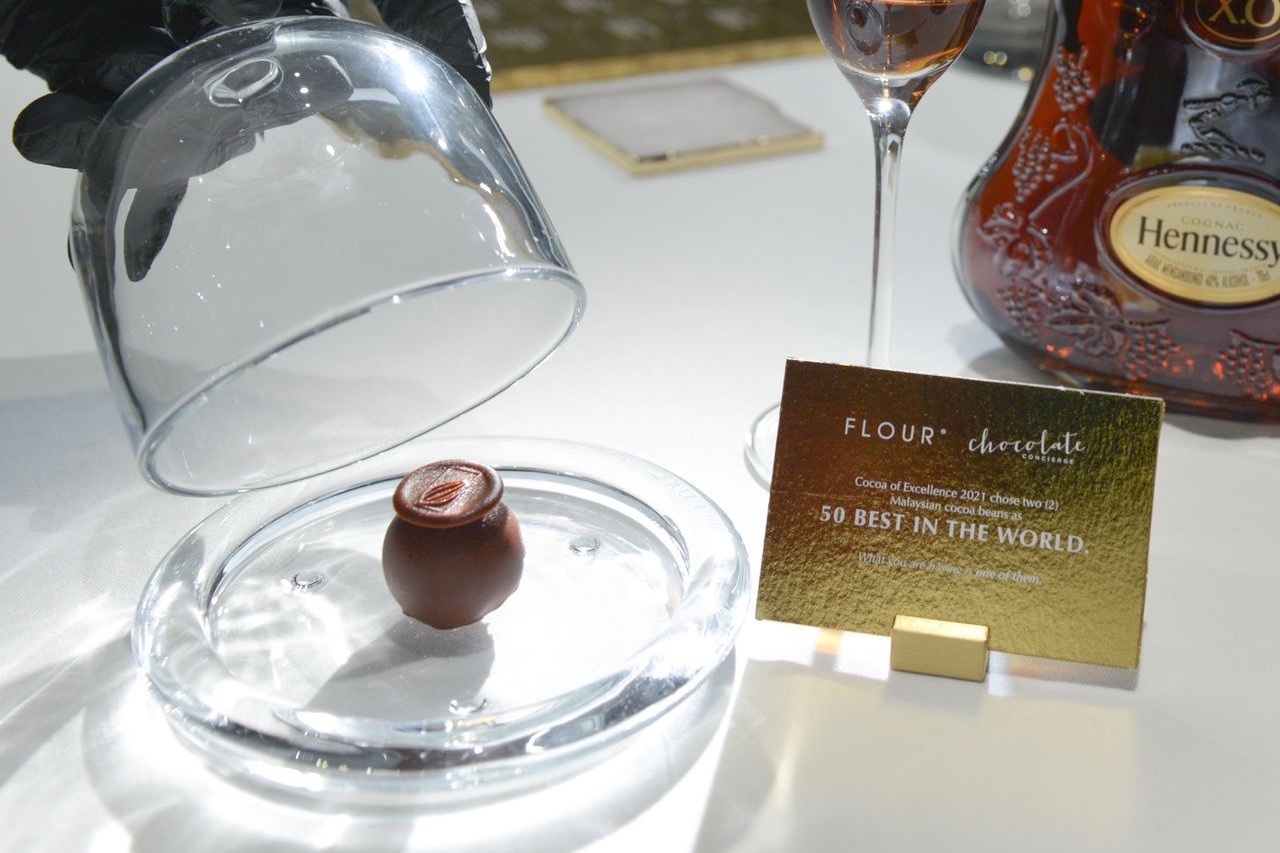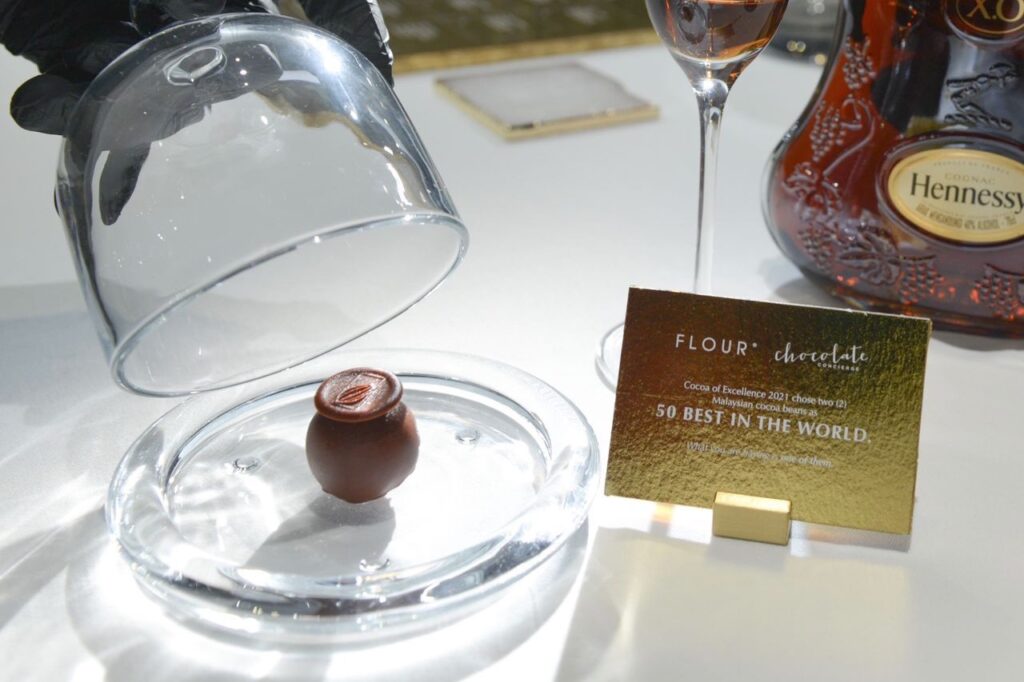 How to Book The Heart of the Sea Journey
The FLOUR® Heart of the Sea menu is priced at RM 780 per person plus an additional RM 495 for the wine pairing. The Iranian imperial beluga caviar upgrade is an additional RM 199 per person. The menu also includes a suckling lamb shank with biryani add-on for RM 150 and wild roasted partridge add-on for RM 150. Call ahead to book your reservation. Flour only takes 20 diners per night. There is no a la carte menu. Chef Yogi personally serves and explains every dish.
Concurrent with the seafood degustation menu, FLOUR® is also offering the Mother Earth vegetarian tasting menu, which shares the same philosophy of showcasing Indian foods from the coast. The vegetarian menu is priced at RM 580 per person plus an additional RM 385 for the wine pairing. Monica and I have accepted an invitation by Chef Yogi to return and try the Mother Earth menu. We will report back soonest.
Reasons to Visit Besides World Class Food: Unique experience appealing to all the senses, chance to meet the obstinate Chef Yogi, treating your palate to something cutting edge and new, learning about South Asia, rosematta rice, shorba or thukpa, excellent wine pairings
FLOUR®
No. 12 & 14, Jalan Kamuning (off Jalan Imbi)
Kuala Lumpur, Malaysia 55100
+60 12-960 0053
www.flourrestaurant.com.my
[email protected]
Flour is open from 6 to 10 pm nightly except Tuesdays. Make reservations in advance. There is a non-refundable reservation booking fee of RM 75 per person, which is applied to the meal.
Find more restaurants for special occasions here, and stay up-to-date on KL's food and beverage scene here and here.