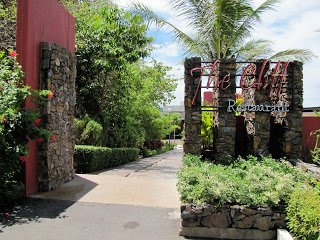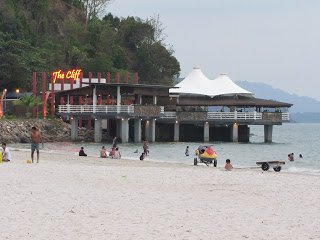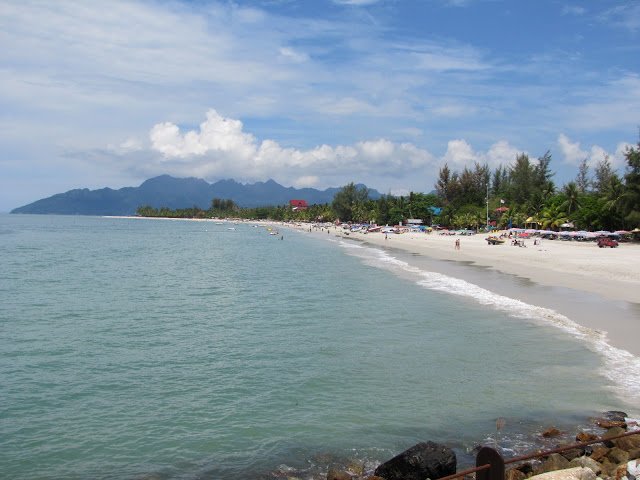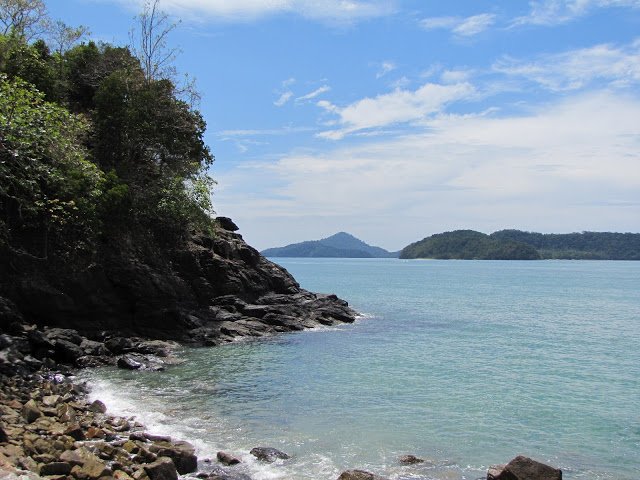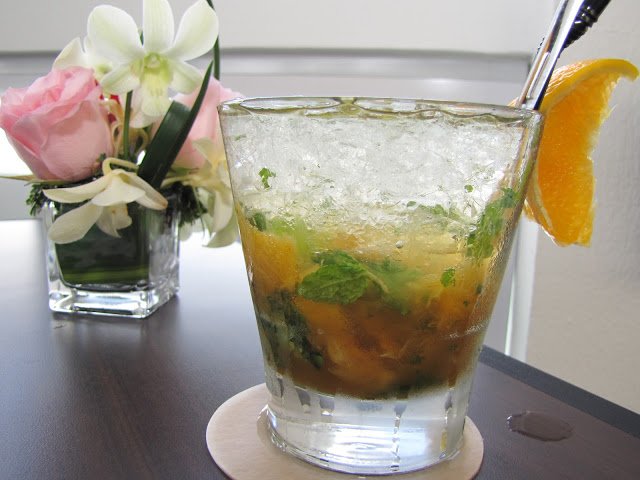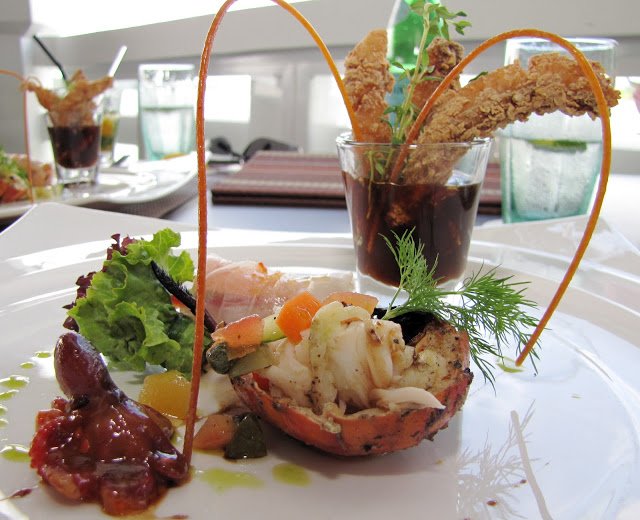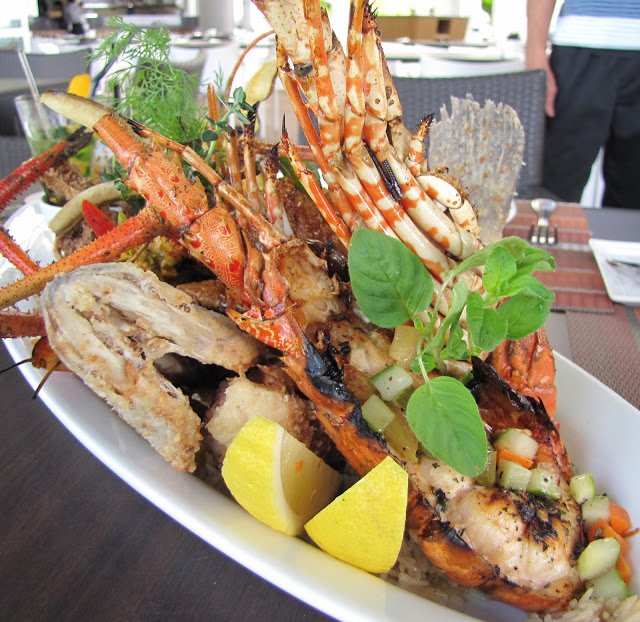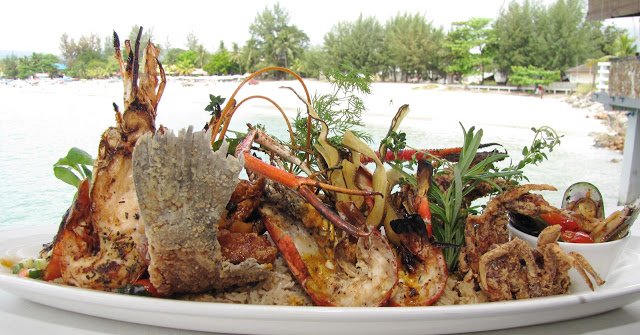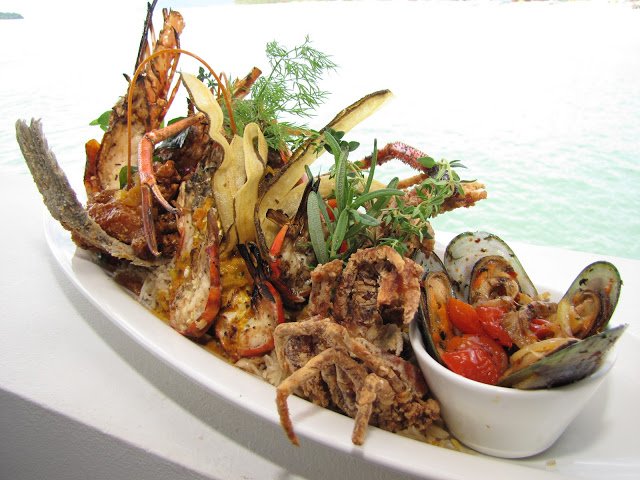 The culmination of a foodie (and drinkie?) trip to Langkawi climaxed with lunch at The Cliff. This stylish dining establishment juts out from the rocks at the end of Pantai Cenang offering a vibrant 180 degree beach panorama. Water action, colourful parasails, a dynamic mountainous backdrop and of course the glittering seascape provide natural entertainment for the eyes. The remainder of the senses are taken care of too with the hush of waves lapping the shore, the soft scent of the sea, the gentle tickle of the breeze, and of course the sapor of delicious food. Evidence of the top notch service (many staff members previously worked at The Four Seasons) is seen in the small details – cool scented hand towels, fresh floral table adornments, and flexibility to cater to customers individual preferences. Chic, contemporary and cultivated, The Cliff has brought a splash of class to Pantai Cenang.
With a more than adequate drink list and in prime position to luxuriate in breath taking sunsets, I don't know where you'd spend a finer few hours on the island. Their signature cocktail, the Fresh Orange Mojito – white rum and mint, jazzed up with fresh orange segments and a dash of triple sec – is the perfect refresher on a tropical get away. Happy Hours are from 3 – 6pm, but regular drink prices are reasonable at any time starting from 6RM for beer, 12RM for house wine and 18RM for cocktails. Separate bar and dining areas allow you to take your pick of sipping sites.
Humble and talented Chef Khairul is passionate about food and describes his menu as Malay Fusion with special attention to seafood. We started our voyage with the Tiga Sekawan (Three Friends) – mini lobster, juicy baby octopus and deep fried crispy fillets of oat battered seabass in a finger lickingly good tamarind sauce. Our journey continued with the Sampan Besar (Big Boat) – a resplendent seafood platter: tender mussels aglio olio style with semi dried tomatoes and onion; light crispy deep fried soft shell crab; grilled fresh water prawns with a yellow tumeric curry sauce; paper thin slices of fried banana; grilled lobster with a delicate lemon caper & diced vege butter; deep fried seabass with a delectable tamarind sauce; all served on a generous bed of biryani rice packed with cashews and raisins and plentifully decorated with fresh herbs. This was a visual sensation – hence the four photos of the same dish above in a flailing attempt to capture its magnificence. Sized supposedly for two, but this dish could readily satisfy three or even four. Our cuisine cruise concluded with a Dessert Platter; smooth strawberry ice cream with almond crumble; tangy berry & citrus compotes with silky vanilla cream; a round chocolate brownie; and The Cliff cheesecake topped with apple strudel – towering high as the name might suggest.

A quick browse of the lunch menu shows dishes ranging between 22 and 68RM for lighter to heartier fare. While walking in for lunch is without hiccup, reservations are highly recommended for the evenings when the tables rapidly occupy. Celebrating its first birthday in February, The Cliff has fast grown a reputation for innovative twists on classic dishes and bold brilliant views. It's a dazzling spot to revitalize the senses in all forms.
Restaurant and Bar
Lot 63 & 40 Jalan Pantai Cenang
07000 Pulau Langkawi
Kedah Darul Aman
Malaysia
+6 04 953 3228
thecliff888@gmailcom
thecliff-restaurant.blogspot.com
www.theclifflangkawi.com