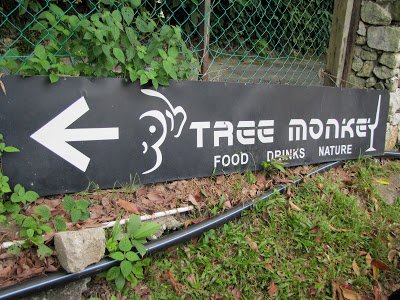 The entrance from the road – wear comfortable shoes for the short walk uphill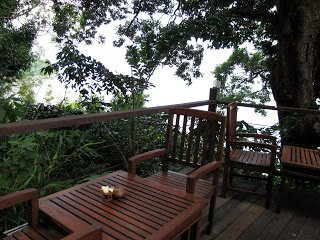 Sea views from the tree tops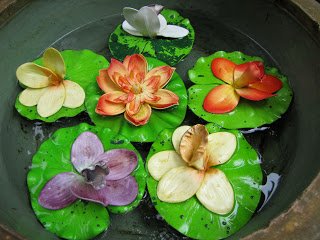 Book your own private tree house – many a proposal has been successful here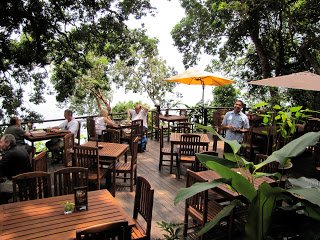 Low or high seating, in the shade or in the sun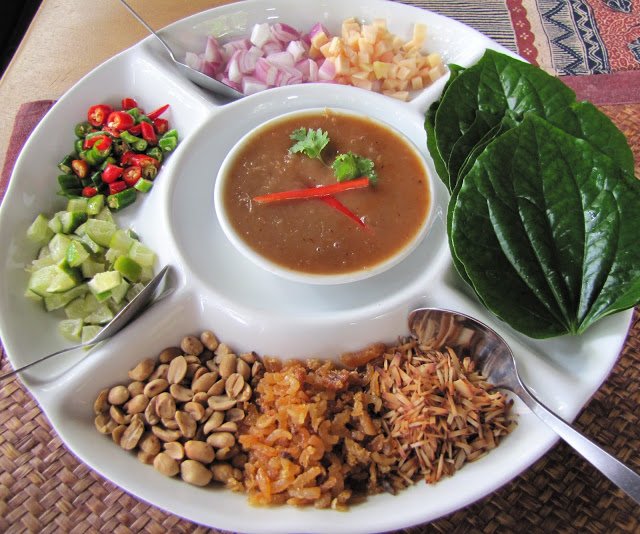 Classic Thai appetizer – Miang Kham
No better way to start than with cocktails – two popular picks – Tom Yam Martini – vodka, lime juice, lemon grass, chili and kafir lime leaves gives a real kick & the Malibu Monkey – Malibu, pineapple, soda and basil leaves has a fruity smooth finish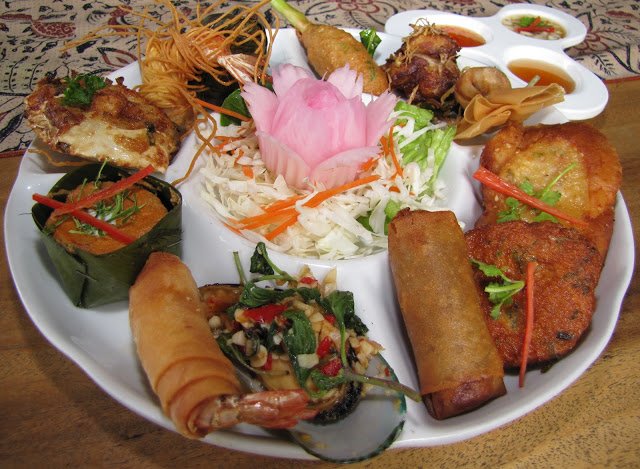 Thai Tapas – ideal for sharing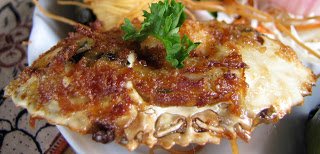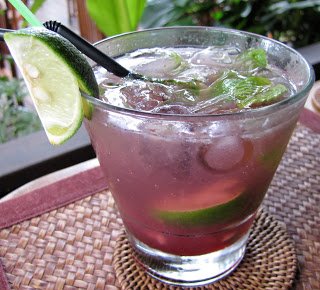 Cocktails in between – Roselle Mojito – rum, roselle flower, lime juice, soda & mint leaves is a classic refreshment with a twist & a hot LGH – Lemongrass, Ginger, Honey and lime offers a big bang – wow worthy hot or cold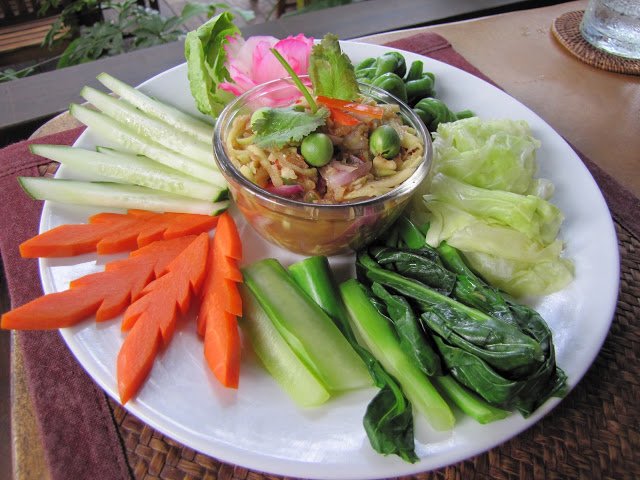 Namprik Mamoung – popular with the ladies for it's low calorie count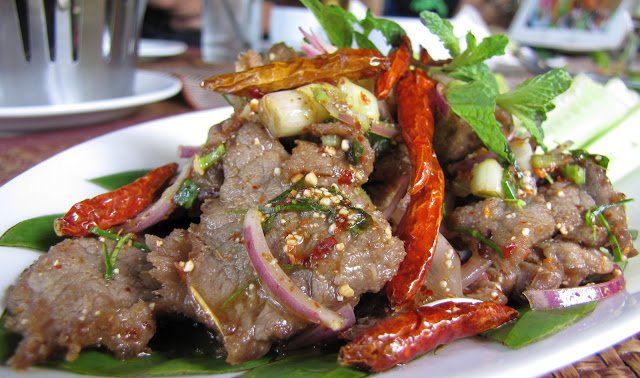 Namtok – slim slices of beef expertly spiced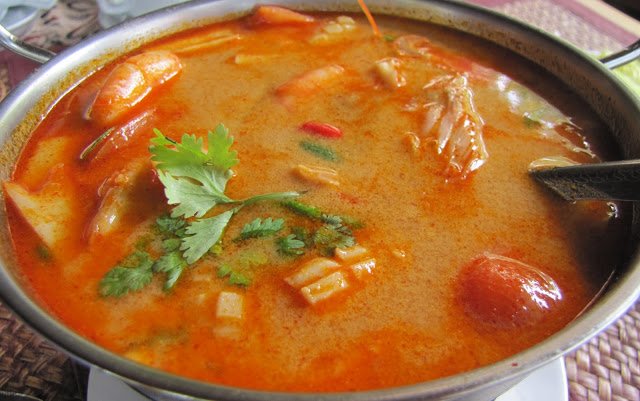 Tom Yum – yum yum I agree
Followed by a hot nutmeg drink, Absolute Thai cocktail- vodka, triple sec, lime juice, lemon grass and ginger and a cooling Roselle with Soda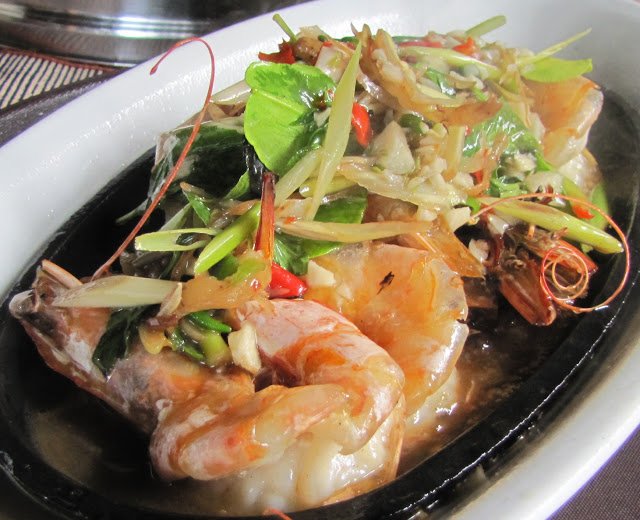 Prawns with Herbs – sizzling hot but not spicy, an unexpected milder dish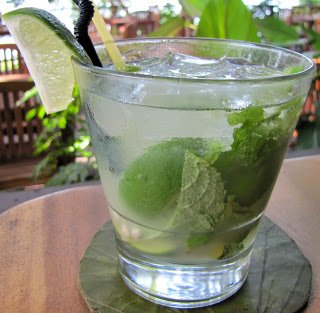 Monkey Juice – mango, banana, pineapple, orange & basil
Classic Mojito – rum, mint, lime, soda, sugar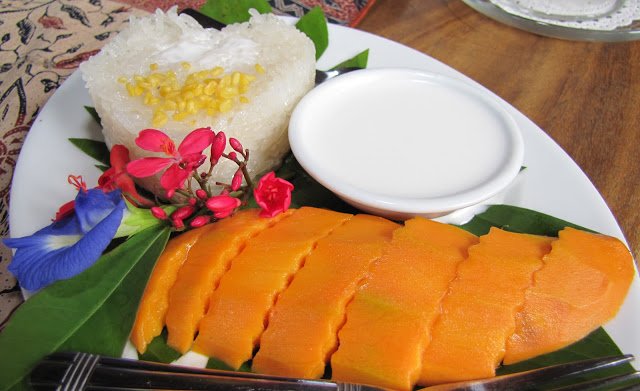 Classic Mango Sticky Rice – bursting with colour with floral decorations and juicy in-season mango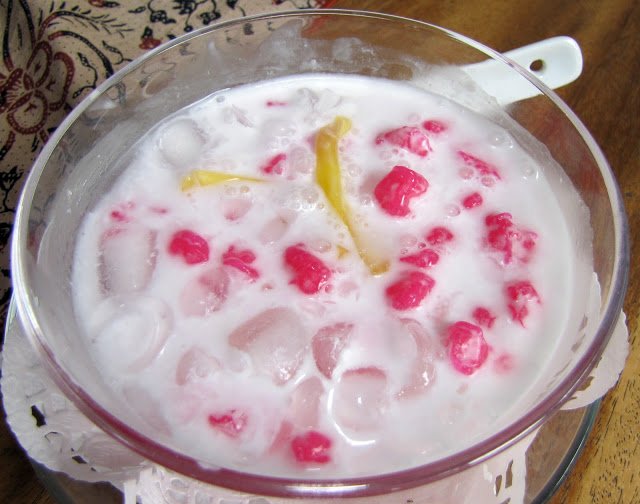 Thumthim Krob (Red Ruby) iced water chestnut in coconut milk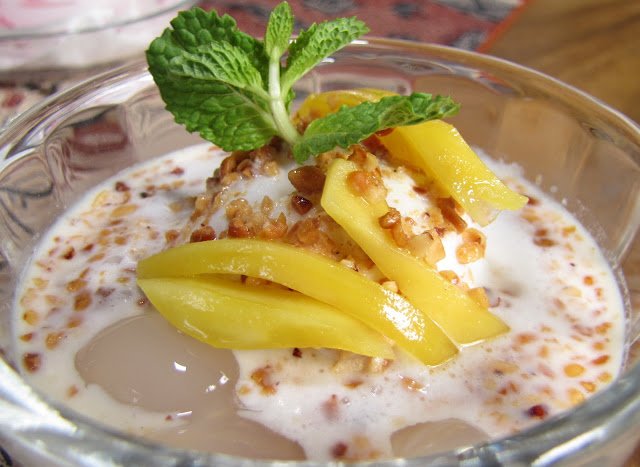 Thai coconut ice cream with sea coconut and jack fruit
Don't leave the island of Penang without visiting Tree Monkey. A unique location, authentic Thai cuisine and superlative cocktails already have locals and expats hooked. Just a short drive from Batu Feringgi and a brief stroll up a jungle lined path will see you in the tree tops and swinging as happily as a monkey. An alternative approach is a leisurely half hour wander through the adjacent Spice Gardens aiding in appetite formation – which will surely be appreciated when you see the alluring menu. Not a single tree was cut to create this restaurant in the foliage and the lush additional gardens only further serve to form a cooling haven. Time your arrival for sundowners followed by some bites with friends and you're setting yourself up for a stupendous evening. Tree Monkey is a place where nature is celebrated, fresh air inhaled and a good time is customary.
The owners bring a long history in the F & B industry and in particular with Club Med to the business. They have brought the same collaborative and fun atmosphere that the chain is famous for to Tree Monkey through an international staff and a menu that encourages interaction. Tapas and smaller dishes are featured so you get to try many items even if you're not part of a large group. With a reputation for authentic Thai cuisine some of the menu highlights are: Miang Kham (spice roll) – wild betel nut leaves (organically grown in the Spice Gardens next door), ginger, onions, lime, red & green chili, hashed coconut, peanuts, tiny dried shrimp and the chef's special sauce; Thai Tapas – Thai toast, money bags, spring rolls, herbed chicken, pandan chicken, Thai fish cake, prawn sabai, mussels with salsa, darling crab, otak otak & lemongrass skewer with three sauces of sweet chili, plum, cucumber coriander and vinegar; Namprik Mamoung – lightly steamed veges with powerfully spicy shrimp paste – popular with the ladies as it's not only guilt free in terms of intake but the blast you get from the sauce is guaranteed to burn a few calories just through ingestion; Namtok, meaning waterfall, is a north eastern Thai dish of finely sliced grilled beef with shallots, spring onions, mint leaves, lime and dry chili; classic Bangkok style Tom Yum Soup – yum yum indeed, a thick lemongrass soup with mushrooms, chili and lime juice – on CNN's top ten list of the most delicious foods in the world; SIZZLING Prawns with herbs and spices is yet another crowd pleaser – surprisingly flavoursome without the spice. Everything is served with raw or lightly cooked vegetables.
Cocktails are compulsory and their signature concoctions will have you envisioning comic strip balloons, "Wam!" "Kapow!" "Bang!' with the kick they produce. Absolute Thai and the Tom Yum Martini will wake anyone up from a coma while the Malibu Monkey is a softer, smoother beverage. If you're the more sensible type, fresh juices are made with 100% fruit no added sugar, and the LGH (Lemongrass, Ginger and Honey) must be a cure for any respiratory illness.
For reasonably priced food and beverage, in a spectacular and comfortable location, you'd be hard pressed to find a better spot than Tree Monkey.
Reason to visit: Thai tapas, cocktails with a kick, tree house dining
Tree Monkey
@ Tropical Spice Garden
Lone Crag Villa, Lot 595 MKM 2
Teluk Bahang
11100 Penang
Malaysia
+6 04 881 3494
www.treemonkey.com.my