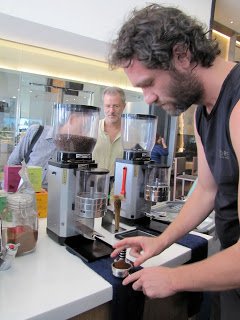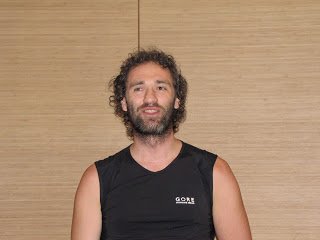 Michael wows the class with his expertise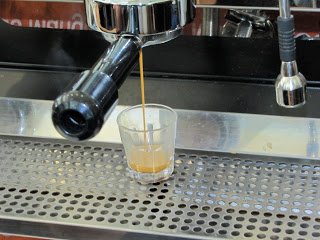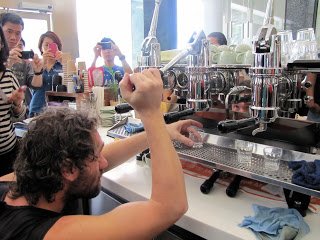 As part of the gustation lessons participants taste coffee at different stages of a pull.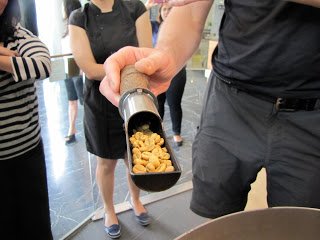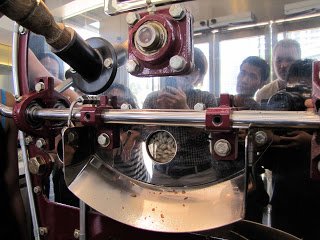 The roasting process is both a science and an art. It can take any number of trial roastings to get the best out of the beans.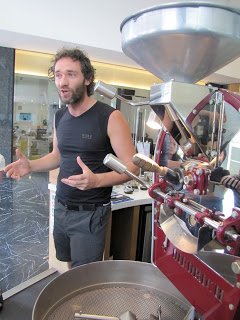 Michael and his team are very particular about every step of the roasting process
Freshly roasted beans pour from the machine giving the class a delightful whiff of the smell of heaven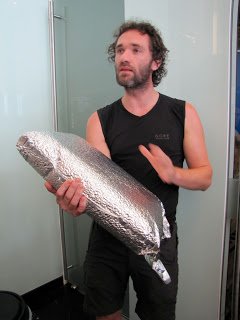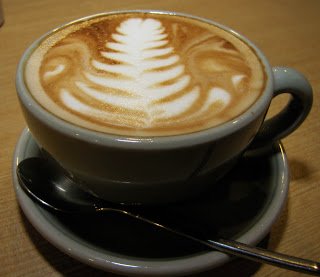 Michael with vacuum packed green beans
and
Finally, you get to try the end product
Zero Grade Beans = no defects. Most of the top selling commercial beans sold as Speciality or Premium are First or Second grade beans which means they may have up to 8 full defects. The beans sourced and sorted by Artisan Roast are nothing but perfect.
Michael from
Artisan Roast Coffee
and Marcus,
Real And Wholesome (RAW)
, have officially ruined me. It's frightening how just a little bit of knowledge will have you never looking at a cup of coffee in the same way again. The highly intelligent, articulate and good humoured Michael recently led a coffee appreciation session at Real And Wholesome in Wisma Equity, KL. The two hour class begins with lessons on gustation, olfaction and mouthfeel of coffee, moves on to describe the trip beans take from harvesting to grading and gives you a live demonstration of the roasting process with their onsite machine. It's tiring thinking about how much work goes into just getting set up for a great cup of coffee and that's before you even touch on baristering. Not game to risk errors in my recount, like their Facebook page,
http://www.facebook.com/realandwholesome,
to find out about the next Coffee Appreciation Class. In the meantime, savor the end product at
Artisan Roast Coffee
in TTDI,
RAW in KL
or
Food Haven in Ampang Hilir
.
Real and Wholesome (R.A.W.)
G/F Wisma Equity (across from KLCC – parking available at back of building)
150 Jalan Ampang
50450 Kuala Lumpur
Malaysia
+6 019 3138978