Stylish, classy, but nothing quite as expected such as this unusual twist with jellyfish swimming in the dividers
The elegant interior in part is decorated by a beautiful selection of spirits, wines and liqueurs
A straight forward dry Prosecco cleanses the palate and whets the appetite for an exciting meal ahead
A seemingly ordinary strawberry is everything but at Le Midi – this amuse bouche hollowed and piped with caviar – fruity, fresh and salty all in one bite
Superb restaurants must have superior bread – this warm olive roll with herb butter cast adeptly into the role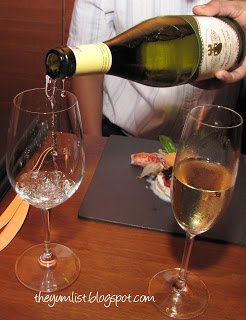 Lobster, melon sorbet, mozzarella, caviar, thinly sliced and marinated fennel – must all be eaten with a morsel of each ingredient in every bite to maximise the depth of textures and flavours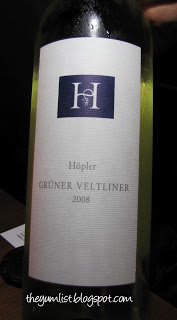 Austrian wines are making their mark around the world and the talented sommelier/ operations manager knows his grapes. This Groner Veltliner was a contrasting match for the chocolate and thyme risotto. The acidity of this wine sliced through the creamy cheesiness of the risotto adding depth and character to the experience.
Chocolate and Thyme Risotto – the bitterness of the chocolate balanced the richness of the dairy and the aromatic herb complemented both
Tender flavoursome cubes of prime rib accompanied by roasted mushrooms, a fava bean puree and crispy potato sticks
A traditional pairing – red wine, red meat. This bold, well rounded, smooth long finishing Italian red did both itself and the beef justice
Traveling back to Germany this dessert wine accompanied the sweets. With expert advise we tasted in three layers to appreciate the complexity of flavours. First the basil sauce followed by a sip, then the port wine reduction, another sip, the melon mousse another sip and finally all three layers together and a gulp (the gulping part was not in the original instructions I just thought I'd add my own adaptation).
Reminding us of melon sorbet beginnings this creamy mousse is more complicated in taste and texture than it might first appear – basil sauce, port wine reduction and fluffy textured cream. The star anise skillfully led us on to the grand finale… a herby liquoricey absinthe.
Urban legend has it that absinthe contains the psychoactive chemical compound thujone, found in hallucinogenic drugs such as LSD. Exaggerated claims of its effects have made it the source of much intrigue and mystery. This modern day Swiss version is distributed legally without the "seeing pink elephants" side effect.
The traditional way to prepare the drink is to drip ice cold water over a sugar cube allowing it to slowly dissolve in the glass – after a wine paired meal the ceremony was nearly as much of a trance inducer as the drink itself.
Our waiter cheekily whispered as we took our first sip, "Drink it up and see the fairies." Well fairies we did not, but with an alcohol content of 68%, jellyfish we did.
The final bite, a cross between a cream cheese and custard tart, a sweet ending indeed.
Le Midi Restaurant
Lot T3, 3rd Floor
Bangsar Shopping Centre
285 Jalan Maarof
Bukit Bandaraya
59000 Kuala Lumpur
+603 2094 1318