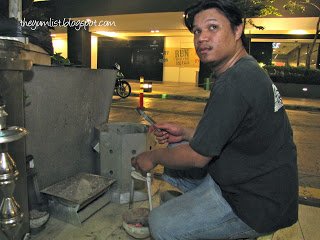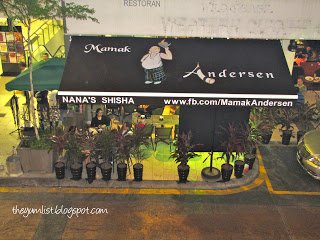 Mamak Anderson and the expert shisha chef.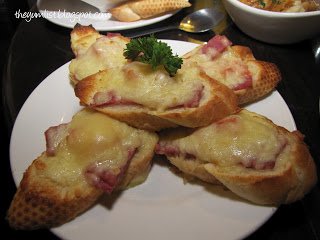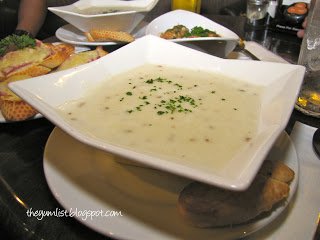 Mushroom Soup Bruschetta Mamak Anderson style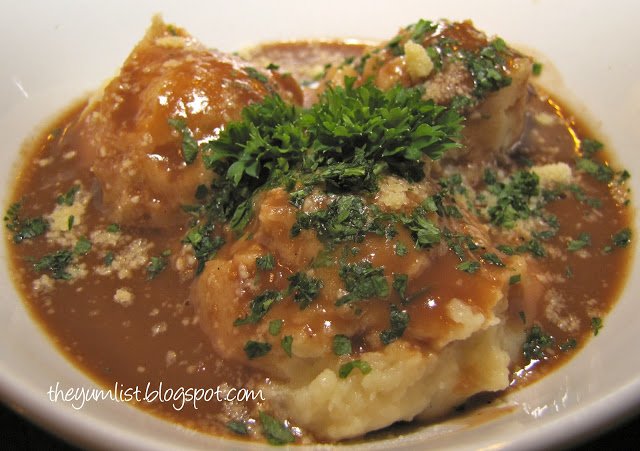 Mashed Potato and Gravy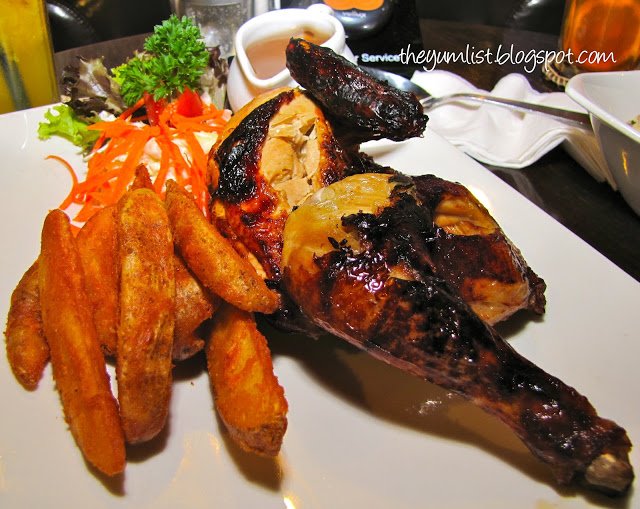 Spring Chicken, Coleslaw and Wedges (Above)
Butterfish Fettuccine (Below)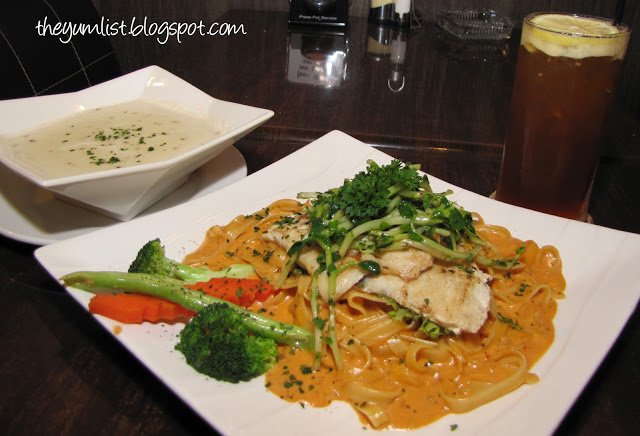 All of this food, soup, main and ice tea for only 14.90++ RM
Mamak Andersen, incredibly (tell you why 'incredibly' later) appears to be the most happening spot in Solaris Dutamas. A glance down the eatery packed street sees empty chairs until you come to the big screen, plants, shisha stand and 'mamak with a viking hat' sign. Full when we arrived, the crowd just kept flowing in and out all evening. This semi alfresco diner already has a following even though they had only been opened for 20 days on our visit and are literally innocents to the industry. When you meet the bubbly brothers who own the place, you can imagine a lucky star shining over their heads but also understand their success with the intense contagious passion they exude.
Four brothers altogether, Niels, Anders, Johan & Jens (with the oldest of the crew just 30 years old) claim to have zero F & B experience, but what these energetic boys lack in market knowledge they make up with enthusiasm, ambition and ideas. Priding themselves for being onsite full time and working the floor, they make the place friendly and familiar. It was impressive the number of people I overheard greeted and farewelled by name and with smiles. The boys are very grateful to the previous owner, who formerly ran Wild Basil Western Food in the same spot (but is too busy with other outlets to keep them all running), because he kindly shared his menu and suppliers with the youngsters upon changeover. While this was a lucky start for the newbies, much of the credit for the returning customers has to lie with their excitement and commitment to to what they do.
Currently serving western dishes thanks to the inheritance of a successful menu, the duo have grand plans to live up to the name Mamak Andersen. Products of a Turkish Indian Malay mum from Penang and Danish Dad, the plan is to follow their bloodline into the creation of a multicultural concept. While they expect the menu to be a work in progress over the next few months, the grand plan is to serve a combination of Scandinavian and Mamak cuisine in comfortable air conditioned relaxed surrounds. The head chef is Bangladeshi and he proudly whips up the western dishes. Currently the search is on for a mamak from Penang to take care of that side of the menu and soon dad will be in the kitchen cooking up Danish curries and northern dishes using grandmas original recipes (who is still alive and offering advice at 85 years of age).
There's no declaration of gourmet cuisine. What they do aspire to, and what we confirmed on this visit, was an offering of hearty portions, decent food, reasonable prices and fast service. The lunch crowd spills out the door, yet the meal is usually served in less than 10 minutes. The set lunch, for RM 14.90++, is a bargain consisting of a soup of the day, ice lemon tea (made freshly in house) and a generous, wholesome main. Diners have a choice of principle plates, but the dishes pictured above, Spring Chicken and Butterfish Fettuccine, are two of the most popular. Food though, is not the only good deal you'll find. Shisha too is something they have fast grown a reputation for.
Being a non-smoker, a new snippet of knowledge that surprised me is that, the guy who prepares the hookah and tobacco is known as a chef. Apparently it takes talent and skill to prepare the pipe and the chef they have cooking up your shisha has over 10 years of experience. At only RM10 a pipe, crowds are happily lingering into the early hours of the morning. So I guess, added to the list of plusses for Mamak Andersen (already including quick turn around, large servings, contagiously energetic owners) is inexpensive quality shisha.
Reason to visit: simple food, generous portions, excellent value, quick service, an animated chat with the spirited owners
Mamak Andersen
A2-G2-05 Solaris Dutamas/ Publika
Same outdoor row as Mee Jawa, near Plan B
Kuala Lumpur
Malaysia
+603 6211 5192
017 70 500 70
017 404 6664
www.fb.com/MamakAndersen