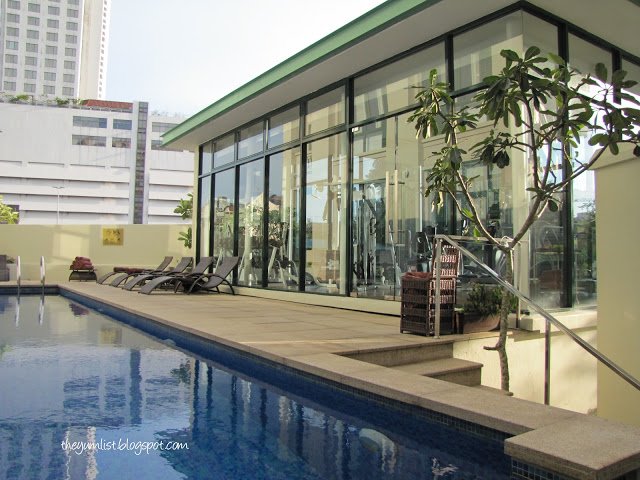 The infinity pool and gym area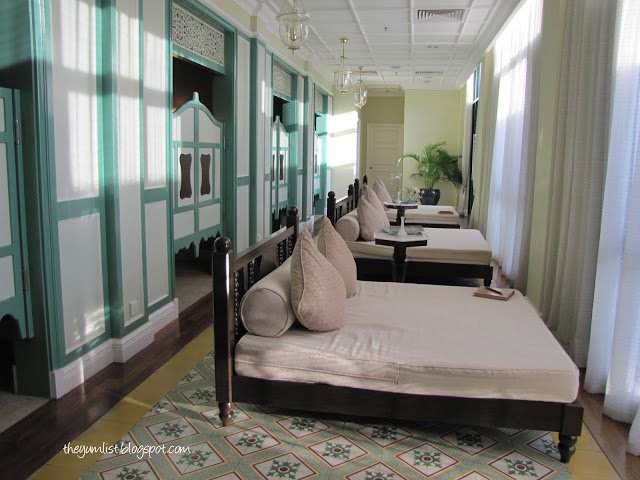 The relaxation room where you're invited to do just that before and after treatments with cold towels, hot tea and refreshing snacks.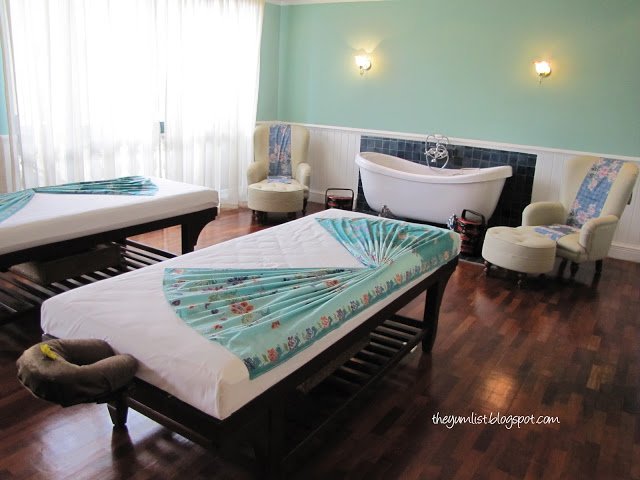 Enormous treatment rooms give a feeling of spaciousness and peace. All are equipped with rain and hand held showers, and this couples room even includes a bathtub.
The Spa Village at The Majestic Malacca go far beyond my dreams and expectations of an exemplary spa experience – professional therapists, quality products, capacious, and classy decor – no detail is left unattended. While The Spa Village is owned and managed by YTL hotels, each area cleverly embraces the surrounding culture to provide a unique experience based on local expertise and traditions. The healing rituals of the Baba-Nyonya – Malay Chinese – are honoured in Malacca. The essence of the location is not only captured in the therapies but also in the architecture where you will find the original style has been maintained with features of wooden floors, heritage hues, traditional furniture and ornate porcelain tiles. Even staff apparel and accessories for storing products and presenting refreshments are themed accordingly. This homage to the local culture entitles guests to an exclusive encounter, unable to be rivaled in a different location.
My experience began with a preappointment earlier in the day where I exchanged information with staff about my diet, sleep and clothing preferences. This determined my body type and led to recommendations towards warming or cooling treatments, explanations of each and selection of such. Aspring to make use of the pre-treatment facilities I arrived 30 minutes before my actual appointment. Warm smiles by the staff and whiffs of soothing scents greeted my entrance. I was soon shown to a luxurious changing area with private locker, shower, bathroom and accessories I could only wish I had in my own bathroom, to strip off the outside world and prepare for renewal. Once gowned, I headed to the Peranakan Chinese day beds and bathed in the muffled sun rays allowed by the floor to ceiling windows and sheer curtains. Purveyed with cold scented towels, hot tea and refreshments my mind began to hush and my body decelerate.
Drawing on the 12 step Peranakan wedding preparation for ladies, all guests receive a complimentary half hour hair ritual which involves washing, scalp massage and combing with a wooden comb (later presented as a keepsake). On each of twelve days leading up to the marriage ceremony, Nyonya ladies are traditionally pampered and beautified which involves a different ritual every day. Integrating cultural routines into treatments further accentuates the one-of-a-kind attention at Spa Village. Feeling invigorated and refreshed, it was then time to be shepherded to the private treatment quarters.
Spacious is an understatement. Each room has two treatment beds, a lounge, washing area, toilet, shower, dressing room and closet. Larger than some apartments I've viewed, these expanses are a far cry from some of the claustrophobia-inducing chambers I've experienced in KL. The decision of which locally blended oil to use, with their own corresponding medicinal properties, was left up to my nose. My therapist then explained the treatments I had chosen, checked for understanding and questions and got me prepared for my Yoghurt Guava Leaves Body Scrub. Leaving me laundered and lustrous dead skin cells were scrubbed away and toxins extracted with the natural antibiotic attributes of the yoghurt and guava leaves. Upmost care was taken by the therapist throughout to ensure my comfort and seek feedback. After a thorough rinse down in the high powered shower I was then ready to be pampered further with a Balinese Massage. Varying in tempo of acupressure, rolling motions, long strokes and percussion this kneading was the ultimate tranquilizer. A soothing pot of herbal fruit tea, some pickled vegetables and time on the couch ended my treatment.
Returning full circle to the relaxation lounge my biggest worry was, "When can I next return?"
Reason to visit: a unique, but world class, Peranakan spa experience
Spa Village
Majestic Malacca
188 Jalan Bunga Raya Pantai
75100 Malacca
Malaysia
+603 2783 1000