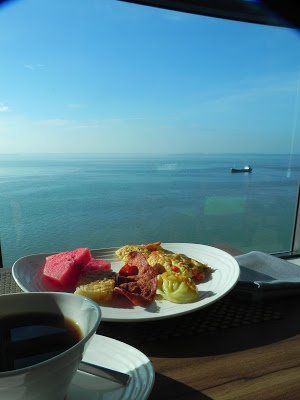 Now that's food with a view!

(The Eatery, Four Points)
If you're looking for good eats in Sandakan, one need not leave Four
Points by Sheraton to find something to suit your tastes. All three of
the Four Points signature restaurants were quite good – a rather large notch above the usual "hotel
food". It is not bragging when Four Points management says they "will elevate
the Sandakan dining scene!"
The Eatery, Four Points by Sheraton
Offering all-day dining, the Eatery also offers a fantastic view with
which to start your morning. I
especially appreciated the friendliness of the staff who were extremely
attentive. My coffee cup
was kept full without having to ask, something that is always high on my
priority list! Food was tasty and
featured all the usual choices – western, Chinese, Malaysian and Indian
breakfast staples.
Hours
Mon-Sun: 6:30 am–11pm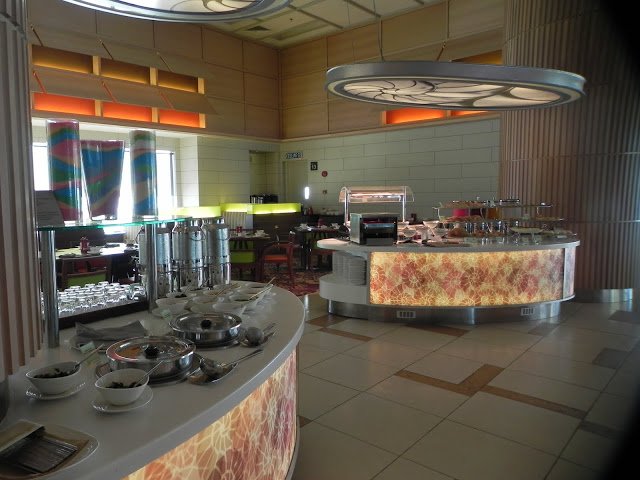 Modern Decor at the Eatery, Four Points by Sheraton
Wrapped Deli, Four Points by Sheraton
When we arrived for lunch at Wrapped I expected the usual deli fare, but
was surprised and pleased to find several other options also available. We began with a fabulous pineapple soda,
which I could have made my whole meal it was so good! Light meals, tasty cakes and gourmet coffee are available here with convenient hours.
Hours
Sun-Thurs: 8am-10pm
Fri-Sat: 8am-11pm
Best Brews, Four Points by Sheraton
My favorite of the Four Points signature restaurants, Best Brews, is a
fun pub venue overlooking the Sulu sea. Food is pub fare, and it is well done. My group spent a really fun evening there
eating, drinking and enjoying the live band – who were very good! Patrons can imbibe with Carlsberg and Hoegaarden
on tap, a wide variety of wines and a wide assortment of alcoholic
beverages. If for you the luxuries in
life are a nice whiskey and cigar, you can find that too at the adjacent lounge,
complete with stoic leather chairs and suit stands where you can hang your
jacket.
Hours
Sun-Thurs: 5pm-12am
Fri-Sat: 5pm-2am (No live music on Mondays)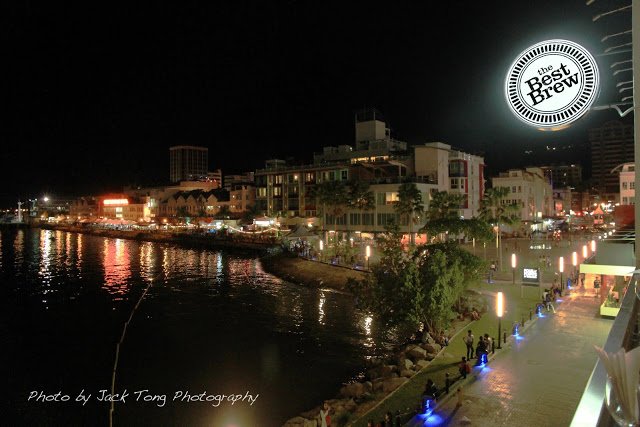 Love to eat local? Does stall food make your mouth water? Experience local food at local prices at Central Market, just steps from the front doors of Four Points by Sheraton in Sandakan. You'll find an entire floor dedicated to local food. It can be hard to figure out which stall is
the best to order from, so we went with a sign boasting, "Since 1940". My friends ordered Mee Ko Lo and Hor Fun at around RM3 per dish. You can't beat the price! I had already eaten when my group ventured
over, but my compatriots were very happy with their meals and while they ate I
enjoyed a really nice iced coffee.
A beautiful setting for lunch or dinner, the English Tea House and
Restaurant was designed to complement the neighboring historical site of Agnes
Keith's house, now a museum. Both design
and the menu is in keeping with British colonial era, and with a gorgeous view
and great food, it's not hard to see why this is a tourist and local favourite
in Sandakan.
Our group enjoyed a beautiful evening here and had a catered meal in
which service was attentive, but the time between courses was atypically long. Come to find out, the food was worth the
wait.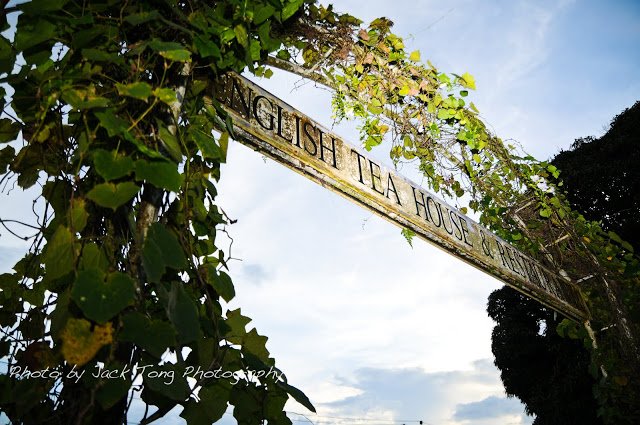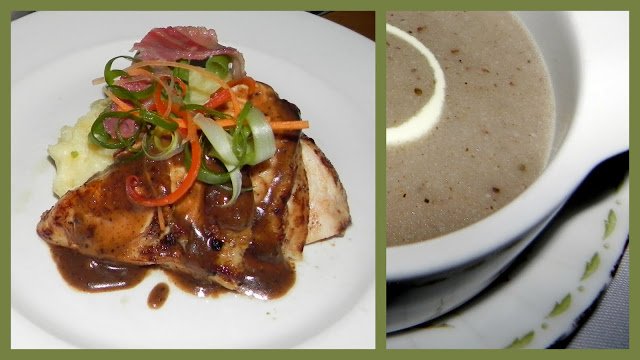 The soup course was a
delicious wild mushroom soup and despite my usual opposition to the fungus, I
really loved the flavour and consistency. For a main, I opted for the pan-roasted
chicken with bacon sautéed French beans and mashed potatoes and black pepper
sauce. The sauce made the dish; it was
creamy with just the right amount of spice and left me pondering, "Is it rude
to lick the plate?"
The bread and butter pudding
for dessert left me stuffed and happy. Our group left sleepy from full
bellies and the satisfaction of a lovely meal.
English Tea House
No.2002, Jalan Istana, 90000 Sandakan, Sabah, Malaysia
Tel: +6 089-222-545
After our sojourn to the
Bornean Sun Bear Conservation Centre, our group stopped at the nearby Sepilok
Jungle Resort for a catered buffet lunch. Only open for group events, the food
was good and the restaurant was set back in the jungle a bit, overlooking the resorts
lovely pool area. Check it out if you've
got a group event to host.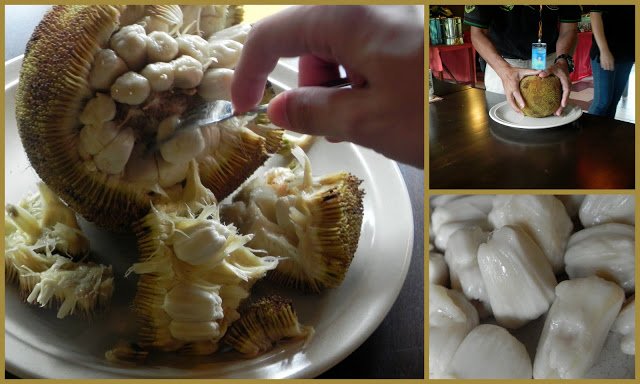 While there, we were
introduced to a fruit close in relation to the jack fruit and durian, the terap
(in Philippines these are called marang.) Let it be known that I've not tried
durian [gasp], though I know many dear readers and fellow Yum List-er, Polly,
love them. I just can't stand the
smell. But I digress…
The terap is supposedly
"superior" to the durian – in what way I don't know – but I do know that I
couldn't stop eating the refreshing fruit. Its large seeds were banana-like in texture, but juicier and with a pit
inside. I have not seen these in Kuala
Lumpur (or perhaps I have and just assumed they were durian) but next time I
do, I will surely buy one. And, If you know
where to find one in KL, please let me know!