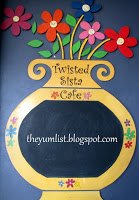 Blackboard for daily
specials, Twisted Sista
On any East Coast road trip north to south or vice versa, Byron Bay should be on your "places to stop" list. The eastern most point of Australia is a hippy town featuring beautiful beaches, a lookout and lighthouse for catching some spectacular ocean and sunrise views, a boutique shopping scene and some excellent food highlighting local produce and specialties from the region.
One of our 'must drop by places' on every trip along the coast is the Twisted Sista Cafe. Located on the main street of the town centre, it's hard to miss and is usually filled with locals and visitors alike. A spectacular glass display of sandwiches, quiches and sweet delights will make even the the most adamant non-foodie drool. Lasagne and sandwich stacks that compete with the Burj Khalifa for tallest tower line the trays. Desserts with abundant slatherings of icing, toppings, chocolate, fruit, cream etc are a magnet for every customer and make it hard to stick to the good intention of "just one slice."
Portions are enormous so be advised to share and take some home as your mouth will water remembering the decadent dulces.
This round we went with a Turkey, Cranberry, Brie and Spinach Triple Deck Melt that turned out to be more than enough for two hungry girls. Followed by an enormous slice of Lemon Bliss (diet buster hands down) and an equally generous tall glass of iced coffee. In past indulgences we've also tried the Passionfruit Cheesecake, Caramel Macadamia Slice and Tandoori Wrap which I'd continue to highly recommend.
Twisted Sista Cafe
Open 7 days 7am – 5:30pm
Shop 1, 4 Lawson Street
Byron Bay
NSW, Australia
+61 02 6685 6810