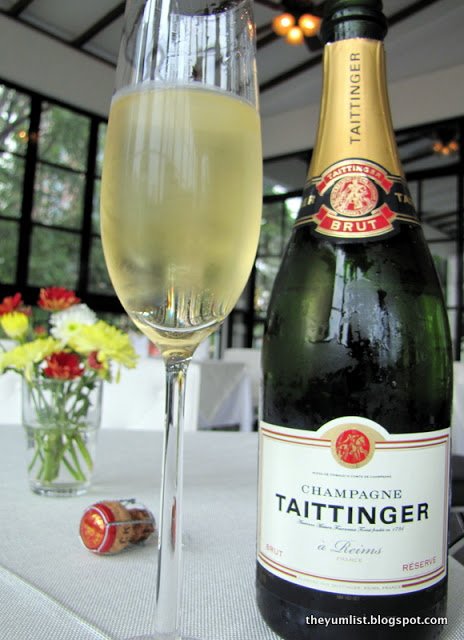 Tattinger Champagne
Brunch at Maison Francaise
Service A La Francaise
By Kirsten Durward
Photos by The Yum List
It's a spacious welcome. A renovated colonial house in pierrot black and white, flooded with light and extended through terraces. Colourful artwork adorns the walls on all three floors. The top level; cigar lounge and private dining area, the bottom level; cocktail bar and function space with crystal clear pool, and the heart of the building; the pulsating kitchen and elegant restaurant. Colonial echoes resound in one room with hardwood roof beams and fan light fittings, while in another intricate silver lanterns are suspended for a more delicate appeal. The décor skillfully combines nostalgia with modernity; in all the sensation is of 1920's flavour.
Owner, Sainy Chun has devoted herself to the reconstruction and refurbishment of this elegant space. Her slight stature and apparent youth belie her experience in the culinary arts and hospitality; from France and Italy, through Korea and Singapore and now aiming for an authentic French dining experience in Kuala Lumpur. To this end she has partnered with a French chef. Chef Franck Lamache trained with Alan Ducasse, and brings experience from the Hotel de Crillon and other top Parisien restaurants. We're excited to try the culinary creations of such a pedigree and enticed by his assertion, 'anything you can eat here you cannot find in another place in the city.' Close your eyes and imagine that in a sultry French accent and you will begin to enter our magical experience.
Franck tells us laughingly 'It's very Frenchy', explaining Maison Francaise service. No need to select from a menu, no need to trek to a buffet table, just sit back and everything will be brought to you. Relax and enjoy a gastronomic experience with your friends or family.
'Do you want to start now?' asks chef. Mmm yes please! We are ready for our indulgences.
A quartet of wine arrives for our tasting pleasure. Guests choosing the free-flow option at Maison Francaise can select from the Lavila Languedoc Cabernet Sauvignon, Syrah, Chardonnay and Sauvignon Blanc, all 2011. The Syrah is rich and deep, with a sweet blackcurrant undertone, the Cabernet young, light, quite dry, with woody notes. Both of these develop with breathing through the meal. The Sauvignon is our preferred wine, with a nose of passion-fruit and mango, then on tasting a hint of lime. It's a clear light young white which companions well to the food. Discerning wine buffs can select further from the impressive a-la-carte range of wines that Maison Francaise offers.
We decide to have our glass of champagne with the appetisers, and as each dish appears, congratulate ourselves on our choice. Garlicky smooth scrambled egg with oyster mushrooms forms the breakfast part of the brunch. Caning scoops his up with crispy toast, while Monica selects the buttery Brioche, and I snaffle some fresh baguette, made with unbleached flour. We nod with appreciation as we turn to the colourful and inviting savoury plate being set before us. Again, each of us discovers an individual favourite flavour. Caning delights in the unusual twist of home made gravlax with caper flower, urging me to 'roll it up and try…'. Monica raves over the herby garlicky whole prawns with fennel salad, 'such light shavings…'; the macerated tomato adding a contrasting fresh texture. I'm lost in the thick slabs of Duck Terrine. Made in the 'Champagne style' it sits beautifully on top of fresh baguette lathered in crisp French butter. I'm transported back through memory to picnics in the Pyrenees, sunset sails on the med and sidewalk Parisian cafes. Good pate can be eaten any time, anywhere. And this is really, really good!
I continue to sip from my glass of Tattinger Reserve, a dry light fizz with a pale golden flavour. The slightest hint of lychee as the stimulating foam hits the tongue, waking up the palate for the food journey ahead. I feel relaxed and 'out of the city', winding down to enjoy a lunch paced for the enjoyment of company and conversation.
It's circles, it's semi circles, it's more circles… A controlled playfulness on a black slate setting, somewhat reminiscent of a geometric Kandinsky art piece. Circles are dainty flowers of aubergine stuffed with fresh merguez lamb sausage. Chef has set us up with expectation on this dish, his earlier description piquing our appetites. We taste with alacrity. 'Spectacular!' is the only word I can find, and as it hits my brain, it slips out Caning's mouth with that distinct Latin emphasis. 'Spec-tac-uLAR!' Moist aubergine, tender minced lamb, a Mediterranean experience with flavours and savours of North Africa. More flavours sneak up, cumin, harissa, undernotes of garlic and fennel. It is indeed, as Caning expounds further, 'increible.' Chef Franck is living up to his promise, I cannot imagine eating this anywhere else! Semi circles are oyster blade, this rare cut from the shoulder; firm but glutinous, bursting with flavour and moist meaty denseness. It's so tender you can literally taste the intense slow cooking. Served with a French style mustard seed sauce, meaty from the jus rather than creamy and the whole mouthful is meltingly delicious.
On a separate white square, elegant strips of black sea bass are interspersed with crisp asparagus and flanked by scoops of pomme puree. A lemon sauce with caramel hints adds moisture to our bites of fish; a Mediterranean pepper courgette ratatouille giving colour and texture to the plate. The vegetables crisp and buttery, and asparagus delicious dipped in lemon sauce.
The red wine is developing nicely which is perfect as it is time for cheese. A high tea platter, set for nibbling, offers rounds of glistening goats cheese, ripe camembert gently oozing and an unusual gourmet cheese; Livarot. The very thought of French cheeses begets our mouthwatering anticipation, and there is nothing to disappoint. Three distinct flavours drizzled with petite dried fruits and crumbles of walnut. Goats cheese slippery and sticky, Camembert buttery rich and Livarot meltingly pungent. Mopping up more of the delicious unbleached baguette, the cheese is a perfect savoury break paired with the glass of red that's been waiting. Any European would approve.
In true French style, we're taking our time with our midday dining. Every dish has been delightful and of course we still have space for dessert. A fun fair of mini desserts is elegantly displayed on a square of black slate. It's contemporary and upbeat, and delectably inviting. The passion fruit mousse balances a white/dark chocolate twist. Tempering two types of chocolate into a shape is no easy feat but this one both looks and tastes great. Good texture to the chocolate, sweet and smooth. The centre-piece of ice cream proves to be noisette flavour, smooth and creamy. Flavours change each week.
New to me is the Canele, a specialty pastry from the Bordeaux region, with a buttery creamy custard center and a dark, thick caramelized crust. It's a yum! The best way I can describe it is like a bruleed crème patisserie. A sweet, browned creamy patisserie… best eaten fresh. The fresh amaretto poached apricot with shaved almonds is great compensation, giving a delicious refresh to the mouth. That one's a keeper.
On my left I hear Caning muttering that he is 'flying away – wow!' with the chocolate ganache layer cake. I take a forkful of the solid looking cake before he can guzzle it all. Mmmmmm…. Chocolaty! How does a cake manage to be so dense and yet so light at the same time? Delightful.
It's the end of dessert but we are still sipping wine and chatting amiably. Constant discreet top ups, of water and wine, have kept us satisfied throughout our extended meal. Despite first appearances Maison Francaise is foremost a family business, built on the back of hard work and attention to detail. The service we experience is impeccable, but friendly. The servers clearly enjoy and know what they are doing. Sainy has a deep belief in her product and is set to challenge jaded KL palettes with something out of the ordinary. For me she has achieved her objective to set the stage well for the culinary experience and provide food with respect. I imagine that dinner here is a delightful experience too.
Brunch at Maison Francaise is served each Sunday from 11:30am – 2:30pm. The menu changes weekly. An elegant alternative to the bustle of a buffet brunch; I think it's exceptional value for the quality of the food and atmosphere. RM144++ or RM188 ++ with a glass of champagne and a choice of wines.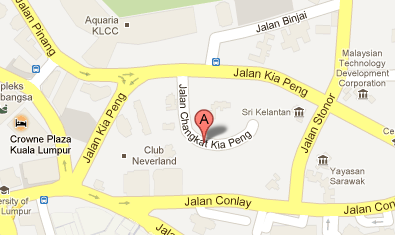 Map to Maison Francaise
Reasons to visit: Relax and enjoy real time with friends and family. Give your taste buds a unique French food experience with a beautifully designed menu elegantly served, 'a table!'


Maison Francaise
5 Changkat Kia Peng
50450 Kuala Lumpur
Malaysia
+6 03 2144 1474
www.maisonfrancaise.com.my