Mandara Spa, Sunway Resort Hotel and Spa, Bandar Sunway

"Transcend. Transform. Trust the Moment."
Two enormous elephant statues guard the entrance to Mandara Spa at Sunway Resort Hotel. Upon advancing under the tusk shaped archway, a jungle-bordered road led us to a narrower tree-lined path and small plant-enveloped parking spaces. A short stroll through the green to the reception had us disconnected from the urban landscape and the stresses that go with it. We already had a feeling that this experience would be distinct from the many others we'd tried in the city.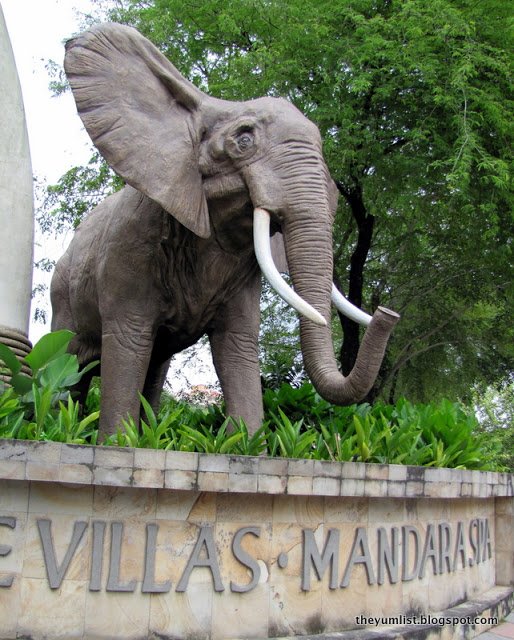 Main entrance from the road – look for the elephants
With the luxury of such a huge piece of land, Mandara Spa is gifted with verdant vistas from every angle. The outdoor patio overlooks the canopy layer of trees, while open treatment room windows are shaded with leafy mosaics. Far enough removed from the road and hubbub of the metropolis, the surrounding nature breathes calm and peace.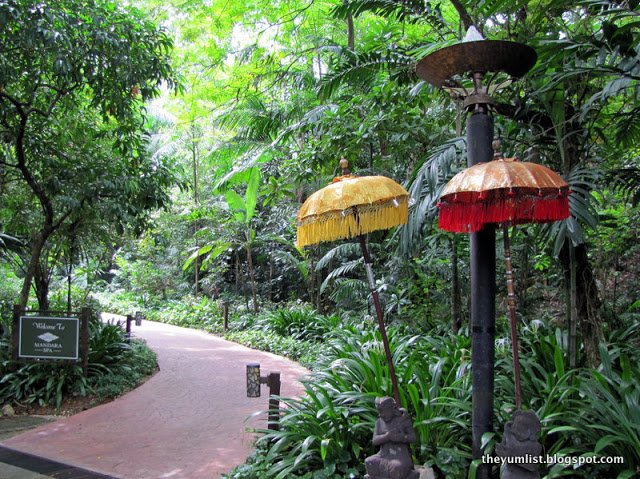 Entrance to Mandara Spa
Neutral tones and natural materials mark the design of the lobby and rooms. A balance of spaces, cater for both couples and singles. From double deluxe spa suites equipped with private bath, steam shower and relaxation area, to the more simple manicure/ pedicure area, all feature soft lighting, floral arrangements and the subtle scent of aromatherapy products.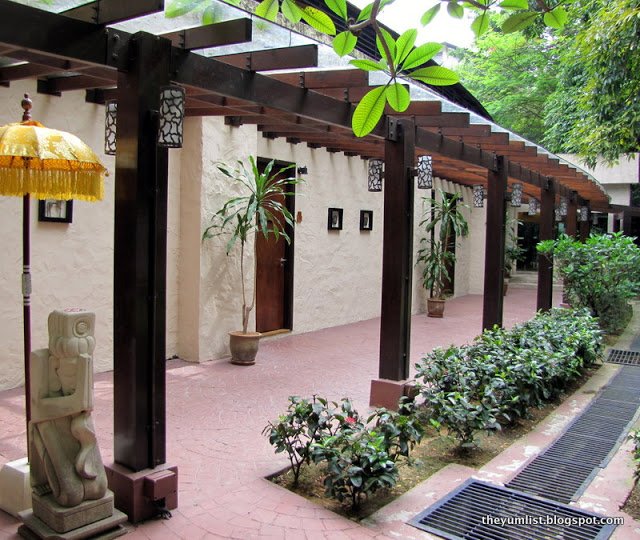 Treatment Rooms
The trickle of running water and gentle Balinese spa music with soft flutes and wildlife sounds, continued the connection to nature. Upon seating in the waiting area, we were presented with cold peppermint-scented towels, chilled tea and time to discuss our options with the kind staff.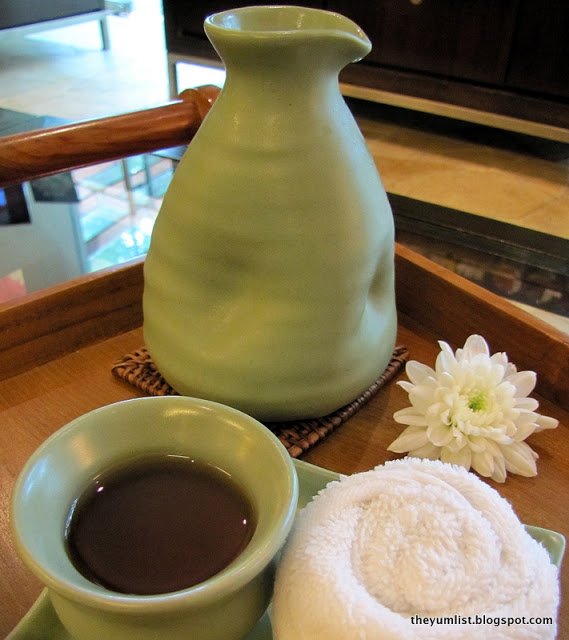 Welcome tea
Skin treatments and massage are the highlights of any visit to Mandara Spa. A comprehensive range of facials suite every skin type and the massage menu covers the key healing practices of the region. Body wraps, scrubs and manicure/ pedicure services complete the range of options. Packages are suggested including a variety of extras such as foot soaks, steam showers and floral baths, but the staff are flexible and happy to help you design your own program to suit personal preferences.
Bathtub
The incorporation of Elemis spa-therapies is a key selling point of any menu item. This luxury range from England has a well-reputed name and clinical trials to support its benefits. The Pro-Collagen Marine Cream series is worth a special mention. The story goes that a French cosmetic scientist was diving off the coast of Malta when he came across a shipwreck. Exploring the site he discovered fan-shaped algae and noticed that the wood underneath where it was growing had remained preserved. After 10 years of research into its effects, Elemis combined this ingredient with other proven marine extracts to form its Pro-Collagen range.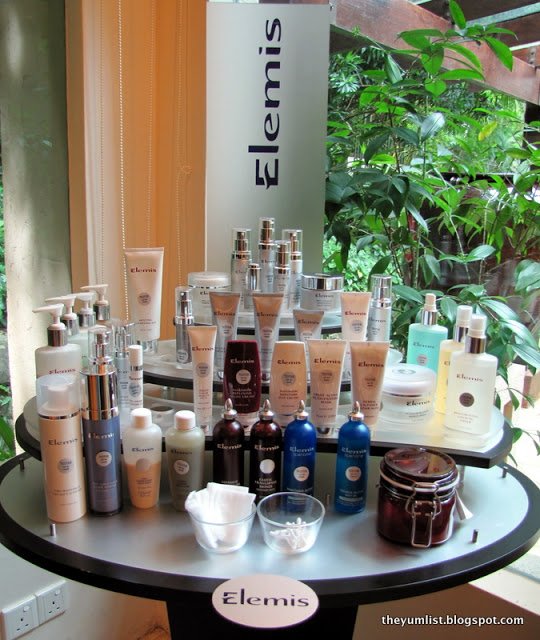 Elemis products
The Elemis Pro-Collagen Quartz Lift Facial for RM515 grabbed my attention. Claiming to be "clinically proven" to reduce wrinkles by 94% and improve skin firmness by 57% after just one treatment, how could I refuse?! Professional strength formulations were supposed to leave me "firmer, uplifted and more youthful" – yes please, where do I sign?
Hubby, also wanting a bit of youth back, opted for the male version, the Elemis Skin IQ+ Facial for Men. At RM495 for 75minutes he was also hoping for miracles to gift him with the "ultimate skin overhaul with maximum anti-ageing results."  The harsh effects of shaving, travel and environmental pollution, were all promised counterbalancing with this therapy.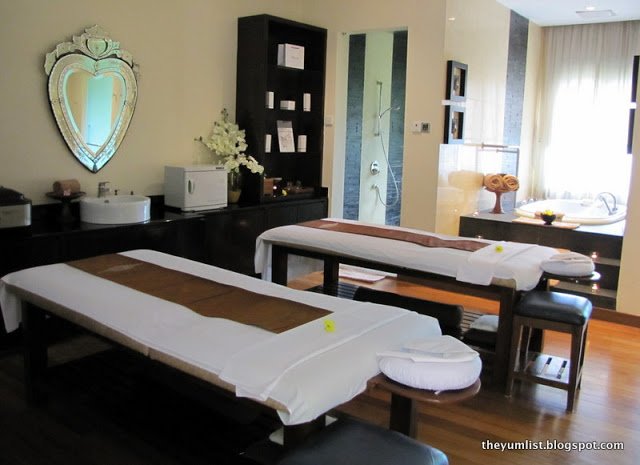 Couple's treatment room
Both male and female staff work on guests so you can choose whatever gender you're comfortable with. We didn't mind, either way, so said we were happy to go with whoever was available. The facials entailed a series of: cleansings; creams; hot and cold towels; head, arm and hand massages; masks and; heating and cooling compresses. We both found the period in the procedure relaxing in itself, but also the results rewarding. Only time will tell how long the benefits last, but we both noticed each other's complexions visibly more supple, smooth and line reduced following the session.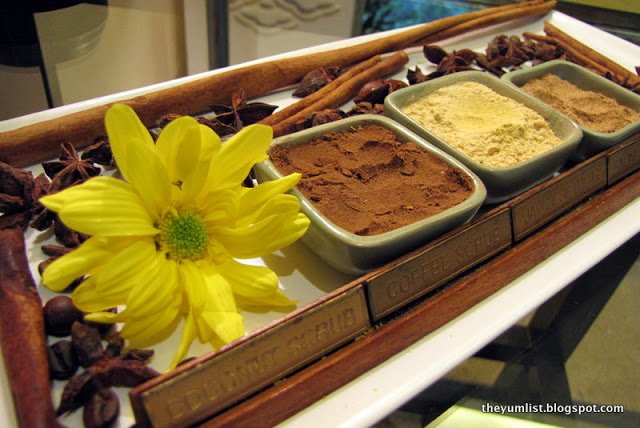 Natural Scrubs
The main reason we visit a spa though is for massage. Too many hours on the computer, too much time on our feet, not enough stretching and insufficient breaks, see us both tense balls of kinked muscle and stress by the week's end. So, further into the menu, we browsed.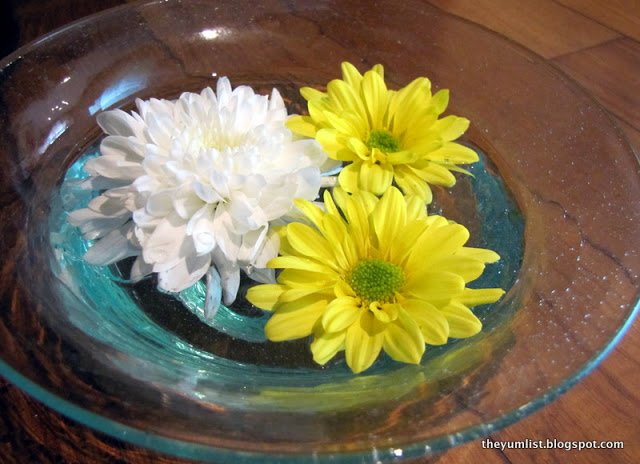 Flower Bowl
Wanting a good body massage but also more attention paid to my feet, I chose the Spa Sampler (RM290) lasting 80 minutes, combining a 50 minute Muscle Ease Massage finishing with 30 minutes of Fancy Footwork. The body massage is perfect for active people and those who are not new to a powerful rubdown. My therapist had strong hands and, while it was a little painful in a few sensitive areas (mostly my calves), she managed to push out the knots and kinks through deep tissue strokes. Ginger, clove and nutmeg oil was the well-recommended blend for this heavy-duty muscle workout. The foot massage ended this component and, while the force was strong enough to actually have some benefit beyond relaxation alone, it wasn't the squeal inducing reflexology that I've achingly endured too many times in Asia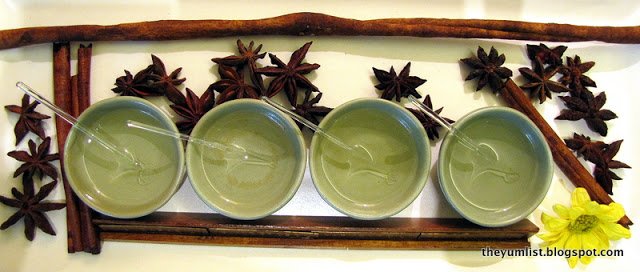 Aromatherapy Oils
Hubby chose the 90 minutes Royal Thai Massage RM305 in the hope of stretching out some tight muscles and easing some sore points in his lower back. No oil is used in this massage. Instead, clients are dressed in loose white clothing and treated on a low-lying mattress. This enables the therapist to use multiple body parts and his/her own weight to increase pressure. Both deep tissue pressure points and elongation of muscles are used to release tension and increase flexibility.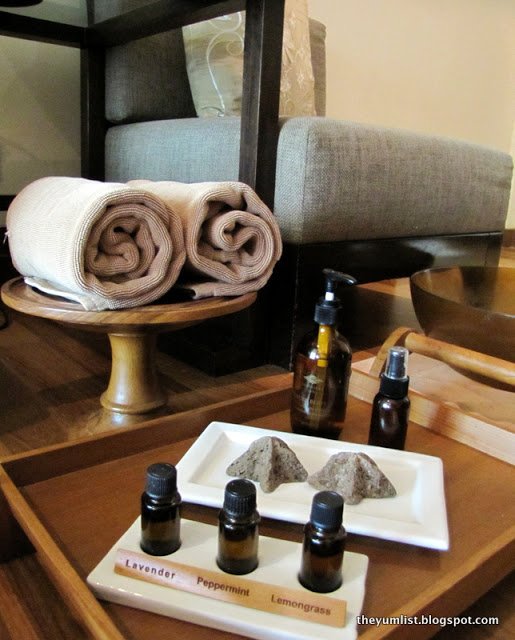 Foot Ritual
Stretched, de-creased, unknotted and revivified, we left thankful for the excellent therapists, quality products and the 'not-a-crowded-smogged-overheated-carpark' amble back through the greenery to our car, that Mandara Spa at Sunway Resort Hotel had gifted us with.
Reason to visit:  Excellent therapists, Elemis Anti-Aging Facials, a green escapade from the city
Mandara Spa
Sunway Resort Hotel and Spa
Persiaran Lagoon, Bandar Sunway
46150, Petaling Jaya
Selangor Darul Ehsan, Malaysia
+6 03 7492 8000
Mandara Spa Sunway Resort Opening Hours
Open 10 am – 9 pm