Shangri-La's Rasa Ria Resort and Spa at Dalit Bay Country Club
Words by Kirsten Durward
Photos by The Yum List
The Rasa Ria Spa offers a range of body and facial treatments from 30 minutes to three and a half hours, some taking advantage of local tradition and natural resources available in the area. We are here to try the traditional Sabah Massage. Time is taken to ensure the massage is focused on troublesome areas through a pre-survey and chat with the therapist.
The Spa seduces with soft tones of beige and green, mingling natural textures of bamboo, wood and pebbles with the sophisticated environment. Eyes are soothed by lily pads, flowers and candles. The spacious treatment rooms are each themed around a flower, a fruit or a spice, with a small display outside. We peek into a couples room, luxurious and boasting a spa bath as well as the standard shower.
I step into my room, Ananas, and my gracious therapist Lawrena invites me to wrap in a sarong, then the foot ritual begins… Enjoy the cold towel to refresh hands and face and cold jasmine tea to soothe your throat. Place tired and weary feet into warm scented water amongst colourful flower petals and instantly feel the worries and stresses of regular life fading away.
Lie on the bed and experience the further rituals of the treatment; aromatherapy, breathe in breathe out while pressure points on the neck are released. Ritual breathing calms as the sensation of being cared for starts to sink in.
Shoulders and back are stimulated with a light tapping from lemon grass stalks; a local cultural tradition. The therapist begins the targeted massage. She capably untwists knot in my neck and my crunched up shoulders from too much computer time. I like a firm massage and she is happy to oblige, carefully checking the pressure at every new body part. I'm grateful to have this relaxation on the first day of the holiday and know that every day will be so much more enjoyable now. She works her way down through back and legs before gently turning me over and placing a soothing eye pillow before resuming work on my neck and finishing with a stimulating foot massage.
All too soon, as ever, the treatment comes to an end. I love the feeling of the scented oil on my skin, but for those who don't, an in room shower and full set of toiletries will meet your needs. Finally relax in the foyer with a cup of warm green tea before taking the shuttle back to enjoy the rest of your day.
Rasa Ria also offers in room massage though personally I prefer the luxurious tranquility of a spa experience.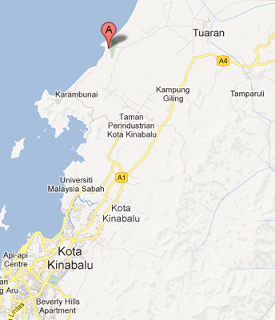 Map to Shangri-La's Rasa Ria Resort and Spa
Reason to visit: a standardized Shangri-La experience that ensures professionalism, but also a good mix of local ingredients and traditions.
Shangri-La's Rasa Ria Resort and Spa
Pantai Dalit Beach
Tuaran
Sabah 89208
Malaysia
+ 6 088 797 888