Words: Kirsten Durward       Photos: Monica Tindall
Bentley's is a traditional British Pub tucked away at the top of the escalator in the Intercontinental Hotel. It has a masculine feel with its dark shiny wood, central circular bar, myriad sports screens and ambient rock music. Beer dominates the drinks menu with a vast array of bottled beer and several tap varieties including a smooth Guinness. But wine is not forgotten, with an impressive range of wine by the glass for those of us who prefer our drinks without foam and fizz.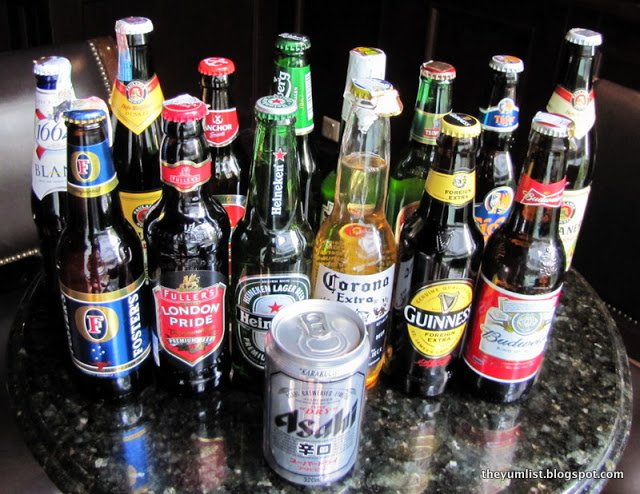 Good choice of bottled and on tap beers
Monica and I try two of the white wine options. The chardonnay from Margaret River has a clean taste that reaches beyond the oakiness of many of its cousins. It's a honeyed liquor to sip in the afternoon. The Marlborough Sauvignon is drier, with limey passionfruit notes and suits well for drinking with food. Chardonnay Capel Vale Debut – Glass RM56 ++  Bottle RM255 ++. Mud House Sauvignon Blanc – Glass RM68 ++ Bottle RM295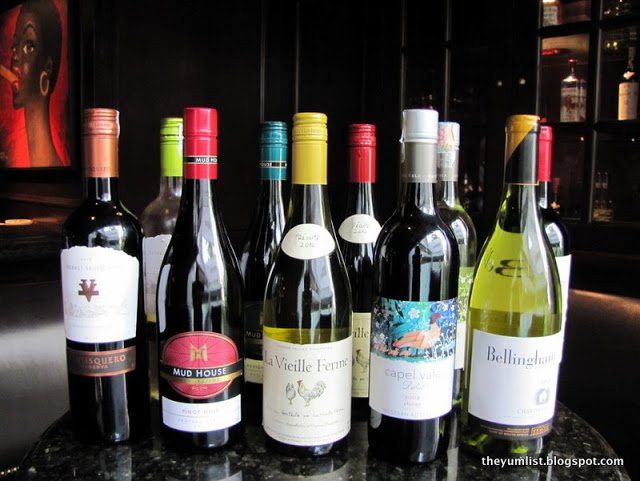 Excellent selection of wine available by the glass
It's raining outside which gives a note of British authenticity to the experience. A note that continues through a specials menu promising, 'the best of British cooking.' Butter Fish Pie (RM 55 ++) does not disappoint. Glistening pastry packed with, tender chunks of fish lies in a bowl of cheesy mash. The cheese is double Gloucester, the pastry is light and buttery, and the dish is deliciously warming, everyone's favourite taste of the day.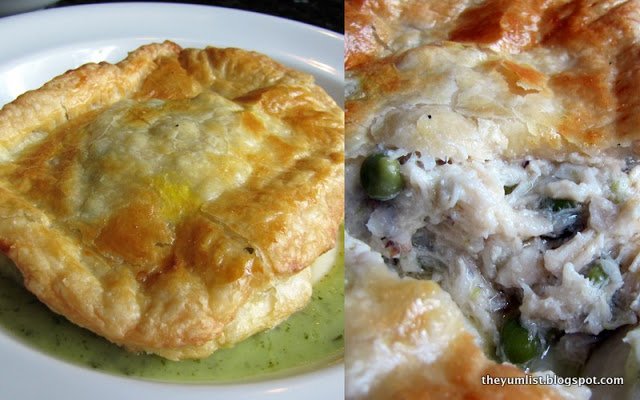 Fish Pie
A close second though, are the solid herby flavours of the Chicken and Mushroom Puff Pie (RM46 ++). Again the pastry is perfection and the boiled green pees and parsley potato are truly traditional. Caning's smile is very broad as he digs in again and again.
Lancashire Hotpot is a traditional northern dish featuring lamb pickled red cabbage beef bangers and crispy potatoes. There are further British specials available to order.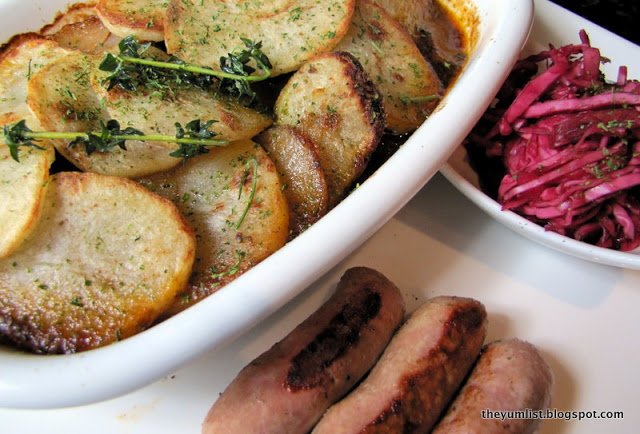 Lancashire Hotpot
The regular menu is more fusion style. Thai Crab Cakes (RM22++) are firm and crisp, nicely spiced, with a coriander flavour seeping through. They are paired with a mango salsa that is a sweet and oniony fresh combination.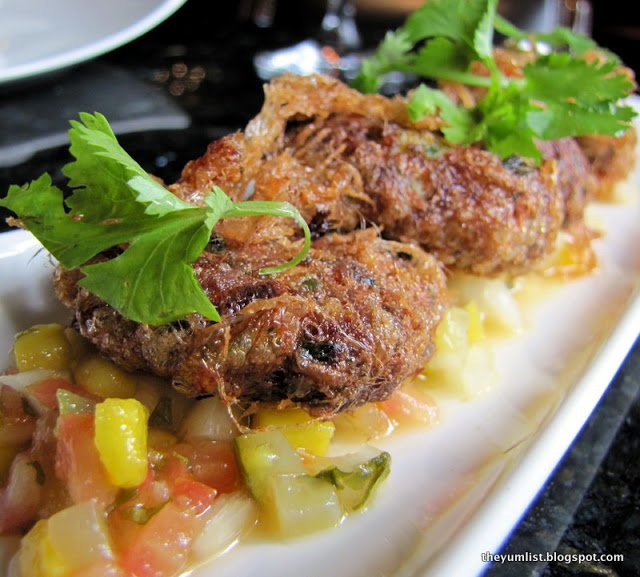 Thai Crab Cakes
A huge swathe of beef on the bone in a great stickiness of sauce proves to be BBQ Hoi Sin Beef Ribs (RM27++). The sauce has a piquant ginger tang.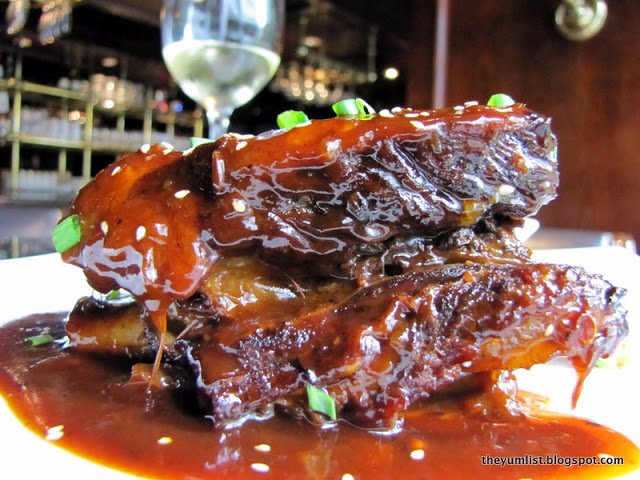 Drippingly Sticky Ribs
Jack Daniels Buffalo Chicken Wings (RM25++) glisten in coppery tones. Shiny, sticky and slightly spicy, this is a bar snack winner to accompany your beer. Finger licking required!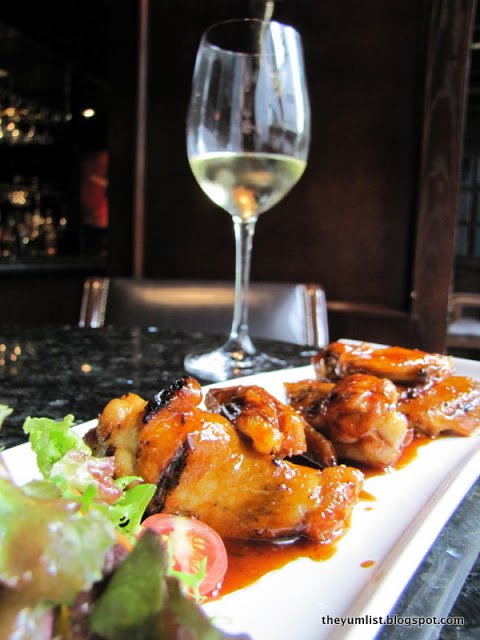 Jack Daniel's Chicken Wings
We goggle at the Satay Chicken Burger (RM35++). It seems to me that bars around town are competing over burger size. Stacked up two patties high with plentiful sides, and accompanied by crispy fries, this will satiate any appetite. The peanut sauce is an original touch for a burger.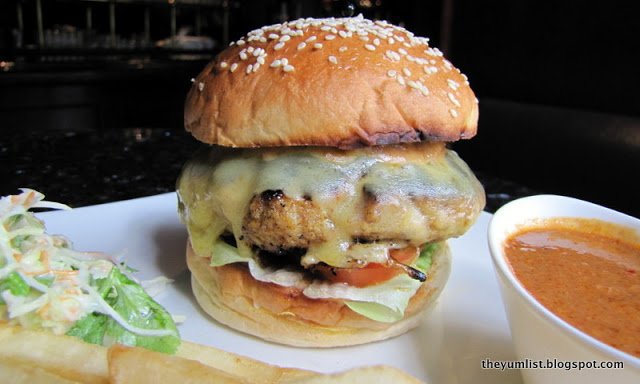 Chicken Satay Burger
Bentley's Pub offers a range of happy hours appealing to an after work crowd through the week. From 12 noon until 8pm (!) this is one of the longest happy hours in the city.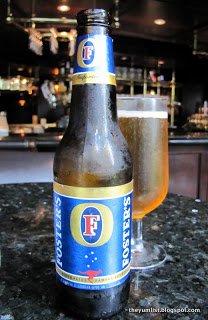 Fosters Beer
Daily: House wine RM16 ++, House pour RM22++, Glass of beer from RM15++
Monday:  Six imported bottles of beer 100 RM++
Tuesday: Six Heineken 100 RM++
Wednesday: Buy one free one wine by glass
Thursday: Double up on house spirits.
Friday: Tiger six bottles 100 RM++
Reason to visit: good selection of house wines and bottled peers; don't miss pies; the longest happy hours in Kuala Lumpur (8 hours!!!)
Bentley's Pub
InterContinental Kuala Lumpur
165 Jalan Ampang
50450 Kuala Lumpur
Malaysia
+6 03 2161 1111
www.intercontinental-kl.com.my