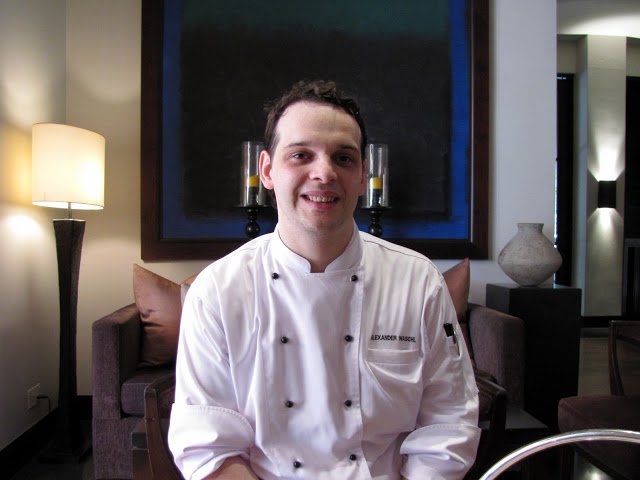 Chef Alexander Waschl


The Yum List talks to Chef Alexander Waschl of The Club, Saujana and finds there are many exciting events coming up to look forward to.
What do you do and how did you got into the industry?
I grew up in the hotel industry where both my parents worked in a 5 star hotel,
Das Central
, where my father was the General Manager (Director) and my mother worked in the reservations and front office department. Therefore, for my brother and me, it was always normal for us to run around the hotel and we even played football in the dining room!
Hence, the natural passion and love for gastronomy.
Share with us an interesting story from behind the scenes.
Oh there are many to tell but the most exciting ones for me is my experience when I went to train with famous chefs all around Europe during my holidays. It is always exciting when you have the chance to learn and familiarize yourself with different cultures and styles of cooking.
The best stories always happens behind the scenes and it stays there, but let me tell you, I had partied and had a good time with friends and colleagues.
What's the best/ worst part of your job?
The best part of my job is being able to meet and connect and work with people from all walks of life. As a chef, you travel and work in many different countries around the world where you experience different cuisine, learn about different cultures and from there you learn the many things in life which you did not know about before.
In my restaurant, the best feeling is when I see my guests happy, smiling and coming back for good food and great service. It something I always share with my team so that they know that all their hard work has paid off!
The downside of it is when our guests are not happy with either the food or service but that only gives us more room for improvements.
What's your favorite Malaysian food?
Ayam masak lemak.
What's your personal favourite meal/ drink at The Club?
I don't really have a personal favourite meal. We try to make all of our food good in taste, flavor and to be consistent. My personal favorite drink is a glass of good red wine or ice water with lime juice.
What's your favoured food and wine/ liquor pairing?
That depends on the type of wine/ beer or liquor and the combination with the flavor of the food. I have served white wine with red meat as well as I have served beer or red wine with fish.
That's what unique with food and drinks, there are so many combinations which you would not expect and it's always a perfect match. You need to always be open minded. My job is to find this connection and combination and to serve it as a surprising dish.
The perfect day off would be…
… a day with family, good friends, colleagues and good food and drinks.
A life in the day of a chef is…
… exciting, full of ideas, challenging but sometimes it can be very long.
What's something you'd like guests to know about the cuisine/ drinks prepared at The Club?
Our food is hand/ home made with fresh, tasty and good quality products. Our food presentation is simple yet a lot of hard work and preparation goes into it to make the way it is.
How do you select your ingredients and why?
Freshness
Quality
Taste
Season
Price
We want to offer our guests tasty, hard-to-find seasonal items, fresh and good quality food for a fair price.
What can guests look forward to in the upcoming months at The Club?
We always have something new on the menu and on-going promotions.
In May we have a Michelin star Chef Anton Mosimann from 29 May – 1 June 2013.
In June we have one of Australia's most celebrated chefs, Philip Johnson as guest chef at The Restaurant, The Club Saujana Resort and Senja, The Saujana Hotel Kuala Lumpur from 26 June – 29 June.
In July we are running a month long Lobster promotion at The Restaurant with a starting price of RM42++ for a soup of lobster till RM228++ for a half grilled lobster.
Thanks Chef Alexander! Looks like there are many exciting things coming up at The Club! We hope we can join you for some of them.