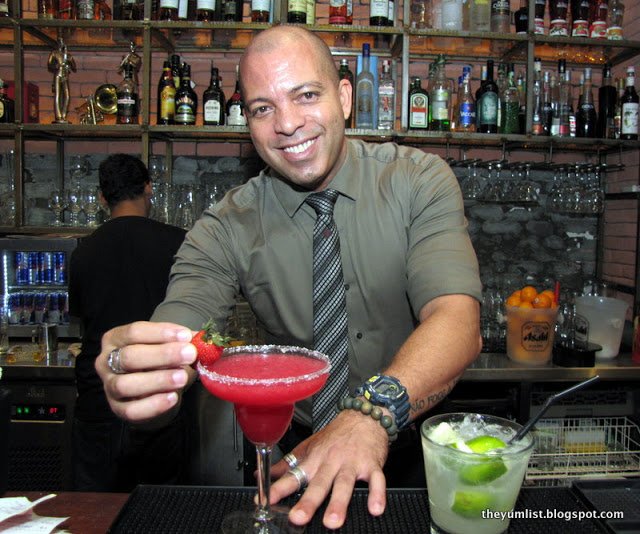 Felipe Sant Anna, La Boca, Pavilion
The Yum List had the pleasure of tasting a few of La Boca's mixologist, Felipe Sant Anna's cocktails and found out his thoughts on the industry and favourite South American treats.
Felipe, you've been in the Food and Beverage industry for a number of years now, with experience around the world. You must have some interesting stories. Can you share one with us?
Now, now… I cant tell you all our secrets 😉
What's the best/ worst part of your job?
The best part… probably the pretty girls… haha just joking! The best part for sure is meeting awesome people from all over the world and seeing my customers face delighted whenever they taste one of my creations. The worst part… in the F&B industry the hours can be very long, the work can be tough and sometimes we have no life.
What's your favourite Malaysian food?
Hmmmm that's a tough one. I must be honest and say that I don't eat much Malaysian food. I'm very Brazilian lol… and I love to cook my own food most days. But sometimes I go for nasi lemak (customized) with extra egg, only chicken breast, no anchovies… is that still classified Malaysian?
What's your personal favourite meal at La Boca?
I have a few. The 100% Black Angus Tenderloin is amazing. The Lamb Stew is truly soul food. The Pizza Rellena (Folded Argentinean Pizza) is also my occasional favourite. Actually I eat many "off the menu" dishes where the chef prepares his own variations of some dishes to my liking. I guess I'm very spoilt here at La Boca 😉
What's your favoured food and wine pairing?
Medium cooked Black Angus Tenderloin with a good Malbec.
The perfect day off would be…
… diving in the open water sea with no one else around.
A life in the day of a mixologist is…
Pretty damn awesome when you work at La Boca.
What's something you'd like guests to know about the cuisine and drinks prepared at La Boca?
Well we try and stay as authentic as possible and to serve only the best Latin American "soul" food & beverages. What everyone should know is that we prepare everything from scratch. We make all our arepas, empanadas, sorrentinos etc by hand everyday.
We don't "cheat" on our cocktails… we don't use cheap inferior spirits. We use premium ones. We always ensure the correct doses for each recipe are followed. And we always use fresh seasonal products in our cocktails not sugary over the counter mixers, so you can be assured you will get what you pay for and more. Our Latino cocktails like Margaritas, Caipirinhas, Mojitos & other signature ones are the best in town… oh and did you also know we have awesome coffee too?
How do you select your ingredients and why?
By always working closely with our suppliers to ensure the freshest and highest quality ingredients are used in our beverages. Every single ingredient that goes into a cocktail must be up to the correct standards to ensure each drink maintains a high quality. For instance a poor quality mint leaf will ruin a mojito, or an unripe lime will make the caipirinha bitter and the water in the ice must be clean and filtered to not interfere with the overall taste… so it's very important that we constantly review, taste & check every ingredient coming into the bar.
What can guests look forward to in the upcoming months at La Boca?
We are planning to launch a new menu by June. We will be introducing some new Latin dishes and widening our Latin barbecue menu so you will have even more choices of different cuts of the best meats available.
We will also be planning some more themed entertainment nights such as "Brazilian Night" where we will feature live Brazilian entertainers, Churrasco, Moqueca, Caipirinha specials etc etc… I'm really looking forward to that night! The dates will be posted on our website in the coming weeks.
Actually all of us at La Boca are always looking into new ideas to bring exceptional food, beverages and music to the restaurant. So maybe tomorrow we will introduce something else! I'll keep you posted as new and exciting events come up…
Obrigado adeus Felipe! We hope to drink, eat and dance again with you at La Boca very soon.