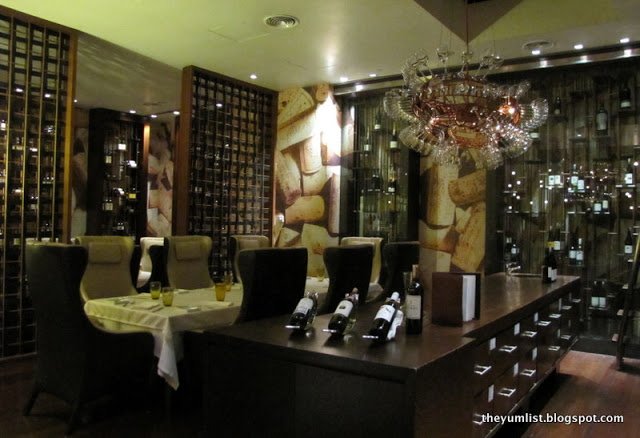 PRIME Steak Restaurant, Le Meridien Kuala Lumpur
PRIME Steak Restaurant, Le Meridien
Words by Kirsten Durward
Photos by The Yum List
It's like a larger version of a man's study, an old style men's club with a modern feel and a slight African hunting lodge overtone. Impressive floor-to-ceiling wine walls carve up the dining spaces reminding us of all our options to pair with dinner. Oversized furniture makes us ladies feel like delicate queens as we sink into the huge creamy seats on either side of our chunky dining table. Chef Antoine, who patently enjoys his sense of humour arrives with the question, 'You ready for a bit of meat?'
It's a beef specialty restaurant so that is what we are having; chef's orders, and believe me, here there is no arguing with chef! I've rarely seen so many different cuts of beef on a menu. But don't worry, for the lighter appetite there are also seafood options, other grilled meats and salads. The restaurant serves only Blackmore meat, fed and slaughtered to strict Wagyu standards. Be warned that the availability of cuts may vary as only 40 beasts are slaughtered each month, so when a cut is done, it's done. All the beef served is Halal certified.
Our cut, the Prime Rib, one kilo of solid beef on the bone, is proudly displayed at the table before cooking. One kilo between four ladies? Is chef going to join us? Is anyone else coming to dinner? The huge piece of beef is centerpiece on our table as chef explains that it's the tenderest cut, and that the marbling we see is going to give us a marvelous juicy flavour. 'It's nice to see what you eat right? Let me put it on the grill.' Cindy and Monica trade stories of how jealous their husbands will be to be missing this feast.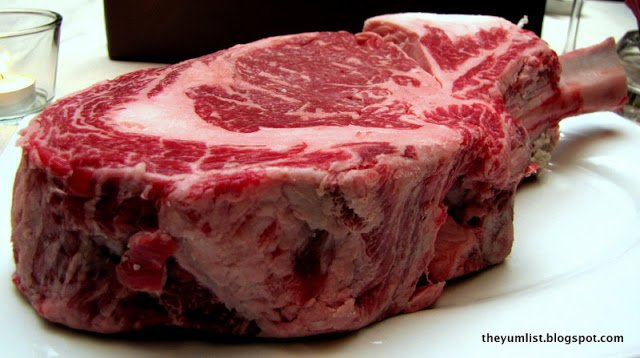 One kilo of Prime Rib
Chef has arranged for us a tasting plate of three starters each, so we don't have to carry out our usual messy (but fun) system of eating off every plate. I'm excited at their descriptions and not sure which will be my favourite. In the meantime we nibble on the house bread, rather nervous of dampening our appetites for our huge piece of beef. Three types of butter, however, are too tempting to avoid. Garlic, black pepper, pommery mustard grain; apparently the flavours change every day. I try them with the two types of in house bread, served slightly warm. The brown is rustic and textured, the white, soft and fluffy. Yummy flavours from the butter.
We take a white wine for our seafood starters. For me a Chateau Set Michelle Riesling. I quite like something sweeter with seafood. It carries scents of elderflower and apple, on tasting echoes of vanilla and honey, with a touch of pepper on the nose. It's a clean and clear wine. Monica selects the dry Marques de Riscal Sauvignon Blanc which has aromas of passion fruit and a hint of green pepper. It has good body, slightly sharper than some sauvignons.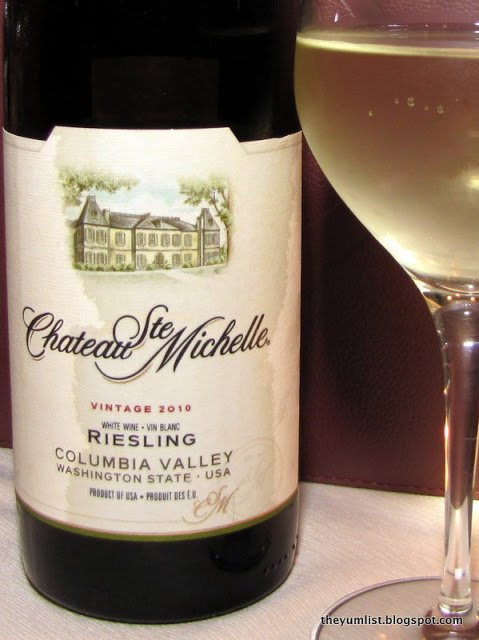 Chateau Set Michelle Riesling (RM35++)
Spicy prawn cocktail with lobsters proves actually very lightly spiced. The seafood pieces are chunky, fresh and juicy. It's a classic dish with a very clean taste. (RM65++)
I love the crab cake with mango. It's soft, smooth, with slightly spicy black pepper and dry chili flavours. Very, very moist and loose, a sweeter kick from the salsa, crisp breadcrumb outer, delicately put together. Chef tells us the moist texture is gained from mascarpone cheese. Wonderful. And pairs very happily with my Riesling. (RM55 ++)
The third tasting is truffle ravioli with shavings of Parmesan. Finely cut wild mushrooms in a creamy sauce coats delicate pasta al dente, filled with a smooth textured mushroom truffle mouse. 'Gorgeous!' declares Monica, and everyone concurs. 'I could have a whole plate,' she adds, and the sauvignon was a perfect choice for this dish. (RM55++)
For favourite starter our four girls are split two/two, crab to ravioli, though honestly I had a hard time coming down on either side.
Although patently one kilogram of prime rib is going to satisfy our appetites, we are persuaded to try a tasting portion of a different cut of meat. Something very new to me is Chuck Flaptail. It's served very rare, on a delectably smooth and luscious truffle polenta. The cut is very tasty with a full flavour, and, being carved along the grain; incredibly soft. Chef loves it as the beefiest cut of meat taken from the shoulder.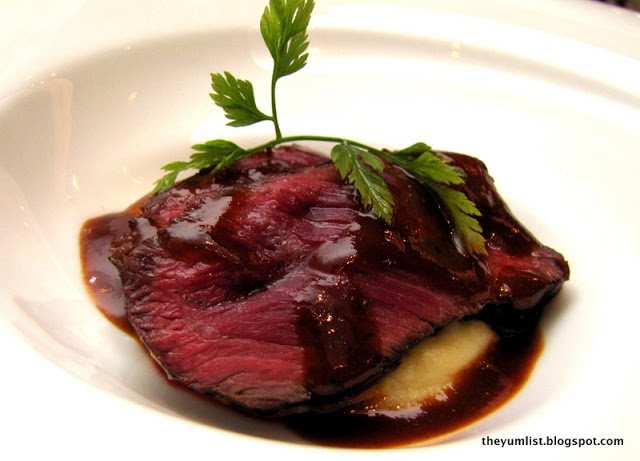 Chuck Flaptail (RM180++)
It's the main event. After what appears to be only a few minutes of cooking, a very different looking Prime Rib returns to us, surrounded by flourishes. We now understand the need for the super large table as dish after dish of treats is delivered for our delectation. The Prime Rib sits in a light black truffle jus, accompanied by a creamy wild mushroom fricassee. Four sauces are presented, together with sides of Mediterranean roasted vegetables, garlic spinach and truffle mash. Not forgetting a huge basket of Idaho fries. Where to start? Cindy's taking photographs, and texting her husband who is mad with jealousy – as would any red meat eating man be.
The beef, as promised, deliciously tender, and deeply pink. It has a wonderful dense flavour and everyone agrees that it needs no sauce. Which of course, does not stop us trying all four, everyone loving the Chimichurra in particular. Though I am loving the mushroom fricassee with this meat. Chef tells us all you need is a quality product, good seasoning and perfection of cooking timing. I'd agree, if my mouth weren't quite so full. The truffle oil adds another dimension to the creamy mashed potato, just one more spoonful, or perhaps one of those crispy steak fries, twice fried at a supreme temperature to get perfect crunch and fluffy interior. It has all been fantastic but we promised to leave space for dessert.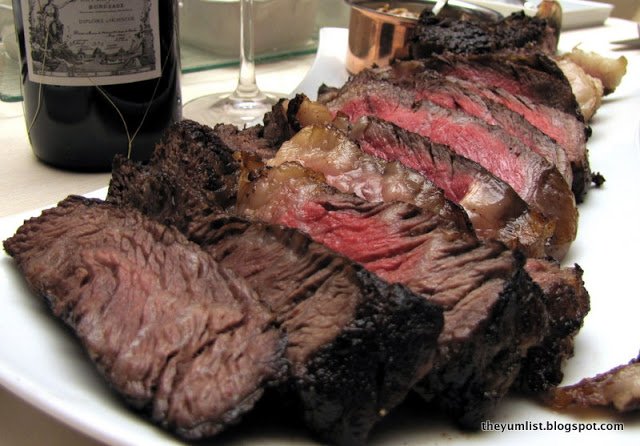 Prime Rib
Monica is enjoying her dinner with an accompanying deep rich red rioja. It's fruity and full-bodied, with a very mellow touch of cloves. I've selected a Shiraz, which is slightly peppery with a hint of dark chocolate and cinnamon. The juicy texture of the beef rounds out the flavour of the wine and I feel it was a good choice for the dish.
Chef, who patently likes spoiling girls, showers us in desserts. Oohs and aahs slip out from four mouths as plateful after delicious plateful is offered up.
First to arrive is the fudgiest brownie ever. Glistening on the plate with large nutty chunks we are impatient for Monica to finish with photography before delving in with spoons. It's moist and nutty and moreish, but we have three more desserts to try to restrain ourselves from gluttony.
Crème Brulee is served with fresh seasonal berries. That satisfying crack, and then a firm creamy vanilla flavoured centre. 'I love this,' says Monica, while Cindy goes back for seconds.
Rich hot chocolate cake, what chef calls a French mud cake, we pour over with lashings of warm chocolate sauce, and partner with giandula ice cream. It's so moistly chocolaty, it's an instant hit. The ladies are happy!
Chilled mango cheesecake is my favourite dessert. The food has been delicious but very filling so this lighter option is just perfect. It's very light and foamy with a coconut cream jelly and a topping of diced fresh mangoes. The flavours and textures happily combine in my mouth as Cindy dives for more of the crumbly base. Yum!
The table's a mess; we think the food defeated us, delicious as it all was. On favourite desserts, we are two for two Cheesecake to Brulee, but both chocolate dishes were close contenders for everyone.
Prime has been lavished with awards, including the Time Out KL 2012 Food Awards Best Fine Dining Restaurant and Expatriate Lifestyle 2012 Best of Malaysia Awards Best Hotel Restaurant. It's a restaurant that truly has challenged my snobbery over hotel restaurants and definitively merits a visit, for a celebration, treat for your man or just when you fancy some really tasty food.
Reason to visit: surely the best steak in KL, amazing starters, delectable desserts, impeccable service and delicious wine. No reason not to visit really.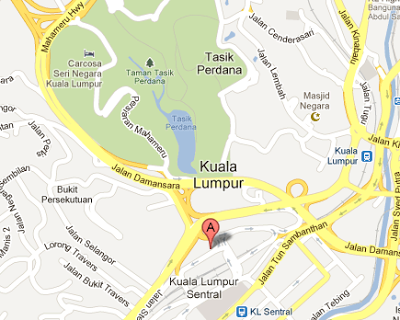 Map to Prime, Le Meridien
Prime Steak Restaurant
Level 5
Le Meridien
KL Sentral
Kuala Lumpur
Malaysia
+6 03 2263 7434