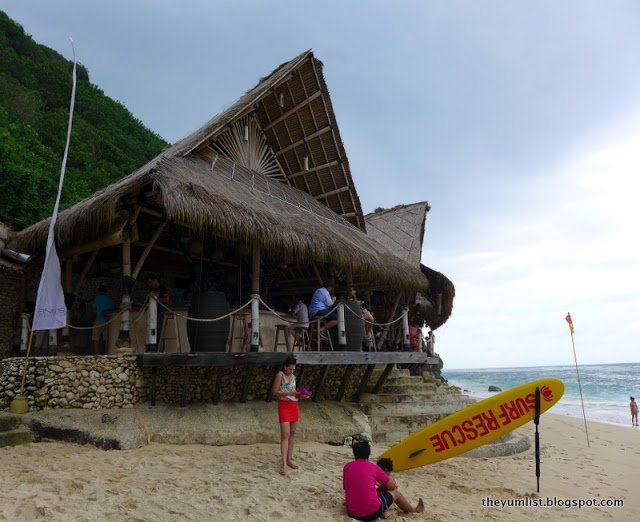 Finn's Beach Club
Finn's Beach Club, Bali
Words by Kirsten Durward
Photos by The Yum List (Monica Tindall)
Another dramatic descent down the cliffs of Bali, this time to the private beach at Semara Uluwatu. Finn's Beach Club is open to both hotel residents and non-residents. What a wonderful place to hang out for the day, with a clean white beach, shady loungers, relaxed beach bar and restaurant. Manager Diego thinks of it as the place where you escape from everything, and we can totally understand that. This is quiet a retreat in a little sandy cove where soft white sands contrast with rocky cliffs, the bright turquoise of the sea fading into a darker vista with crested waves.
Ambient jazzy funky music greets our ears above the crash of the waves. Evenings apparently get quite lively, with a DJ on hand to ensure the night goes with a swing. But during the day relax, enjoy the beach with snorkeling and beach equipment for your entertainment. A visit for non-residents is Rp 250,000, which provides you with a voucher for Rp 250,000 worth of food and beverage as well as access to this clean private beach.
The restaurant-bar is island style with natural wood, bamboo and thatch. I love the back walls build out of natural pebbles and the local fishing baskets, which hang from the rafters acting as perfect light holders. Smiling bar staff, in sea reflecting turquoise, abound in the central bar.
We start with a cocktail, Spanish Diego suggests Sangria (Rp 95,000 ++ Jug 325,000++) and we opt for the more authentic red wine option, although white is also available. Plenty of fresh fruit and a generous tot of rum are enjoyed as the sound of the sea whooshes in your ears, and the soft wind cools our skin.
Passion fruit Mojito (Rp 155,000++) proves a great choice, light, refreshing, with that tropical beach feel Bacardi Rum, fresh passion juice mint, regular mojito with a tropical twist half a passion fruit floats on top.
There are plenty of unusual and creative salad choices on the menu, all sounding delicious and fresh. We select the Balinese Red Rice and Roast Pumpkin Seed Salad (Rp 100,000++). The rice is combined with soft feta cheese making for a pretty picture and soft flavourful eating. Plenty of rucola and pesto, with thinly sliced red onions and a balsamic hit has Monica murmuring, 'this is my kind of food.'
From the range of Mediterranean style dishes on the tapas menu, Diego offers us Crispy Calamari (Rp 85,000++). The glowing rings of Calamari are crumbed rather than battered. We both find it well cooked, tasting fresh and not too chewy, with a tartar sauce for dipping.
Pizza from the open-fire pizza oven is a popular order, and one of Diego's favourites. Chef recommends the Balinese Pizza (Rp 150,000++) as the most popular; a chicken and mushroom topping with a chili and sambal malah twist. It arrives; colourful, plenty of topping, tomato sauce herby, with a thin base. We can't quite taste the advertised sambal though, so if you are a chili lover like me, request extra chili on the side.
BBQ Baby Pork Ribs (Rp 195,000++) have plenty of tasty soft meat on the bone, while the sticky sauce is just the right mix of sweet sour and a hint of spice. Fingers need licking, before popping a well seasoned golden brown chunky potato wedges in my mouth. Yum! Although perhaps not traditional seaside fair, it goes brilliantly with a tall glass of cold beer.
My favourite dish today is the Chargrilled Mahi Mahi (Rp 170,000++ ), two chunks of dense white fish, perfect eating by the sea. The beautifully cooked fish is served with bok choy and two sauces, a Balinese sambal malah, chili emulsion. This dish is also available steamed or baked.
We peruse the tempting dessert options but Diego assures us the unmissable is the Warm Chocolate Pot (Rp 75,000++) with vanilla ice cream so we obediently follow his bidding. It proves to be an oozy warm chocolate baked pudding. A light sponge is soon soaked with the melting ice cream.
As well as all we have tasted, Finn's also offers a good range of Pasta dishes, sandwiches and burgers, and a few Asian style dishes for those with a hankering for something more local. The service is impressive, particularly as we can see food preparation happening freshly. And it's not just for the review; beside us a family of 5 orders and has food on the table in under 15 minutes. We've received great hospitality and are only sad that there is not enough time to laze on the beach and enjoy the beautiful water. I do hope you find time for that.
Reason to visit: clean beach, stunning location, tasty fresh bar food, delicious cocktails.
Finn's Beach Club
Semara Luxury Villa Resort
Jalan Pantai Selatan Gau,
Banjar Wijaya Kusuma,
Ungasan 80362 Bali, Indonesia
+ 62 (361) 848 2111 // + 62 853 3941 1907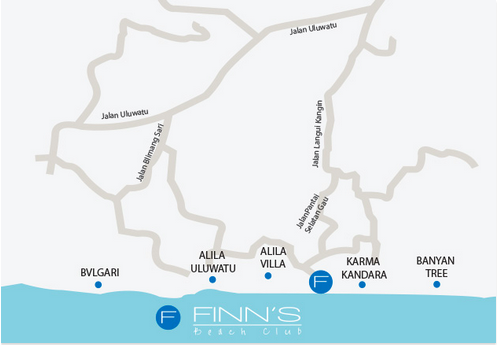 Map to Finn's Beach Club