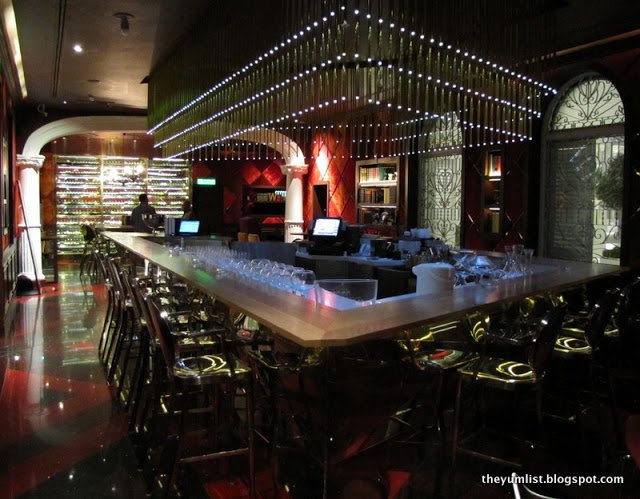 The Cellar, Macalister Mansion, Penang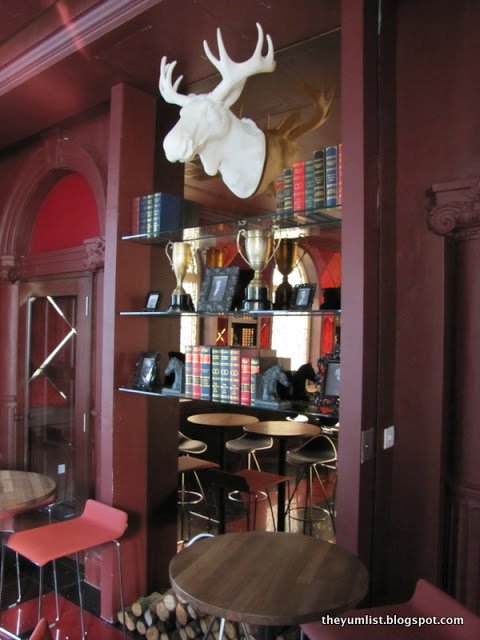 Eccentric Design signature to Macalister Mansion, Penang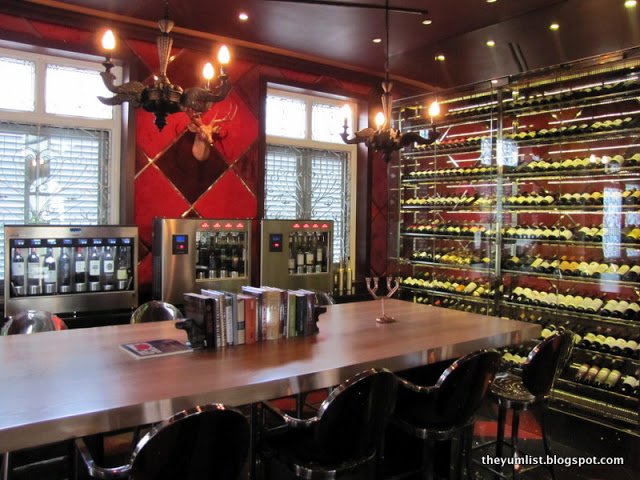 Wine Fridge and Enomatic Machines
The Cellar, Macalister Mansion
Put the words 'wine' and 'cellar' together and you've already caught my interest. Add to them, 'over 300 labels' and 'largest collection in Penang' and I might just drive the four hours from KL to Penang to take a peak. Include 'Enomatic wine machine' and 'delicious cheese platters' into the conversation and I've already settled in for the evening.
The Cellar, at Macalister Mansion, Penang not only possesses all of these things, it does so in a sophisticated, contemporary yet quirky setting. What used to be called the Bagan Bar has since been renovated and renamed. Now more of a calmer location than live music bar, a palate of chocolates, with metallic specks and highlights reflected in subtle lighting, sweep the room. Masculine furnishings of leather, old books, animal heads and large eccentric oil paintings surround a digital fireplace. Deep, engulfing king-sized armchairs encourage prolonged stays and private communions, while bar stools and high tables stimulate social interaction. An admirable collection of champagne and wine labels, from around the world, provoke pensive exploration.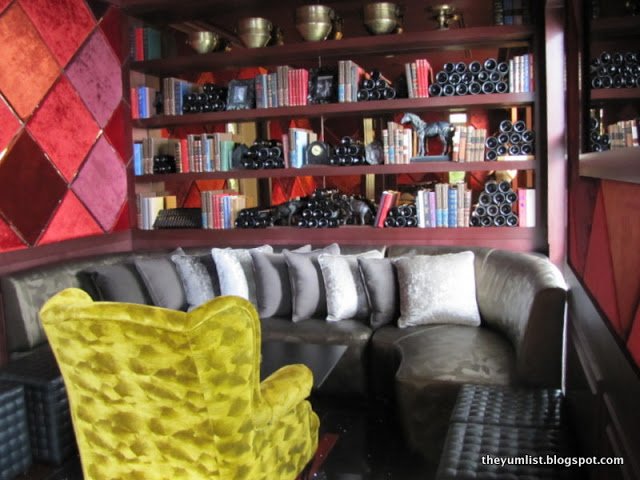 The Cellar
My character of, wanting to try everything all at the same time so as not to miss out on any experience, is fully catered for at The Cellar. With their Enomatic wine storage machine, 20 different labels are sold by the glass! Twelve reds and four whites are up for the tasting.

We started with a couple of whites from our home continents of South America and Australia: Vina Canepa, Reserva Chardonnay 2010 Central Valley (RM24) and; Dominique Portet Fontaine Sauvignon Blanc 2008, Yarra Valley (RM28). Both were chilled perfectly and are great easy drinking starter wines.

The menu presented in the form of a hard cover book. Cheese, wine and cigar choices can be made with full descriptive information. Each comes with tasting notes and the cheeses even come with photos.
Our white wine vanished while browsing the menu, so the arrival of the cheese platter begged for a change in colour. Hubby, preferring a lighter style and recalling fond memories of West Coast wines from the USA, requested the Argyle Willamette Valley, Pinot Noir 2009, Oregon (RM33) and myself, loving the comfort of Aussie wines, bid the Glaetzer Wallace Shiraz Grenache 2010 Barossa Valley (RM34). As expected, the Pinot Noir proved smooth and easy drinking while the Shiraz was fuller bodied with a peppery finish.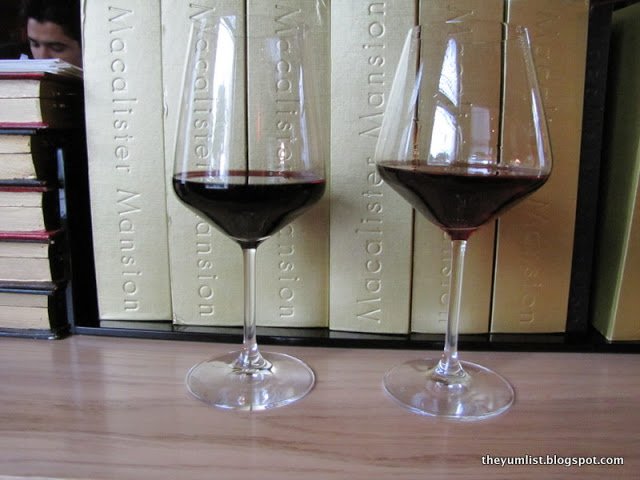 Pinot Noir and Shiraz
We chose Tasting Platter 2 (RM36), which includes the Chef's selection of four types of cheeses with four condiments of your choice. Our tray comprised: Morbier AOP Soft – supple, creamy and delicately flavoured would pair nicely with a Chilean carmenere; Camembert AOP de Normandie – a young cheese, runny, going especially well with red wine; Munster Gerome AOP Soft – melting texture, slightly sweet, orange rind and a nice partner for lighter wines such as pinot noir and; Roquefort AOP Blue – buttery, floral and fruity with a marked taste long on the palate, would go beautifully with my favourite dessert wine, Noble One, or a sweet white wine such as a German Riesling.

Gourmet condiments were just as intriguing as the cheeses: Marinated Olives in Hay and Rosemary; Dried Cherries in Port; Cherry Wine Reduction; variety of crackers and dried breads and; Mango and Saffron Jam. The cheeses really needed no help with flavour and, the pairing with wine only elevated the experience. These additional dressings though were too delicious not to add and we went between tasting miniscule pieces of pressed curd alone, with beverage, with condiment and, all three combined.
A cheese platter and a few glasses of wine would make a lovely afternoon interlude, but for those wanting to last a few more hours, a snack menu will keep the tongue and tummy satiated with more than above ordinary bar food:
Arancini with Tomato Vodka Cream Sauce (RM14) – These risotto balls coated with breadcrumbs and filled with Parmesan and mushrooms are deep-fried and perched in a rich tomato sauce. These were delicious and quickly disappeared – best eaten while still hot.

Stuffed Jalapeno with Cream Cheese and Almonds (RM14) – With a decent kick I bet these spicy stuffed chillies are a hit with locals. I downed a couple, but they were a touch too piquant for hubby.
Shrimp Cornets with Lime Mayo (RM16) and Sesame Tempura Soft Shell Crab with Sesame Mayo (RM18) brought a pinch of Asia to the menu. Both plates paired well with wine, but would also make great nibbles alongside a cold glass of beer.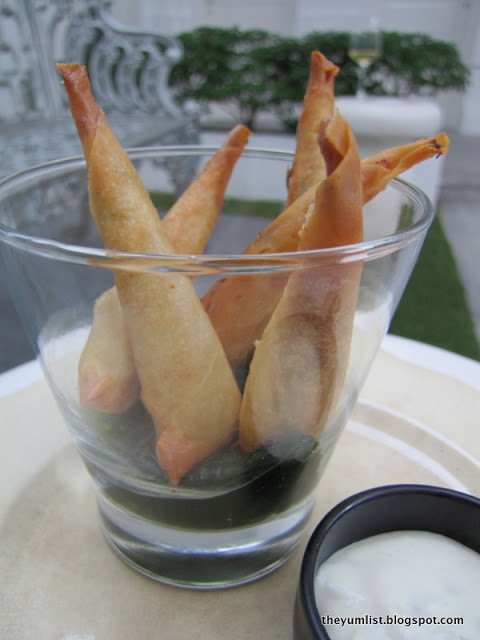 Shrimp Cornets with Lime Mayo

After all of those savoury treats, you might crave a little sweetness. The Cellar's specialty Wine and Whisky Cocktails are at the ready. Going along with the setting, expect twists on the classics. Ye Olde General (RM32), mixes whisky, egg white, mint and bitters. Rimmed with olive soil and crossed with a skewered pickle and black olive the liquid is smooth but the garnish strong. I didn't mind the burliness, but hubby craved something sweeter and 'girlier'.

The Velvet Cannon (RM30) met that need with a mix of whisky, merlot and lemon juice in a martini glass. Velvet in colour with a lethal cherry sunken at the bottom, this did take hubby's fancy, so much so that I was luck y to get a sip.
The item I still dream about though is the Tipsy Affogato (RM25). Vanilla ice cream is sprinkled with whisky infused raisins, crunchy crushed nuts and a dusting of espresso powder, then drowned in Scotch. Inspired by The Den next door, specializing in Single Cask whiskies, it is available in The Cellar and a memorable way to end the evening.
Pre dinner drinks, nightcaps, or all evening long, The Cellar is a unique environment in which to savour a quality drop of your favourite wine or to expand your palate with some new libations.
Reason to visit: newly renovated wine cellar offering possibly the largest range of labels in Penang, cheese platters with gorgeous condiments, eccentricly masculine atmosphere, Whisky Affogato
The Cellar
Macalister Mansion
228 Macalister Road
10400 George Town
Penang, Malaysia
+6 04 2283 888
Open Sunday – Thursday 5pm – 1am. Friday and Saturday 5pm – 2am